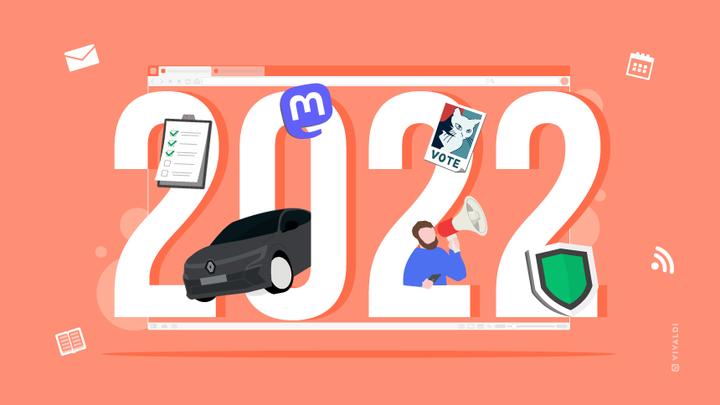 Read this article in Deutsch, 日本語.
The past year has once again proven to be one with challenges with the continuing Covid-19 pandemic, the war in Ukraine, rising inflation, supply chain obstacles, and growing climate concerns.
But despite the world's challenges, we look to the future with hope and solidarity because we've seen firsthand what's possible when a community of solvers comes together.
I am proud of the fact that Vivaldi is a result of a powerful community — a collaborative effort of many that include its ambassadors, Sopranos, translators, volunteers, partners, and the Vivaldi Team. And I thank all of you for your valuable contribution to building a browser that keeps users first.
Delivering solutions with innovation and quality
As we prepare to bid farewell to this year and welcome a new one, let's hit the 2022 highlights.
Wired says, "Email Doesn't Suck. It's Email Clients That Need Improving".
True. One of our ways of addressing a problem is to provide better and more reliable solutions. And we launched Vivaldi Mail integrated with a calendar and feed reader – one of our biggest highlights this year!
The powerful functionality of Vivaldi Mail is something that we are very proud of. Because we do not believe in locked-in solutions, you can access all your emails from all your email providers right in the browser. Vivaldi Mail has a lot to offer. Take a look here.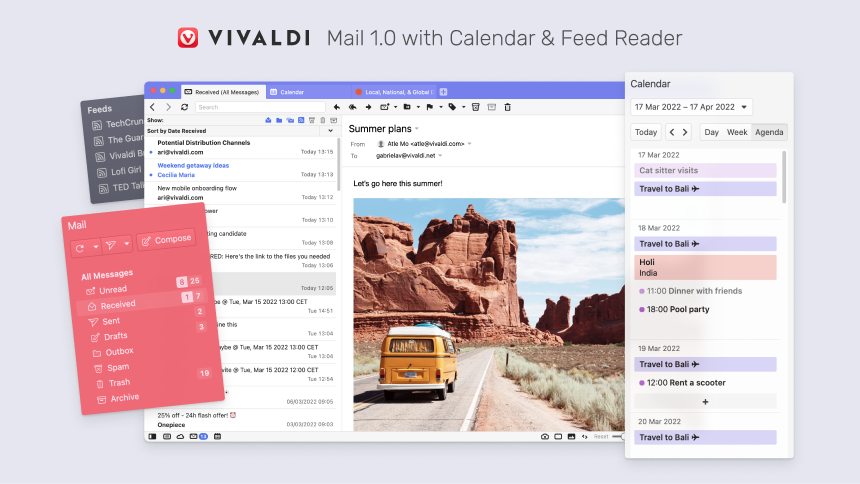 The Calendar is simple yet powerful! And addresses problems overlooked by others. For example, some calendars tend to display very little information on each event, and some are incompatible with a keyboard, ruling out quicker navigation. We solve this issue by giving you more flexibility in how you view events, allowing you to drop extra clicks.
Why Vivaldi Feed Reader? Again because it gives you an opportunity to distill the web down to things you actually care about, and avoid the lock-in solutions driven by algorithms on the internet today.
We made Vivaldi more exciting because you deserve it!
You can tweak the interface with the Toolbar Editor, and use new tab options like Scrollable Tabs and pinnable Tab Stacks. We added more utility functions in the Panel like the new Reading List (which can be synced) and the Tasks Panel. Catch all the updates here.
We added useful functionality to your browsing experience on Android too. Now there is greater ease! You'll discover options like viewing all tabs with a swipe gesture in the Address field. Plus, there's also auto-close of inactive tabs!
The new Focus Address Bar on New Tab is a real click-saver. It puts the focus on the URL field when you open a new tab, and displays the keyboard, so you can start typing immediately.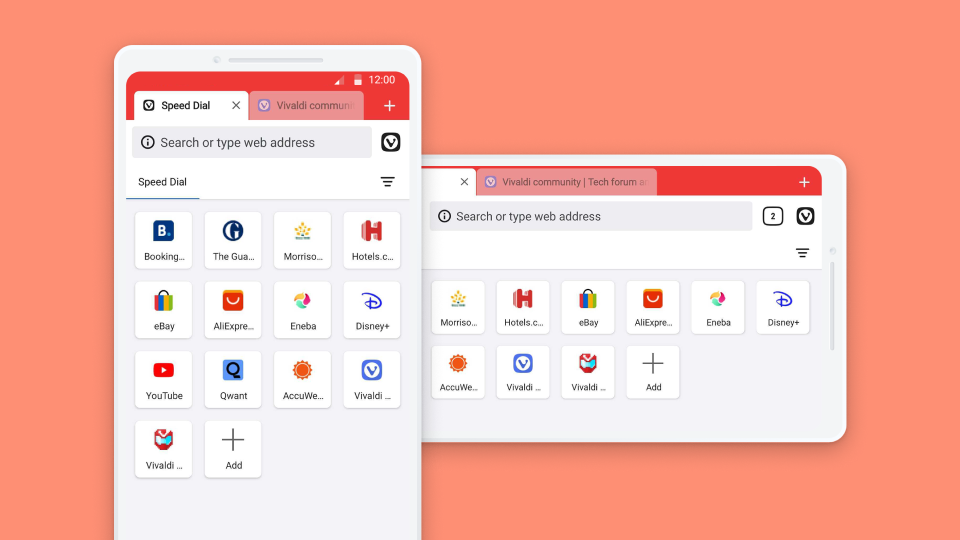 You can rename and edit tab groups, even your Two-level Tab Stacks. And to unlock your creativity, there are more Theme colors, and also an editable Menu Bar. Get all the details about Vivaldi on Android here.
Browsing the road ahead
This ride gained speed. In December 2021, we debuted in Polestar 2. And now we are on board in the new Polestar 3 SUV and Renault's next-generation cars – Megane E-Tech Electric, All-New Austral, and as well as ​​all future cars with OpenR Link system.
Our foray into cars is just an example of how much we want you to enjoy your browsing whether it is at home, at work, or on the move!
No more lock-ins
We witnessed great enthusiasm inside the company to launch Vivaldi Social, our own instance (server), on Mastodon.
Our intention is to give you the opportunity to interact more easily with the Fediverse and Mastodon's global community.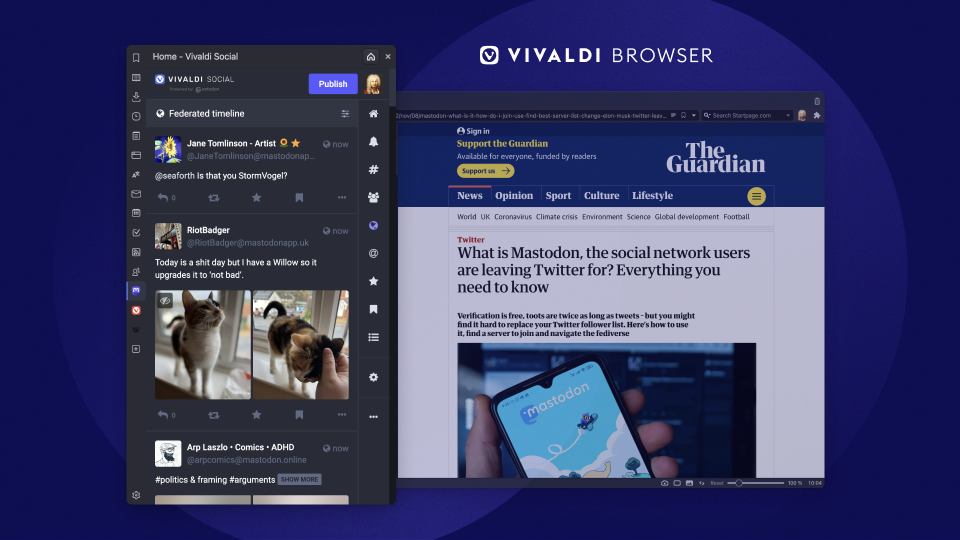 Platforms like Mastodon, based on open standards, help break down overarching control. No owner, no surveillance capitalism, and no tracking or profiling of users!
That was enough for us to get Vivaldi Social up and running in just two weeks making Vivaldi the first browser to step into the Fediverse with its own instance. If you're curious about how we managed to do it, you can find out in Forbes.
Integrating Mastodon into the browser Panel was a natural step — all for easier access. And a progression for us, given our existing reliable alternatives to Big Tech.
Join us with your Vivaldi account credentials or else sign up for a free account at vivaldi.net. We do recommend this article to learn more.

Reaching milestones with the community
It is invigorating to be surrounded by so many who make what we do possible. That is why we never stop trying to improve the quality of our community's experiences.
The homepage makeover, the Vivaldi Tips series and the creative Vivaldi Themes (crossed 3000!) are some of the efforts that sparked joy. And our newest addition to our community services – Vivaldi Social.
A fun fact: the Vivaldi Community has actually been around longer than the browser. Let's keep it exciting and the best!
Renewing commitment to advocacy
We care about the web and everyone who uses it. We care about your privacy. And detest scams. So, we like to lead by example and by speaking out when it counts.
We started out by clarifying our position on cryptocurrency. (Spoiler alert: we are against it.)
We engaged with like-minded people through collaborations or discussions. We even added the new Privacy Statistics Bar on the Start Page for you to make informed decisions about your browsing. We took on Google's Topics. (It probably won't surprise you to hear that it just twists user tracking and profiling in different ways.)
But we couldn't let humans have all the fun. Some intrepid Icelandic spy cats banded together to teach us all a lesson about surveillance and data privacy.
Building with optimism
Every business should have a responsibility to be a force for good in society. We do this by building your browser and not tracking or profiling your movements around the web, a business model for many others.
But I have always maintained that the regulation of tech and companies, in particular Big Tech, will play a significant role in determining technology's effects. And I am hopeful of positive changes for a healthy thriving ecosystem and also protect the rights and privacy of users.
As we look ahead, we continue to work on building a better browser for you, even on iOS. 🙂 Let us know what's on your wishlist for 2023.
On behalf of everyone at Vivaldi, thank you for your trust, your confidence, and your friendship. Warmest holiday wishes to you, your family, and your friends; and best wishes for 2023.
Some glimpses of the festive spirit from our team. Happy holidays!