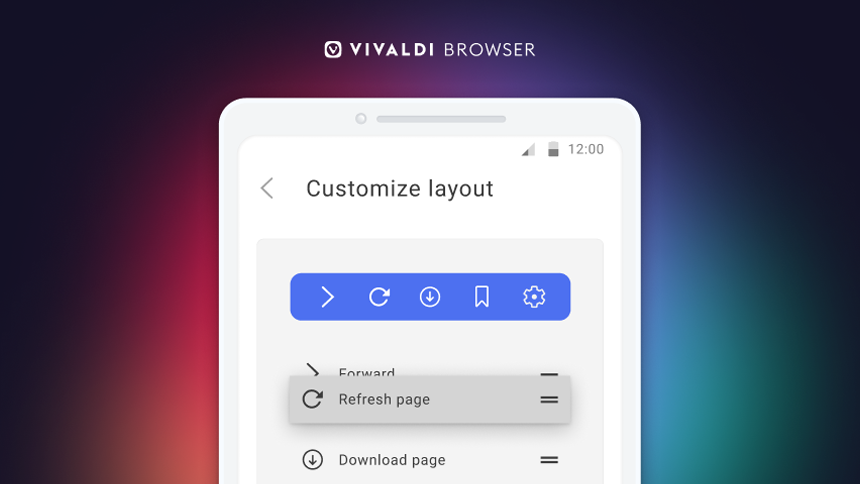 Read this article in Deutsch, Français, 日本語, Русский.
The latest update of Vivaldi on Android gives you more freedom and flexibility to use the browser in a way that is uniquely yours.
Now, you can edit the Menu Bar to include those functions that you use frequently, so you can access them faster.
We've also made logging to websites safer in certain cases by adding support for Hardware Key Authentications.
To save some of your precious screen space, search suggestions have been removed from showing below the address bar when typing. And, to broaden your choices for searching the web, we've added a new private search engine You.com.
Available on Android phones, tablets, Chromebooks, and in cars, Vivaldi's new version – Vivaldi 5.6 has a lot to offer, including a new default that saves you taps by automatically focusing on the Address Field and displaying the keyboard, so you can type and go.
Recently, with the launch of Vivaldi Social, we became the first browser to have a Mastodon instance. We're also the first browser to integrate Mastodon in our desktop version. For Android, we have added a Vivaldi Social Speed Dial, to make it easier for you to access the service.
New configurable Menu Bar fits the way you browse.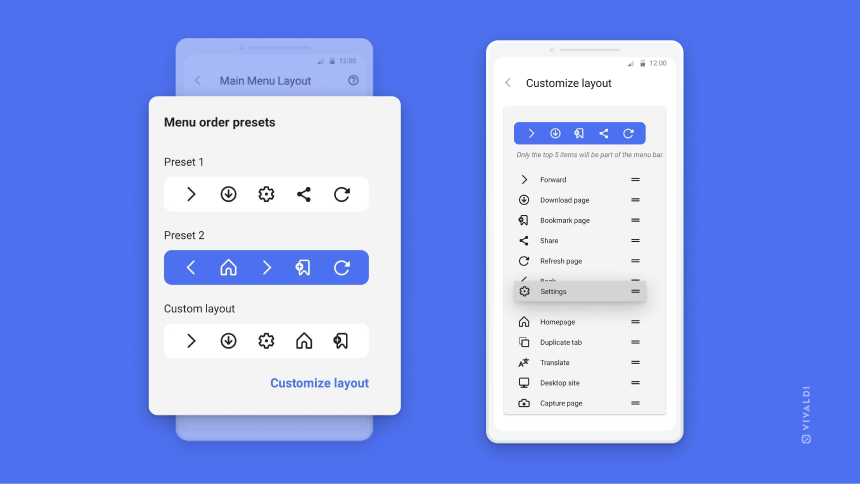 Vivaldi is all about giving you complete freedom to tweak and tune the browser to meet your needs. That is why our desktop version has fully customizable menus.
We are now expanding this customization option to our Android browser, with the ability to edit the menu bar. You can easily rearrange, add or remove the functions that you need or use more often, tailoring the Menu Bar to your individual workflow. Choose from 2 menu bar presets or make your own custom menu bar displaying up to 5 items.
To customize your menu bar, head to "Settings → General → Menu".
Safer logins with Hardware Key Authentications.
We don't only want your browsing to be more fun and productive. We want to help make it safer. So, in this Vivaldi update, we have implemented support for Hardware Key Authentications.
As you probably know, two-factor authentication can help prevent unauthorized logins and protect your accounts, in case someone gets your password. Using a hardware security key, which plugs into your USB-C port, provides an additional layer of protection against password cracking.
Hardware security keys (also called security keys, U2F keys, or physical security keys) feature public-key cryptography and secure your online accounts more effectively. As more websites are moving toward this technology to implement 2FA and multi-factor authentication, we wanted to be sure you could use your key while browsing on Vivaldi.
Quick access to Vivaldi Social even on the go.
As more and more people seek alternative social networking options, we want to support social networks that aim for something better.
That is why we launched Vivaldi Social, a new Mastodon instance for members of the Vivaldi Community and beyond.
In Vivaldi 5.6 for Android, we give you even quicker access to Vivaldi Social from the browser – just tap on the new Vivaldi Social Speed Dial.
As a Vivaldi user, you can use your credentials from your Vivaldi account to log in to the Vivaldi Social instance. If you don't, head to vivaldi.net to sign up for a free account.
New to Mastodon? You can find more information about it here.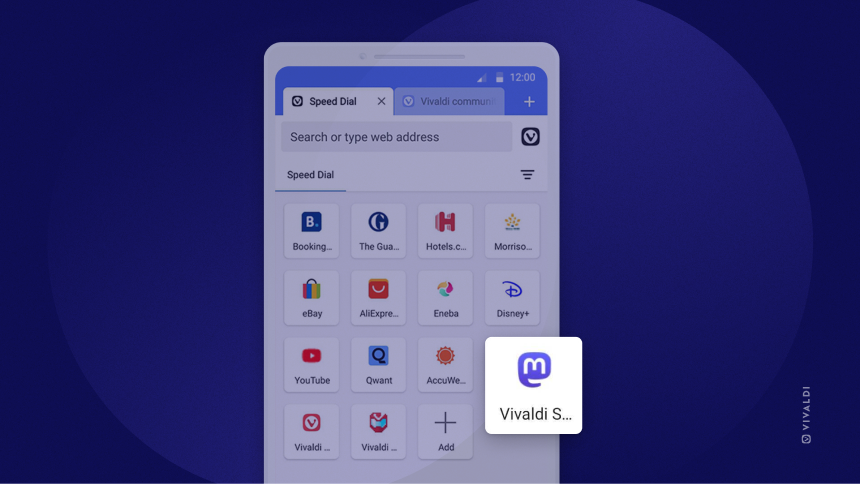 There are a lot more options in Vivaldi 5.6.
Let's take a look at the additional improvements and additions in this update:
We've added the option to automatically focus on the Address Field when opening a new tab. This time saver puts the focus on the URL field when you open a new tab, and displays the keyboard, so you can start typing immediately. The Start Page remains accessible, should you need it. To enable, go to Settings > Tabs and select Focus Address Bar on New Tab.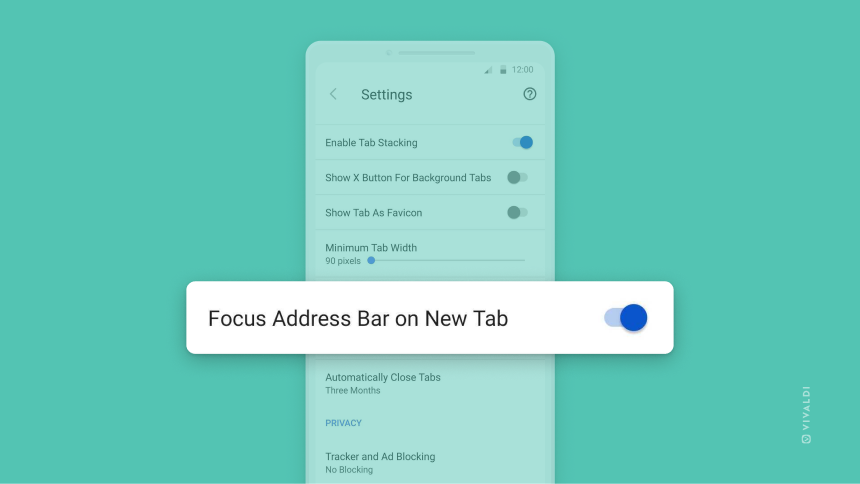 A new setting, Show Keyboard Accessory view, hides or shows this view. And, for quicker logins, the autofill key, enabled by default, will appear above the keyboard once you click into the username or password field. Simply go to Settings > Appearance and enable "Show Keyboard Accessory View".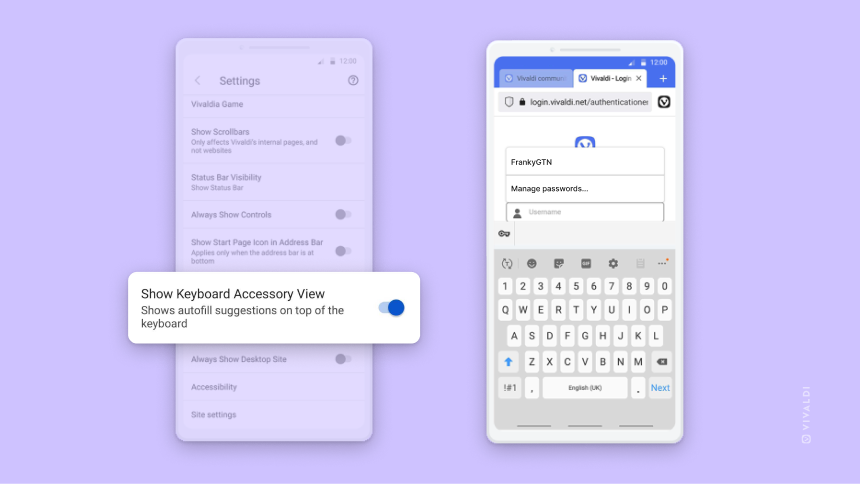 The "Home Page" has been combined with the "New Tab page" setting. If you have enabled a custom URL as the Home Page, the same URL should be used for New Tab.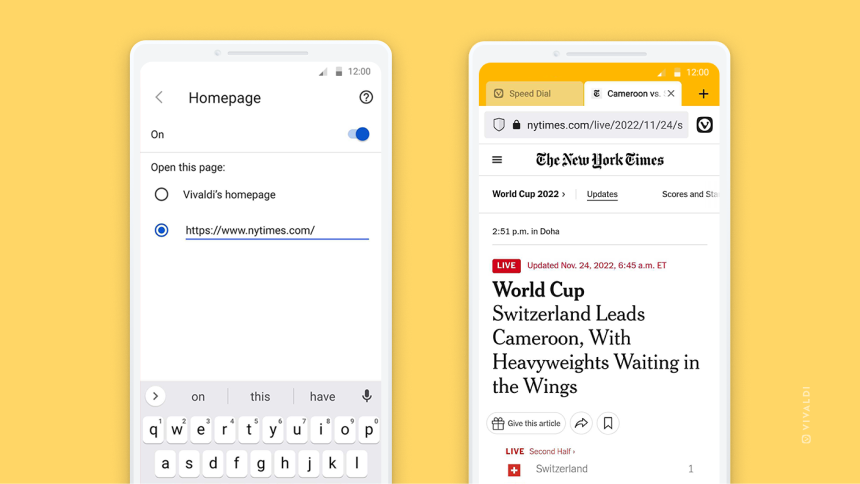 We've made Small Speed Dials the new default, so more dials are visible on the screen, in a sleeker display. However, you can choose from a variety of Speed Dial layouts (Large, Small, Speed Dial List) as you prefer.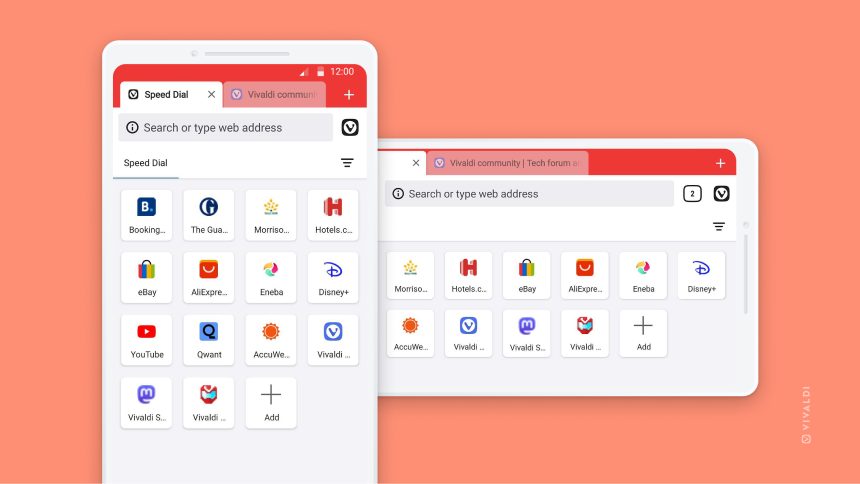 We've made additional improvements in the area of search engine suggestions to free up more of your screen space. Now, by default, search suggestions will not display below the address bar as you type. Of course, if you want them to appear there, you can enable display in Settings.
YOU have a new search
Because we like to offer a range of privacy-friendly search engines in our browser, we've added You.com, to our list of integrated default search engines.
More information on this new addition is available here.
At present, the You.com search engine option is only available for Vivaldi users in the United States, Germany, the United Kingdom, and Canada.
Vivaldi 5.6 is ready for you to download on your Android.
We'd like to thank you for reporting issues regularly. Your reports and feedback help us improve Vivaldi on Android with every update. We'll continue to address your issues and add more options, so you can browse faster and more intuitively..
For now, head to the Changelog for more details. And download Vivaldi 5.6 from the Google Play Store or Uptodown. Then, drop a review and rate Vivaldi with the maximum stars. ✨
Enjoy!
Changelog from 5.5 to 5.6

[New][Main Menu] Editable menu bar implementation (VAB-6514)
[New] Hardware key authentication (WebAuthn / FIDO / U2F) now works in Vivaldi for Android
[New][Settings] Setting for showing keyboard accessory view (VAB-6495)
[New][Settings] Option to automatically focus URL field when opening a new tab (VAB-6224)
[New][Settings] Combine "Home Page" with "New Tab page" setting (VAB-6624)
[New][Settings] Turn search engine suggestions off by default (VAB-6606)
[Exit] Terminating Vivaldi with the app menu 'Exit' leaves one Vivaldi process running (VAB-6863)
[Input] Select All context menu doesn't select 'input type=" text"' contents (VAB-6661)
[Performance] Auto close tabs in partitions (VAB-6439)
[Search] Add Neeva to globally minus Russia and China (VB-93123)
[Search] Add You.com to US, Canada, UK, Germany search dropdown (VB-93121)
[Settings] Enable desktop site exceptions per tab (as it used to work before) (VAB-6823)
[Settings] Make small speed dials default for new users (VAB-6593)
[Settings] Turn on 'Focus URL bar on the new tab' by default for new users (VAB-6862)
[Start Page] Add a new SD for Vivaldi social for mobile (VAB-6742)
[Start Page] Show 4 rows in a small speed dial (VAB-6592)
[Sync]Refactor notes attachment to prepare for synchronization of attachment content (VB-91972)
[UI] Address bar at the bottom shows results upside down (VAB-6605)
[UI] A full translation for "Ads blocked" is not shown in many languages (VAB-6564)
[UI] Animate menu opening from the bottom when using the address bar on the bottom (VAB-6719)
[UI] Change "Clone tab" to "Duplicate tab" (VAB-6662)
[UI] Make the bottom navigation bar transparent in Onboarding (VAB-6617)
[UI] Missing top padding on Translate History panel (VAB-6701)
[UI] Start page colors and hide line under location bar in speed dial (VAB-6571)
[UI] Start page background changes (VAB-6479)
[UI] Update color for speed dial toolbar for a dark theme (VAB-6479)
[UI] Use higher resolution favicons for pre-shipped Speed Dials (VAB-6630)
[Chromium] Upgraded to 108.0.5359.129