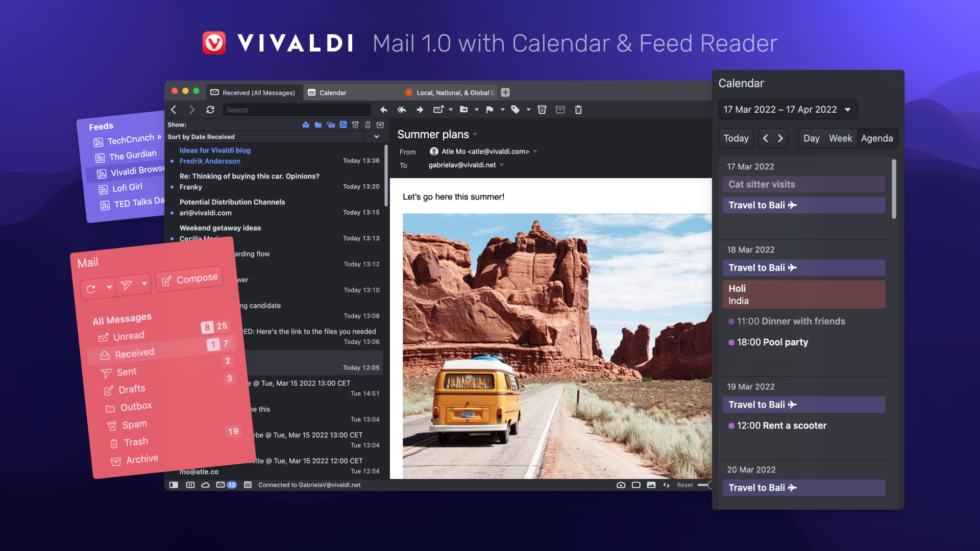 Read this article in Deutsch, Français, 日本語, Português brasileiro, Русский.
Today, there are over 4 billion email users, and are predicted to reach 4.5 billion by 2024. The use of email is only increasing, and the way we use it is evolving.
This also means that the difficulty of efficiently managing your email remains. That's why we have built Vivaldi Mail for you – our answer to organizing your email.
Launching today, your new mail client Vivaldi Mail 1.0 is built right into the Vivaldi browser, allowing you to handle your emails better than ever.
Packed with functionality, Vivaldi Mail integrates the built-in Vivaldi Calendar and Vivaldi Feed Reader seamlessly – giving you greater control of your data and information flow.
Now surf the web, exchange emails, subscribe to feeds, and manage your daily to-do lists easily, all from the comfort of your favorite browser.
What's more, you can combine all your email accounts and manage them easily from a single client, Vivaldi Mail – all for free.
Discover the first versions of Vivaldi's new Mail, Calendar, and Feed Reader in the latest Vivaldi browser, available on Windows, Mac, and Linux computers.
Long Live Mail! This classic does not get old.
Mail has been around for a long time. But we felt it deserves more love, to give you better options. And that's the challenge we took on – to make your inbox your digital home.
We've designed Vivaldi Mail around speed, elegance, and, of course, customization (which is our main strength and the pure awesomeness that we strive for).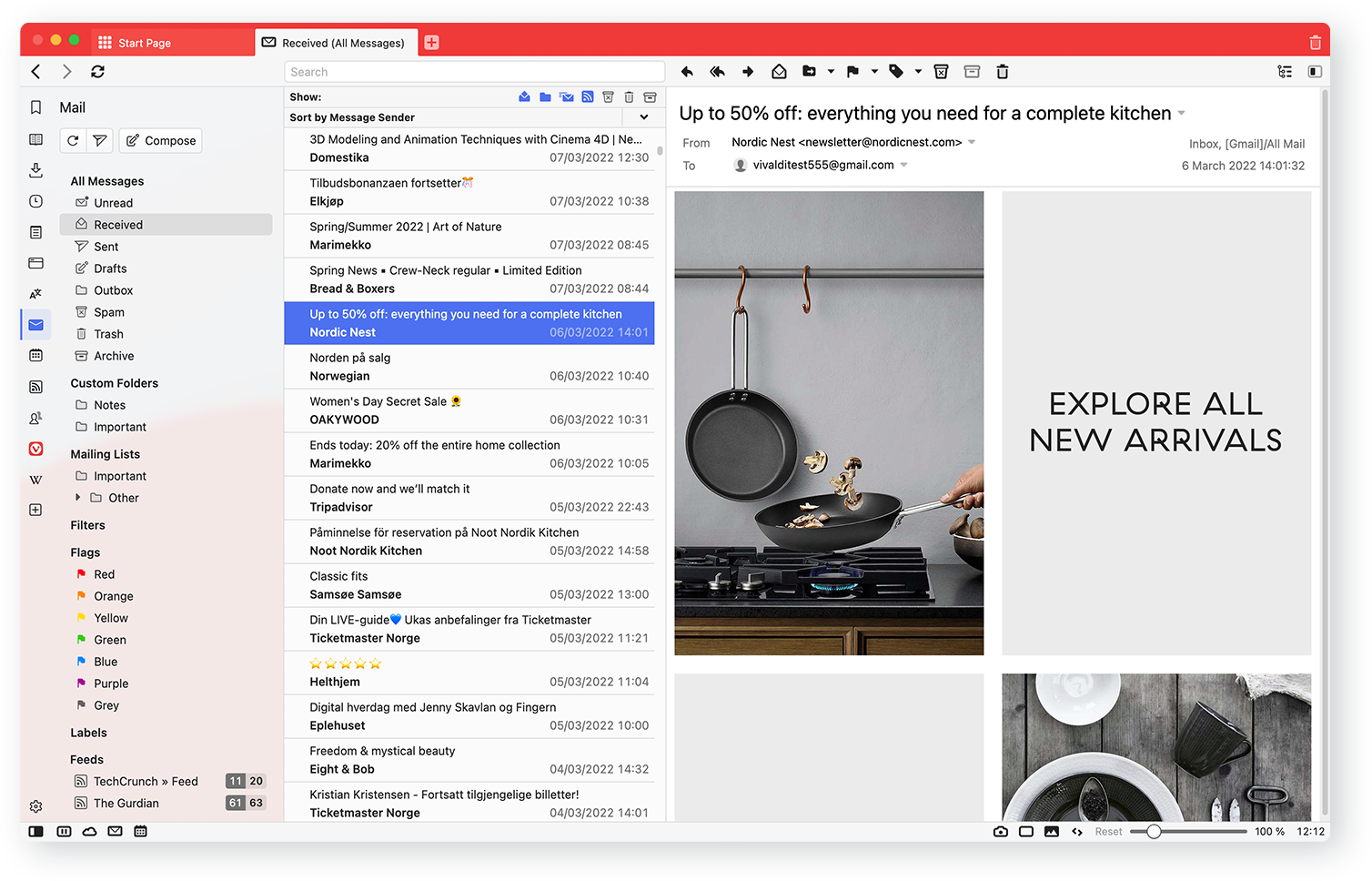 To get the Mail up and running, download the browser, and select "Browser, Mail, and Calendar" on the last step of onboarding, and you're good to go.
A Vivaldi user already? Enable Mail from "Settings → Mail → Enable Mail, Calendar and Feeds"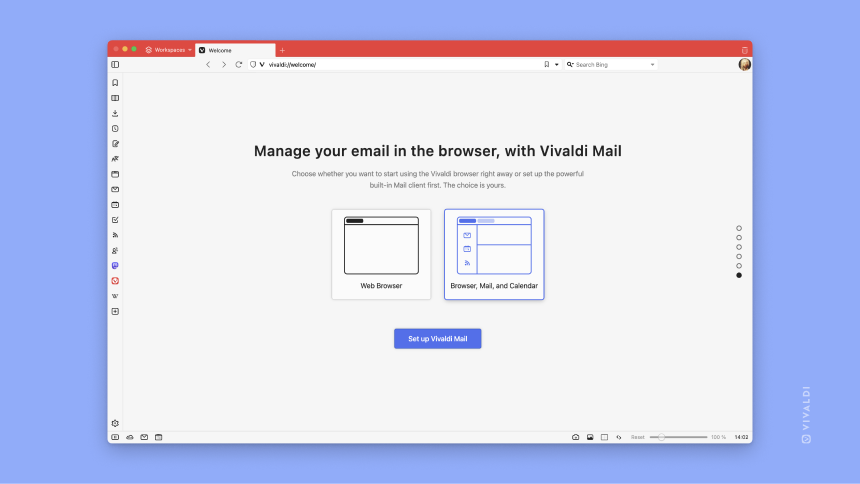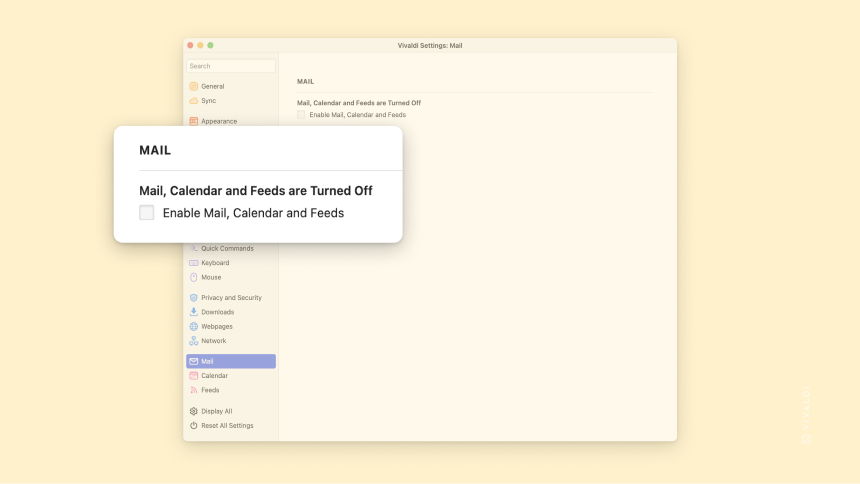 Unlike most mail clients, Vivaldi Mail does all the heavy lifting for you – automatically detecting mailing lists and mail threads, as well as offering a powerful search feature.
Say goodbye to creating folders and sorting messages manually. Vivaldi Mail saves you from untangling email from mailing lists, conversations, and work-related emails into folders.
Vivaldi Mail does all this on your own computer, rather than on a remotely operated webmail server, which would tie you to a specific service provider and force you to trade access to the contents of all your mail in exchange for the use of their search features.
It opens up possibilities for searching your mail like never before. Even if you wish to change email providers, your email remains intact. This provides a simple path to move from one email service to another while continuing to have access to all your emails on your computer.

Here's what makes Vivaldi Mail truly yours:

Multiple accounts under one umbrella
The average number of mail accounts per person is roughly two, but many of us have a lot more than that.
And this is where Vivaldi Mail shines. It can deal with a great volume of emails no matter how many accounts you have.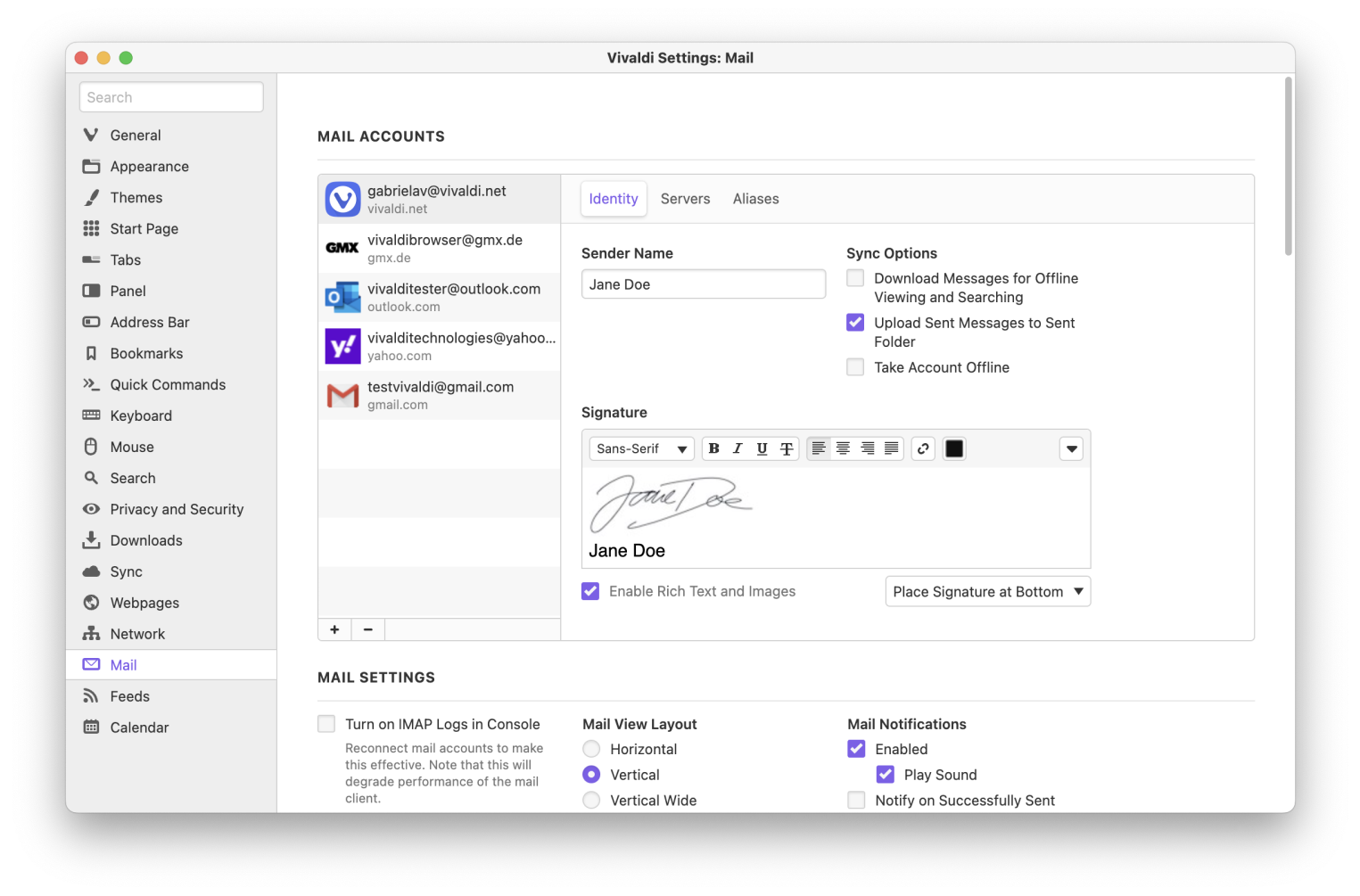 You can choose to use Vivaldi Mail with your existing mail and calendar services, or set up an account on vivaldi.net. Or even add a trusted third-party service such as Fastmail. Basically, you can use all these options individually or even together.
Enjoy easy access to all your emails in a single inbox, without the need to log in to each account separately. Both IMAP and POP3 are supported, which makes it easy to integrate any email provider.
Prefer a reliable alternative but are reluctant to drop your Google or any other account? No worries. Because now you can log in to your Google account from Vivaldi Mail and Vivaldi Calendar with these options.
Database
The cornerstone of Vivaldi is the database. All your mails from all your accounts are indexed, therefore searchable offline. This makes it easy to find or go back to any mail message. If you prefetch your mails, it also indexes all the content of the mails before they are opened.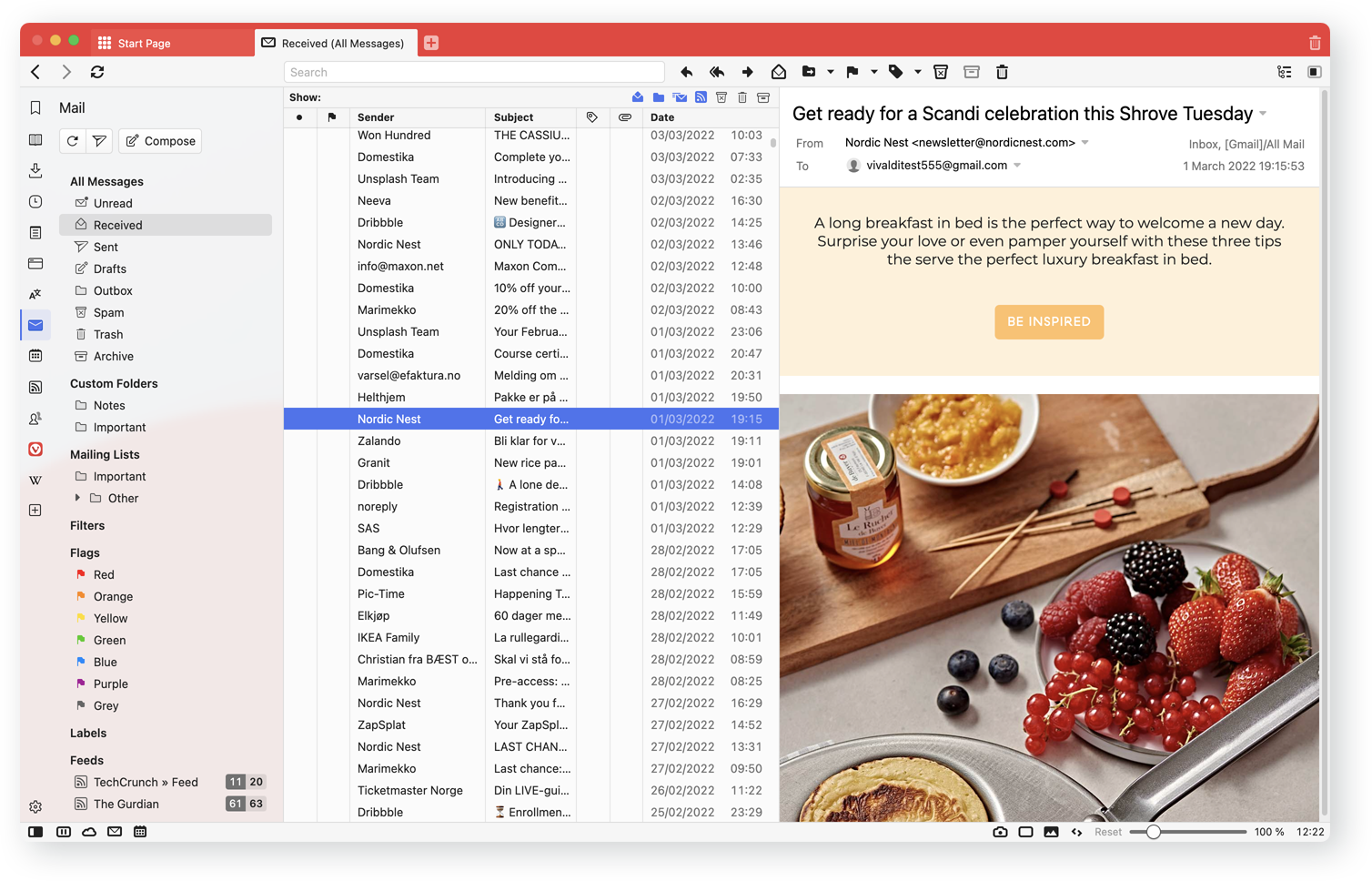 A new wave of superior organization

Think outside the folder: Many of us have spent a lot of time moving emails between folders. What if you could stop doing that? Vivaldi helps you by indexing your email and automatically placing mails into views. Each mail can be in different views, providing different paths to a mail. Instead of storing a message in a particular folder, a single message can appear in any "folders" or views.
Let's get into the details.
The Mail Panel
This is where all your work happens – In the Mail Panel which displays 8 sections: "All messages", "Custom folders", "Mailing lists", "Filter and (searches)", "Flags (starred)", "Synced Labels", "Feeds", and "All Accounts".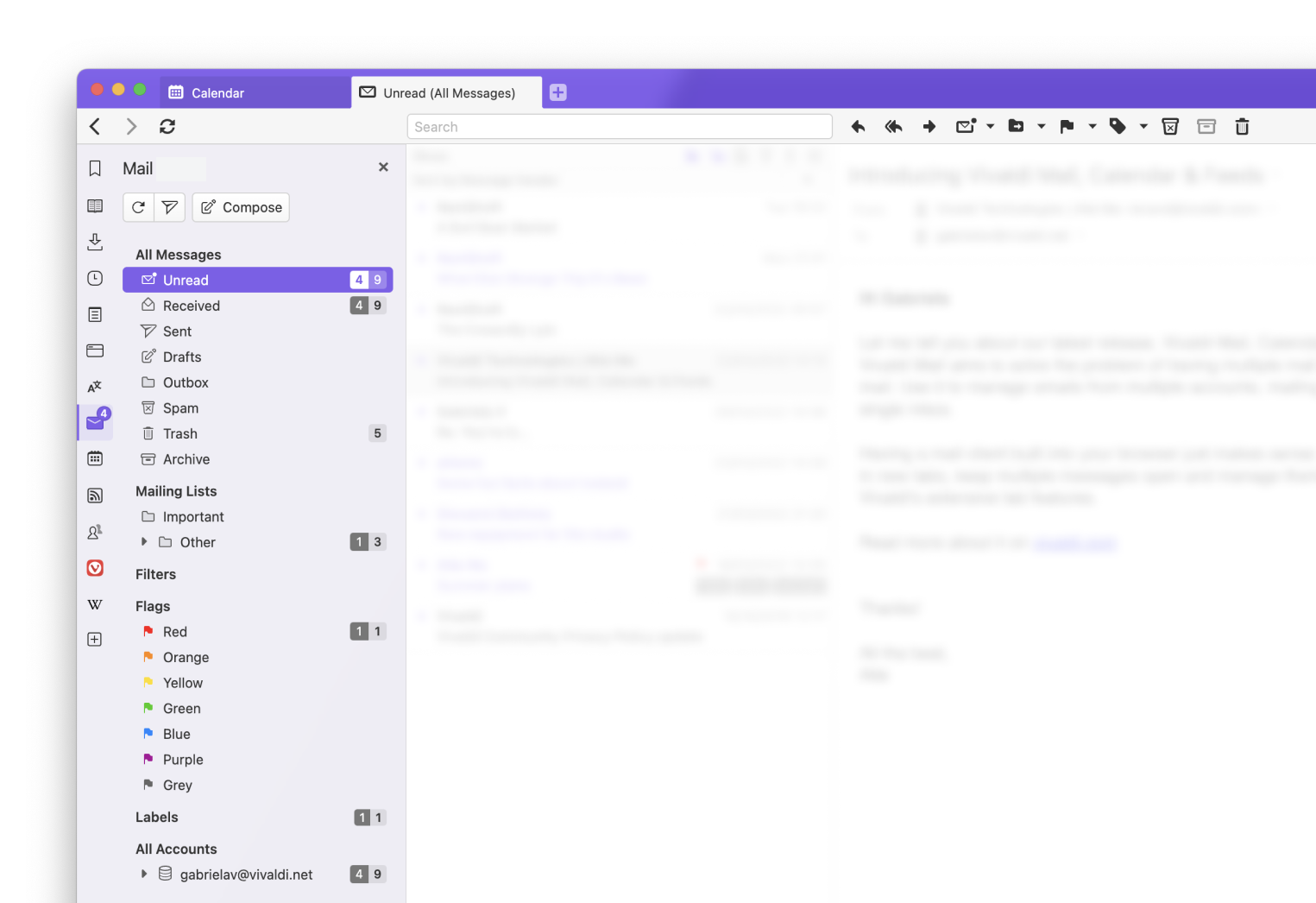 Once you get started, you'll notice the counters that show two numbers in any view (unseen|unread):
Unseen mails: These are brand-new mails that you have never seen before. The counter on the mail side panel indicates the current number of unseen messages.
Unread mails: The number of unread mails means that you have seen them, but have not had the time to deal with them fully.
This makes it easy to notice important mails, but also lets you keep them around until later. In a way, unread mail is a kind of to-do list. Once you mark it read you are done with it; although, you can always find it again.
Control views with toggle buttons and a search bar
For each of the views, there is a set of toggle buttons and a search bar at the top. This allows you to control what is displayed in the view.
Toggles can include these seven buttons — Show Read, Show Custom Folders, Show Mailing lists, Show Feeds, Show Junk, Show Archive, and Show Trash toggle buttons.
These have their own section in the panel. They are on by default, but it can be useful to exclude them from folders like Unread and Received. That way you are less likely to miss your most important mails and can deal with them separately in an orderly fashion.
Show Read selects whether to show read mail in the view or not. It can be nice to toggle this off and deal with all of the unread messages in a folder.
Show Custom Folders will show or ignore your custom IMAP folders. These are folders other than the default folders Inbox, Sent, Spam, etc., and found on the server.
Mailing lists are auto-generated using the list-id header in the mail and a few other rules. You can also add senders as a mailing list.
Feeds are Atom, RSS, or any other types of feeds you have added. They are not tied to any account, but you can see them in the Unread, Received, and some other folders.
Junk, Archive, and Trash are off by default in most views, but it can be nice to enable them to see whether something was accidentally deleted or put into spam when you're missing a message. The selection for each folder is remembered, so you can customize the views to show by default whatever you want them to. Toggle them as needed.
For example, if you work only with your personal mail in your unread folder, you can uncheck most of the buttons in this view. This means that mailing lists and custom folders are automatically filtered out of this view, and you will not need to bother with setting up filters. Once you are done with a mail, simply mark it read and it disappears from the view.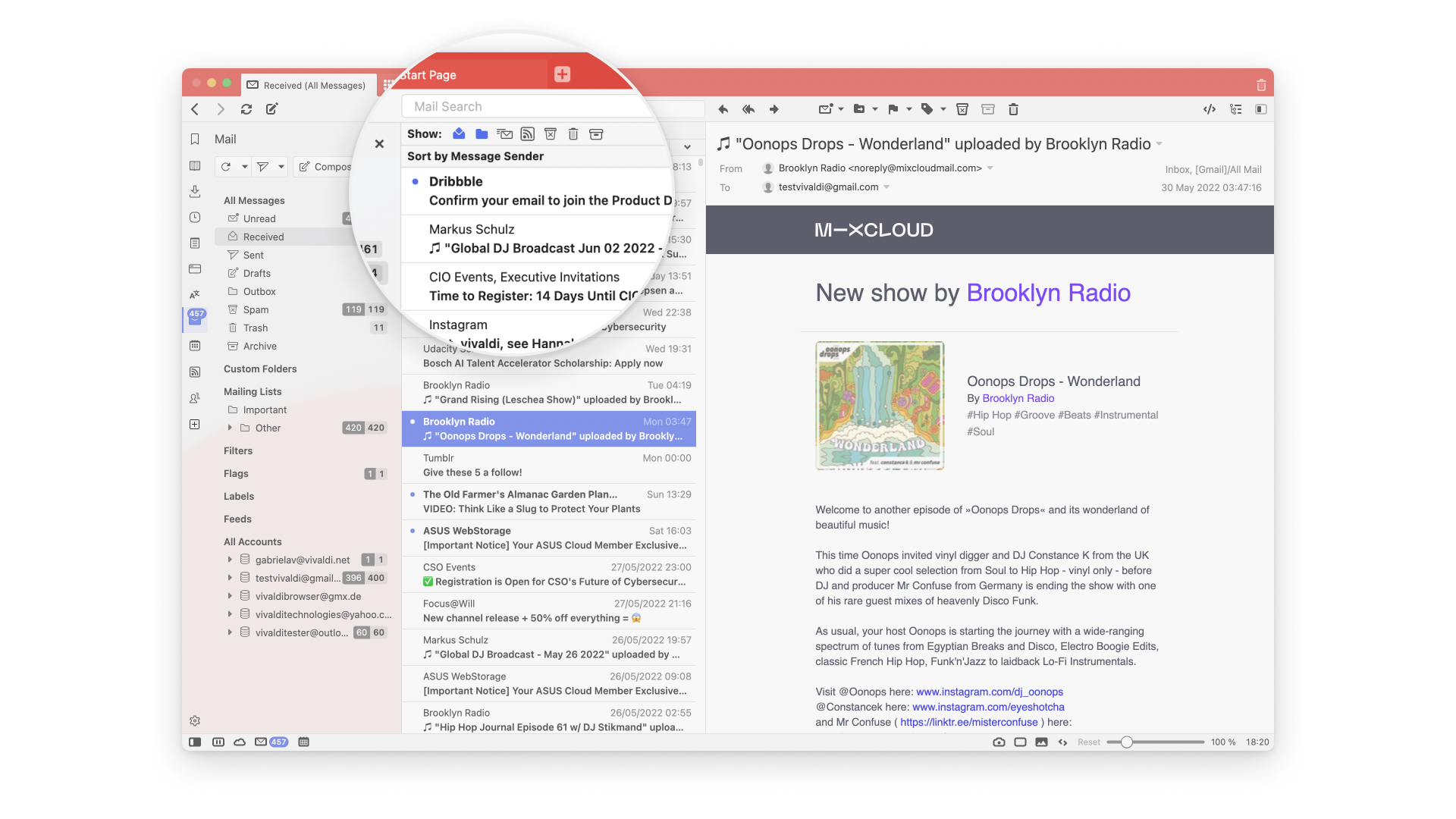 Search
You can search the selected view for any words or expand the search to search all mails. The search will go through the headers of all your messages and the content of messages that have been opened or fetched from the server.
You can check 'prefetch' in the Settings of an account in order to fetch the content of all messages before they are opened. Not only will you then search through the body of all your messages, but you will have access to them when you want to work offline.
Different Views and Layouts for Your Mail
Vivaldi is known for having options galore. This holds true for Mail layouts. The three-panel default layout shows accounts and folders on the left, messages received in the middle, and currently open messages on the right.
Prefer a horizontal split layout? Simply head to Mail Settings to play around with different options.
You can also select whether you want the mail list on top and the mail message below or the mail list on the left and the mail message to the right. In addition, you have a view with a mail list on the left but are confined to one line to utilize the space better, allowing you to view more mails at the same time.
Nifty Navigation
As with most things in Vivaldi, you can customize your Mail keyboard shortcuts. So if you'd rather use a combination rather than single-key shortcuts, it is possible.
Mark a mail and go to the next unread with "G". View the thread with "T" or use an "E" to view all mails from the sender of the current mail.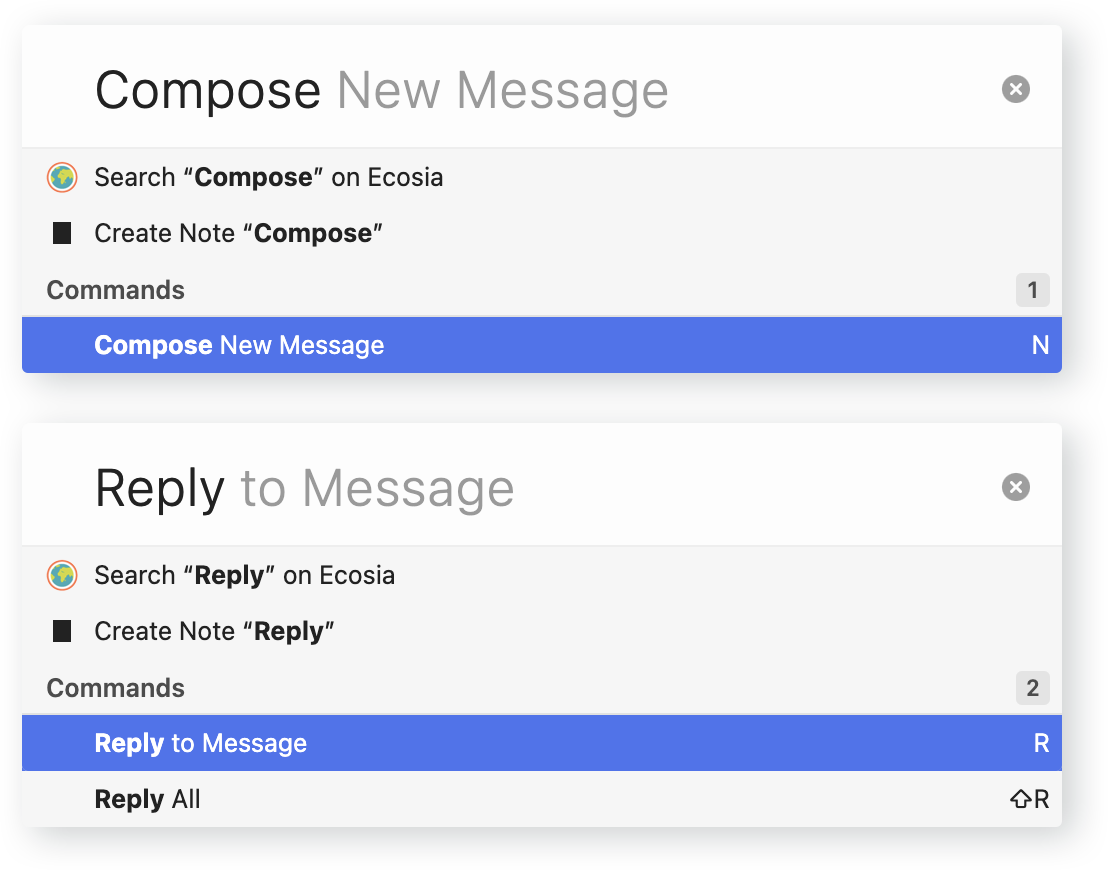 Using the Back/Forward buttons while in a Mail window let you go back and forth in your mail folders – pretty special in Vivaldi Mail.
For faster navigation, there are sixteen configurable shortcuts for activities such as composing new emails, replying to email, and more.
There's more in Vivaldi Mail that will help you further organize your mails:
Flags: Sync flags with other email clients and assign colors to them to spot essential messages more quickly.
Search: Searches update dynamically when you get new messages. Save searches as filters, useful when you need to run the same search over and over.
Labels: Similar to tags, Labels can be synced, even when using a different client on another device.
Signatures: Signatures can be rich text or plain text. You can also drag and drop or copy/paste images. They can be placed above or below quoted text when replying.
Queue up: Emails prepared far in advance can be queued for later, in case you are unsure when (or if) to send them.
Themes: Enjoy a unified and colorful experience with Vivaldi's unparalleled theming options in the browser.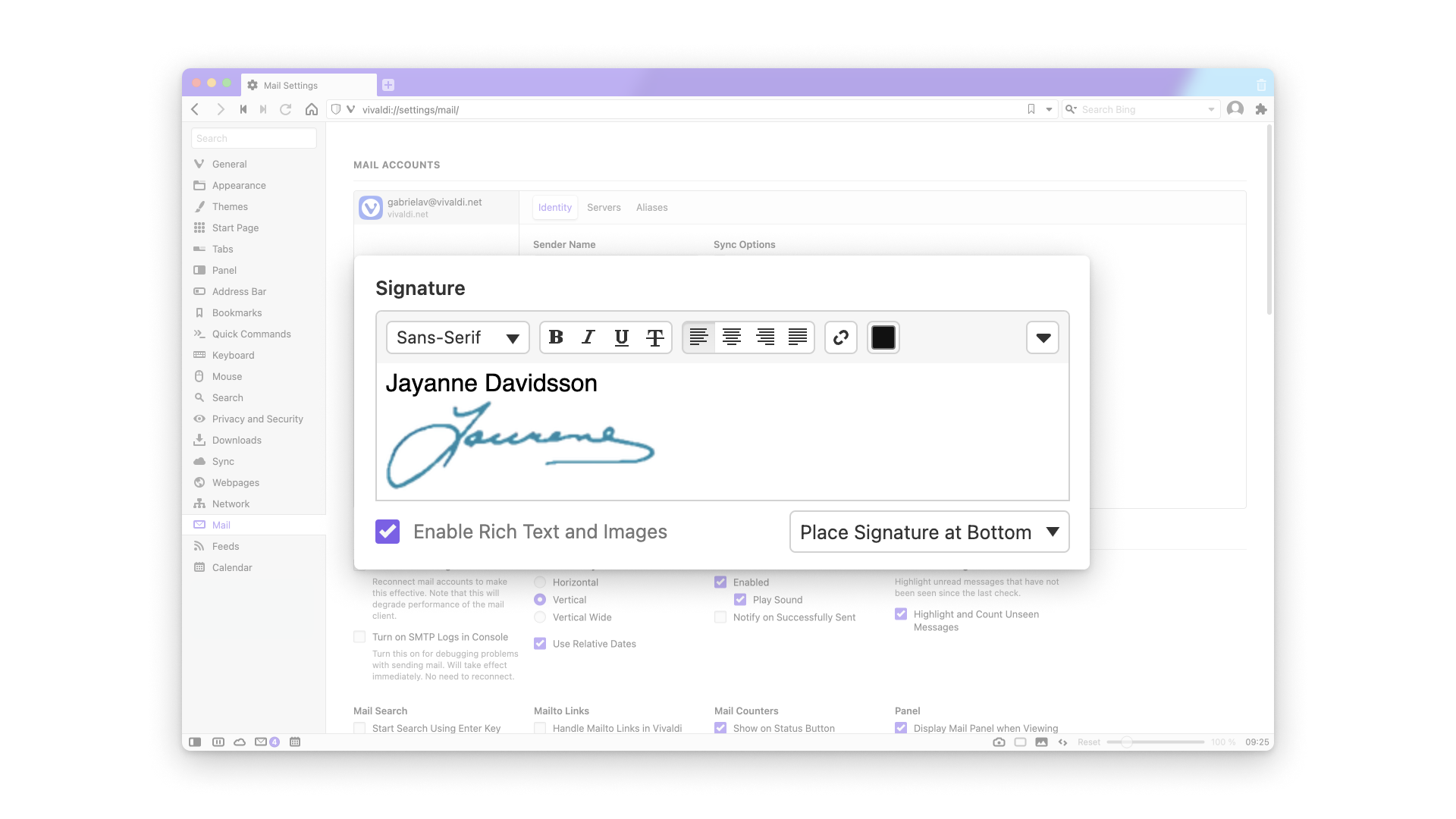 Vivaldi Feed Reader: Skip the algorithms and get news that you prefer.
Vivaldi Feed Reader is a refreshing change to the algorithm-based onslaught that most of us face every day on the internet from services such as Facebook and other social media.
There's also the bonus of cutting down on the amount of time you might waste just clicking through sites, following the rabbit hole of endless suggestions that suck away your hours.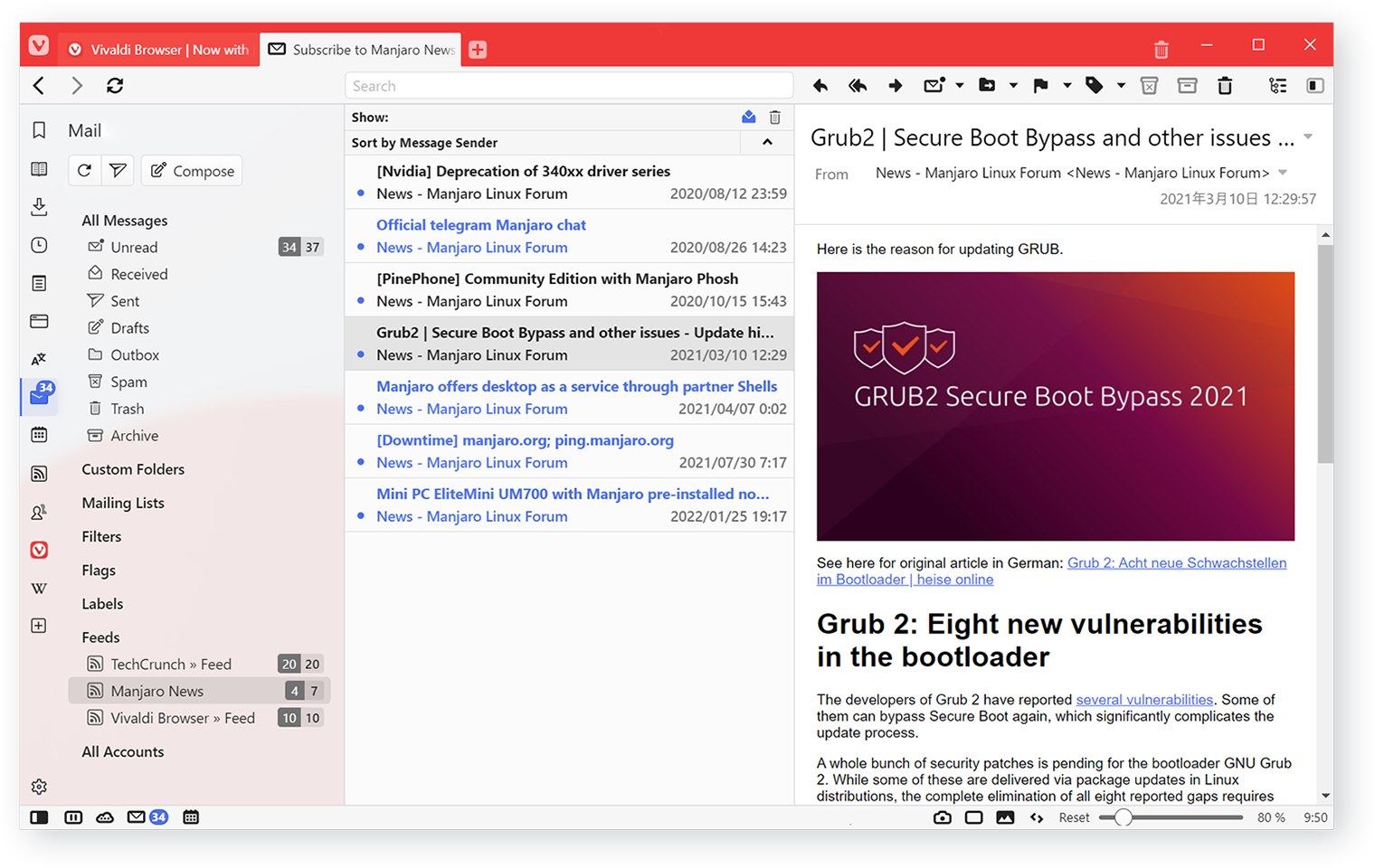 The Feed Reader supports several versions of RSS and the powerful Atom standard. So now you can catch up with the latest news and audio and video from your favorite websites, blogs, galleries, and podcasts.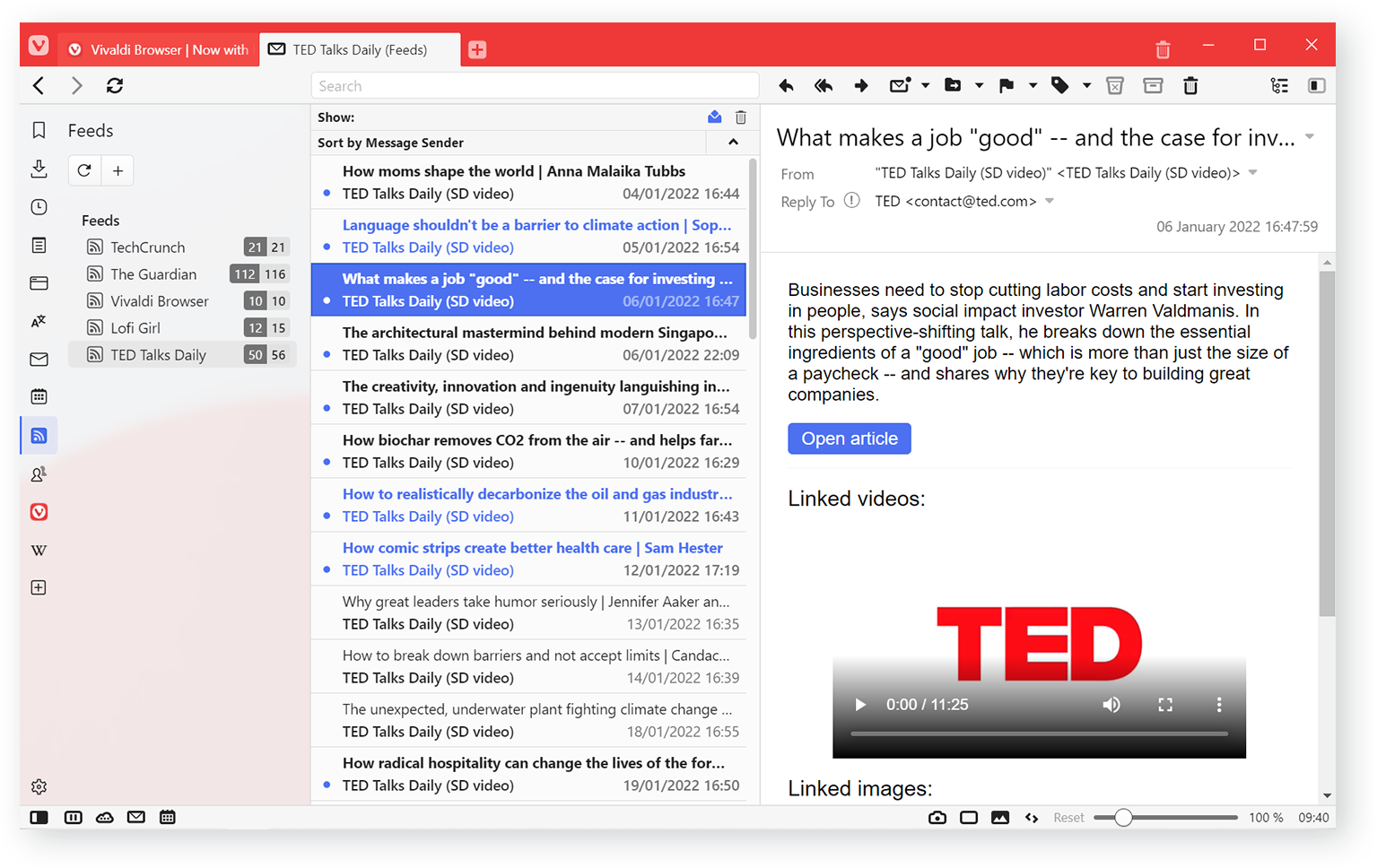 View the feed items within the Mail Panel or view them from the dedicated Feeds Panel. The integration with Vivaldi Mail is unified, so all messages can be viewed in one place. It allows sorting, indexing, and searching feed items and even marks them as read without deleting them.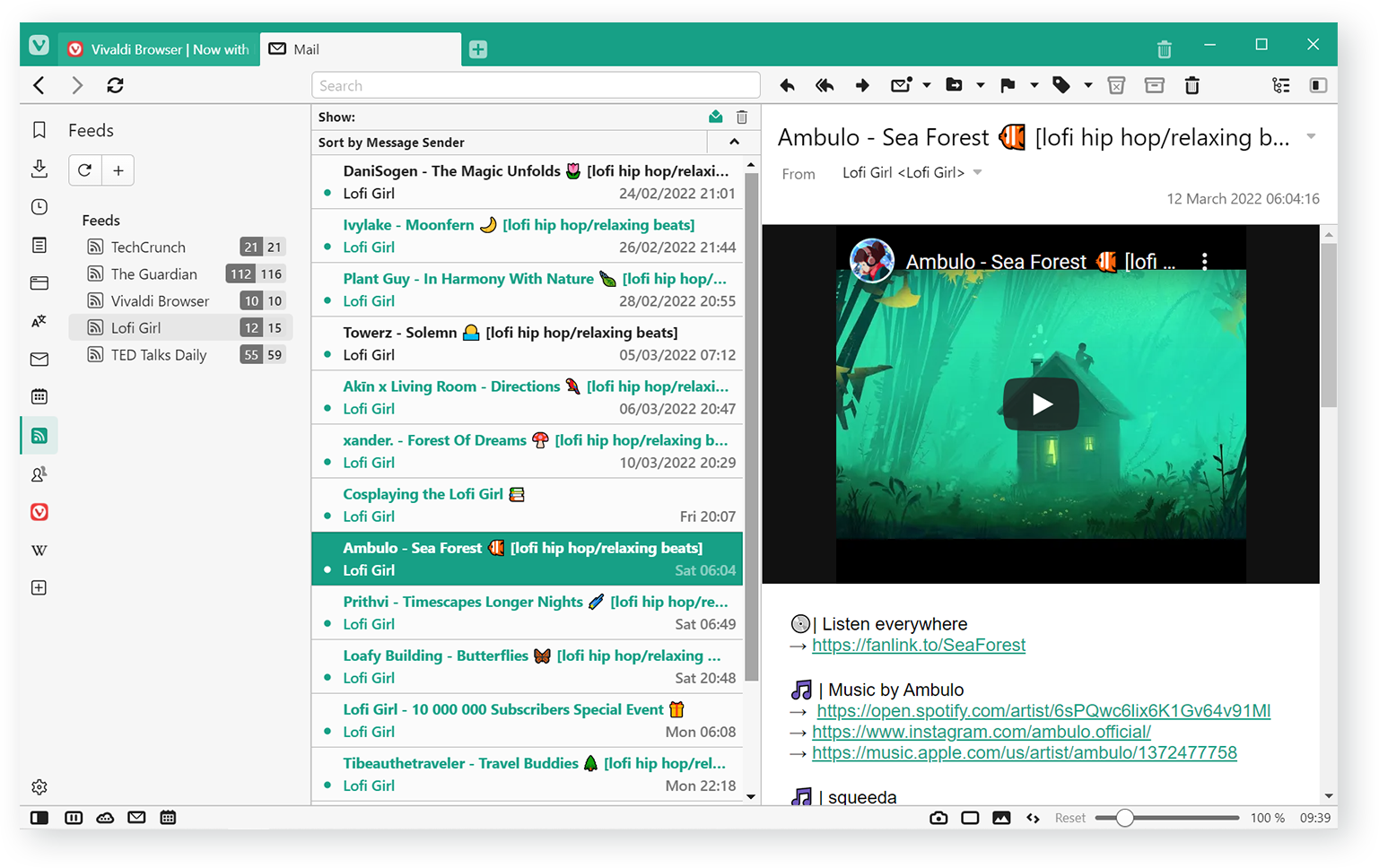 We always try to find ways to limit user tracking. For example, subscribe to a YouTube feed whenever you're visiting a channel. We extract the video content (using a no cookie URL) from the feed and display the video inline rather than linking to the video.
Vivaldi Calendar: Go beyond the basic
For many of us, days can be filled with a whirlwind of meetings, events, special occasions, and personal tasks. Sometimes the week can feel over before it has even begun, and at times make it hard to know which way is up.
This makes a calendar essential. And you may already be using one. But we believe you deserve a better one. So we built it for you.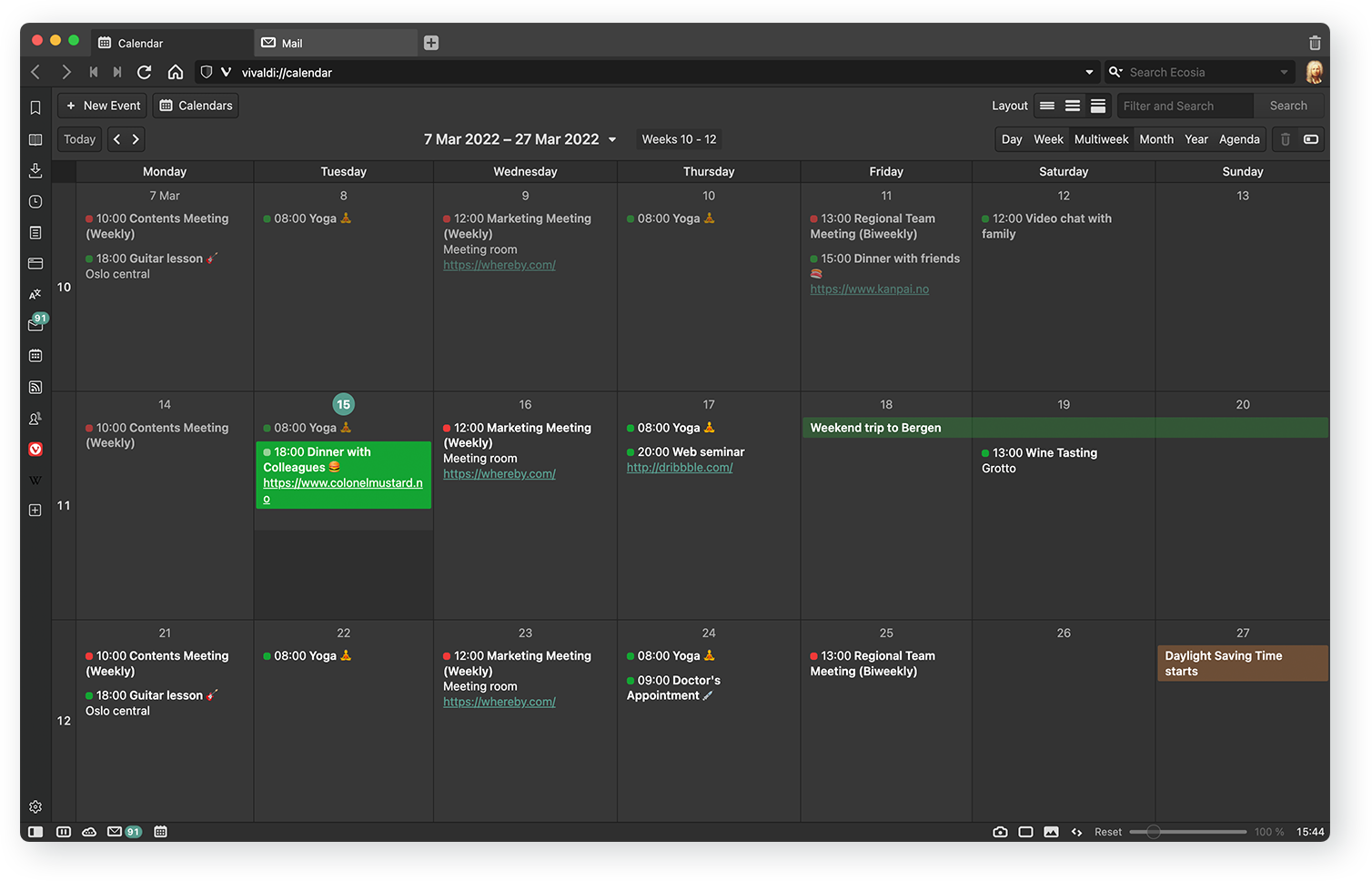 Vivaldi Calendar goes beyond a typical calendar – simple, robust but with unique functionality.
Most calendars function ok. But they leave out the details that could make things work far better for you. For example, some tend to display very little information on each event, and some are incompatible with a keyboard, ruling out quicker navigation.
So with the Vivaldi Calendar, we've tried to fill in those gaps. The grounding principle of the Vivaldi Calendar is to give you more flexibility in how you view events, allowing you to drop extra clicks.
This makes it stand out from the current crowd. We show you all the data that you need in every view, and all event parameters are available in one place. So there's no need to open extra dialogs to enter basic data.
And, as ever, our love for options holds true, so you can customize your Vivaldi Calendar just the way you want.
How is Vivaldi Calendar different from the pack?
Local or online? Your choice
You may prefer using a local calendar for privacy reasons or otherwise. Or you may prefer online calendars so you can access them across your devices. With Vivaldi Calendar, you get both options – whether you want to keep your calendar on just one computer or use calendars stored online, including Vivaldi.net calendars – the choice is yours. See the data you need in different layouts.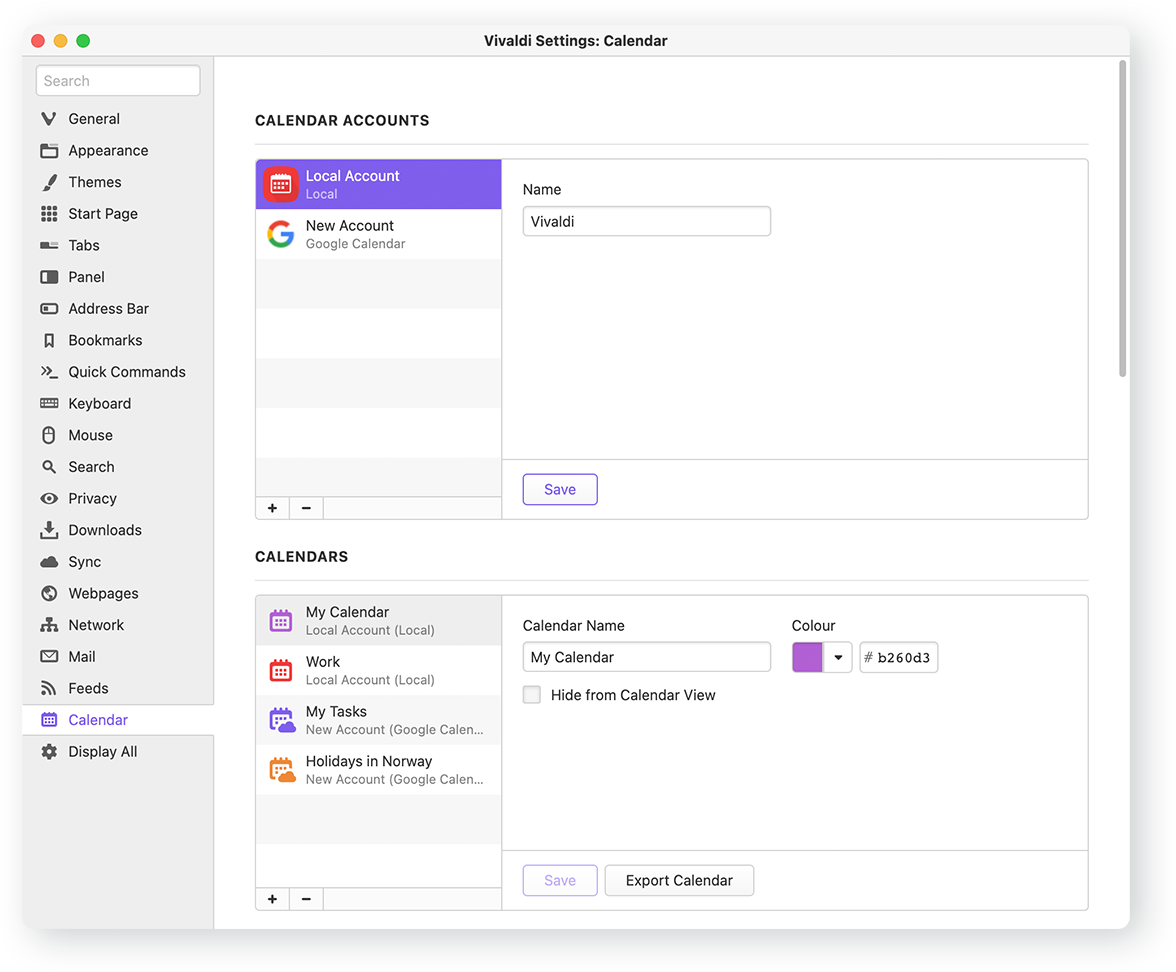 Our goal is to reduce clicks and give you a better overview of your events.
Most calendars limit the amount of data shown per event, but we make space for you to enter the full event text, to the extent possible. We also give you control over how much data to show so that you can see as much data as you prefer. Based on your preference, you can choose your level of display detail:
The Minimal view shows the event title.
The Full View shows all the event data in the main view.
The Compact view puts a cap on the text in the events
View events from the Calendar Panel
You can also view your calendar in a full tab and through the Calendar Panel in the sidebar of the browser. This panel can be kept open while browsing the web, keeping your schedule overview close at hand.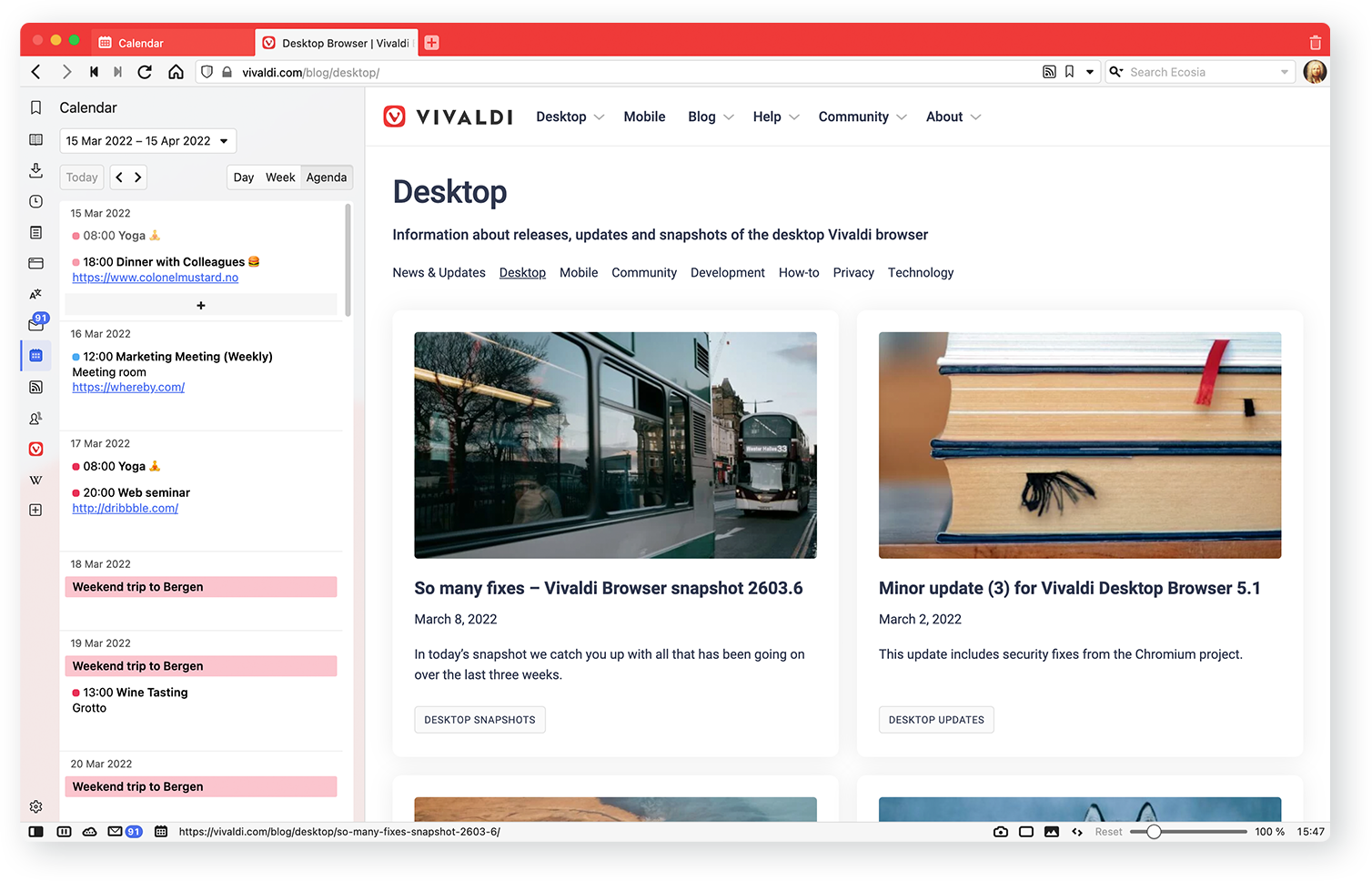 Inline event editing
Creating an event should be as simple as on paper and we let you do that with ease. Vivaldi Calendar lets you see other events while adding a new one. You can click or navigate with the keyboard and hit Enter, type your information, and press Enter again. It's that simple.
The inline editor lets you add more details and is split into more tabs such as date and time, recurrence, location, description, and participants.
No pop-ups required, though you can still use them if you prefer.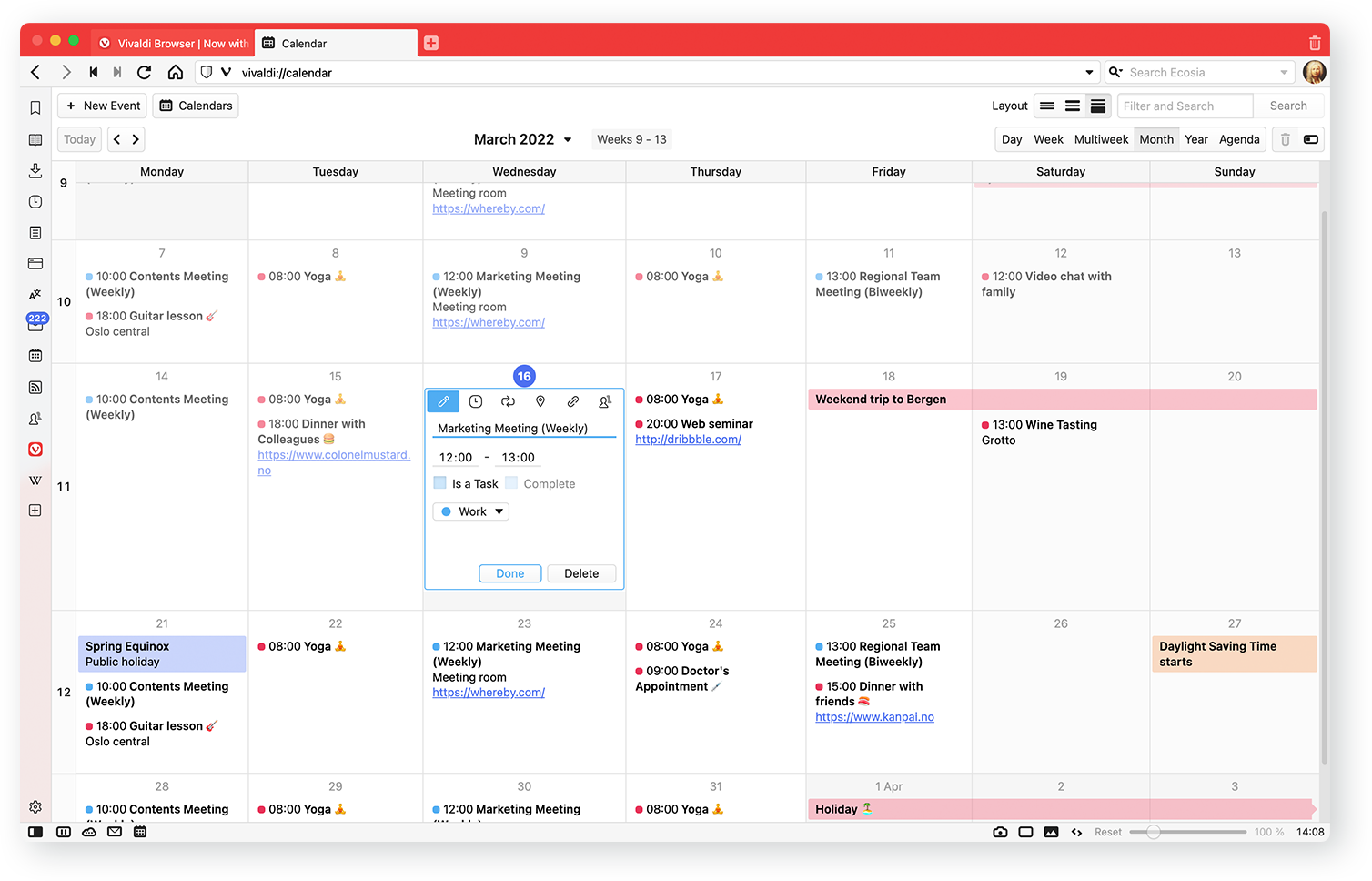 Different views for Day / Week / Multi-Week / Month
We provide different views that allow you to zoom in or out of your data. The Day and Week views show data by the hour, while the more compressed Multi-Week and Month views show events one after another.
A unique feature with our views is that the time slots do not need to be the same length. Every other calendar holds to a rigid grid, which cuts off data. Vivaldi Calendar has a flexible grid that expands as needed to fit your events.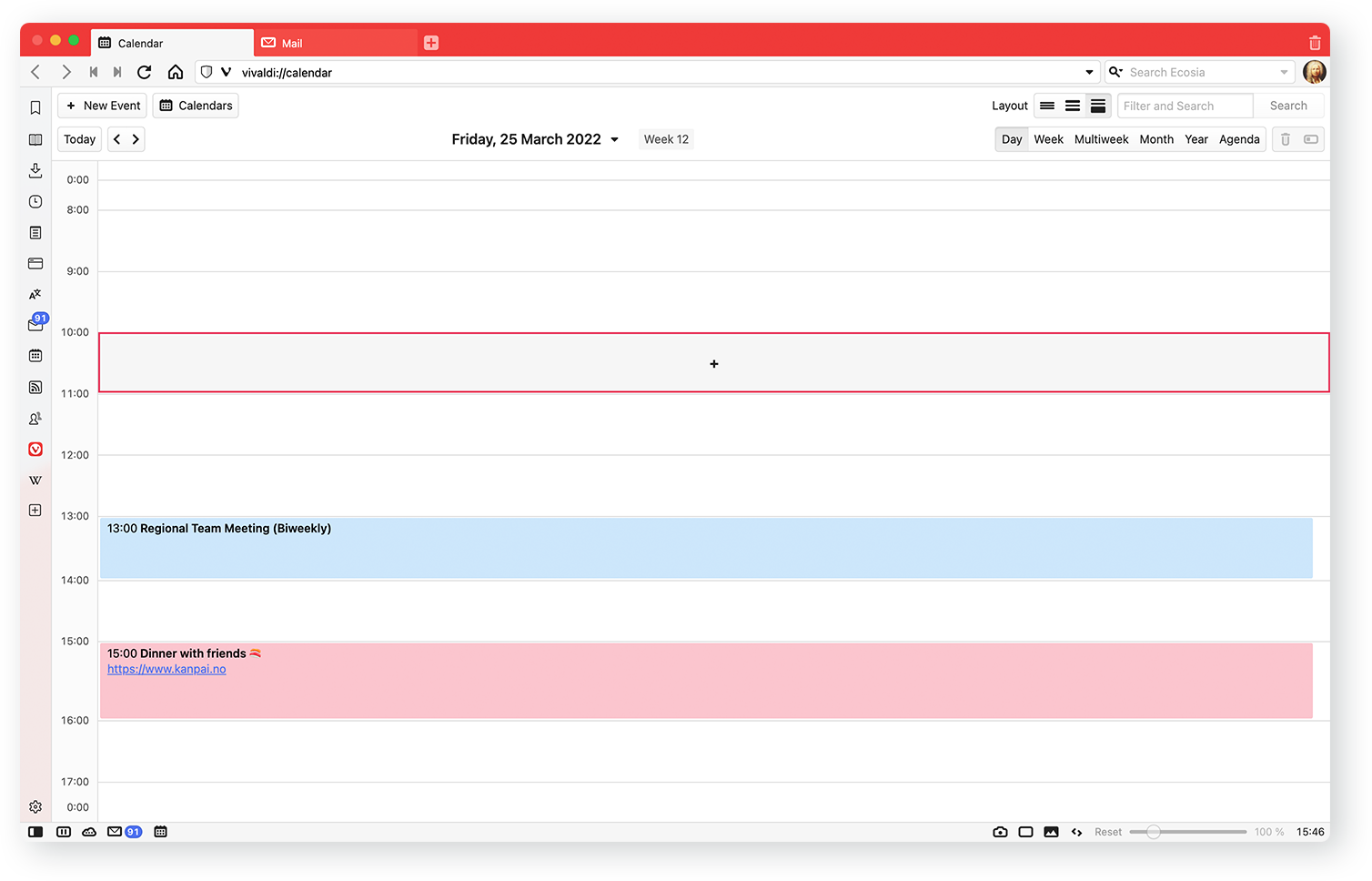 Full keyboard accessibility and Keyboard Shortcuts
You can go through your calendar and add events without using the mouse or clicking on icons. Our beloved Keyboard Shortcuts come into play here, allowing you to switch quickly between display modes – Day (d), Week (w), Multi-Week (n), Month (m), Year (y).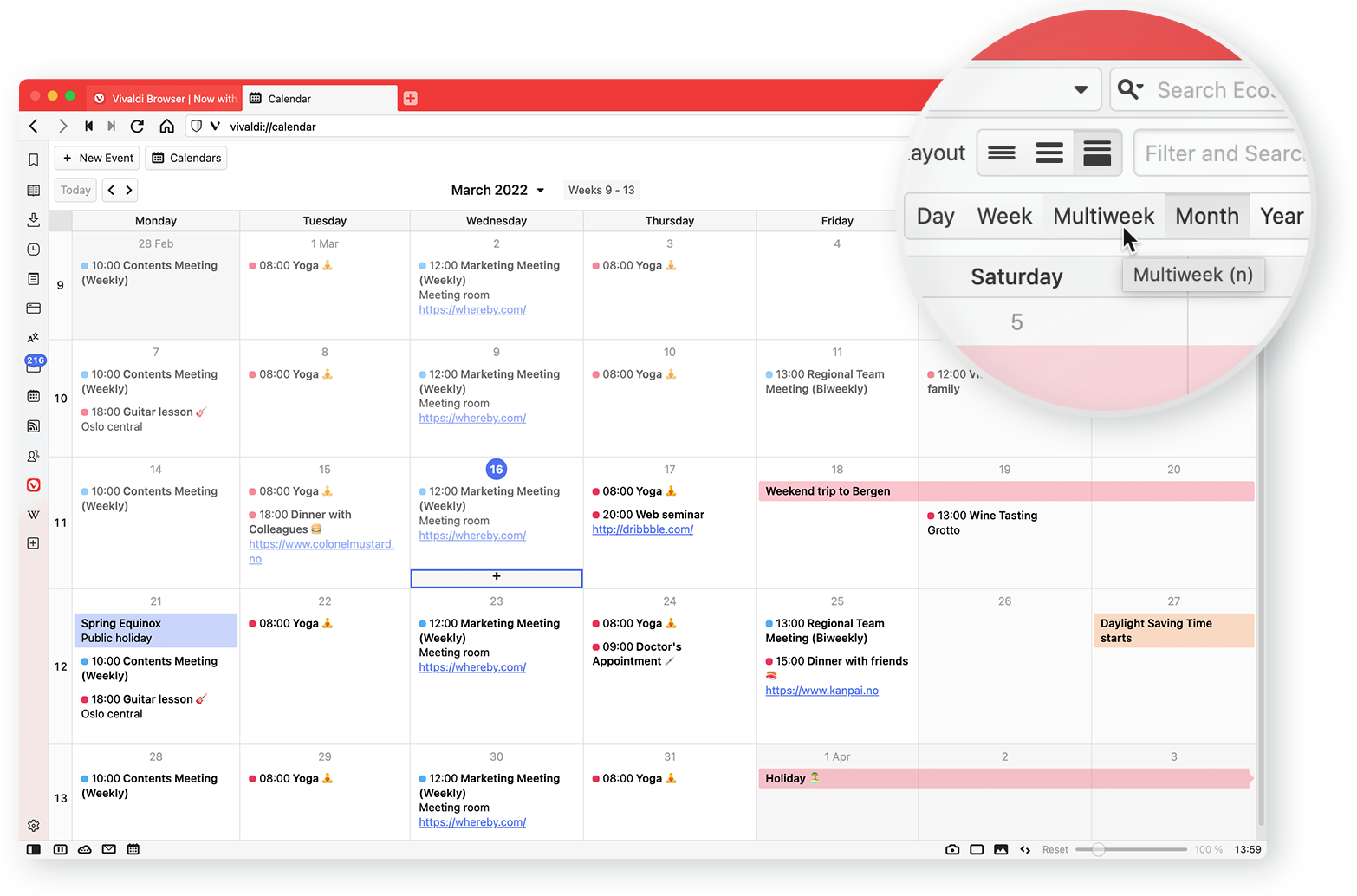 Navigation of dates
Swiftly move between days with up/down, left/right, to see what is coming up. It is perfect when organizing vacations or while attending events, for example. You can also navigate ranges by using Page up/down.
To find an upcoming appointment or a past event, just click on the date heading in the Calendar Panel or Calendar Manager and navigate between dates by using the dropdown.
Search and Filter
Our rather unique Search field lets you easily filter events quickly by entering text, which will display events in the current view. To include all events, simply press Enter or click the search button to expand the search.
Browser integration
An important benefit of Vivaldi Calendar is its browser integration. You can find, create and edit an event with the help of an Event Editor while browsing. No need to copy text between applications anymore. Instead, by using the Quick Command 'New Calendar Event,' an event will be created in the browser and added to your calendar without you having to open the calendar view.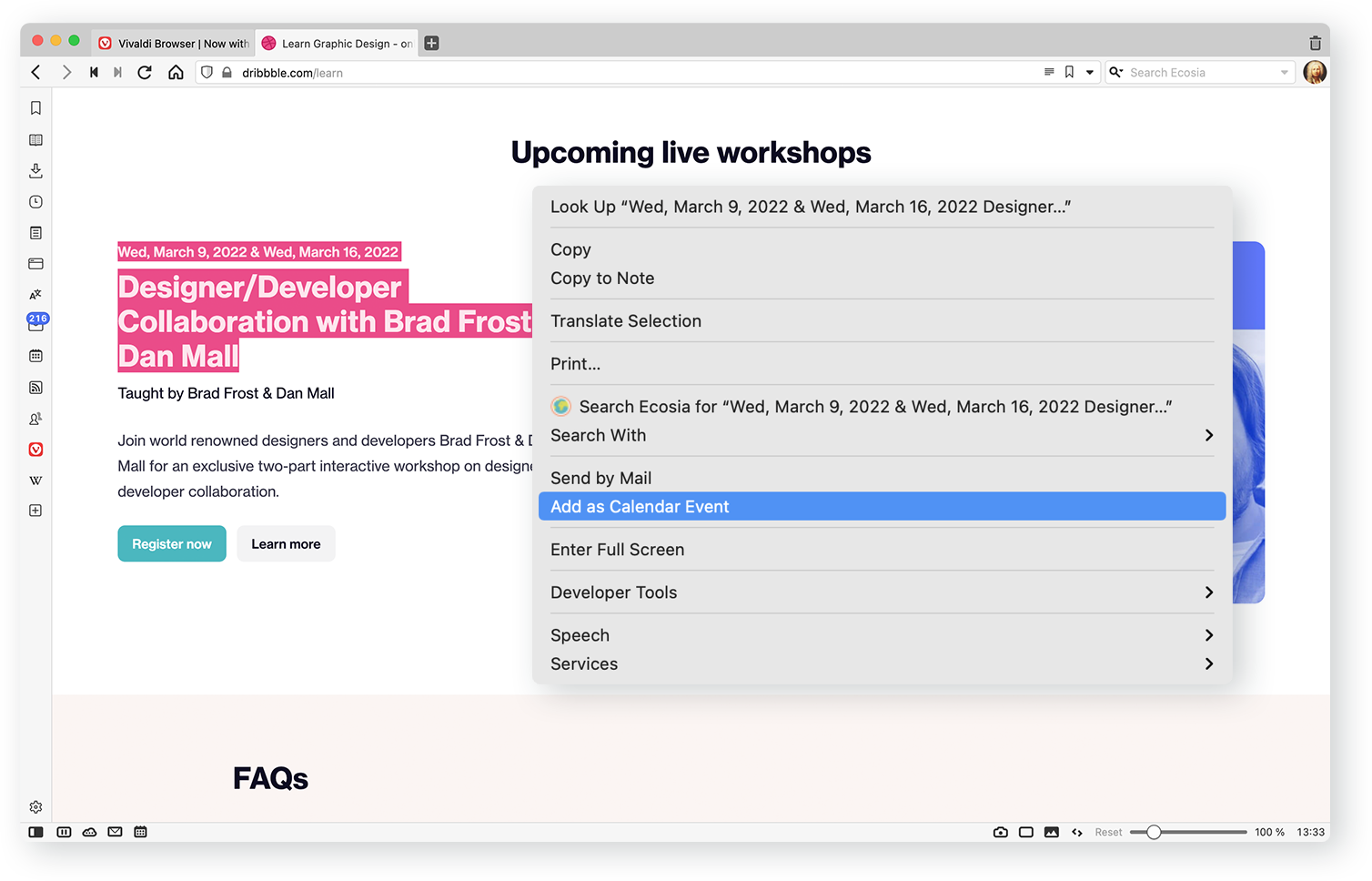 Stay on task
Adding tasks to Vivaldi Calendar is simple. Create a task from any event or vice versa. Right from the Event Editor, just toggle the is a task checkbox and your event turns into a task you can check off once done

There's also an "Add task" button to quickly add a task, with or without a deadline.
For an overview of your tasks, switch to Agenda View.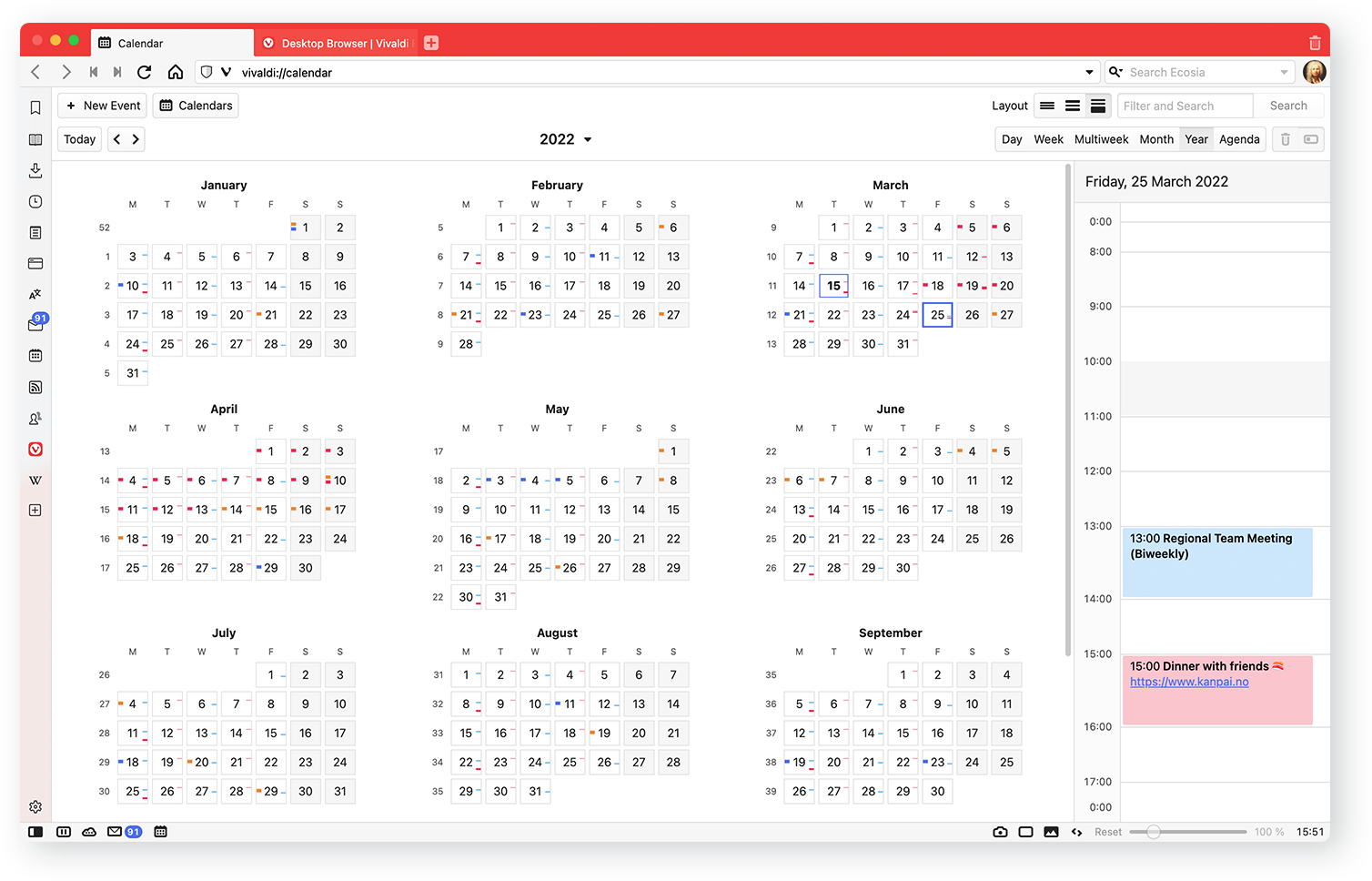 Fun notifications
Say goodbye to standard notifications. Try some fun notifications such as Melt or Burn, which are definite attention-getters. Another plus, they can even be tailored to your liking.
Vivaldi Mail is ready for you.
We know you've waited for a long time for Vivaldi Mail. Trust us, so have we. And we are delighted to finally bring it to you.
Vivaldi Mail is an ode to the original, simple, and reliable form of communication. And we hope you will enjoy using it as much as we have enjoyed building it for you.
Sure, email can at times be chaotic and messy, but Vivaldi Mail is the partner you need to get the job done – keeping your mail organized and easy to navigate.
There is a lot more to be done, and for that, we need to hear from you. So as you use Vivaldi Mail, Calendar, and Feed Reader, please continue to help us further develop them by giving your feedback.

Head to the tutorials of Vivaldi Mail, Calendar, and Feed Reader. Myths, tips, and details — all explained.
Thank you and happy mailing. 🙂