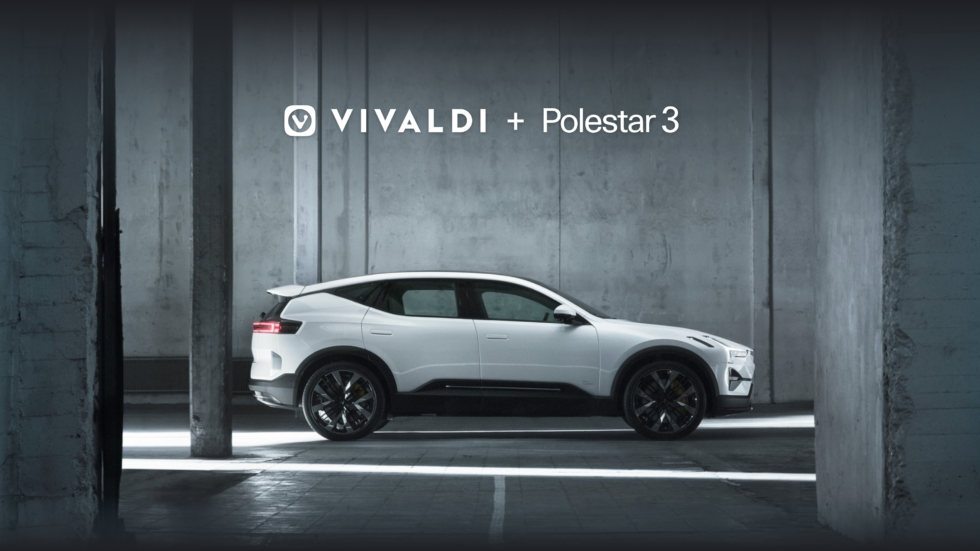 Read this article in Deutsch.
Last December, we were proud to announce that Vivaldi would be the first full-fledged browser available on Android Automotive OS, making its debut in the Polestar 2.
Now, with the arrival of the Polestar 3, the company's first SUV, Vivaldi is expanding its presence in cars and providing a superior browsing experience to drivers.

The Polestar 3 reflects a unique design language along with a very high level of standard equipment. The fully-electric 5-seat SUV produces up to 360 kW and 840 Nm of torque in the standard model. With the optional Performance Pack, total output is 380 kW and 910 Nm.
The technological and sustainability ambitions of Polestar and Vivaldi are well aligned. We both value transparency, privacy, and responsible innovation. And, we are both challenger brands approaching design from a Scandinavian perspective. One where trust and listening to users is key.
Wherever you may be, with Vivaldi for Android Automative OS, you will experience a customizable and privacy-friendly browser experience like no other.
On the go? Take Vivaldi with you.
Vivaldi is a fresh take on how web browsers should work in cars. It puts you in full control of how it looks, feels and works.

Our Vivaldi team in Norway develops the browser for both the Polestar 2 and Polestar 3 with you in mind. Our app gives you full browser functionality on Polestar 3's 14.5-inch center display. You'll find functions similar to those on our mobile browser – with tabbed browsing (including our unique two-level tab bar), streaming ability, online shopping and top security measures.
With each release, we focus on providing flexibility and an unparalleled feature set. Vivaldi's built-in tools keep you in total control of your data, so you don't have to sacrifice performance or usability for privacy. And you get handy and essential features like a notes function, built-in ad blocker and tracker protection, and encrypted sync functionality out-of-the-box.

Turn your car into a work-friendly space or immersive entertainment zone.
With the Polestar 3's upgraded hardware and added 5G support, browsing with Vivaldi is next level. As our CEO, Jon von Tetzchner, notes, "Vivaldi in the Polestar 2 is great, and Vivaldi in the Polestar 3 is looking like it could be even better, with the new sound system in place and larger screen. A great car needs a great browser and that is why Vivaldi is a great match."
The SUV's infotainment system is powered by a next-generation Snapdragon Cockpit Platform from Qualcomm Technologies, Inc. As a central component of the Snapdragon Digital Chassis – a comprehensive set of open and scalable cloud-connected automotive platforms – the Snapdragon Cockpit Platform will enable immersive in-vehicle experiences for you, with its high-performance capabilities to deliver high-definition displays, premium quality surround sound, and seamless connectivity throughout the vehicle.
Road warrior? Connect a keyboard and take your next video call from the driver's seat, as you listen to your favorite music. Keep your most frequently used apps within easy reach while you're out and about.
Starved for entertainment? Vivaldi for Android Automotive makes it easy to access your favorite streaming services without third-party apps. Stream your favorite shows, music, and podcasts right from your dash. But only while you are parked, to ensure safety. When you start driving, streaming content will continue as audio-only.
Our Vivaldi browser is the perfect complement to the Polestar 3. All your streaming activities will feel more immersive, thanks to the SUV's raft of premium and convenience features like a 25-speaker audio system from Bowers & Wilkins, with 3D surround sound and Dolby Atmos capability, soft-closing doors, a head-up display and Pilot Assist.
To complete the luxurious feel, all Polestar 3 versions include air suspension, a full-length panoramic glass roof, all-LED lighting inside and out, retractable door handles with proximity sensing, and 21-inch alloy wheels.
We put privacy first.
As with all Vivaldi browsers, your privacy is our top concern. We do not track you, and your private browsing data is not stored by the Polestar 3. When logged into a Vivaldi account, your browsing data may be shared between other devices logged into the same account. But this data is not shared with Polestar.

Vivaldi is the browser that belongs to you. And we plan to keep it that way.
First deliveries of the Polestar 3 are expected in the fourth quarter of 2023 in the North American, European, and Chinese markets. Delivery for the Asian Pacific and Middle Eastern markets will follow in 2024. Vivaldi for Polestar 3 will receive regular updates alongside our other supported platforms (Windows, macOS, Linux, and Android).