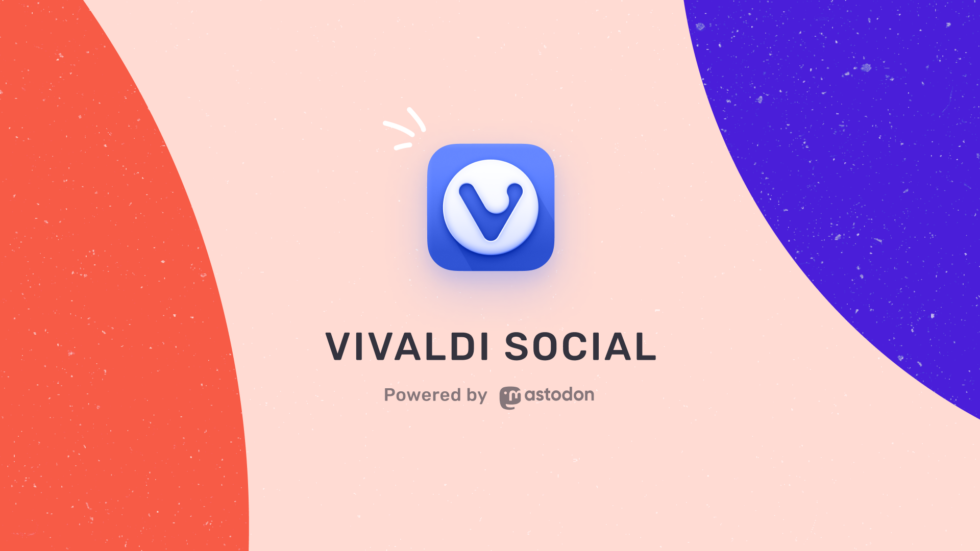 Read this article in Deutsch, Español, Français, 日本語.
Welcome to Vivaldi Social! And to Mastodon, a federated social network alternative to those networks controlled by large corporations. Instead of "lock-in", algorithms, and user-unfriendly ideas and solutions, it's an open network of communities committed to a better way of communicating online and allowing for constant improvements. It feels like the Internet again – an information superhighway, not a toll road.
Communication is too critical to be controlled by a handful of people. And at a time when more people are rethinking how they engage with social media, there is more attention to alternatives than ever.
And just as Vivaldi seeks to advance alternatives in the browser space, we're also interested in supporting social networks that aim for something better.
That is why we are launching Vivaldi Social – an open discussion hub supporting federated social media for members of the Vivaldi Community & beyond.
Joining the Fediverse – meaning you are not locked into any particular server.
Our servers, located in Iceland, have joined the growing Fediverse ("federated" + "universe"), an interconnected and decentralized network of independently operated servers communicating through the Activity Pub standard. This includes Mastodon servers, a distributed social network based on open standards.
Mastodon's decentralized approach makes it fundamentally different: rather than go to Twitter's centrally-provided service, every user can choose their own provider, or even run their own Mastodon instance (i.e., servers).
The cool thing about Mastodon is that it's "federated". That means the servers are all generally able to talk to one another. If you or your friend are on different servers, you can still follow each other. It means you're not locked into any particular server.
The thousands of computer servers comprising Mastodon are largely run by volunteer administrators. Administrators who have been valiantly working around the clock to keep up with unprecedented demand, as more and more people migrate to Mastodon.
We love the idea of a distributed social network based on open standards with no owner, no surveillance capitalism, and no tracking or profiling of users. With no system promoting posts based on their popularity or virality, or whether someone paid to promote them. And, by joining the Fediverse, we want to help it thrive by making it easier for people to join – and by providing additional server capacity to take the strain off overloaded instances.
Vivaldi Social is a natural progression for us, given our existing reliable alternatives to Big Tech — a feature-rich and flexible browser with a built-in mail client, calendar, and feed reader. We also give you the ability to express yourselves through a free and ad-free blogging platform, a thriving forum, and a webmail service.
With this step, we believe we are giving you – our community of a million registered accounts, using our sync, mail, forums, and blog solutions – an opportunity to interact with the Fediverse and Mastodon's global community on our trusted servers, based in Iceland and compliant with EU privacy regulations. If you already have a Vivaldi Account, you can use your credentials to log in to the Vivaldi Social instance. If you don't, head to vivaldi.net to sign up for a free account.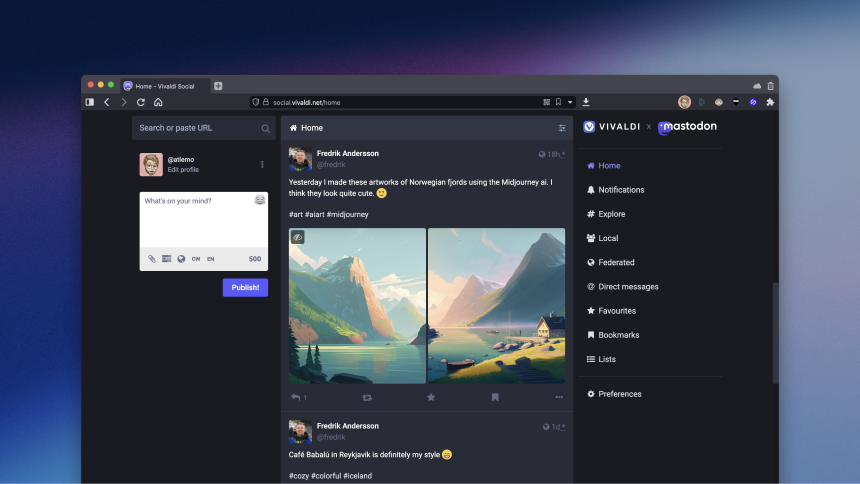 Pro tip: When you sign up on Mastodon, do it using the browser — on your phone or on your computer. Don't sign up using a Mastodon app, which can be kind of buggy for sign-ups. The browser works great!
As Vivaldi Social is a Mastodon instance, you can post (instead of tweet), follow other people and organizations, and favorite (like) and boost (retweet) posts from other users. There are no Twitter-like algorithms or targeted advertising on Mastodon. Posts appear in reverse chronological order. Join in here: https://social.vivaldi.net
And if you are a Vivaldi Feed Reader fan, you can access accounts via RSS. Just add .rss to a user URL, subscribe to yourself in Vivaldi Feed Reader, and then use the reader's search function to quickly find your old post.
With Vivaldi Social, our belief in a community-driven approach only grows stronger. We'll also continue our efforts to provide you with choices, while putting your privacy first. We invite you to take back control of your timeline – and your time.
We hope to see you there!

🎥Video featuring Ruari, Vivaldi QA Lead on why we are offering Vivaldi Social 👇