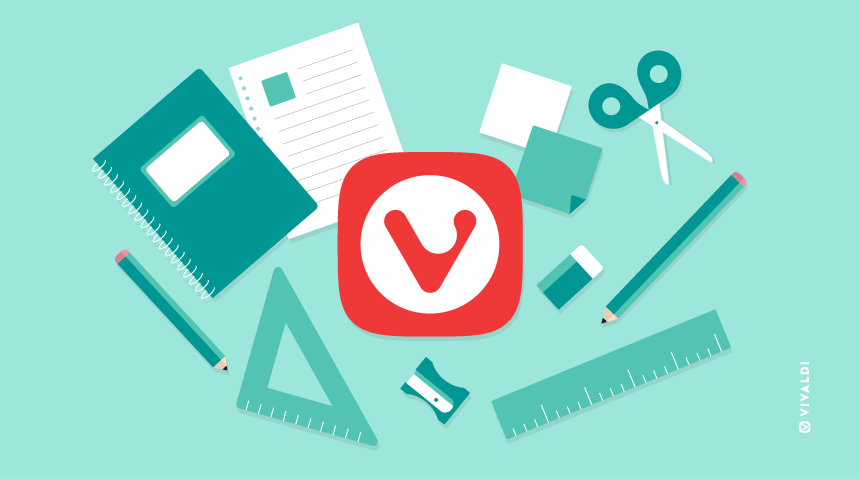 Read this article in Deutsch, Español, 日本語.
Papers, deadlines and homework – a lot to do and little time. Does this challenge sound familiar?
Self-organization can be a difficult task and requires a lot of discipline. Luckily, there are many tools in the Vivaldi browser that help you get your work done way more efficiently. After all, wouldn't it be nice to get back your free time and enjoy it without a guilty conscience?
Here you go!
Organize your notes
At the start of any class, keeping your notes and files organized doesn't seem too difficult. But halfway through a semester, you know how quickly your notes can end up in a hopeless mess.
Vivaldi Notes helps you organize everything into specific folders for your classes. And did you know that we also have a full-page Notes Manager? That comes in handy!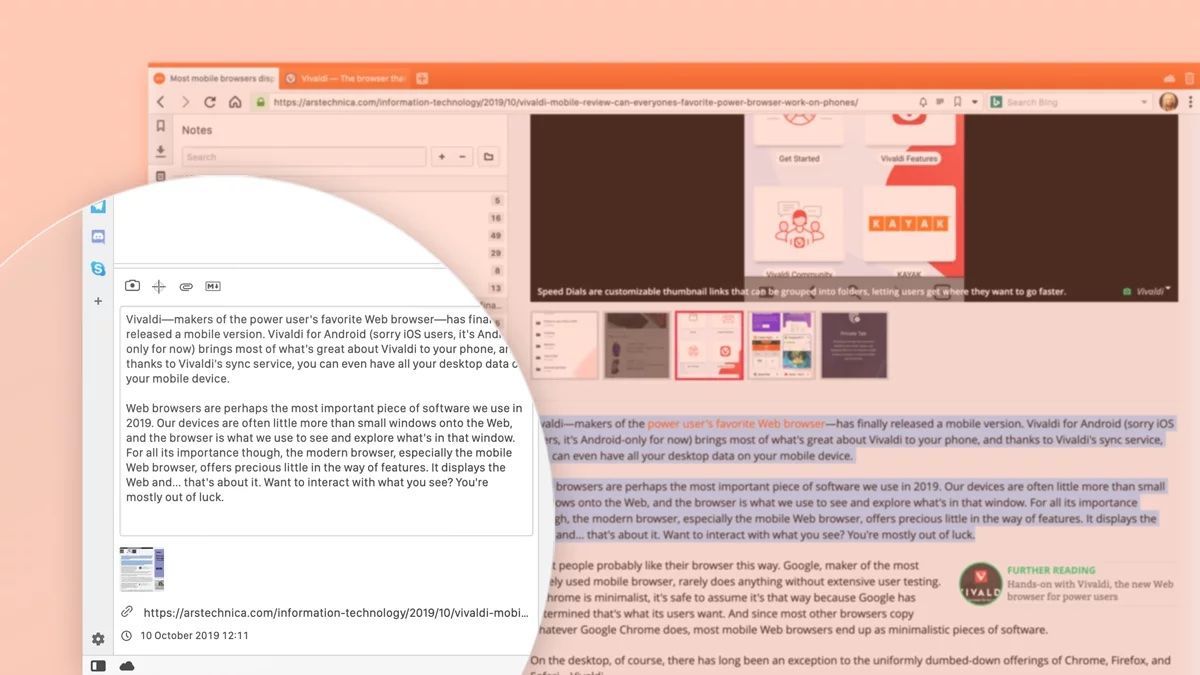 Use Vivaldi Notes as a centralized place for all your calendars and schedules. Just write up your schedule in a note or simply use the screenshot feature to capture whatever is displayed on your current page.
Yes, you heard that right, a built-in screenshot feature that allows you to take screenshots of the entire browser window or any section of the window. Just tap on the camera icon to enable taking a screenshot. And easily attach those to your notes.
Stumbled across something interesting for your research? Just highlight the text and select the "Add Selection as New Note" option to save it to Notes. It doesn't get any easier than that!
And for all of the tablets fans out there, take your notes on the go with our built-in Notes on Android devices. Create Notes as you browse and sync them securely between all your devices.
Keep all important links on the side
Especially while taking class notes, being quick and to multi-task are two very important skills. Having to switch across all the tabs every time, wouldn't come in handy here. That's where our Panel, the sidebar in the browser, comes into play.
With your notes in the Panel, you can simply pop them open side-by-side with the page whenever you need them. Once you are done, simply close the Panel and continue.
And if you want to break the language barrier, use our dedicated Translate Panel that auto-translates selected text in a flash and gives you access to your translation history. It is integrated in the Panel. Have a look!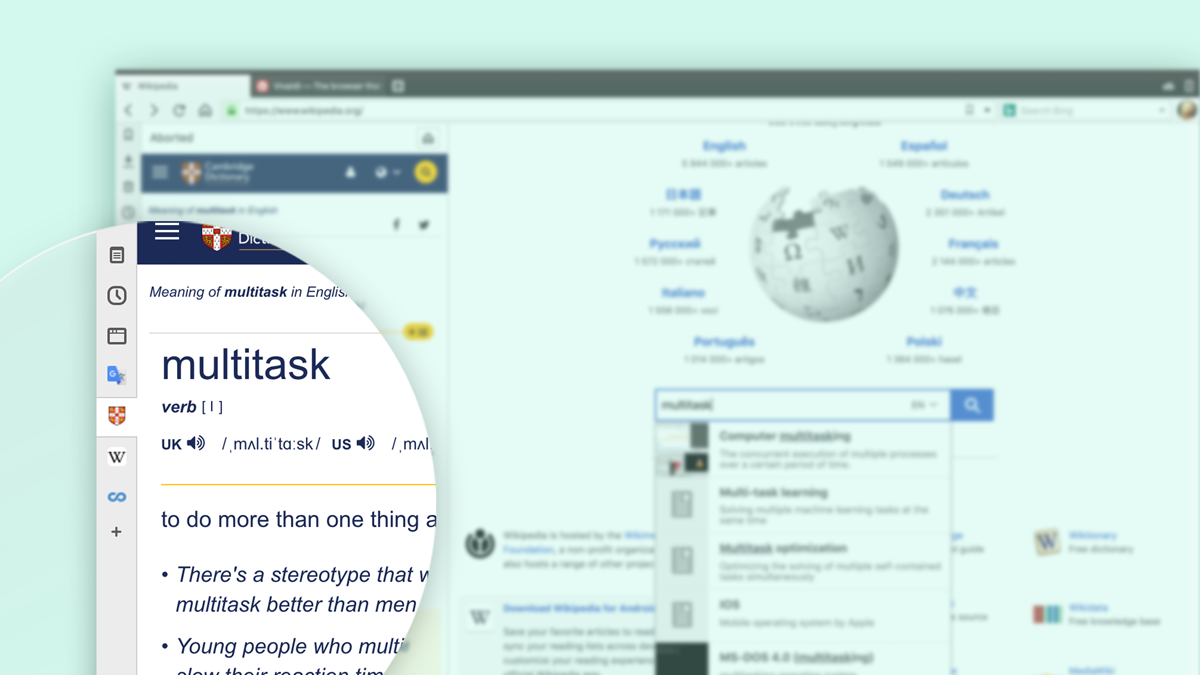 This, of course, works for any other website as well. Want to keep track of your social media accounts? The Web Panels are a hot favorite in our feature set. Just click on the "plus" and add your favorite websites, to have them around no matter where you go (or browse). And the cool thing is that you can even reorder, manage widths, float and mute your Web Panels and turn off any disturbing sounds.
Let's talk about your emails now. Do you still wrap your head around all those to-dos from your private and university mails? That's the end of it!
We've got Vivaldi Mail in the Panel that will help you keep track of ALL your mails, no matter how many different accounts you have. Learn more here.
Manage your tabs like a pro
Okay, let's face it. How many tabs do you have open right now? Four? Ten? Too many to count? No worries, tab hoarding is not a bad thing at all. You just need the right feature to deal with it.
May I present to you Tab Stacking? If you have never used Tab Stacking before, this feature is a game changer.
With Tab Stacking, you save space by sliding one tab over another and stacking them. When you click on a stack, it drops down the stacked tabs to choose from.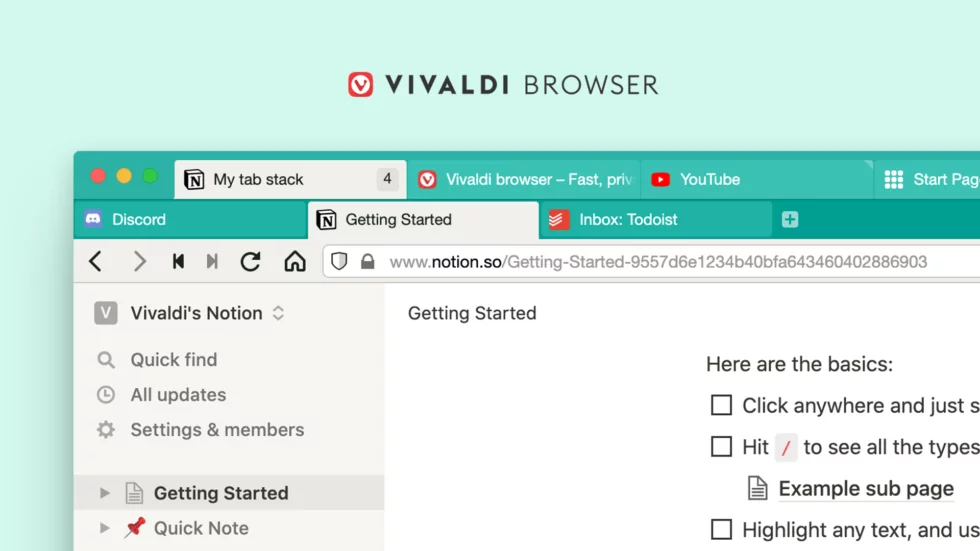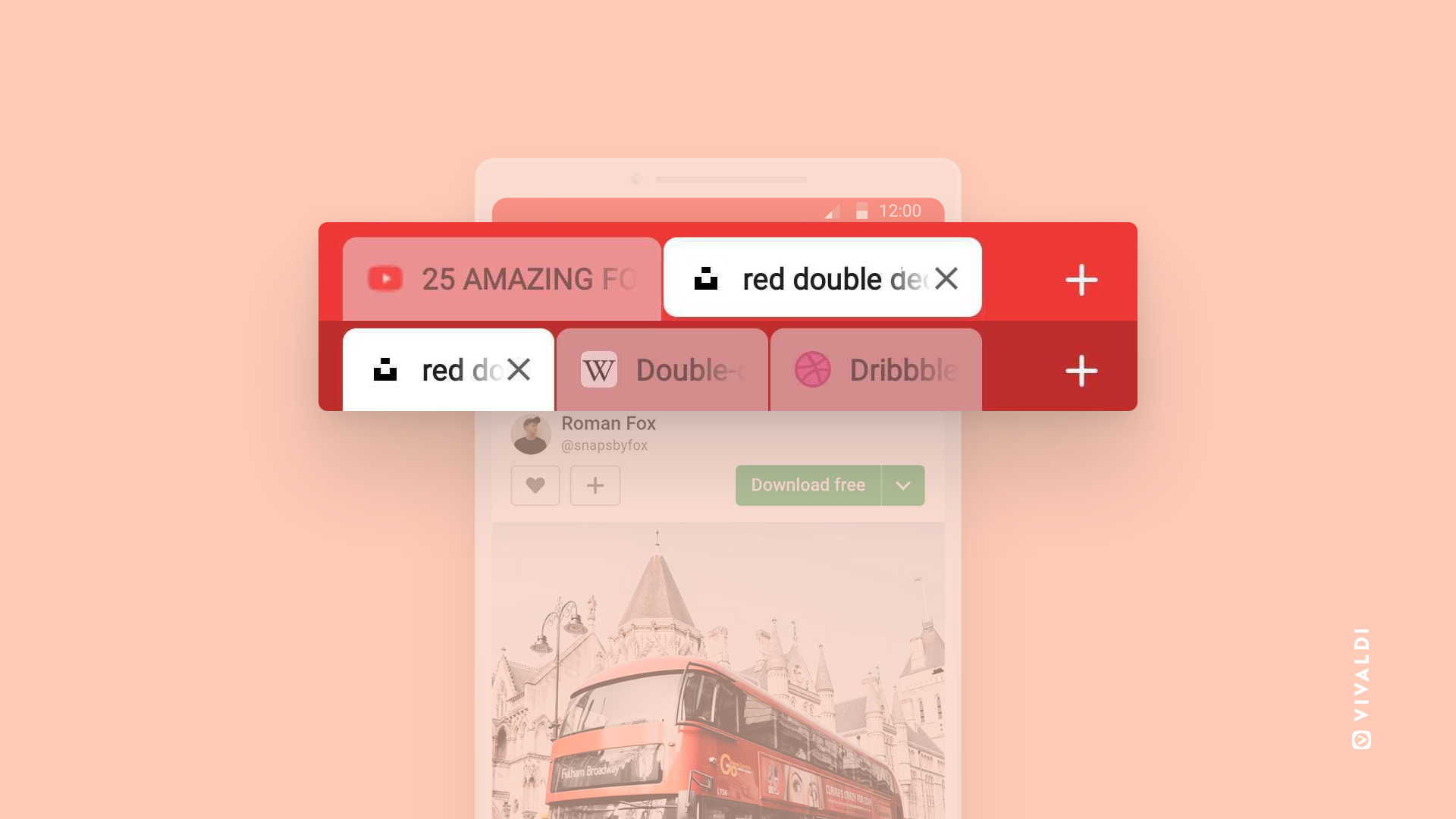 And the best is that you can even rename your Tab Stacks for example, for a particular subject or a research. How neat is that?
Not happy with only a single row of tabs? Use Two-level Tab Stacking, a feature that you will only find in Vivaldi, and is also available on Vivaldi on Android.
And if you have multiple tabs open for translation, research, or comparisons, switching between all those tabs gets annoying. Rather use Tab Tiling which creates a split-screen view of several websites.
You can "tile" any number of tabs. Just select the tabs you want to view and choose "Tile Tabs" from the context menu. Select a tile layout via the Status Bar at the bottom-right of the browser window. Once you have your tabs set up, resize the tiles, if needed.
Clock your time smartly
Procrastinating while studying and getting distracted by social media notifications, is something we all might have experienced at one time or another. Here comes the solution: our built-in Pomodoro timer.
Just define how long you would like to work in focus mode and the timer will remind you to take a break.
By the way, I used the Pomodoro timer when writing this article. It really works wonders. Bye-bye, procrastination! Try it yourself!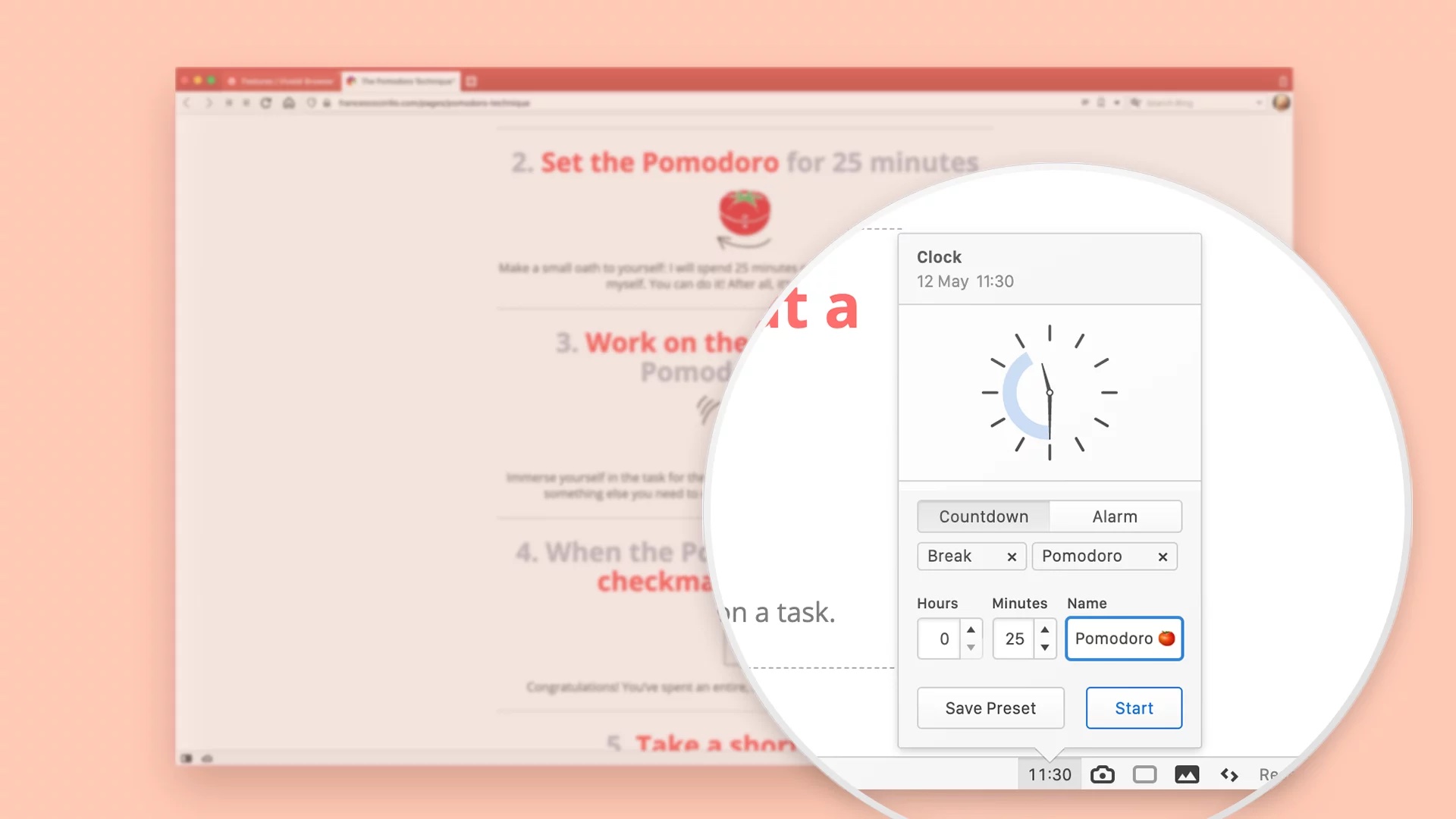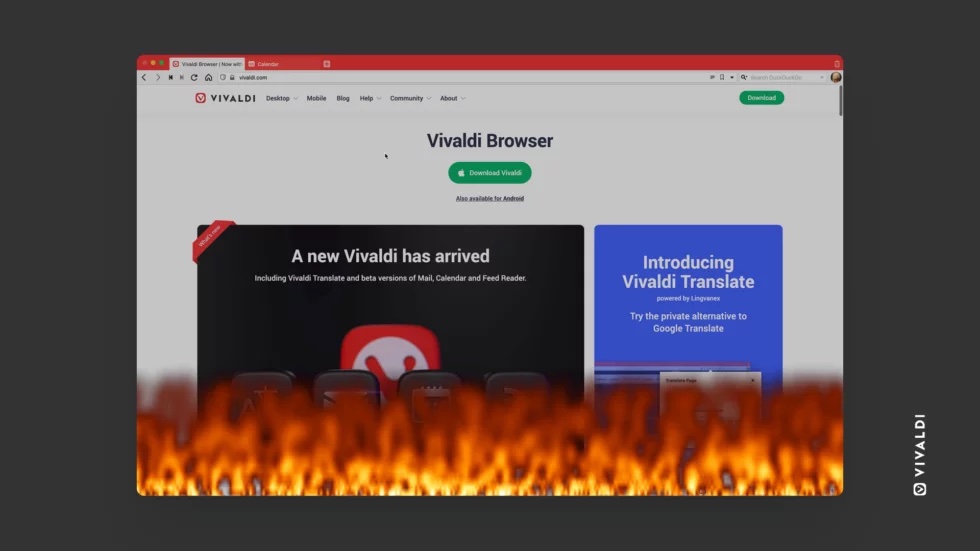 For many of us, days can be filled with a whirlwind of meetings, events, special occasions, and personal tasks. Sometimes the week can feel over before it has even begun, and at times make it hard to know which way is up. This makes a calendar essential. Vivaldi Calendar goes beyond a typical calendar – simple, robust but with unique functionality. And it is already integrated in your browser. Check it out!
Oh, and on that note, if you are that type of a person tending to forget about meetings and lectures, let your screen melt to remind you!
Yes, you heard that right, activating the "Melt browser" notification gives a feel that the page that you are browsing is suddenly going to collapse. Nothing truly collapses, but the distraction wakes you – just in time for the lecture that you have been dreading.
Add more fun and color to your browser
Studying is not always easy, but having some fun in between is important for your mental health. So how about changing your themes according to your mood? Check out our Themes library or upload your own ideas. Be creative and have fun!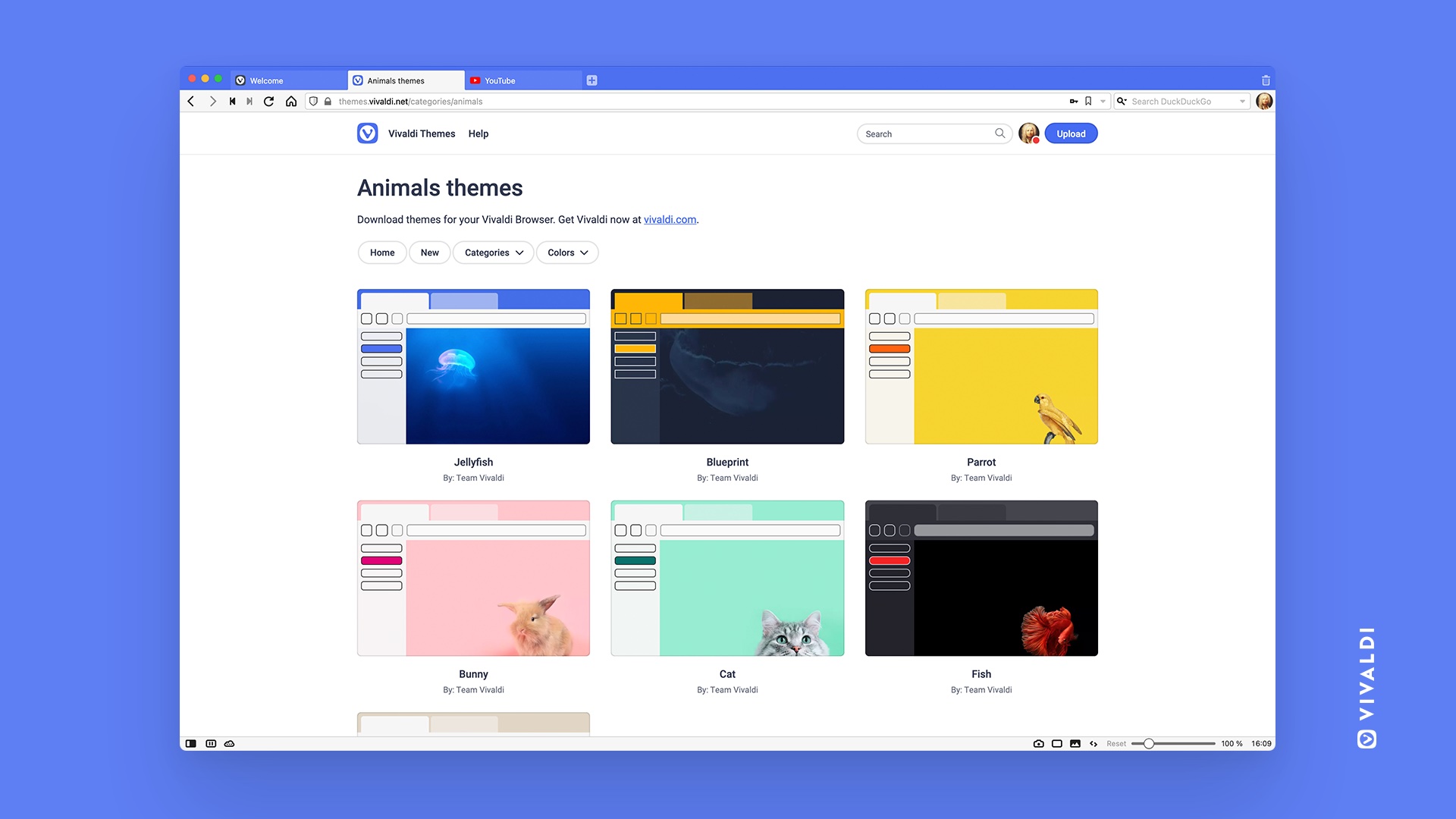 Speaking of fun, did you already try our built-in Vivaldia Game? It is an 80s arcade game inspired by the Future Noir and Cyber Punk genres. Play it both online and offline on Windows, Mac, Linux, Android, Chromebooks, tablets, and in cars.
Now, it's your turn! Tell us your tips and tricks on how to become a better student. Which features help you the most?