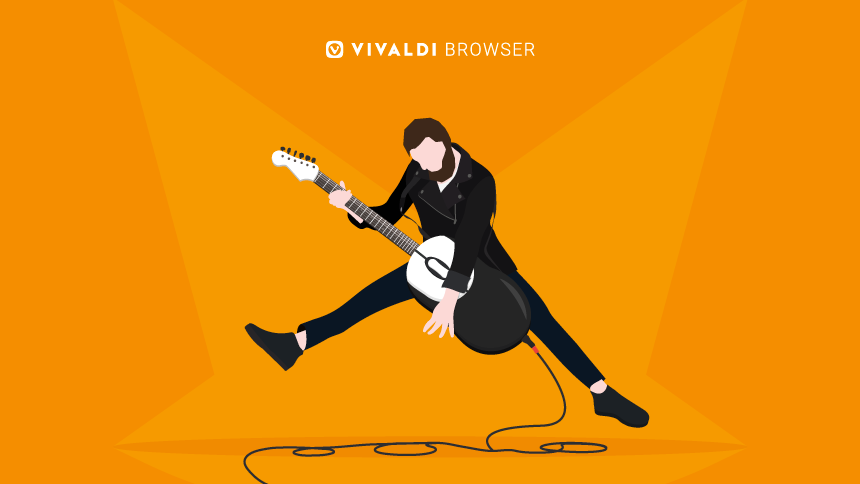 Read this article in Deutsch, Español, Français, 日本語, Русский.
Our first update after our summer break is here – Vivaldi 5.4.
Jam-packed with improvements across the board, Vivaldi is now faster and better, including our recently launched Vivaldi Mail, Calendar, and Feed Reader. Ever since we launched this trio, we've focused on polishing and fine-tuning it.
The Web Panels in the browser's slide-out sidebar gets the ability to turn off the sound, just like the way you can mute tabs, giving more control over which sound source you'd like to listen to.
Rocker Gestures, a part of the Mouse Gestures capabilities, help navigate back and forward with your mouse buttons (click right + left = back). Now, you can assign any command you want to both gestures making them customizable.
Sharing of text is quick with the added support to highlight text and generate a link to that highlight. An option, "Always use secure connections", has been included for secure browsing.
Download the new Vivaldi 5.4 on Windows, macOS, and Linux.
Web Panels, keep em' muted, and carry on!
With Web Panels, accessing sites that you love and use the most is easy. In other words, these sticky non-tabs in the browser's sidebar help create a split screen view.
A panel may have sound, just like any other tab. And at times, audio starts blasting from a site or auto-playing some video.
Not anymore.
Now, we've added the capability to mute the Web Panels, You can select which sound source you want to listen to. This works like a charm for social media sites or sites where articles have sound when you don't expect it.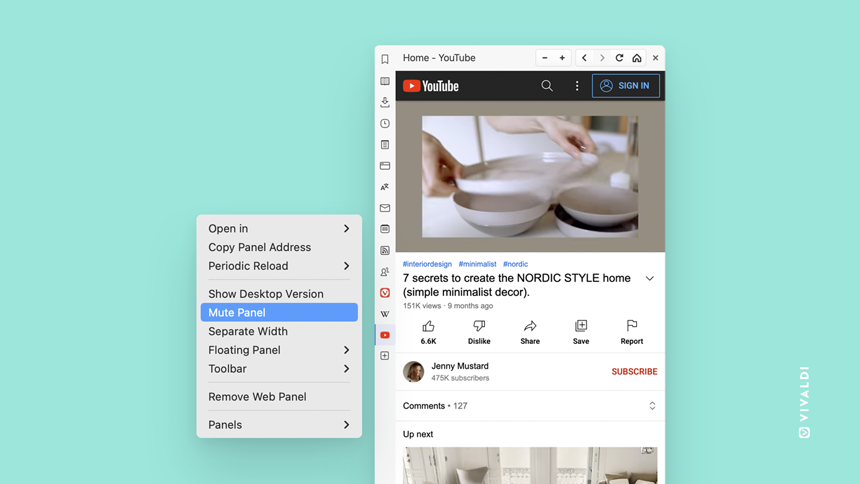 We've always wanted Web Panels to fit your browsing needs like a glove, so over time, much functionality added to it has made this feature unique – reorder and customize them in different widths, reload them periodically, float them for screen optimization and now even mute them.
Customizable Mouse Gestures, Rocker Gestures? Take your pick and browse quicker.
Unlike most major browsers, Mouse Gestures in Vivaldi can perform any action you like. You can even MYOMG! (make your own mouse gestures).
Rocker Gestures are part of the Mouse Gestures capabilities in Vivaldi. So far, you have not been able to select what the Rocker Gestures do. Now you do.
Until now, the actions performed were hard-coded to going back and forward in history. But now you can assign any command to both gestures. Super customizable! And, often requested by our users.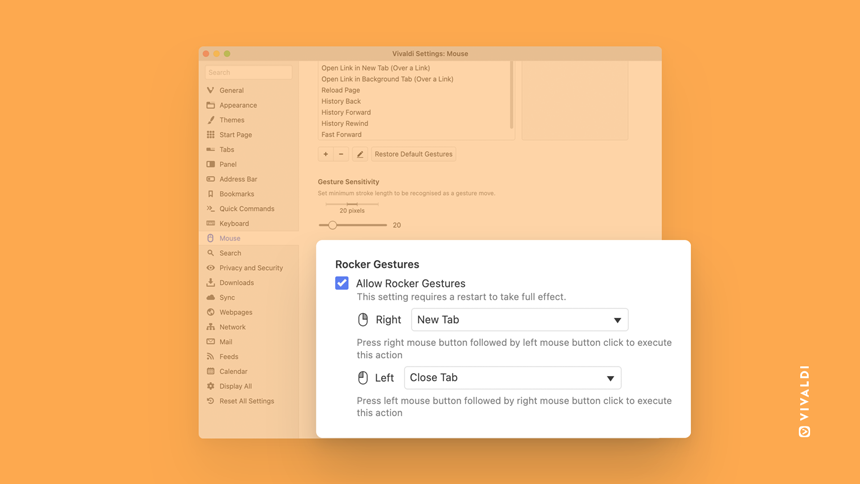 Mapped directly to the two buttons of your mouse, Rocker Gestures work by rocking your fingers between your left and right mouse buttons. Simply click and hold one button, click the other button, release the first button and let go. You can rock across the mouse from right-to-left or left-to-right; each direction you rock gives you a different result.

Simply go to Settings → Mouse → Allow Rocker Gestures and select your favorite action
There's always room for more.
Copy link to highlight: This allows sharing a specific part of a web page quickly.

For example, highlight the part of the Wikipedia page you want to point people to. Right-click and choose "Copy link to highlight" and send that URL to anyone using a Chromium-based browser. When the page loads, it'll directly go to that part of the text instead of to the top of the Wikipedia article.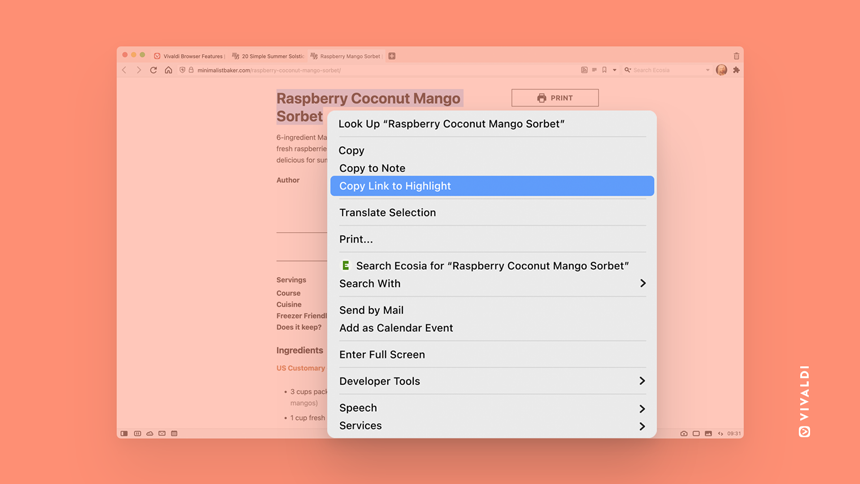 Always use secure connections: This option automatically upgrades all navigation to HTTPS and displays alerts before loading websites that don't support it. The HTTPS upgrades will be automatic to allow you to browse the Internet without interruptions over a secure connection wherever possible.

Enable this option? Go to Settings → Address Bar → Security Features
Vivaldi Mail, Calendar, Feed Reader – Version 1.1
In June, we launched Vivaldi Mail 1.0, integrated with Calendar and Feed Reader. Vivaldi Mail 1.0 introduced a lot of unique features to Vivaldi. Since the launch, we have continued to polish Vivaldi Mail.
Vivaldi Mail 1.1 does not introduce a lot of new features. Instead, we've been fine-tuning it. The same applies to the Calendar and Feed Reader. As a result, Vivaldi Mail works better than before with some noticeable differences in speed and performance.
Vivaldi Mail is powerful. You can handle your emails (even large volumes of them!) better than ever from all accounts efficiently under one roof, without having to deal with other web-based clients or work with yet another application window on your desktop.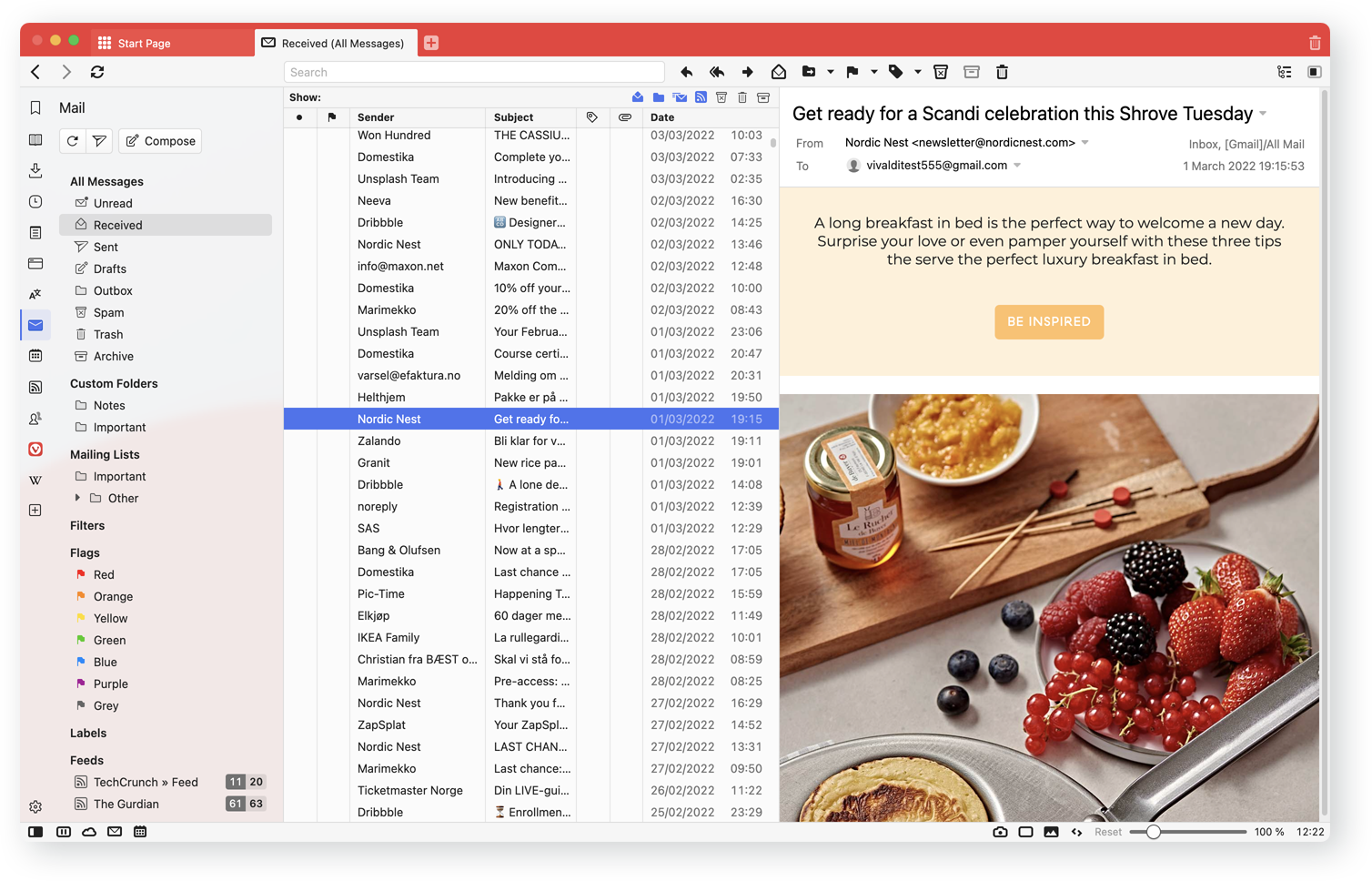 Here are some standout features of our built-in email client:
Manage all email accounts in Vivaldi – all for free. IMAP and POP3 email accounts are supported.
You can choose to use Vivaldi Mail with your existing mail and calendar services, or set up an account on vivaldi.net. Or even add a trusted third-party service such as Fastmail.
Find or go back to any mail message easily, as emails from all accounts are indexed, therefore searchable offline. When prefetching mails, Vivaldi Mail indexes all the content of the emails before they are opened.
Search for any message across your accounts with Vivaldi Mail's database. Switch with a click between web browsing, emails, Calendar, and Feed Reader
Manage all messages from the Mail Panel (in Vivaldi browser's sidebar). This displays the default folders, including unread, received, drafts, special folders for mailing lists, filters, flags, labels, and also individual email accounts added.
The counters show two numbers in any view – unseen mails (brand new mails never seen before) and unread mails (mails that you have seen but not read fully).
Choose different customizable views and layouts, including the default three-panel layout. Prefer the classic horizontal layout? Split the mail list and the active message horizontally.
Organize mails with Flags and Labels. Add different colors or labels to emails. Custom views can be used to display emails with specific flags or labels only.
Control views with toggle buttons and a search bar – hide or show Read emails with a click, including messages from mailing lists, custom folders, feeds, archives, junk and trash.
Customize mail navigation with Keyboard Shortcuts and Quick Commands – tap on G and jump on the next unread message, hit T to view the message thread, and more.
Prepare emails in advance and queue them, in case you are unsure when (or if) to send them.
View the feed items within the Mail Panel or view them from the dedicated Feeds Panel. View YouTube videos inline in Vivaldi Feed Reader that will help limit your tracking exposure. Sort, index, and search your feed items or even mark them as read without deleting them.
Add Calendar accounts easily – local, online, or both.
View the calendar in a full tab and through the Calendar Panel in the sidebar of the browser. This panel can be kept open while browsing the web, keeping your schedule overview close at hand.
Reduce clicks and get a better overview of your events.
Control how much data you would like to see and choose the level of the display through Minimal view (shows the event title), Full View (shows all event data in the main view), or Compact view (puts a cap on the text in the events).
Add or edit events quickly, with Inline Event Editing – all within your schedule overview.
View the Calendar as per preference e.g., by day or week, with events listed by the hour, monthly or multi-week view. Unlike other calendars, find full information in a flexible grid where no content is cut off.
Use the powerful and unique Search field to filter events quickly in the Calendar. Also, get keyboard accessibility support and keyboard shortcuts to navigate quicker.
Find, create and edit an event with the help of Event Editor while browsing easily as the Calendar is integrated with the Vivaldi browser.
To hit the ground running, download the browser, and select the Fully Loaded layout for Vivaldi Mail. Already using Vivaldi? Go to Settings → General → Productivity features → Enable Mail, Calendar and Feeds.
Watch these tutorials and learn more about Vivaldi Mail.
All of our browser development begins and ends with you — whether you sent us feedback, or posted on the Vivaldi forum, thank you for helping steer Vivaldi.
Head to the changelog and dive deeper! And take Vivaldi 5.4 for a spin, right away!
Turn a detective for this update. Can you find the hidden new feature?
Vivaldi is practically overflowing with options, and it's easy to lose track of some useful stuff along the way. And on that note, there's a secret "extra" in this update. Did you discover it yet? Freebies on us for the first one to reply and name that hidden feature. Tell us as soon as you can.

And we found our detectives….
So, they found that hidden feature! And trust us that one is one of the highly requested features on our forum.

Zoom in Web Panels. 🙂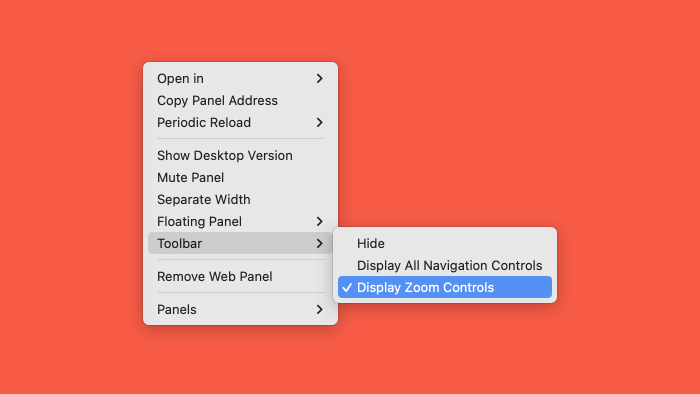 To zoom in a Web Panel, first right-click on the Web Panel and select Toolbar > Display Zoom Controls from the context menu. Then use the + and – buttons at the top of the Web Panel to zoom in and out. The zoom level is retained through restarts.
Try it out. We think you'll like it. And now we have some work to do! Get in touch with these three detectives: Aperricio, Catweazle, and MasterLeo29( scroll down the comments in the blog below).
Good work, folks!

(Last edited on 18th August 2022)

Changelog from Vivaldi 5.3 to 5.4
• [New][Panels][Media] Web panel muting (VB-45923)
• [New][Gestures] Allow rocker gestures to be customizable (VB-13614)
• [New][Menus] Add "Link to highlight" (VB-89374)
• [New][Search] Allow hiding search engine keywords in search (VB-89821)
• [New][Settings] Add always use secure connection setting (VB-90128)
• [New][Quick Commands][Keyboard] Support Paste and Go [Ctrl+Shift+V] (VB-49224)
• [Address Bar] History entries do not show unless "Show Search Queries History" enabled (VB-89561)
• [Address Bar][Blocker] Icon for blocked content is surrounded by a box that sticks out (VB-90145)
• [Address Bar][Keyboard] Undo (Ctrl/⌘+Z) is unstable. (VB-89517)
• [Address Bar][Tabs] Address popup is covered by a tab bar when hiding the address bar (VB-89759)
• [Address Bar][Themes] Dropdown highlight isn't visible in dark mode (VB-90182)
• [Address Bar] Focus forgotten when navigating between tabs (VB-90492)
• [Bookmarks] Force update of all predefined bookmarks to import favicons (VB-90447)
• [Bookmarks] Search/filter in Add Bookmark dialog is broken (VB-89818)
• [Bookmarks][Bookmark Bar] "Text only" shows the icon (VB-89934)
• [Bookmarks][Panels] Scrollbar position is duplicated (VB-90264)
• [Bookmarks][Speed Dial] Update Yelp thumbnail (VB-90403)
• [Calendar] 12h time format ignored (VB-90474)
• [Chromium] Upgraded to 104.0.5112.83
• [Clock] Countdown timer field not selected by click (VB-90684)
• [Commands][Keyboard] Cannot use custom shortcuts for command chains (VB-90267)
• [Cookies] Allowing cookies on a page is not remembered after reload (VB-72496)
• [Developer tools] Cannot copy and paste (VB-89832)
• [Download] Dialog doesn't close by clicking on internal page (VB-89538)
• [Download] Dialog doesn't display the hostname (VB-90307)
• [Downloads] Save/Save as dialog disappears when clicking outside (VB-71937)
• [Downloads] Text cut off in the popup (VB-90344)
• [Favicons] Search icons not displayed after moving profile (VB-89552)
• [Find in page] Doesn't close after navigating (VB-89255)
• [Import] Blocker source file dialog closes automatically (VB-64833)
• [Installer][Windows] Uncompress installer earlier (VB-85925)
• [Linux][Media] Change proprietary codecs to 104-108069
• [Media] Cannot play media streams in ADTS format (VB-89847)
• [Media][Windows][macOS] Media code clean up
• [Media][macOS] Media issues (VB-90101)
• [Media][macOS] Audio gone on the second play of Twitter video (VB-90288)
• [Menus] Unify appearance of HTML drop-down menus (VB-89676)
• [Navigation] Cannot use Alt+(Right Arrow) on the start page to navigate through history
• [Navigation] Stackblitz Page is redirected to a blank screen (VB-71066)
• [Notifications] Outline extends outside field (VB-90259)
• [Notifications] chrome-extension://invalid/ opens when notification from an older instance is clicked (VB-45447)
• [Page Zoom] Slider overflows hidden toolbar (VB-89901)
• [Panel] Expand the editor resize handles (VB-90557)
• [Panel] Floating panel anchors page when toggled (VB-89499)
• [Panel] Make the close button optional (VB-89453)
• [Panel] Scrollbar positioning is broken (VB-90264)
• [Panel] Update empty states (VB-89679)
• [Panel] Visible scrollbars in the collapsed editor (VB-90557)
• [Panel] Zoom in Web Panel (VB-17446)
• [Panel] Contact buttons misaligned (VB-90265)
• [Panel] Remove "Views" entry from the feed menu (VB-89409)
• [Panel] Add Zoom Controls in panels to separate menu entry (VB-89963)
• [Panel] Inconsistent behavior on middle-clicking the panel icons (VB-84850)
• [Panel] Zoom doesn't stay in sync across reloads (VB-89992)
• [Permission] Split settings list into two columns (VB-89442)
• [Popout Video] Symbol is shown even with disabled HTML attribute (VB-63391)
• [Search] Field Button dropdown history icon broken (VB-89955)
• [Search] Icons are sometimes missing (VB-90229)
• [Search] Update the Qwant logo (VB-90736)
• [Search] Wikipedia for Swedish now points to a different language (VB-77932)
• [Search][Keyboard] Field focus shortcut with hidden toolbar doesn't work (VB-89729)
• [Search][Menus] Search using POST opens blank (VB-90002)
• [Settings] Fix incorrect window control sizes (VB-90412)
• [Settings] Limit reset buttons to not disable mail, calendar, and feeds (VB-89466)
• [Settings] Window title might have the wrong color (VB-90405)
• [Settings] "New Theme" text is misaligned (VB-90533)
• [Settings][Mail] Reset all settings removes mail (VB-89488)
• [Settings][Media][Autoplay] Disabling Autoplay blocks video player UI (VB-89422)
• [Settings][Menus] Move Mail and Calendar actions to separate folders (VB-90432)
• [Speed Dial] Drag and drop to create folder gets the wrong position (VB-89395)
• [Speed Dial] Jumps when navigating between folders (VB-90508)
• [Start Page][Themes] Quick Settings Background image selector is broken (VB-90257)
• [Tab Cycler] needs Ctrl+Tab twice (VB-90472)
• [Tabs] Dropping a tab over the webpage is not creating a new window (on secondary screens) (VB-88901)
• [Tabs] Untile selection ignores selection (VB-75208)
• [Tabs][Keyboard] Can't rename stacks using shortcuts (VB-89183)
• [Themes] Accent color limits may affect the original theme color (VB-90626)
• [Themes][Settings] Color editing: 3-digit not applied (VB-54440)
• [Themes] Allow accent color over window backgr (VB-83783)
• [Themes] Color picker in Calendar setting not keyboard navigatable (VB-72244)
• [Themes] Color pickers performance (VB-83783)
• [Themes] Unify the use of border-color across themes (VB-90263)
• [Themes] Update theme properties (VB-90260)
• [Themes] Use less jarring color for the default "No image" option (VB-90258)
• [Themes][macOS][Tab bar] In fullscreen mode lacks background image (VB-90600)
• [Toolbars] Clear editing modifier state on window change (VB-90776)
• [Toolbars] Missing update button migration (VB-70320)
• [Toolbars] Rename "divider" to "separator" (VB-90024)
• [Toolbars] Accidental URL field movement (VB-89535)
• [Toolbars] Add Webpage dialog renders under the top toolbar (VB-22909)
• [Toolbars] Add a placeable divider to the toolbar editor (VB-89643)
• [Toolbars] Add "Customize Toolbar" command (VB-89435)
• [Toolbars] Allow adding multiple dividers when using the editor (VB-90031)
• [Toolbars] Mail status, calendar, and account buttons invisible (VB-89503)
• [Toolbars] Remove Downloads from the default toolbar set (VB-89496)
• [Toolbars][Themes] Drop indicator invisible with Accent color on foreground (VB-89414)
• [Toolbars][macOS] Allow draggable space in toolbar (VB-89457)
• [Tooltip] Trash hover should say "Shift-click" instead of "Ctrl-click" (VB-90339)
• [Translate][Panel] Increase height of input field and move buttons (VB-89790)
• [Translate] No warning that translation is over character limit (VB-89281)
• [Translate] Scrolling doesn't update translation (VB-90315)
• [UI] Can't copy alert box content (VB-29942)
• [Window Management] Moving multiple tabs to a new window scrambles order (VB-50810)
• [Windows] Autohiding Windows taskbar does not appear (VB-90570)
• [Windows][Installer] Installer creates an invalid desktop shortcut (VB-90539)
Changelog from Vivaldi Mail 1.0 to Vivaldi Mail 1.1
• [Mail] Custom folders fixes (VB-89965)
• [Mail] Delete label button should be red (VB-90347)
• [Mail] Fix filtering priority (VB-72832)
• [Mail] Hanging on the connection in some cases
• [Mail] Mail needs a Vivaldi Menu entry (VB-68944)
• [Mail] Multiple OAuth requests shown at the same time (VB-90337)
• [Mail] Old source of the local copy of message can be confusing (VB-89794)
• [Mail] POP3 messages do not get an attachment icon (VB-57497)
• [Mail] Panel Order and Visibility setting box looks tighter (VB-90715)
• [Mail] Sort Customized IMAP folders, Feeds, Filters and Move context menu alphabetically (VB-80382)
• [Mail] When Mail goes into focus, the top message is auto-selected (VB-83436)
• [Mail][Calendar] Easier access to enable Mail (VB-89835)
• [Mail][Panel] Tabs shortcut don't trigger auto-open/close (VB-88684)
Vivaldi Calendar 1.1
• [Calendar] Can not delete event which is an exception (VB-89761)
• [Calendar] Cannot close notification (VB-90644)
• [Calendar] Can't export local calendar (VB-89955)
• [Calendar] Crash on opening inline editor (VB-89462)
• [Calendar] Default to gmail.com for Google (VB-90333)
• [Calendar] Disable certain properties based (VB-87300)
• [Calendar] Duplicate events in web calendar (VB-90302)
• [Calendar] Error when parsing email invite from outlook (VB-89625)
• [Calendar] Event on web calendar disappears at the reminder time (VB-89520)
• [Calendar] Improve error handling when removing account (VB-89340)
• [Calendar] Invalid date format "DD/MM" (VB-90254)
• [Calendar] Invalid time format with Finnish locale (VB-90504)
• [Calendar] No delete button in dialog editor (VB-89978)
• [Calendar] Selecting dates in panel (VB-89570)
• [Calendar] Support for accepting single occurrence exceptions via email invites (VB-89013)
• [Calendar] Sync from server not working (VB-90066)
• [Calendar] Task clear start time button is misaligned (VB-90083)
• [Calendar] Use local timezone for single event (VB-89763)
• [Calendar] Very slow sync with big web calendar (VB-90178)
• [Calendar] Web calendars fail to fetch (VB-89215)
• [Calendar][Extensions] Blank page when opening calendar with certain extensions (VB-89888)
• [Calendar][Mail] Improve display of mail message with recurrence exception (VB-89623)
• [Calendar][Panel] Inconsistent highlight color in mini calendar (VB-89688)
• [Calendar][Panels] Closes immediately when clicking anywhere in event dialog (VB-89870)