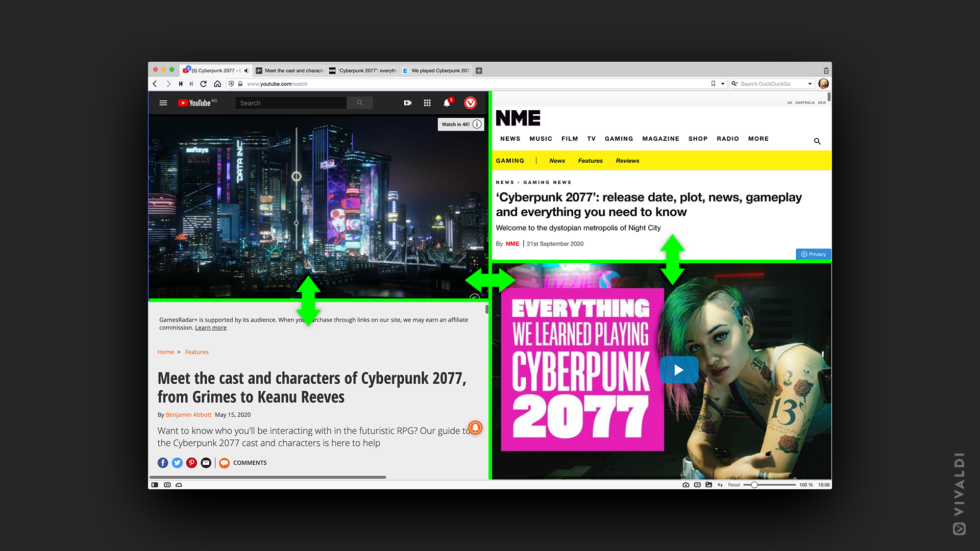 Read this article in Español.
Using multiple tabs is something you probably do all the time. And for some of the focused work you do daily, switching between tabs may be perfectly fine.
But what do you do when you work on an assignment comparing information from several different sources? Or when you want to write or research an article referencing various materials?
That's when the ability to view multiple web pages side by side, split-screen style, in the same window comes in very handy.
Displaying multiple web pages side by side can make a difference outside of work too.
You might be shopping online and comparing products and prices. Or you may be following a sporting or other event and monitoring several videos at once.
Yes, viewing multiple web pages side by side comes in handy more often than you think!
View multiple web pages side by side: save time and multitask
Viewing several web pages side by side saves you time and lets you multitask.
Instead of switching tabs every few seconds, you have all the content in the same screen.
If anyone is interested in trying out different browsers, @vivaldibrowser is based on chromium and allows you to "stack" tabs so that you can work with multiple tabs in a simple way. Here I'm working on three writing projects that are having carryover between each other. pic.twitter.com/3yFPlKjOKd

— Scott White | Statistics & ML in Everyday Life (@scolphin) May 23, 2020
And instead of performing a single action, you can multitask more easily by performing different actions. Daniel below uses one tab for taking notes, and a second tab for video conferencing.
One of my favourite features of @vivaldibrowser:

Select two tabs and instantly tile them into a split-screen experience. I always use this, when I have a video call and want to take notes in @RoamResearch at the same time. pic.twitter.com/w3LtRNDRe8

— Daniel Wirtz (@wirtzdan) September 13, 2020
How to view multiple web pages side by side: Tab Tiling
In some browsers, you can do this by installing extensions.
In Vivaldi browser, viewing multiple web pages side by side with Tab Tiling is built-in functionality. That's because we think of it as core to the way we work and browse today.
There's no set limit to the number of tabs you can open side by side (though there is a limit to what can be useful to you).
In Vivaldi browser, you can pick between three Tab Tiling layouts – vertical, horizontal, and grid layout. Look out for the page tiling button on the Status Bar.
You can also resize the tiles by hovering over between tiles and dragging in the desired direction.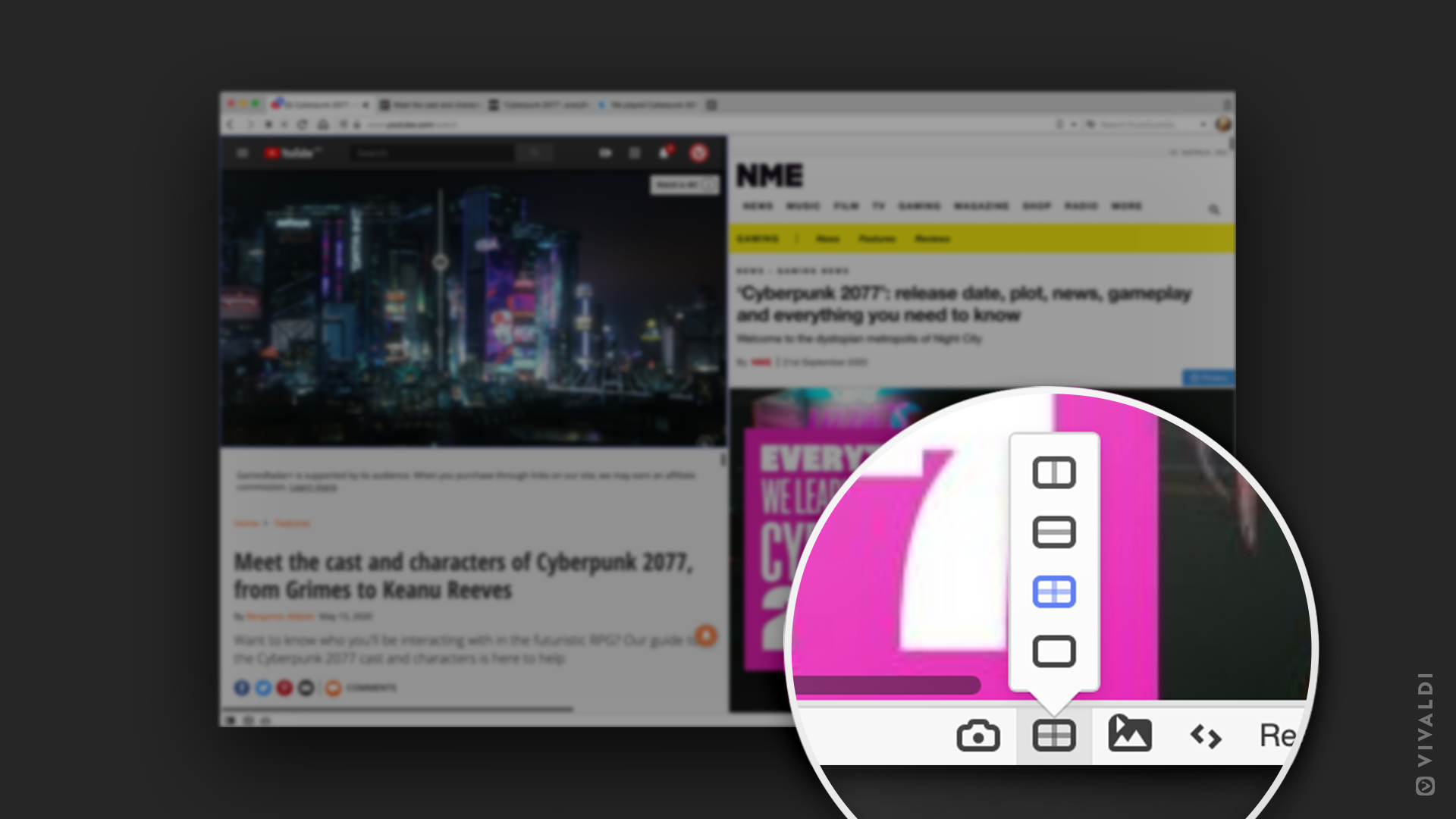 Tab Tiling in Vivaldi browser
Tab Tiling is one of the most used features in Vivaldi browser.
Tab Tiling is a must-have for keeping an assignment, some notes, university referencing guides, and a web article on the screen at once.
Dominic Duffin via Twitter
I need Tab Tiling for my work as I have to compare a lot of stuff from different sources. Tiling just makes it a lot easier for me and makes it look and feel less hectic as I don't have to switch tabs every few seconds.
Zaibon via the Vivaldi forum
Tab Tiling comes to the rescue when I want to view several videos at once.
Pauloaguia via the Vivaldi forum
To tile two or more tabs, select the tabs by holding down the Ctrl/⌘ or Shift key and clicking on the tabs on the Tab Bar or Window Panel.
Then you can do one of the following (depending on your workflow):
💡 Right-click on one of the selected tabs and select Tile Tabs.
💡 Click on the page tiling button on the Status Bar and select the tiling layout.
💡 Type "Tile Vertically/Horizontally/to Grid" in Quick Commands.
💡 Use a Keyboard Shortcut.
💡 Create a Mouse Gesture.
If the tabs you want to tile are already grouped in a Tab Stack, follow the steps above to tile them.
Reorder your tiles by reordering the tabs on the Tab Bar or in the Window Panel using drag and drop.
The easiest way to untile tabs is by right-clicking on one of the tiled tabs or on the Tab Stack and selecting Untile Selection.