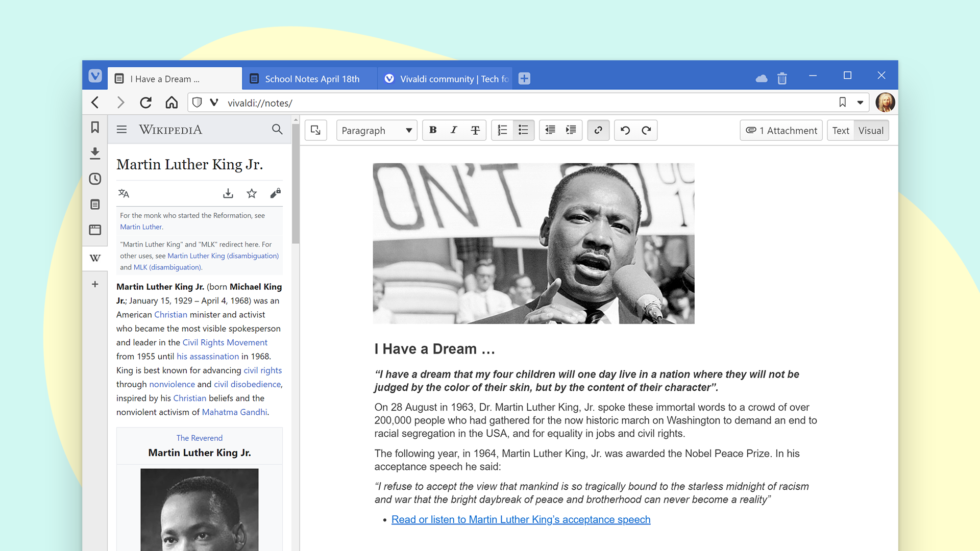 Read this article in Deutsch, Español, Français, Português Brasileiro, polski, Русский, 日本語.
Vivaldi 3.1 is here. Today, we unveil a first-of-its-kind full-page Notes Manager, an upgrade to our unique Notes feature. You'll also find the much-requested option to configure menus, as well as speed improvements.
Vivaldi's distinguishing features – Tab Stacks, Tab Tiling, Vertical Tabs, Window Panel, Web Panels, Page Capture, Speed Dials, Mouse Gestures, Bookmark Manager, Tracker and Ad blocker – are built-in and give more flexibility than any other browser.
Everyone deserves a browser that can be adapted to their way of working and needs. And we are proud to build features that fit in your workflow.
Earlier this week, we also upgraded the Vivaldi browser on Android which, too, sports unique functionality. We've polished your favorite features and made under-the-hood improvements. Get it on the Google Play store!
Notes Manager, the next level of Notes
Unique to Vivaldi, the Notes feature lets you write down ideas and inspirations in the browser's sidebar. A great research aid, Notes support the Markdown syntax and can automatically attach screenshots and the address of the web page being viewed added to a note.
In the new version, this signature feature goes a notch higher introducing a Notes Manager with a full-blown notes editor that includes visual editing. This is a big jump from the original basic note-taking implementation.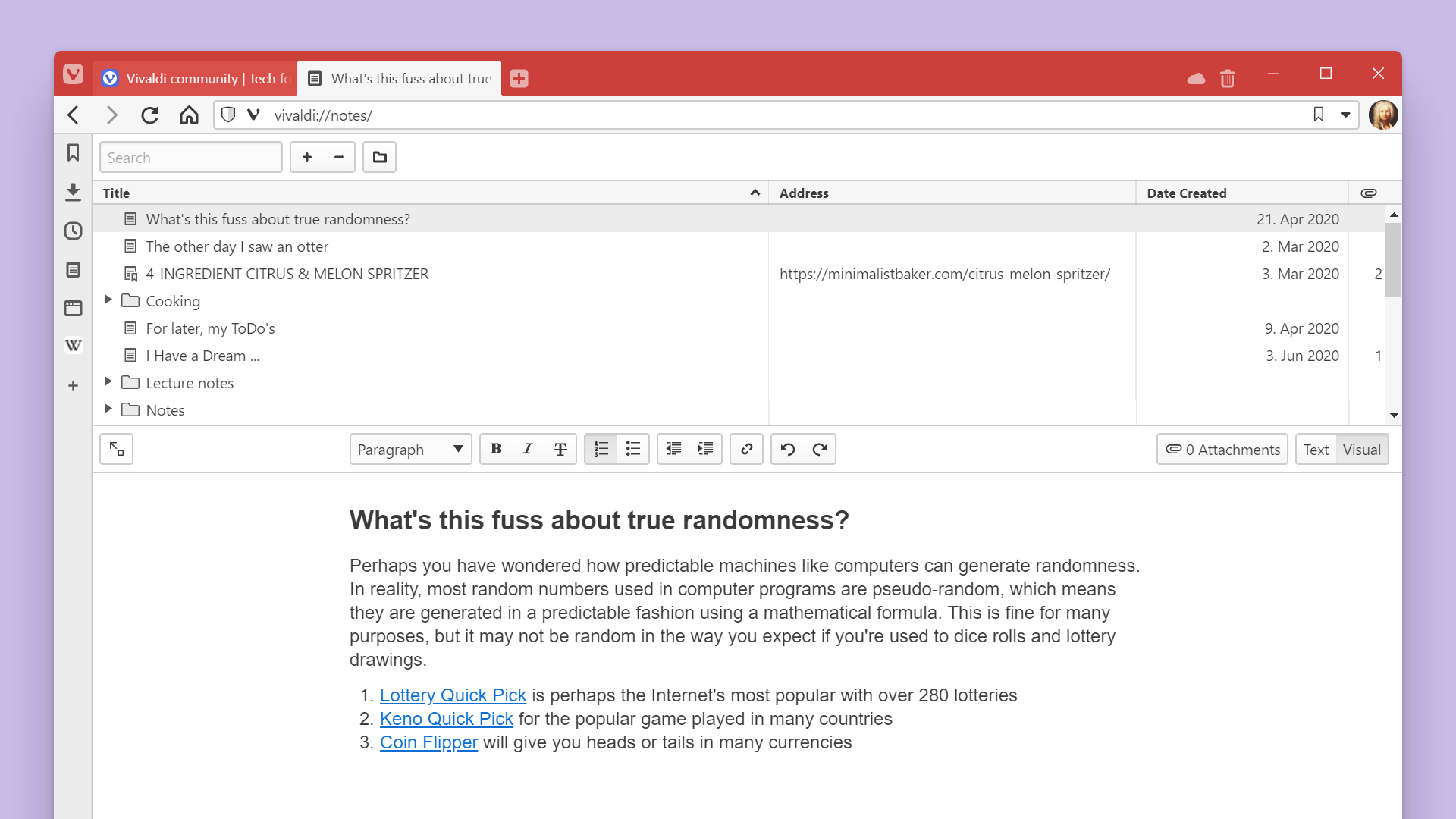 The new Notes Manager offers capabilities that feel closer to word processing than to note-taking. The much more powerful notes editor displays notes on a full-page with a text formatting toolbar. With more space and tools at hand, it is suitable for working with both complex and shorter notes.
Viewing notes in the Notes Manager is also much more granular than in the sidebar. It displays information such as note title, creation date, number of attachments, and more.
The Notes Manager can be accessed from the Start Page.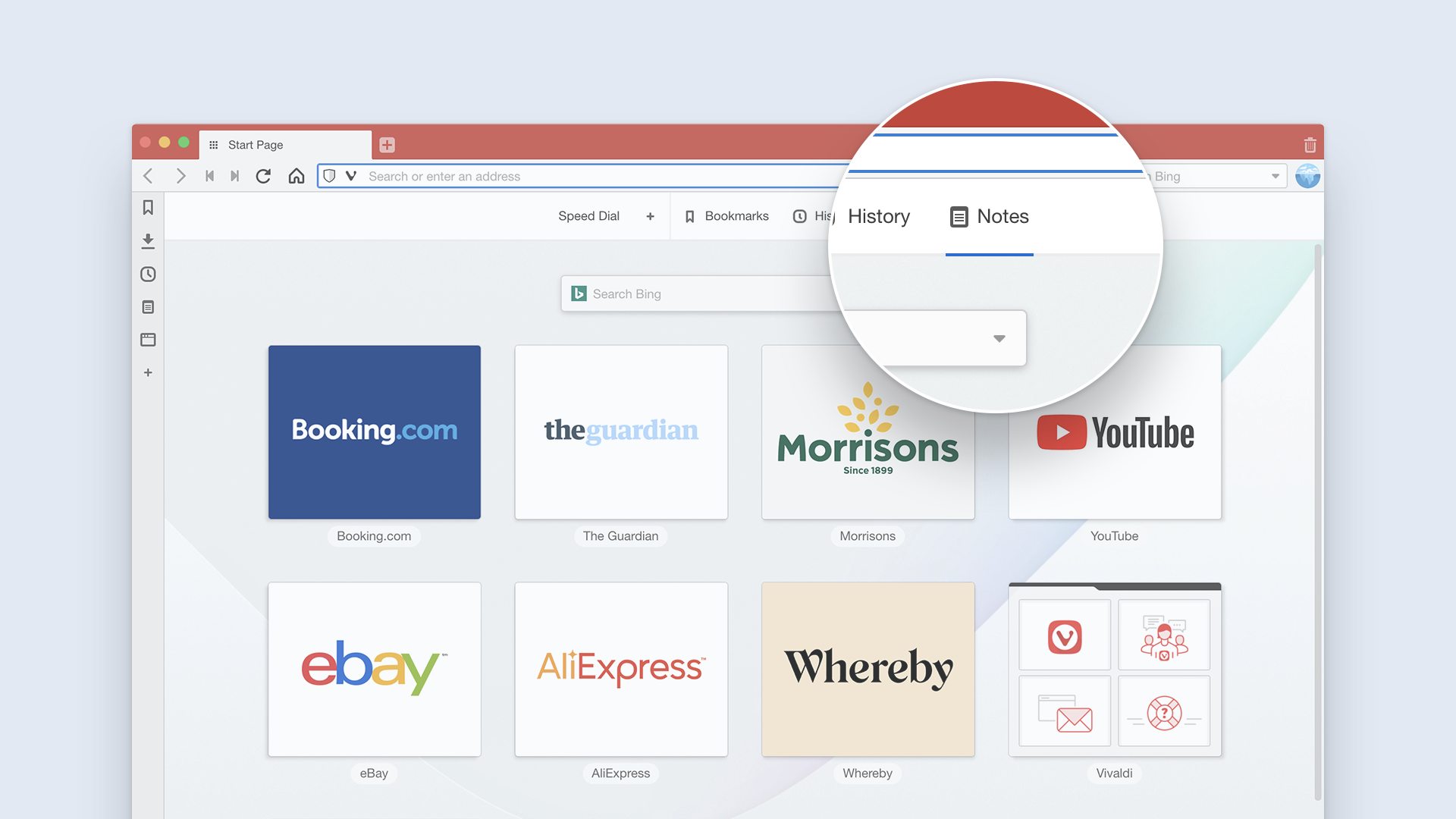 Highlights of the Notes Manager:
Text formatting: Text can be hyperlinked and formatted with common styles such as bold, italics, and headings via a toolbar at the top or keyboard shortcuts. Even more, it can be achieved with Markdown formatting.
WYSIWYG Editor: The "What you see is what you get" editor allows immediate changes to document in its styled form.
Find text: The Ctrl F shortcut looks for certain text inside a particular note.
Undo-Redo: CTRL+Z reverses the last action; CTRL+Y is used to undo the reverse.
Word count: A character and word count is displayed at the end of the note.
Attach images: Images can be added from the right end of the toolbar.
Full-screen editing: Notes can be edited without any distraction in a full-screen view, or along with a detailed notes tree view that can be sorted by note title, content, creation date, associated address or number of attachments.
New notes: They can be added from a webpage selection via the context menu, through Quick Commands, deleted, and organized into folders.
Note search: Ability to search through notes with a full-text search box right at the top.
Sync Notes across devices
Vivaldi's secure syncing of notes content across desktop and Android devices is protected with end-to-end encryption. Notes can be used to store some snippets of code as well. User data is stored on Vivaldi's own secure servers hosted in Iceland.
This means you can compose and view notes safely across devices. For example, you can start writing a note on your Android device, and finish writing it later, or simply view it, on your computer.
Notes Manager, the only built-in note-taking tool in a browser
Our philosophy is having tools built in the browser and the Notes manager is part of it. This means you can rely less on extensions and third-party apps which can hamper performance and pose a threat to privacy and security.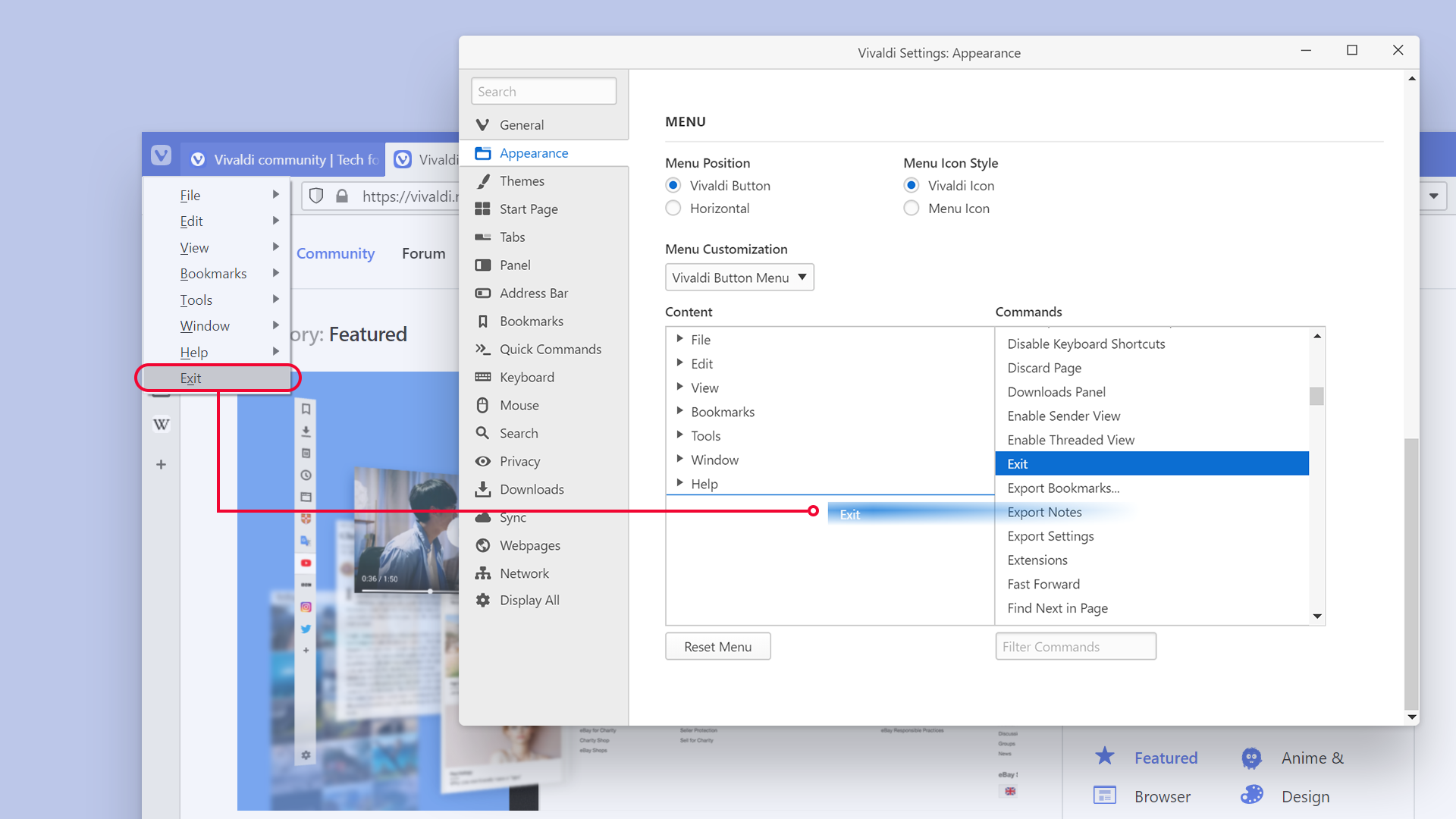 Configurable Menus
We always try to capture your imagination and give you multiple ways to access your favorite features so that you can browse exactly the way you want.
You asked for configurable menus. We've got them!
You can now move the most frequently used actions to the top of the menu in the vertical menu, facilitating quick access, and adjusting to individual workflows.
In addition, add items that are not accessible from the main menu, something that makes your Vivaldi set-up unique. Similarly, removing items from the menu gives a decluttered look, if that's what you prefer.
Adjust your menu via "Settings → Appearance → Menu".
Speed improvements
You'll find significant speed enhancements including faster startup and better handling of tabs in the new version. With overall improvements under the hood, you'll experience a snappier Vivaldi.
Stay productive, inspired, engaged on the Web with the new Vivaldi
We'll continue to give you more ways to browse with your favorite features, and will keep adding new ones as per your feedback. Thanks for sending your requests our way.
What we always find interesting is to know how you use Vivaldi. How do you think you will be using our new features? Let us know.
Get Vivaldi 3.1 on your computer now 🙂
Head to our Changelog for more details.