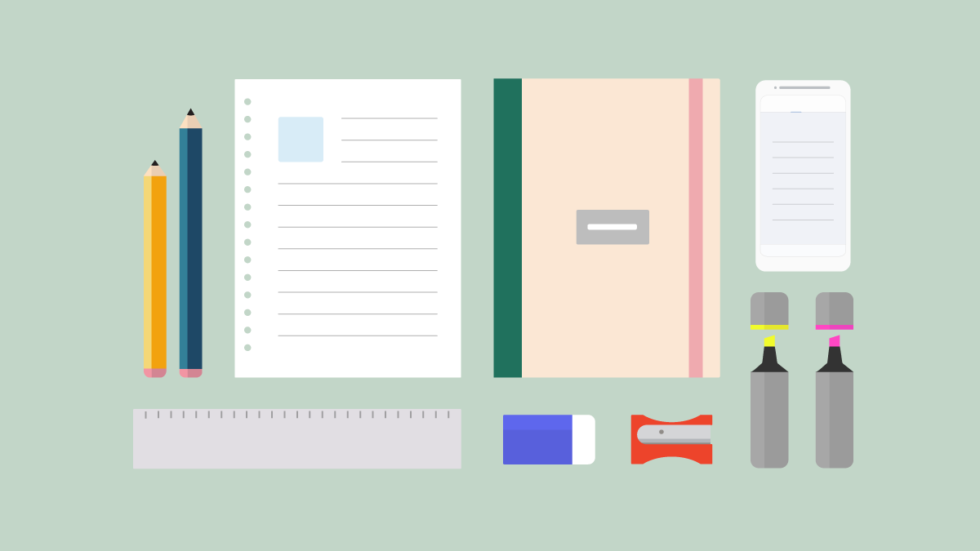 Read this article in Español.
The importance of note-taking apps and techniques is hardly a secret. In fact, many schools and universities teach students how to take notes in an efficient and productive way.
While note-taking is a skill, we thought we'll show you Vivaldi's Notes, an awesome digital note-taking tool that makes it possible to jot things down right in your browser.
Unique to Vivaldi, Notes are available across desktop and mobile (Android), meaning that you can check and edit your notes at any time.
Accessing Notes in Vivaldi
You create, edit and generally manage your notes in the Panel located on the side of your browser window (position the Panel on the left or right depending on your preference). In fact, you can work with Notes even faster with Quick Commands. Hit F2 / ⌘ E and start typing your note, then select "Create Note" from the list of options shown. Or hit F2 / ⌘ E and start typing the title of the note you're looking for.
Now that you know how to access Notes in Vivaldi, let's take a look at what they can do for you.
✔️Create a neat folder structure
Students end up with a myriad of folders and sub-folders for the many classes they take during an academic year. In Vivaldi, you can create folder structures that are as complex or as simple as you need them to be.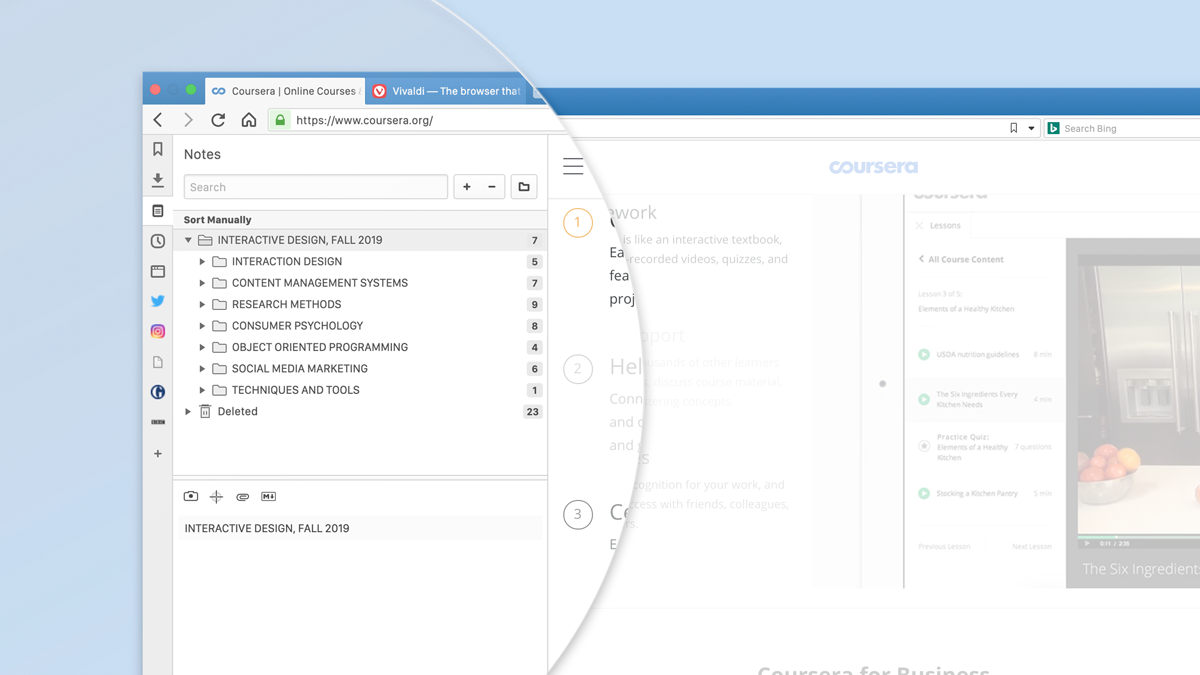 ✔️Easily search through folders
The Search function makes it easy to find the folders or notes you're looking for. Start typing in the Search field in the Notes Panel, and you'll get to what you're looking for in an instant. Alternatively, search with Quick Commands. In the Panel, click on the bar below the Search field to sort your notes manually, by title, address, content or the date created.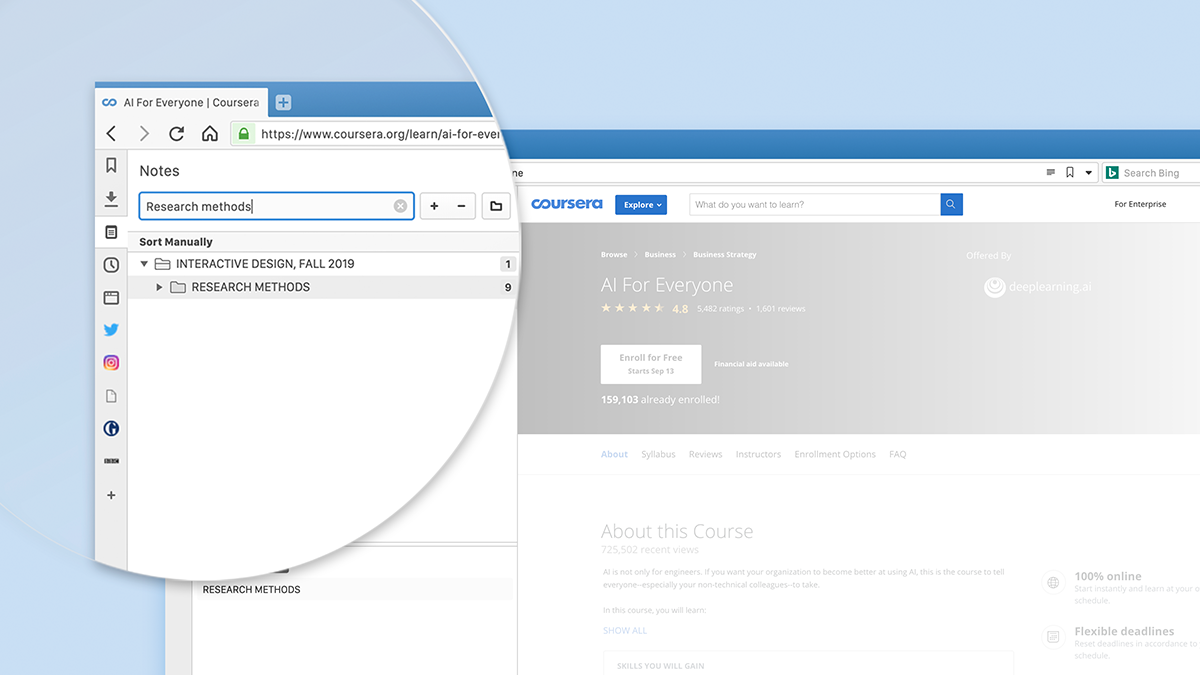 ✔️Type notes in your browser window
You don't need to open a new tab or window to compose or edit your notes. Notes will open in your browser window, making it easy to use in many academic scenarios, e.g. when taking an online course.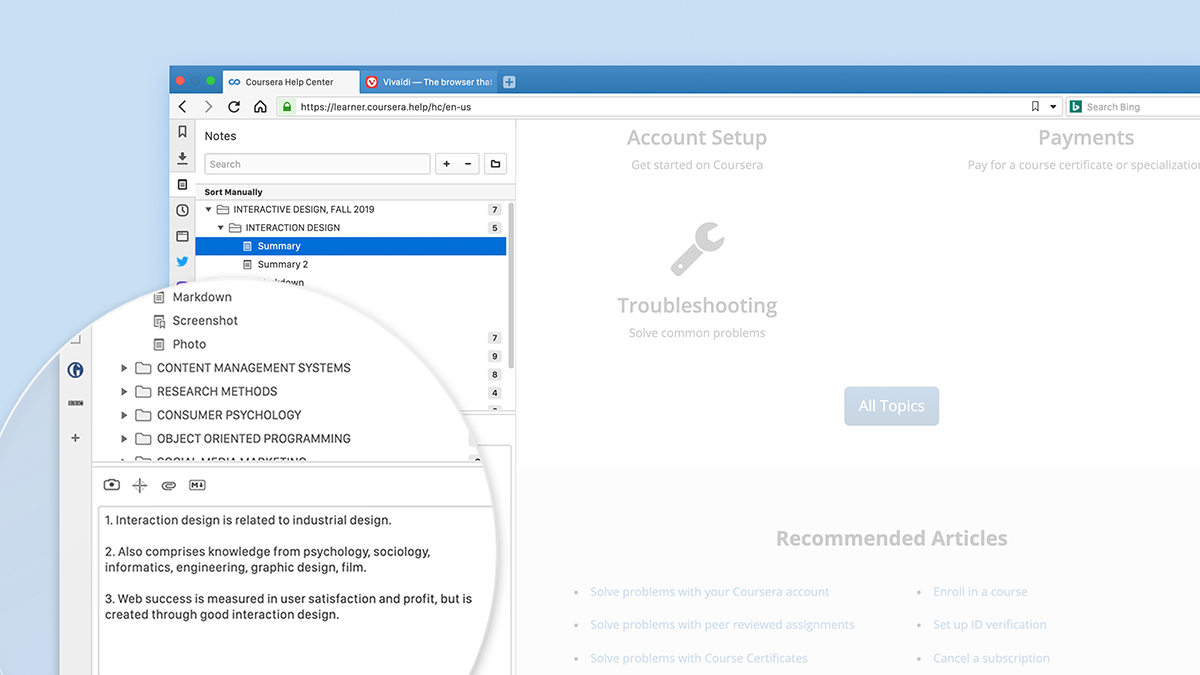 ✔️Format notes with Markdown
Markdown is a simple language for formatting text that you can use to format virtually any document and have it seamlessly converted to HTML. Here we show you a few ways to use the Markdown syntax.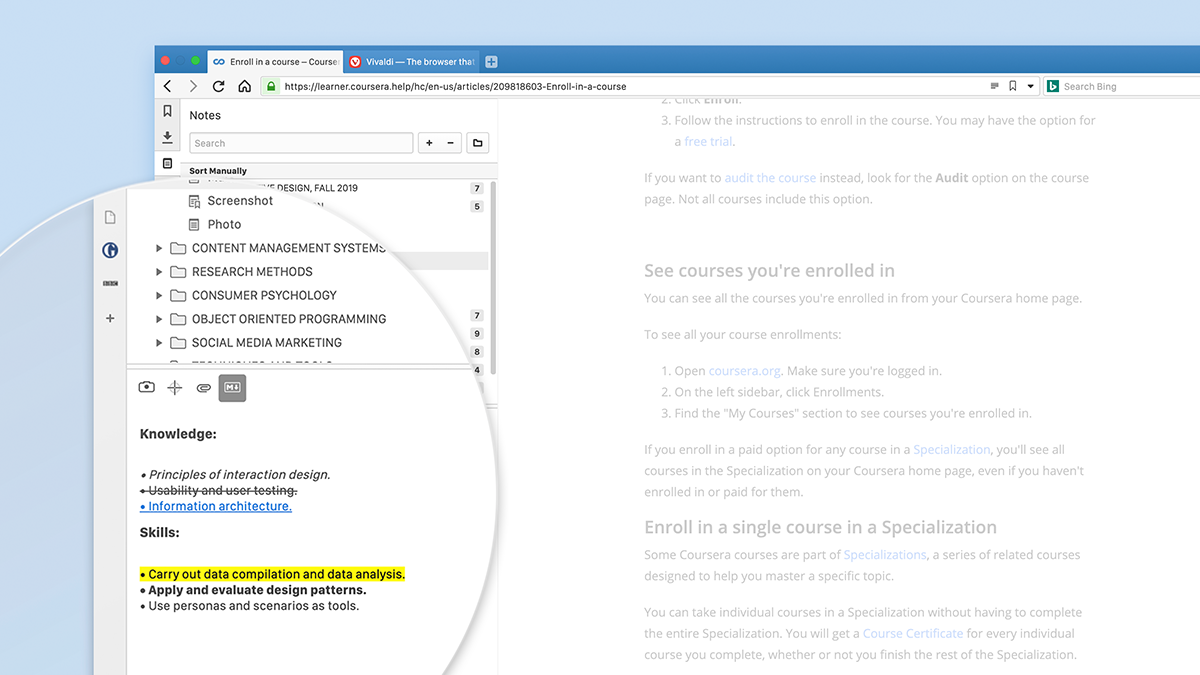 ✔️Make your Notes Panel wider
If you'd like your Notes Panel to open wider (or more narrow) than the rest of your Panels, select "Separate Width" (right-click on the Notes icon) and drag to the width you like. Going forward, your Notes will open with the width you selected.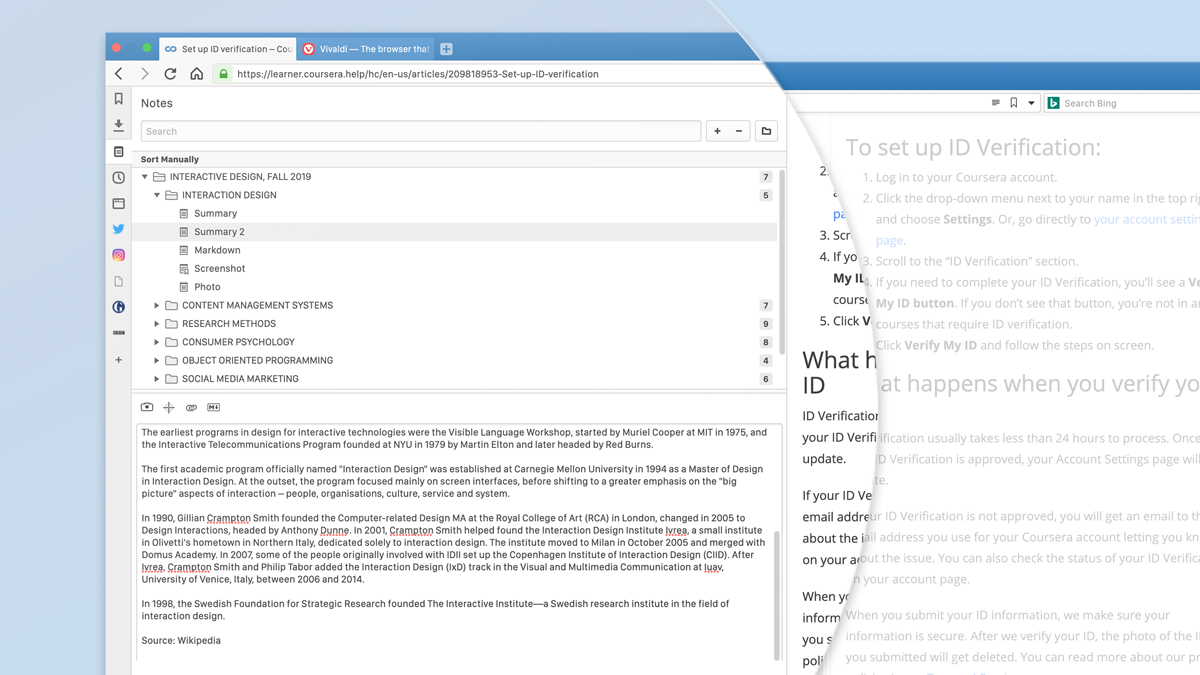 ✔️ Capture and add webpages to your notes
Notes in Vivaldi are not limited to text. You can capture full webpages or screenshots to accompany your notes. You can also select text from any webpage and choose "Copy to Note" from the right-hand menu. A note, as well as a capture, will be automatically created. Vivaldi will also display the url of the source as well as the date of creation so you can easily find the source of the note later. This can come in useful when you are revising for exams, and need to add more meat to your notes.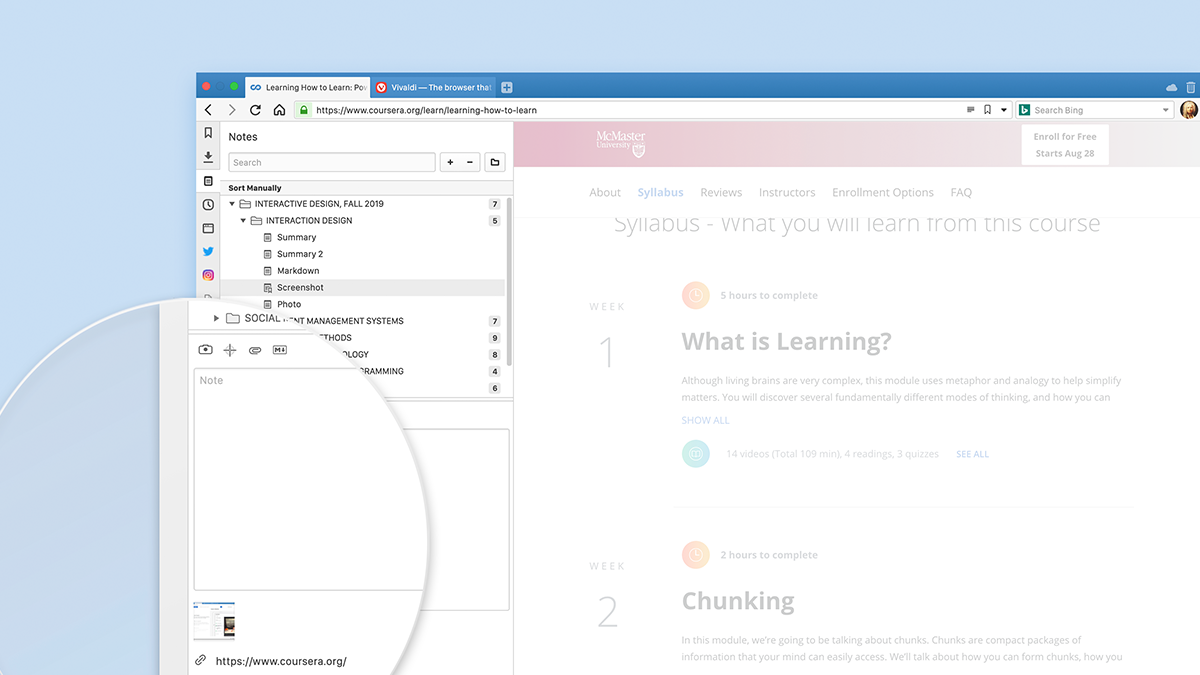 ✔️Add attachments to your notes
Your classroom notes can be just the starting point. Later you can expand on them by inserting graphs and images in addition to webpages and screen captures.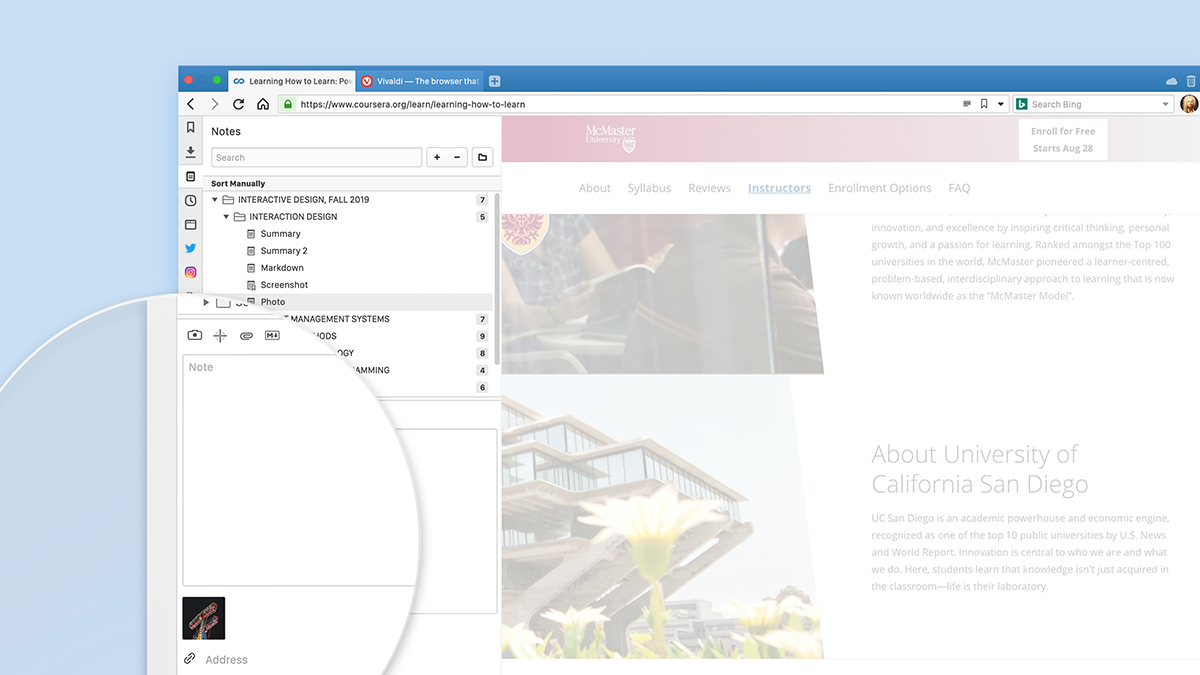 ✔️View your notes across devices
Notes are securely synced between multiple devices. Enable Sync and you'll be able to compose or view notes across your computers as well as mobile. In Vivaldi, you can securely Sync data with end-to-end encryption.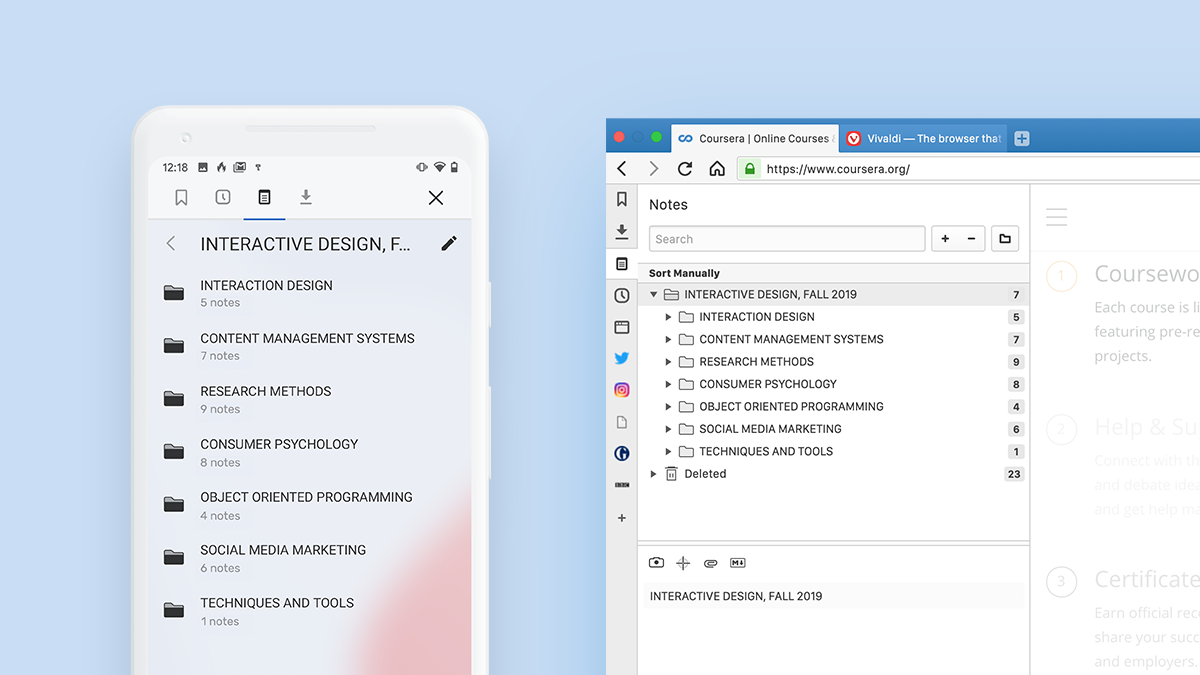 Take a look at more tips on how to use Vivaldi's Notes for desktop and Android.
And take our advice. Experiment, and find out what works for you.