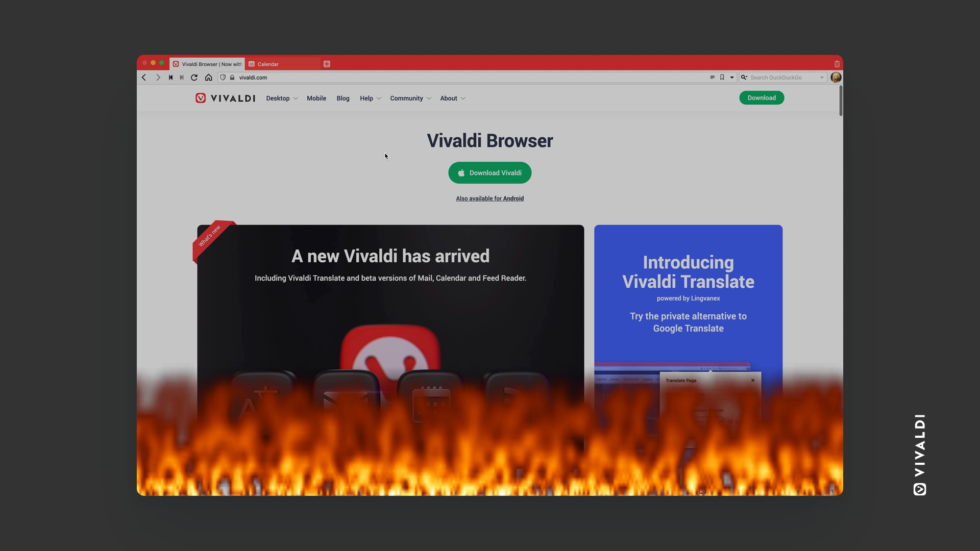 Read this article in 日本語.
It's been a few months since you saw your best friend, or maybe, over a year ago, you scheduled a visit to an art exhibition that you have been looking forward to. You still have to speak to your boss about your vacation, now that the world is slowly and steadily opening up. You've waited for months to get that first shot of vaccine and now it's due in a couple of days.
Enter your calendar — a convenient way to add and keep track of all the different meetings, appointments, activities, events, and functions that take place in your life.
But adding events ain't exactly fun.
It might seem boring, but if you want to have more fun … you might need to schedule fun! Or, at least add a little fun to your schedule.
And that's where the Vivaldi Calendar, launched recently in its beta, comes in — packed with its own little quirks.
The Vivaldi Calendar is not your regular, boring calendar
There are a zillion different tools, methods, and approaches to productivity, time management, and personal fulfillment. But our focus is to give you access to all of these benefits in Vivaldi.
The Vivaldi Calendar on your desktop is no different. You can customize and fine-tune your schedules in the built-in app, so you never miss a thing.
Keep track of your plans and appointments, while keeping your data private. And if you are hooked to some other calendar, no worries — Vivaldi Calendar supports standard calendar providers including CalDAV, Google Calendar, and iCloud, for example.
One interesting design twist here is that it shows you all the data available for an event right in the calendar instead of displaying just one or two lines per event. But you can also go for the minimal look if you prefer.
We want to give you better functionality with the Vivaldi Calendar, but we also pay attention to details bundled with fun. And it comes out in places you might least expect it such as the notification styles.
The award for 'attention to details' goes to Japan
At the time of the launch of our latest version Vivaldi 4.0, our friends in Japan (a good chunk of our users come from there) discovered a fun, not-really-hidden-gem in the Vivaldi Calendar and tweeted about it.
In no time, the notification options available in Vivaldi Calendar went viral. Ever since, it has been retweeted over 9.1K times, with over 13.4K likes. And it's still going strong. People are loving this, and we are intrigued.🤩
So we decided to free this firestorm from a 280-character limit and talk about it more here.
Move over standard notifications. Tailor your notification styles.
Fun should be spontaneous. Wonderful experiences should fall into your lap as though life were a musical montage in a rom-com.
Not all things have to be complicated, or time-consuming! They're just little things that make you happy. And with these fun notifications in the Vivaldi Calendar, you will have something to look forward to. And it is often said that the happiness you get from a given experience comes from anticipating it.
This is what we are trying to do. You can tap more happiness from the events that you've scheduled with Vivaldi's attention-grabbing notification functionality.
When you add an event to the Vivaldi calendar, you will be notified 5 minutes before it begins. (You can adjust the default in Setting or per event in the event editor, of course, if you want more of a heads up.) So far, so normal, right?
But in Vivaldi, your calendar notifications do not have to be boring, unimaginative, and uninspiring. You can choose between 4 options including a 'System Notification' and 'Dialog' but the most eye-catching and fun ones are "Melt browser" and "Burn browser"
Simply go to the Settings — Calendar — Calendar Notifications, and put your preferred notification on.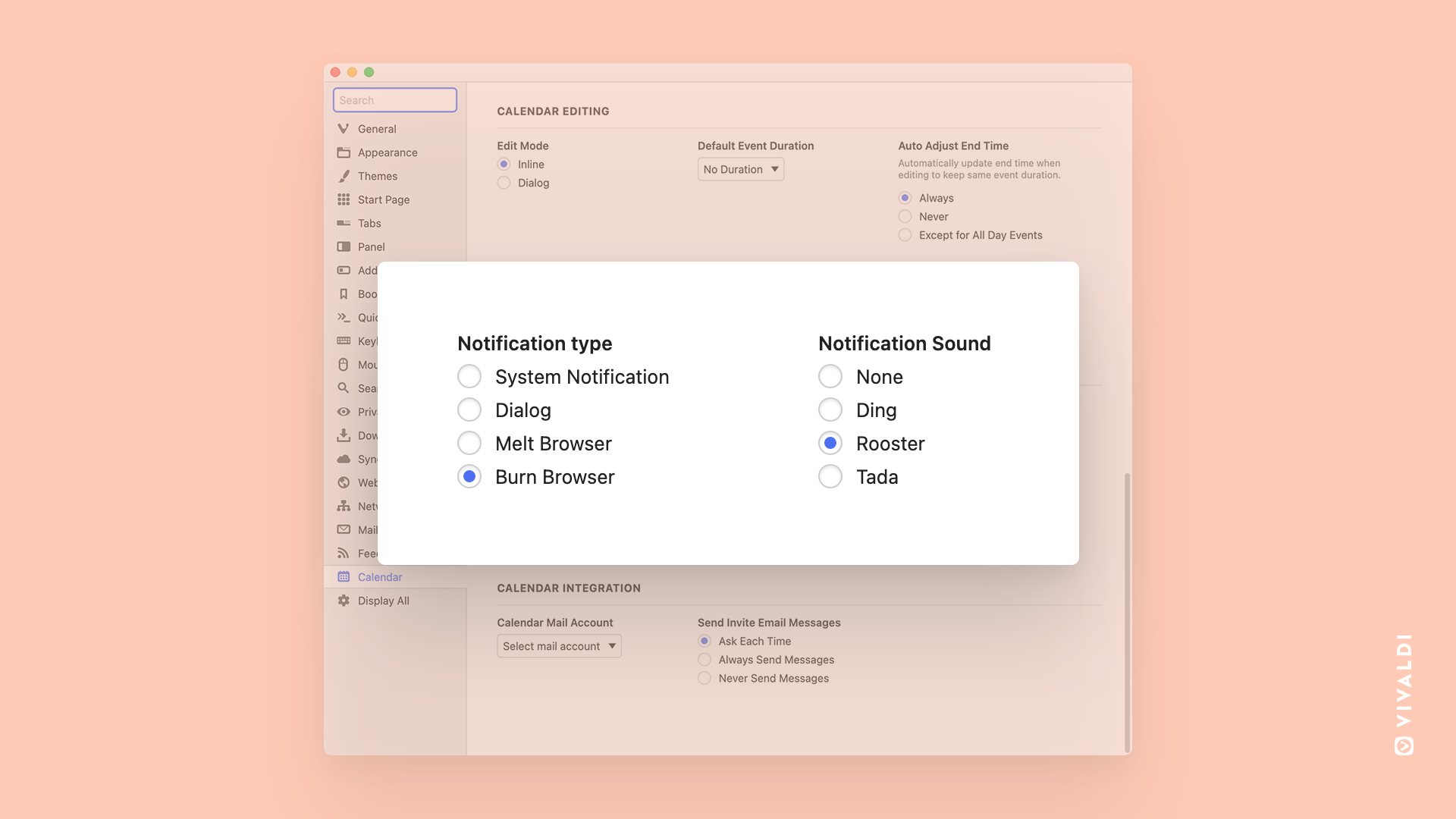 Melt notification. Some things are worth melting for.
Absolutely. When activated, the "Melt browser" notification gives a feel that the page that you are browsing is suddenly going to collapse.
Nothing truly collapses, but the distraction wakes you — just in time for that meeting that you have been dreading. 😜
Lasting a few seconds, it is an effective reminder for your meetings.
Catch the melting in action here:
Gotta love the burn…..
Absolute 🔥. 'Burn browser' notification literally spreads flames at the bottom of your screen. This one is sure to grab your attention.
We say this in absolute confidence that this will be a hot favorite for many. Let's see it burn here:
Wait, should you hear it loud? Turn on the sound.
These notifications act as quirky reminders but there is a chance that you may miss them. But as we are all about options, we've added sound notifications too.
Hard to miss them if you choose from these options — Ding, Rooster, Tada. And if you prefer silence, go with None.
So burrrrn it up, with the sound of the rooster. 😂
Keep calm and let it burn!
With these unique notification styles in your Vivaldi Calendar, you'll get a little jolt of joy thinking about how much fun you're going to have at that dinner party, concert, beach day, or camping trip already scheduled in the Vivaldi Calendar.
These scheduled bits of fun can also give you the push you need to get through that interminable meeting, big project, or long commute.
Whether you go for melting down or burning up, let us know what's your favorite. Or feel free to share your experiences with the new Vivaldi Calendar?
We'd love to know. 🙂