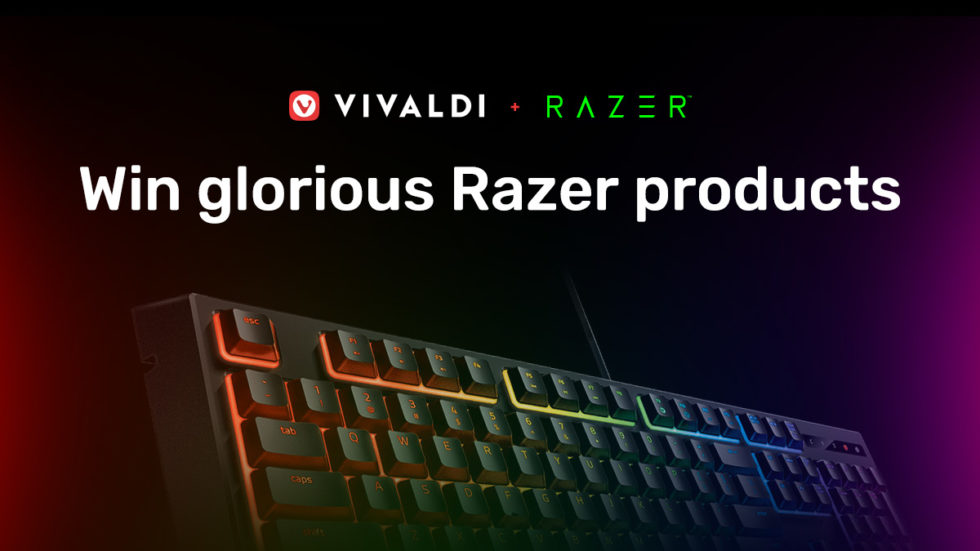 We just came out with a new version of Vivaldi and – yes! – we introduced a first-of-its-kind integration with Razer Chroma, the world's largest lighting ecosystem for gaming devices.
With this integration, Razer Chroma devices will adapt to the color of whichever website you're visiting with Vivaldi. Find out how to enable the integration here.
Win Razer devices + Vivaldi goodie bags
Are you a Razer fan?

Do you know someone who is a Razer fan?
Do you want to try Vivaldi's Razer Chroma integration?
Do you know someone who wants to try Vivaldi's Razer Chroma integration?
Vivaldi and Razer are giving away 8 awesome Razer Chroma devices – keyboards, mice, mats, and headsets. Wow! 
Here's how to win one of the prizes! And, yes, we've made this really simple for you!
To win you can do one (or all) of the following:
Twitter
🙌 Retweet this tweet and follow us, so that we can DM you.
Facebook
🙌 Like our Facebook page, and share this Facebook post.
Instagram
🙌 Follow us on Instagram, and reply to this Instagram post tagging your gaming buddy or someone who should try Vivaldi's Razer Chroma integration.
You can tag as many friends as you like.  
Vivaldi forum 
🙌 Post the name of your favorite game on the Vivaldi forum here.
Winner announcement 
The contest ends at midday May 16, 2019.
We'll pick 8 random winners and announce them next week.
We're loving it!
Here's an interesting video by TechBlock about this thrilling integration.
Why Vivaldi
The Vivaldi browser does not track its users and offers more features than any other modern browser.
Here's just a fraction of what you can do with Vivaldi straight out of the box:
👍 Customize the user interface
👍 Manage your tabs like a wizard
👍 Browse without being tracked
👍 Use extensions from the Chrome Web Store