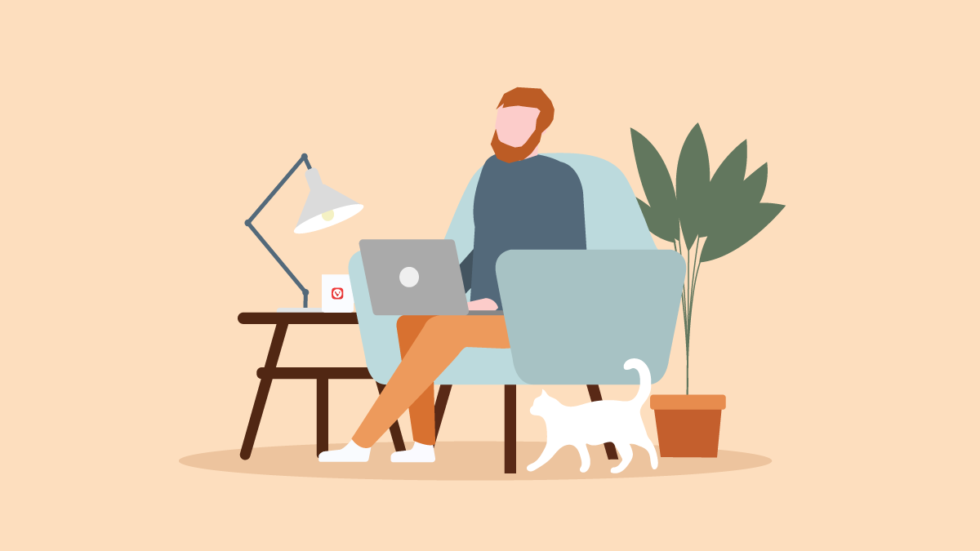 Read this article in Español.
The Vivaldi team is no stranger to remote work – apart from Oslo, Reykjavik, and Magnolia, we have devs in several other locations in Europe and the US. 
Some of the development work we do can be done offline. We can work on features, run tests and fix regressions without a network. But for all other tasks collaboration is key. And that's probably the case for much of the work you do. 
If your company lets people work from home on a regular basis, you've probably worked out the nitty-gritty of remote work. But if this is your first time, you might be searching for an optimal solution. 
First, there are the inevitable security questions. Should you set up a remote desktop, use a special work laptop, encrypt your home computer, or use a VPN to protect sensitive company data? Then comes functionality. 
Here's our best advice on working remotely along with some life-saving features we've baked into the browser. 
How to work remotely and protect company data 
Working remotely, you are processing company data away from your workplace. In your office, you may have all sorts of security measures in place but your home and home computer may not be protected in the same way. 
Some companies use remote desktops – a good approach where only images are displayed on the home computer, while the data remains on the work computer. However, this approach is not always possible. 
If you work remotely on your home computer, you should think about protecting company data by encrypting your disk and making sure that your computer is free from spyware.
The second crucial step is to get a VPN.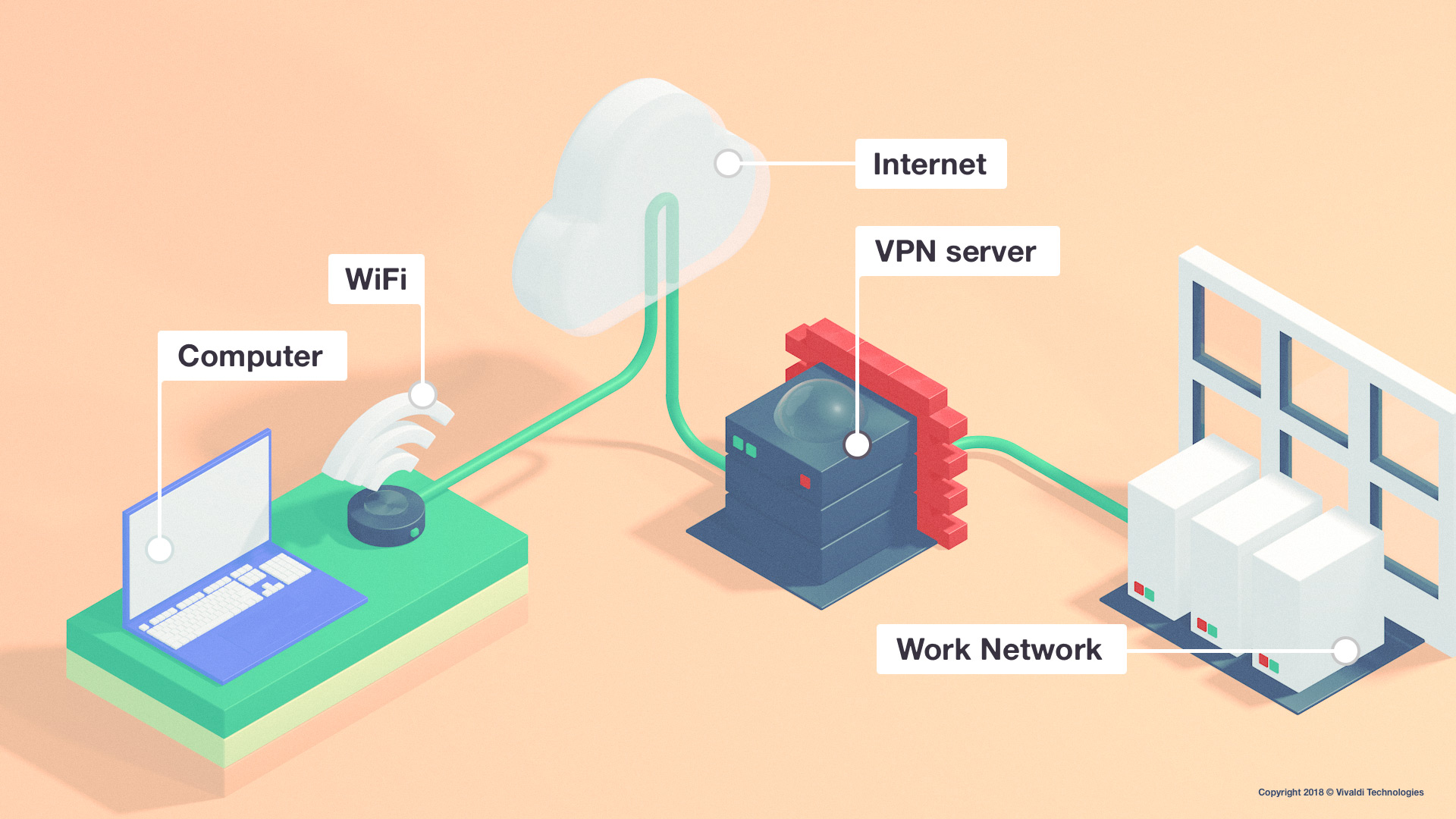 While some VPNs keep individual users anonymous online and ensure encrypted traffic on untrusted networks (e.g. NordVPN), other VPNs are used to access company networks. The two types of VPNs are similar in principle, but typically used and configured differently. 
In the former case, they are usually configured to route all of your internet traffic – browser, or other traffic – to a remote server on the public internet. In the latter case, they are configured to route only traffic relevant to your company network directly into that network. Both types will encrypt the relevant data for security purposes.
Working remotely, the VPN software you need to connect to your company network will vary based on what VPN service your company uses. If your employer uses a Cisco firewall, the VPN will be a Cisco product, similar for Juniper, Fortigate or Sonicwall.
If you're after a VPN extension, there are plenty on the Chrome Web Store that work flawlessly in Vivaldi. Click "Add to Chrome" to install the extension of your choice. But a browser extension will only anonymize what happens in your browser, and is, therefore, less secure and less private.
Currently, no browser offers a true built-in VPN. If a browser claims to have a VPN that works just for that browser, it is a good sign that this is not actually a VPN but an anonymizing secure web proxy and only anonymizes what happens in your browser.
How to work remotely and separate work and personal identities
If you are new to remote work, it's likely you are using your personal computer to work from home. 
One thing you can do easily in Vivaldi, is separate your work and personal identities on that computer. You can create and manage different profiles on the same Vivaldi installation. 
Each profile can have a different set of extensions, bookmarks, Speed Dials, cookies, browsing history, and more. 
You can also configure the browser to behave differently for each profile. For example, you can adjust the position, size, and appearance of the UI elements. You can also change the position of the Toolbar, Status bar, Bookmark bar, and Address bar to look slightly different in each profile.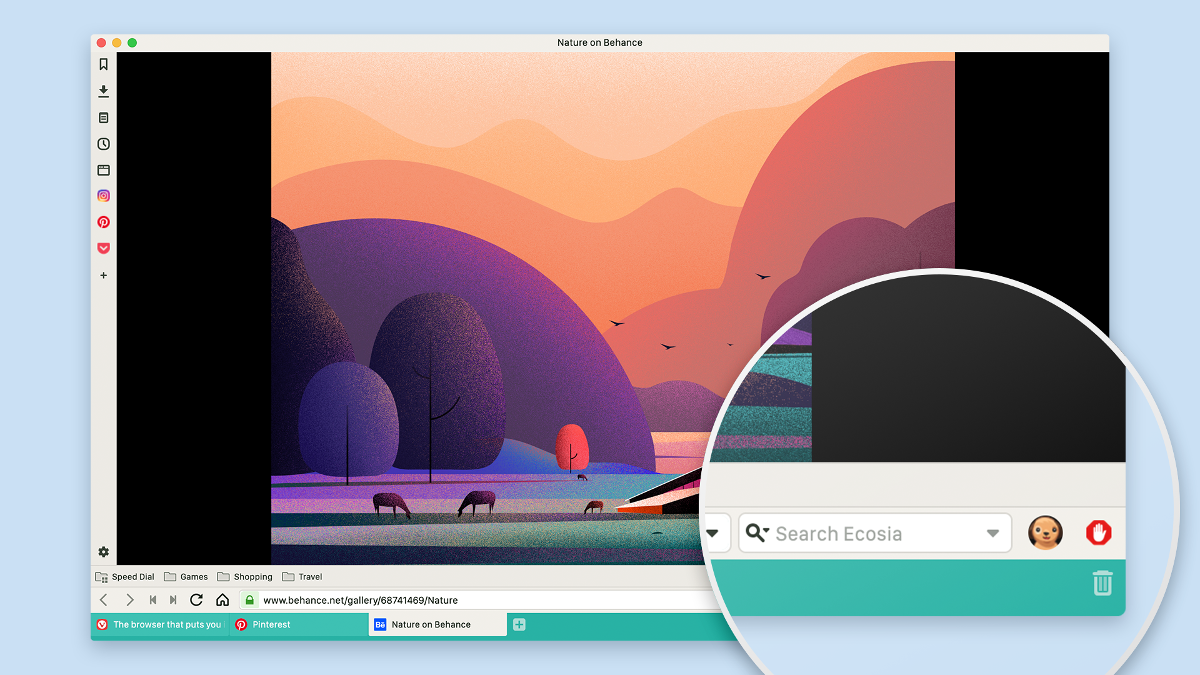 How to work remotely and chat without switching tabs
An essential part of working remotely is keeping in touch with your teammates. In Vivaldi, you can place your chat apps in the Web Panel, and message without jumping windows or tabs. Slack, Telegram, WhatsApp, and Messenger all work great there. 
If you tick "Auto-Close Inactive Panel" in combination with "Floating Panel" the Panel with your apps will hover over the page and you'll be able to read and reply to messages, with the messenger closing itself as soon as you focus on something else in the browser.
Content sites and study aids make for fantastic Web Panels too. Try adding Google Translate, Cambridge Dictionary, or Wikipedia and explore their content without jumping windows or tabs. 
How to work remotely and share information 
In the office, it's easy to grab a teammate and show them something on your screen. Not so when you work remotely. 
But instead of writing lengthy descriptions, why not take a screenshot? Using your operating system's built-in screenshot tool will only let you capture what's on your screen. With Vivaldi, you can capture the full page. 
Navigate to the page, then click on the camera icon at the bottom of the browser window. Select Full Page (or Selection if you want to capture just part of the screen), then "Capture".
How to work remotely and take notes 
Working remotely, you may find yourself in more meetings and need to jot things down more often than before. We've built into the browser a note-taking tool that makes it possible to write things down as you browse. 
If you want to format the text by adding headers, bolding and bulleted lists, take advantage of the Markdown editor, part of Notes. Many of our users have told us that since the addition of Markdown, they are using the Notes feature more.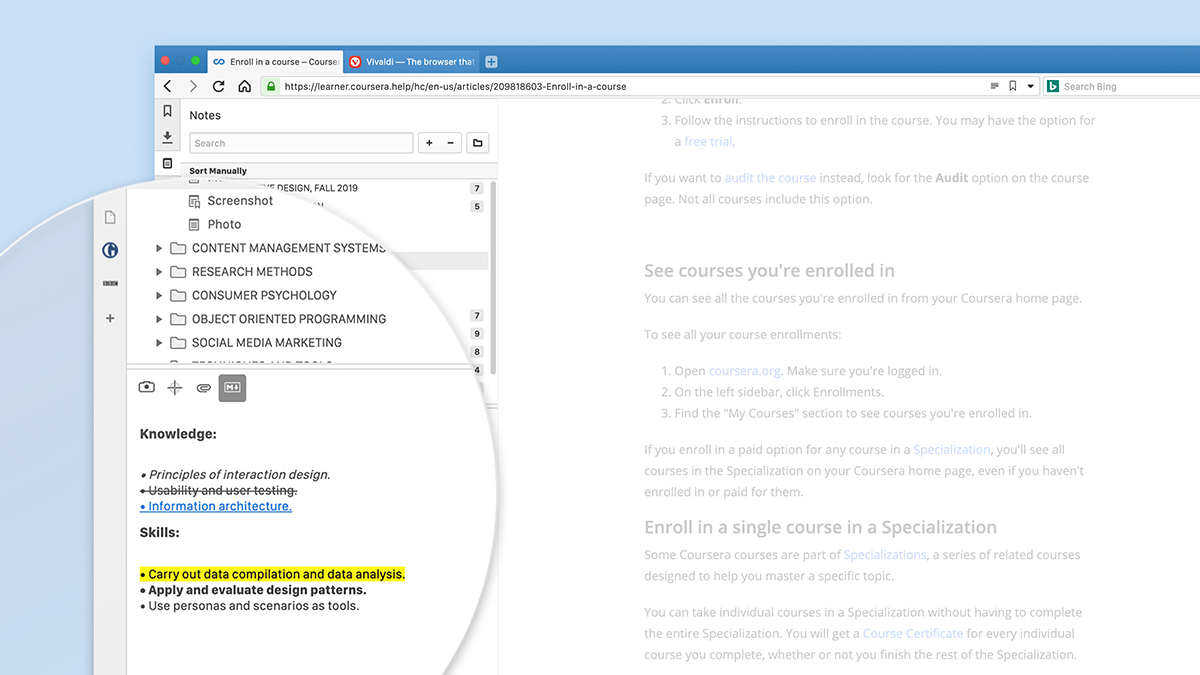 With the Notes app you can also convert any webpage to text with one click. The text you select will be auto-saved as a note.
You create, edit and generally manage your notes in the Web Panel located on the side of your browser window. 
* * *
Now that you are working remotely, make sure you also get up and move around every hour or so. Same as if you were at the office!
What are your best tips for working remotely? 
Thanks to Fredrik Andersson, Henrik Helmers, Julien Picalausa, Tarquin Wilton-Jones, Thomas Pike, and Yngve Pettersen for their insight.