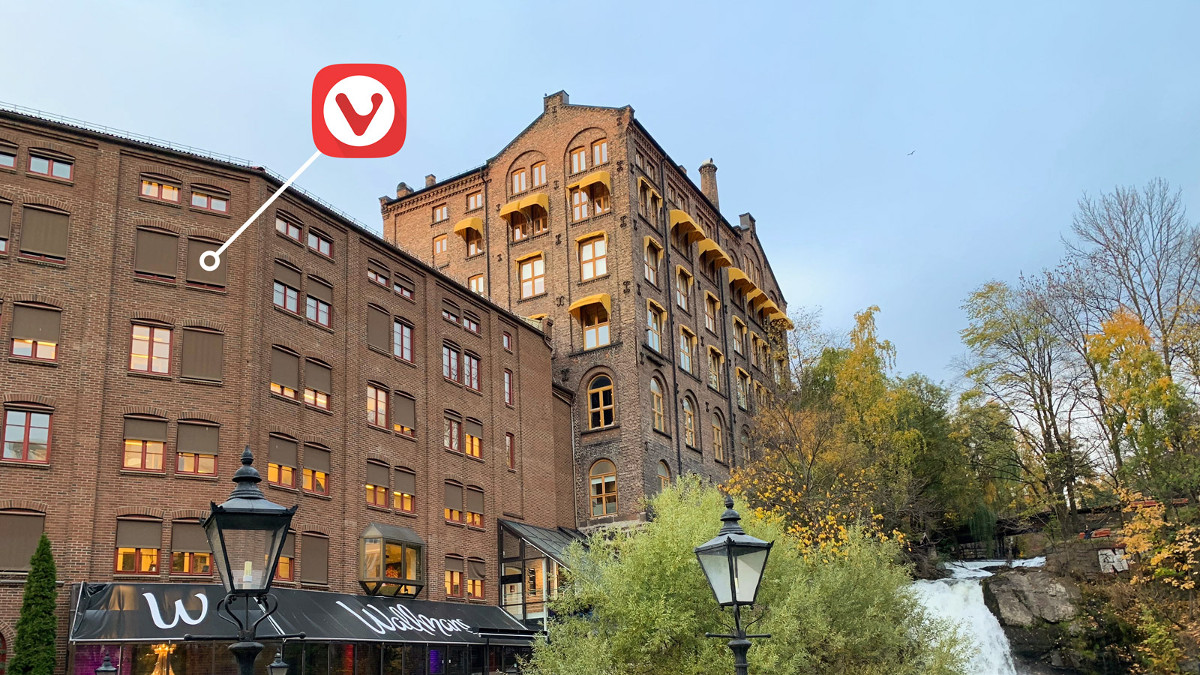 We work hard to stay close to our users – we keep in touch through the forum, speak on social media, and meet up at different events around the globe.
But once a year we have the immense pleasure to welcome one of you to our HQ in Oslo! One year ago we ran our first competition to meet the Vivaldi team in our home city. After a fiercely fought contest, we welcomed to Oslo Daivy Merlijs from Belgium.  
We had such a great time meeting Daivy (and we suspect he did too!) that we couldn't help but want to run this competition again! And what better time to announce it than in December when everyone plans ahead and looks forward to all the good things the new year will bring. 🎉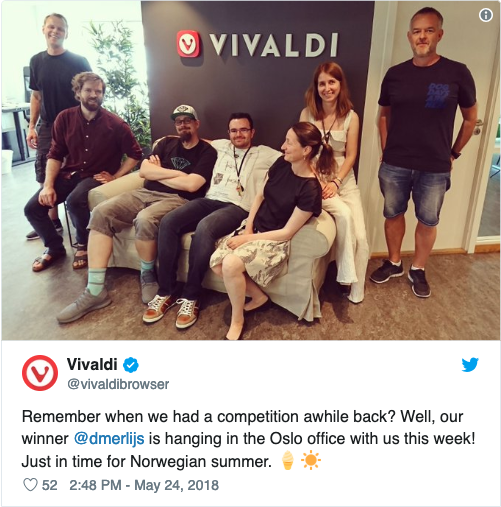 So here we go
In 2019, we want to bring one of you to Oslo to meet the Vivaldi team!
The winner will receive a return ticket to Oslo and will stay close to our office for three nights. You'll have plenty of opportunities to meet the team and explore our beautiful city. We'll take care of you and generally make sure you learn a few things and have a good time.

Sound good? Read on.
How to enter 
We'll keep it simple! (We know that the holiday season is a busy time for all).
Whether you've been with us from the start or have just discovered our browser, we're sure that Vivaldi is special to you.
Tell us in just a few words what Vivaldi feature or option makes a difference to you and why.
Post your entry in the comments below or under the competition announcement on Twitter, Facebook or Instagram by midnight CET January 10th, 2019. We'll love you even more if you use the hashtag #SwitchToVivaldi on social media! 😍
How we'll choose a winner
We'll keep that simple too.
The Vivaldi team will select the 20 best entries and pull a winner out of a hat. We'll announce the shortlisted entries and the winner on January 15th, 2019. Each of the shortlisted contestants will receive an awesome Vivaldi goodie bag.
And of course, one of you will travel to Oslo in 2019!

The small print
The contest includes roundtrip airfare, three nights accommodation, meet and greet with the Vivaldi Team.

You must be 18 years or older and will be responsible for obtaining an entry visa for Norway if that is required.

We'll agree on the dates for the trip with the winner but please note that times like Easter and the best part of June and July will not be possible as we are either away or traveling for our annual team meeting.

Check out our full terms and conditions here.