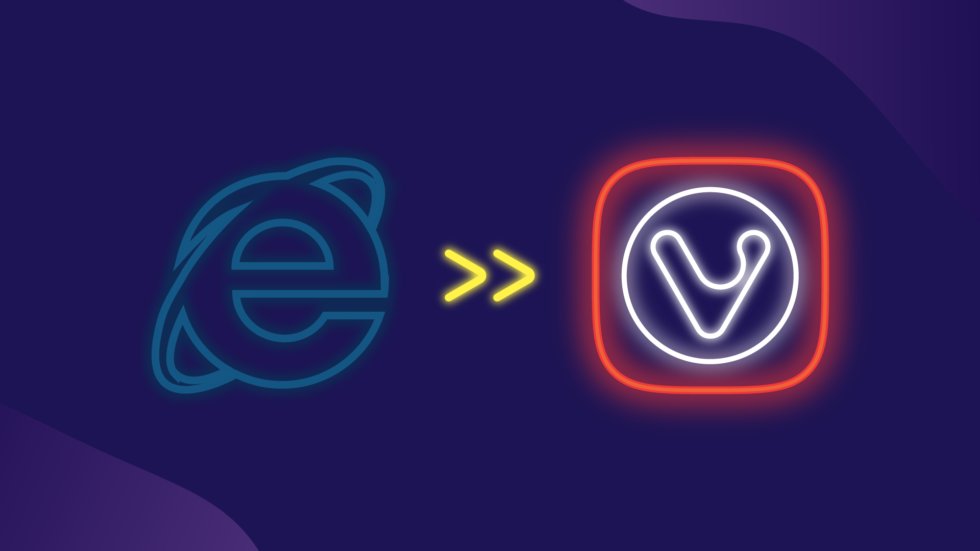 Read this article in Español.
Internet Explorer 11, the third most popular Windows 10 web browser, will no longer be supported by Microsoft 365 services from August 2021. Microsoft Teams will stop supporting it already this November.
That means that IE11 will stop getting improvements or additions. Speed and performance will lag, and only serious security patches will be applied.
Internet Explorer, which once had over 95% of the browser market share, has gradually lost its shine.
But if you're running Internet Explorer 11 on one of your machines, you've likely heard this talk before.
Microsoft first decided to discontinue Internet Explorer in 2015. Mainstream support for Internet Explorer 8, 9, and 10 was ditched in 2016. Internet Explorer 11 was the sole survivor.
Time to replace Internet Explorer 11
But now it's time to replace Internet Explorer 11 too. And since IE 11 is being phased out, you'll need to replace it with a whole new web browser.
You can, of course, go with Microsoft Edge, the Chromium-based browser which Microsoft began rolling out to Windows 10 users back in June. In fact, whether you asked for it or not, Microsoft may have already installed it on your computer via Windows Update.
Or – since you will be breaking out of your comfort zone and changing web browsers anyway – you can replace it with the best browser there is!
Replace Internet Explorer 11 with Vivaldi browser
A lot has changed in the world of browsers since Internet Explorer's heyday. Browsers have become the most important ally, influencing your internet experience profoundly. Now, you can count on a good browser to:
Let you customize it so that it feels yours.
Make you more productive through a wealth of built-in features.
Protect you from running untrusted code.
Put you in control of tracking cookies.
Even connect with smart home lighting, gaming devices, and more.
If you are using Windows 10, Microsoft will supply it bundled with the Edge browser. However, Microsoft can't stop you from picking another default browser.
Built-in features and customizable user interface
The user interface is the part you see and interact with in a browser. An adaptive interface lets you adjust the position, size, and appearance of the browser's UI elements.
While most browsers let you tweak only the most basic functionality, that's certainly not the case with Vivaldi browser.
Vivaldi browser launched five years ago to make up for the loss of features and customization in other browsers.
In Vivaldi, you can customize the placement and appearance of the Address Bar, Bookmarks Bar, and Status Bar. You can place them at the top or bottom of the screen, adjust their size with User Interface Zoom, or hide them altogether.
The Tab Bar is another case in point. You can place it on the top, bottom, left, or right of the browser window. You can also hide it if that suits your workflow.
You can view tabs side by side, stack them on top of each other, or hibernate them to free up your machine's resources.
There's even more built-in functionality such as the ability to take notes right in the browser, capture full-page screenshots, watch videos with Pop-out Video (Picture in Picture), or place useful apps in a sidebar (Web Panel).
If you do a feature-for-feature comparison with other web browsers, Vivaldi will easily come out on top. It is loaded with unique features that will come in useful when you replace Internet Explorer 11.
Fast browser with better overall performance
Internet Explorer has consistently ranked at the bottom of performance tests.
In a recent study of the fastest Windows 10 web browsers, ZDNet's Steven J. Vaughan-Nichols decided to not even waste time benchmarking it. When he'd done this back in 2018, IE11 had been "the worst of the worst". Knowing that Microsoft was getting ready to retire it, he decided against testing it and concluded: "If you're still using IE, just stop already. You'll be better off with anything else."
In the same study, Vivaldi browser performed consistently well.
Safe and private browser
Coming from Internet Explorer and the Microsoft universe, you may be used to being hooked to a lot of Microsoft services. The very moment you install a Microsoft browser, be it Internet Explorer or Edge, your browser starts sending identifiers that can be used to link your requests to Microsoft's servers.
Over time, Microsoft (just like Google) will collect valuable information about you that is worth a lot of money and sell that information to advertisers (not to mention that it can reveal your identity, and information about you that you would rather keep to yourself).
Vivaldi browser's business model, on the other hand, isn't about collecting user data. Vivaldi is built with privacy and security in mind and gives you full control of settings critical to keeping your data safe, such as Tracker & Ad Blocker. And we are completely transparent about where our revenue comes from.
Oh, and did we mention that it can synchronize your bookmarks, passwords, and many settings between your computers and devices so that you can log in to websites from any device without having to copy everything manually.
Any browser data that you sync between devices is sent using end-to-end encryption. Data is encrypted on your device using a password that is never sent to us. Not a bad reason to replace Internet Explorer 11 with Vivaldi browser.
Compatible with web standards
Using Internet Explorer, you may have noticed that certain websites aren't working properly. That's because Internet Explorer's code deviates from the universally accepted web standards.
Most browsers you will replace Internet Explorer 11 with, such as Edge or Vivaldi browser, are Chromium-based and their code follows the standards and guidelines established by the World Wide Web Consortium.
Internet Explorer wasn't designed with web standards in mind.
Regularly updated
If you replace Internet Explorer 11 with Vivaldi browser, you will get regular updates – and not wait for a new version of  Windows 10 to be released to get a browser update.
Vivaldi is continuously updated. We update it every six weeks and our updates include important security fixes. Take a look here why it's important to get regular browser updates.
* * *
Luckily, Microsoft has made it very simple to change the default browser on your computer. Importing bookmarks from Internet Explorer is also very straightforward.
FAQ
Is Internet Explorer still supported?

Internet Explorer 8, Internet Explorer 9, and Internet Explorer 10 are no longer supported. Microsoft no longer provides security updates or technical support for these versions of Internet Explorer.

Internet Explorer 11 is supported in Windows 8.1 and Windows 10 for as long as the two OSs exist. However, Microsoft stops IE support on their services – Microsoft Teams and Microsoft 365.

Beginning November 30, 2020, the Microsoft Teams web app will no longer support IE 11. Beginning August 17, 2021, the remaining Microsoft 365 apps will no longer support IE 11.

When is Internet Explorer 11 end of life?

Internet Explorer is a component of the Windows operating system and follows the Lifecycle Policy for the product on which it is installed – for Windows 8.1 this is until 2023 and for Windows 10 this is at least until 2025. Until then Internet Explorer will receive security updates.

Will Internet Explorer be removed from Windows 10?

No, it will not. Having said that, Internet Explorer is being replaced by a browser called Edge which is available by default in Windows 10.

Are Internet Explorer and Edge the same?

Yes and no. The rendering engine of the previous Edge which many people still have was built on IE11. The current Edge, however, is built on Chromium.