Reddit is one of the top social networks and hosts some of the most engaged online communities right now. It's a free social network where you post photos, videos, and links to "subreddits" (or categories) for others to upvote, downvote, and comment on. And at the end of the day, only the good stuff will float to the top and get seen by many people.
Redditors, here're some quick tips on how to optimize your Reddit experience with Vivaldi.
Set up Reddit as a search engine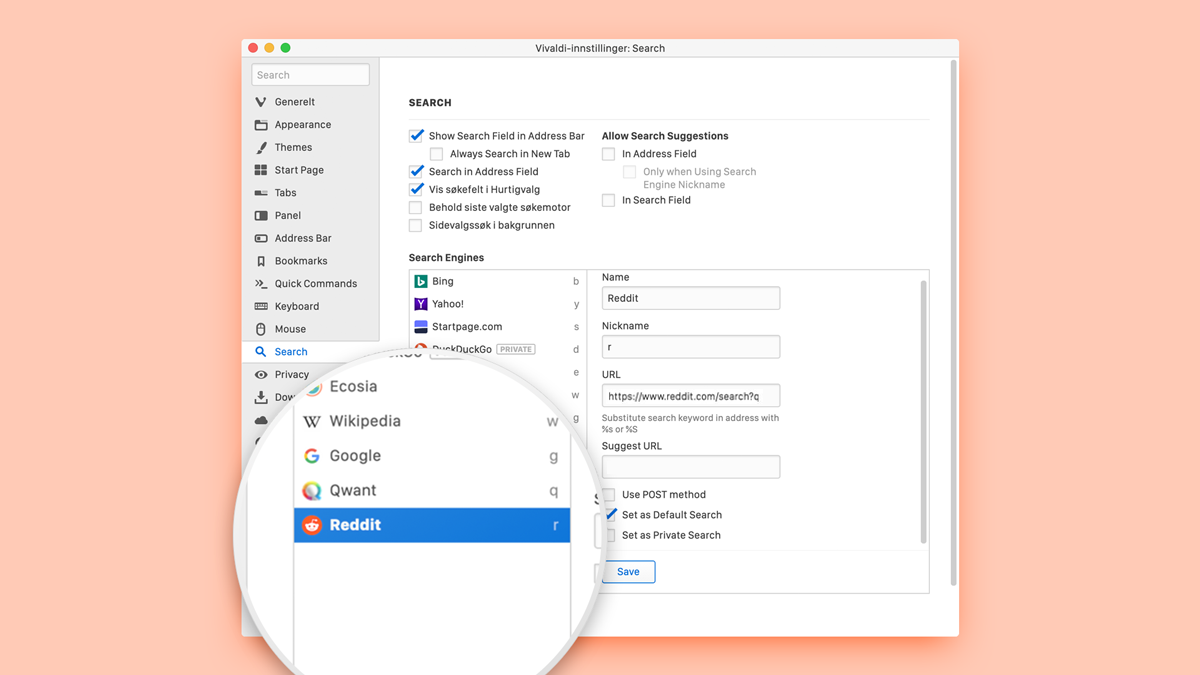 If you're glued to Reddit, you're probably looking for ways to get faster to your favorite subreddits. Enter your best buddy Vivaldi! 
Let's take a look at the bigger picture first.
Unlike some browsers, Vivaldi has several search engines available by default. Choose between DuckDuckGo, Ecosia, Qwant, StartPage, Wikipedia, Bing, Yahoo, and Google. To view the full list go to Settings > Search > Search Engines (and, by the way, you can change the order any time you like).
To speed up your searching, each search engine has a default shortcut assigned to it, e.g. "d" for DuckDuckGo, "e" for Ecosia and so on. You can quickly switch from one search engine to another just by typing the nickname of the search engine in the address field (or the Quick Commands menu) followed by a blank and your search term.
In addition to offering several search engines by default, you can set up any site as a search engine. Yes, set up Reddit as a search engine and we're talking.
By mapping Reddit as a search engine, and assigning a nickname to it, you can search your favorite subreddits without going to reddit.com first. All you need to type is Reddit's nickname in the address field followed by a blank and the subreddit's name.
To set up Reddit as a search engine:
Go to reddit.com.

Right-click in the Reddit search field (center top of the page) and select "Add as Search Engine".  In the dialogue box, click on Nickname to enter your preferred nickname, e.g. "r".

Click Add.
Your new search engine has been added to your list of search engines! Check it out in Settings > Search > Search Engines.
Next time you want to go to Reddit, hit "r" in the address field followed by a blank space and the subreddit you want to view. Vivaldi will take you straight there!
Use Reddit in a Web Panel
To Redditors, Reddit is so essential that it often sits pinned in a tab in the browser window. Imagine though that you could keep it always at hand to one side of the browser window – at hand and somewhat hidden from onlookers at the same time!  
That's just what Web Panels in Vivaldi are for. Web Panels are perfect for keeping essential resources that are accessed all the time. Social media sites or research tools such as StackOverflow, DevDocs, task managers and issue-trackers fit perfectly in there. Google Translate, news and chat apps can also save you a lot of time if you place them there.
Reddit works great in a Web Panel with both the old and the new design. The new design is especially friendly for the panel as it has a much better structure for smaller screen viewing. In any case, all three different view modes look good in a Web Panel!
To add Reddit as a Web Panel:
Go to reddit.com.

Click the [+] button at the bottom of the sidebar, then click on the "+" in the dialog box. This will add the currently active page as a Web Panel.

What a great way to be on Reddit while making it less obvious that you are! 😜
Use Reddit-enhancing extensions with Vivaldi
Many Redditors choose to enhance the default Reddit experience by using extensions. You'll find that the Reddit Enhancement Suite is a popular choice – it's considered an "unofficial improvement" and gives you a bunch of extra features.
Another popular extension is Imagus which loads and expands images and videos in a small popup so that you can easily preview the title and see the images or videos without having to open the post.
Because Vivaldi is built using Chromium, you can install extensions freely from the Chrome Web Store. And, yes, extensions such as the Reddit Enhancement Suite and Imagus work beautifully in Vivaldi.
To download them, browse the Chrome Web Store's Extensions category. Once you find these or other extensions you might like, click "Add to Chrome" to install the extension in Vivaldi.
You can manage your extensions from the Extensions page (Tool menu > Extensions). This page gives you an overview of the extensions currently installed, the ability to disable or delete extensions, as well as adjust extension-specific settings.
Moderate active subreddits by tiling tabs
Those of you who are moderating very active subreddits, probably need to jump between them frequently. In Vivaldi, you can view multiple sites at once by tiling tabs. Tab tiling is really about creating a split screen view of several websites. This can come in extremely handy if you need to keep different sites open or compare content all the time. Maybe this is just the solution you've been looking for! 
The Vivaldi browser subreddit
You're probably wondering by now about Vivaldi's community on Reddit. The Vivaldi browser subreddit is pretty powerful, let us tell you this much! Currently, there are six thousand people in that subreddit, and it regularly hosts pretty heated debates about both features and bugs (apologies for the latter!) Head over to Reddit to find out more.
Do you use any other Vivaldi features on Reddit? Tell us in the comments!