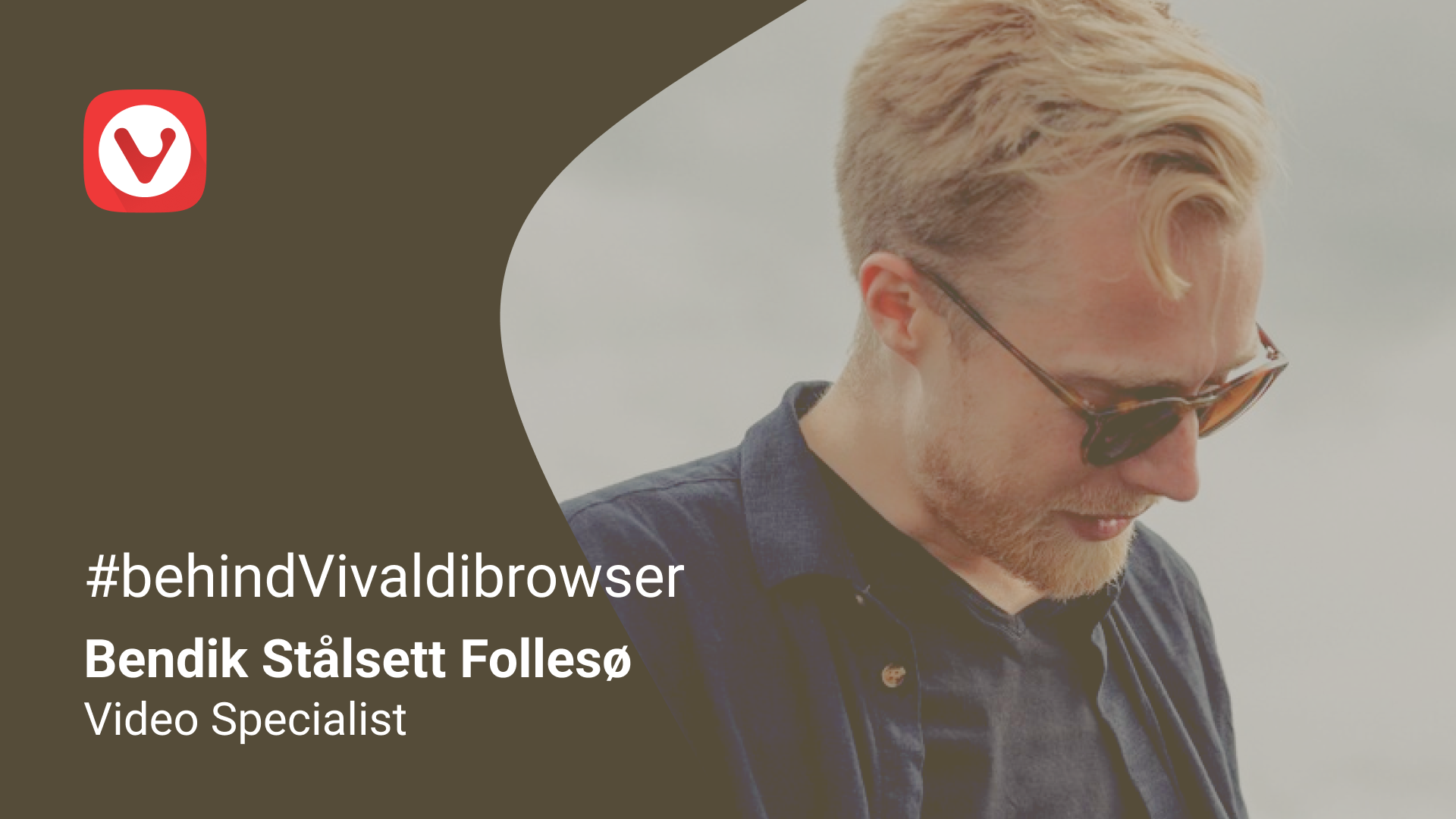 In today's time, we look for ways to communicate beyond text. And in our team, we have a very talented person who does that! Bendik, our video specialist, has recently joined our team.

He works at the Oslo office. And in addition to bringing in oodles of energy to the team, Bendik takes care of all things video — from concepts, shoots, editing, and even voiceovers. And we love it!
It would not be incorrect to call Bendik a tech enthusiast, because before joining Vivaldi he already had built an online community across several platforms. Take a look at his channels!
Let's get behind the camera and find out more about Bendik.
What do you love about working at Vivaldi?
I love working with a very creative, experienced, and friendly team, on a browser that the team and other people really care about.
It's very motivating to work for a company that takes its values seriously, has no external investors, therefore prioritizing users' needs, and actively spends time listening to its community.
What has been your favorite day at work since you started?
Earlier this September we went to a beautiful apple orchard here in Norway to film a few fun things for the launch of Vivaldi on iPad and iPhone, not your usual day at the office!
I also got an opportunity to travel to Iceland last month, which was always on my bucket list. Being an avid photographer, this was a dream come true as I was soaked in the breathtaking landscapes.

The week spent with the team in Reykjavik was fun meeting more team members and exchanging ideas for more exciting things that we should work upon.
What are your favorite features in the browser?
There's a solid list, where do I start? I do have a couple of favorites. I use Workspaces based on what I'm doing. It's really nice to have a Workspace for a project I'm doing, and another one for a specific topic I keep researching. This keeps things neat and organized for me.
Another one of my favorites is Tab Tiling, and it's one of the features that come in handy for gaming. Having multiple Twitch livestreams of a gaming tournament within the same browser window makes it more fun and engaging.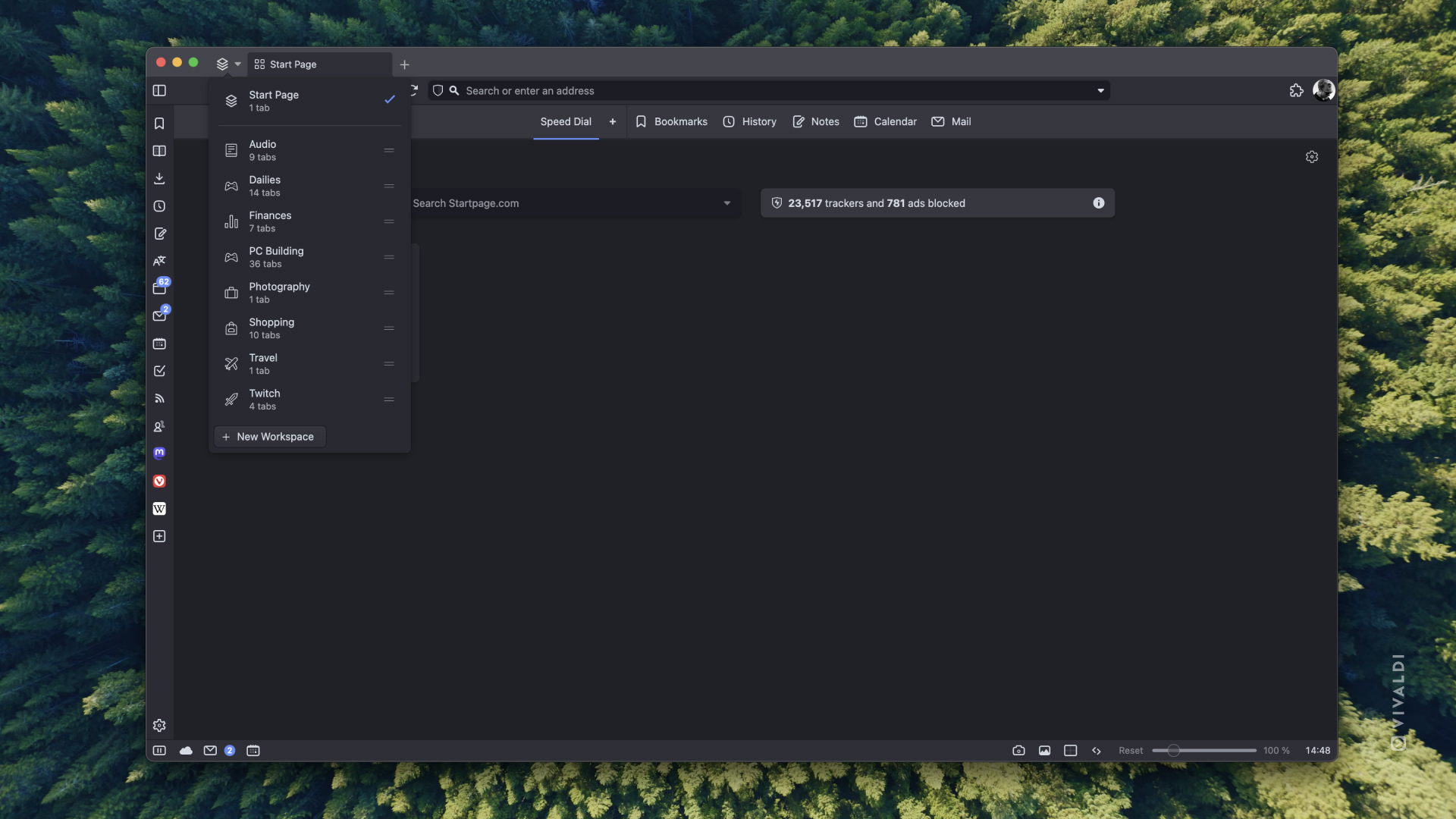 The built-in mail client is powerful and I enjoy using it. The screenshot tool is also a great utility tool – makes snapping pictures so easy!
What is the biggest thing you've learned so far?
Vivaldi is not new to me, as I was already using it as my default for quite a while before I joined. I thought I knew a lot about it. Boy, was I wrong! It has so much to offer and discovering new aspects of it is enthralling.
Well, after these months with the team, I have learned more about it. Not just about Vivaldi specifically, but how important your browser of choice is when it comes to privacy and security in general.
What else should we know about you?
I go to the movies, work on my photography, play games (hooked on to Vivaldia yet? I am!) , listen to music while I drink my French-pressed coffee, mountain climb, swim in warm water, learn new things, and mess around with anything tech related. That's a lot, right? 😉
Reflecting on it, I think I got my creative interests from my parents. My father had a 1980's Pentax Super-A film camera that he handed to me when I was very little, which kickstarted my interest in candidly photographing people and my surroundings. You can check some of my photography work on my website.
Lastly, how did you come up with "thesoaptech" as your content creator name?
An old friend of mine that I was playing games with many years back created my gamer tag "thesoaplobster", which is a completely random name. Many years later I was casually live-streaming on Twitch under that old name.
And during covid, I was making some helpful tech videos on TikTok. Eventually it grew quite a bit, which made me switch names to thesoaptech. Still recognisable for my trusty old followers — just without the lobster. 🦞
*************
What kind of videos would you like Bendik to create? Send in your ideas and Bendik can get started! Post them in the comments! 👇