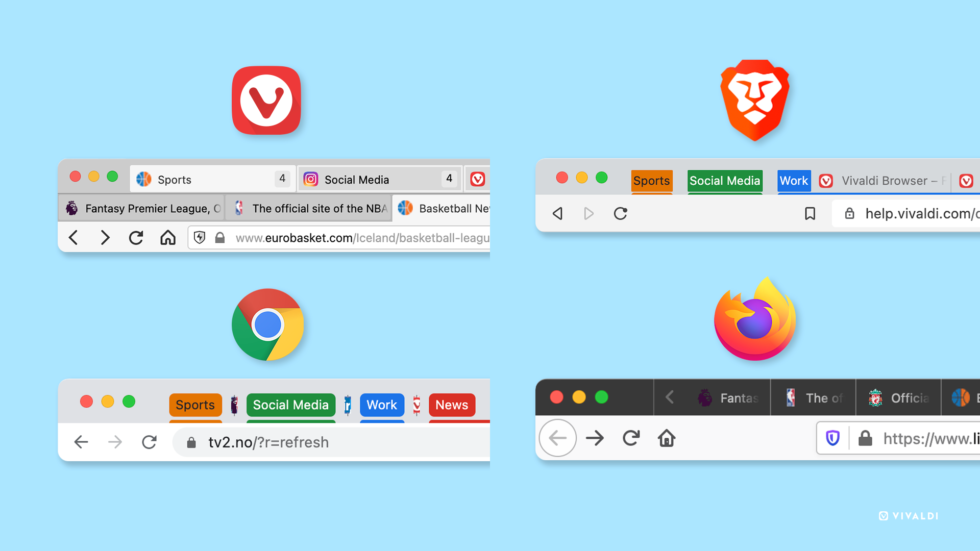 Read this article in 日本語.
I have never thought about tab management as much as I have recently. Some time ago, I came across a survey that shattered my perception of what is "too many browser tabs". According to the survey, I am in a minority that keeps open 20 tabs or more. The majority, on the other hand, keeps open only up to 20 tabs.
Wow, really? Doesn't everybody keep a lot of tabs open? Are my 40 tabs a lot of tabs? 😮
Digging in a bit more, I realized that most browsers just aren't suited to managing too many browser tabs.
I previously wrote about my experience of using Google Chrome and how I opened many tabs only to end up with so much clutter, it wasn't possible to work efficiently.
But that changed when I got introduced to Vivaldi and its way of managing too many browser tabs.
In addition to some amazing tab management features, recently Vivaldi introduced Two-Level Tab Stacks – the ability to display tabs on two levels.
I wanted to test out Two-Level Tab Stacks for myself, but also test how I would manage my "too many tabs" in Google Chrome, Mozilla Firefox, and Brave.
So here we go.
Manage too many tabs in Google Chrome

I usually have way more than 20 tabs open 🙊 but for this task, I closed a few (duh!) and settled on testing with 20.
Up until May of last year, you would need extensions to properly manage your tabs in Google Chrome. Many were happy with extensions such as One Tab which suspends all active tabs and lists them vertically in a separate tab.
One Tab is a great extension because it lets the browser work only in the tabs you want. This is important because when you have a significant number of tabs open, you might notice that the browser slows down.
In May 2020, Google Chrome integrated tab grouping in the browser.
This was a huge improvement and made a big difference to many people stuck with Google Chrome.  
Grouping tabs allows you to have several browsing sessions at the same time. You may be shopping online, doing research, reading the news, or just browsing social media. Grouping tabs gives you the option to categorize your browsing and makes it easier to navigate between the many tabs you have open.
Now, my tabs seem to fall into four categories: social media, news, work, and sports. 🏀
In Google Chrome, I can group my tabs and label them with a custom name and color. I can move and reorder the groups on the tab bar. It was definitely satisfying to group my tabs into four color-coded groups.
However, when I click on the group, it opens it horizontally across the tab bar and shows all the tabs. This becomes a problem when I open a group with many tabs – the feeling of clutter returns.
Too many browser tabs in Brave?

I was hoping to see better tab management for too many tabs in Brave. It's not a browser I've used before so I had to download it especially for the test.
I opened my "too many tabs" in Brave but couldn't see a difference from Chrome. As far as I could tell, it had the same tab grouping feature, almost identical to the one in Chrome.
As Brave is a Chromium-based browser, you can use Chrome Web Store extensions to improve tab management. There's a world of possibilities in that. However, beware that there are malicious extensions out there. What's more, often extensions are power-hungry, and too many extensions can compromise the performance of the browser. 
Read more: Vivaldi vs. Brave in comparison
Testing too many browser tabs in Firefox

Firefox does not yet have an integrated form of tab management. Like in Chrome, there are many well-liked extensions available (specific to Firefox). 
One powerful and frequently used extension with many options is Workona. It's an easy-to-use extension that lets you sort tabs into different groups or sessions. You'll have to go to the Workona tab to open the different groups.
Tree Style Tab, yet another extension, opens a navigation panel to the left of your window with a vertical list of all the active tabs (much like Vivaldi's built-in feature where you can choose the location of your tab bar). The list makes it easier to see tab titles and navigate the tabs.
But, as previously mentioned, adding extensions to a browser brings with it privacy concerns.
Firefox Multi-Account Container is a privacy-focused extension. You are able to create "containers" which act as a separate browser inside the same browser window. Data from one container is not shared with other tabs.
Each container has a color, but there is no possibility to group the tabs together. The clutter is still there, only color-coded.
Vivaldi browser and its legendary tab management

Like me, you have also probably heard legends about Vivaldi browser's tab management. I have previously written about a few features that have caught my attention, especially the tab tiling feature.
When I tested tab management in the four browsers, I was most impressed with Vivaldi's ability to manage tabs. Vivaldi has many tab features built-in which makes browsing very pleasant. Extensions are great but built-in features are always safer to use (not many extensions are privacy-focused), and as a rule of thumb native features always provide a better, consistent with the product, user experience.
The recently introduced Two-Level Tab Stacks feature is amazing for managing too many tabs. I didn't know I needed it until I tried it. It gives me a clear overview of my many tabs.
It adds a second level so that I can see my stacked (grouped) tabs easily. It's a small detail that makes a big difference when tabs start to add up. This works especially well if I position my tabs vertically on either side of the browser window (which would require extensions in the other browsers).
And there's a lot more I can do with my tabs in Vivaldi without using extensions. Let's say I want to get a tree-style view of all open tabs. I do that by opening the Window Panel in the side panel.
I can also name and save tabs (or a selection of them) as a Saved Session.
And when my tab bar starts to overflow, there's the handy alternative of the Web Panel. This is a slide-out sidebar that gives me extra space for my favorite websites and tools. I can add any website as a Web Panel. This way I reduce the clutter in the tab bar.
In addition, Vivaldi has a built-in feature called Hibernating Tabs which allows the browser to use all its resources on the active tab, instead of all the background tabs.
I also recently started playing with tab selection, an immensely useful feature for sending commands to multiple tabs. This functionality is limited in Chrome. If I want to work with more tabs, I select them on the tab bar using either the Ctrl or Shift key. The Ctrl key will select individual tabs, the Shift key will select a range of tabs.
Find out more about managing too many browser tabs in Vivaldi.