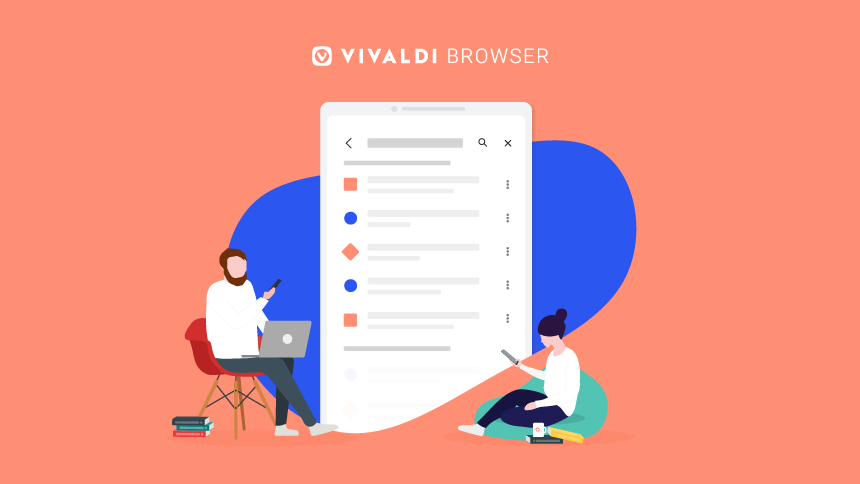 OSLO, Norway – April 06, 2022
Your phone is your home on the go. And our latest version on Android comes with new powerful features that'll help keep you grounded while on the move.
It was important for us to create something that helps extend the Vivaldi desktop experience to your phone, seamlessly. Vivaldi 5.2 does that.
The much-requested Reading List for Android makes it easy to save pages that you want to read later. And what's even better is that you can now Sync your Reading List across multiple devices using Vivaldi.
Vivaldi Translate, powered by Lingvanex and hosted on our own servers, is our alternative to Big Tech's translation tools. In this version, we make it even quicker and easier to translate texts, with a built-in Translate Panel – a new, convenient way to translate web pages and selected texts safely and quickly.
You can also select any text on a web page and have the ability to instantly see both the original and target language – all at the same time.
To explore these new additions and overall improvements across the board, download Vivaldi 5.2 for free on your Android phones, tablets, and Chromebooks.

We've also launched our desktop version today, which includes a panel to help you manage your Reading List in the sidebar of the browser. It also features a new Privacy Statistics Bar that gives you an at-a-glance overview of ongoing tracking attempts. More here.
Reading just got better on the move! Hurrah for Vivaldi's Reading List.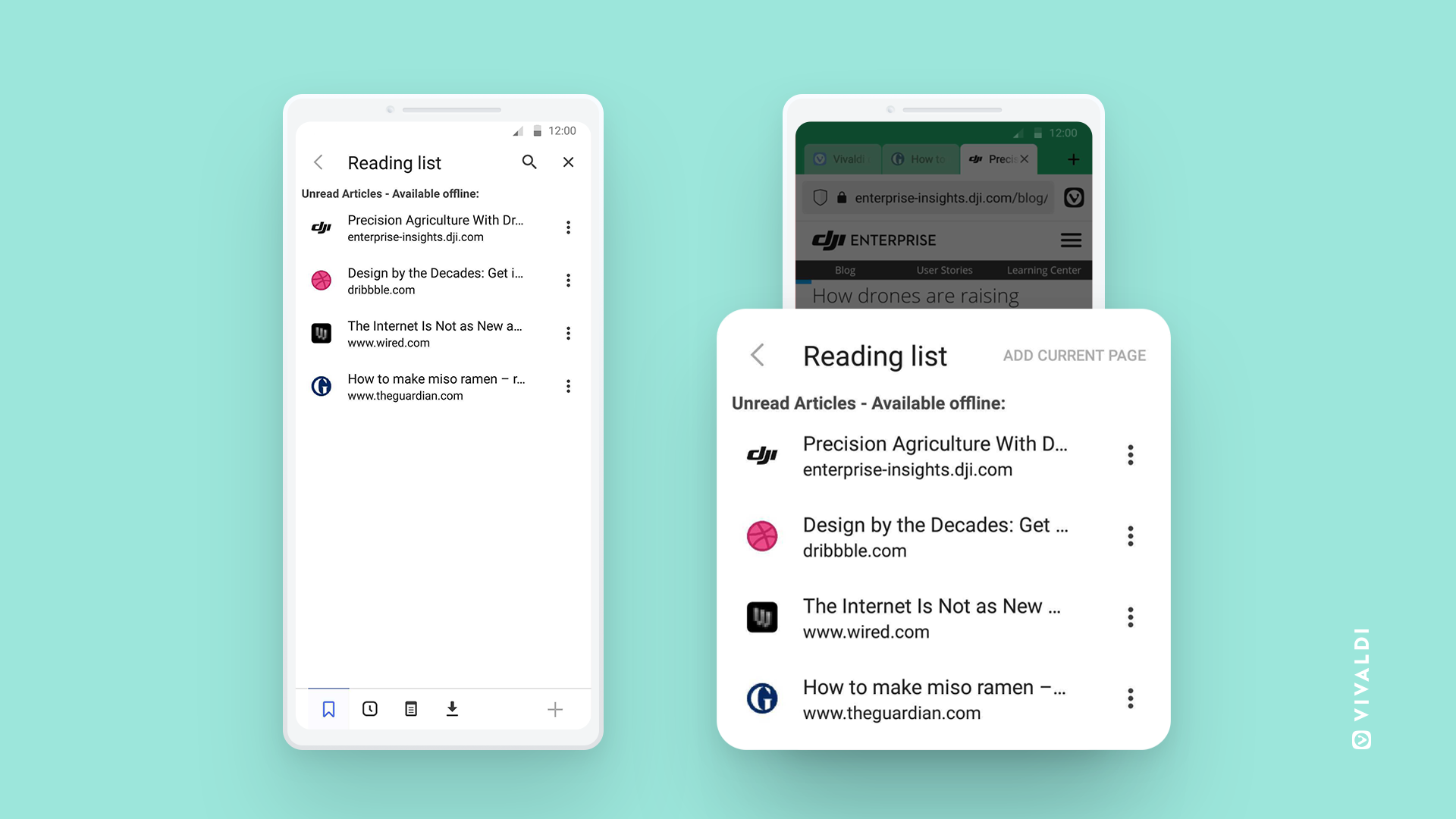 You just came across a great article you really want to read, but have to step out. Sound familiar? We've all been there. But here's an easy solution – simply save this article to your Reading List.
Not long ago, we introduced the Reading List to Vivaldi on desktop. And since then, the requests to include it on Android have been soaring high. Your wish is our command!
As the Reading List is built-in, you can use it immediately – no service signup is required.
To add a page to the Reading List, visit the article that you want to save, and tap on the Vivaldi icon to view the app's menu. The Reading List is easily accessible from the drop-down panel. Tap on the "Add Current Page" button to save it to your Vivaldi Reading List.
Similar to Vivaldi on desktop, the Reading List on Android also maintains a page's read/unread state, so it is easier to toss pages that are already read.
Carry on reading! Sync up all the great stories across multiple devices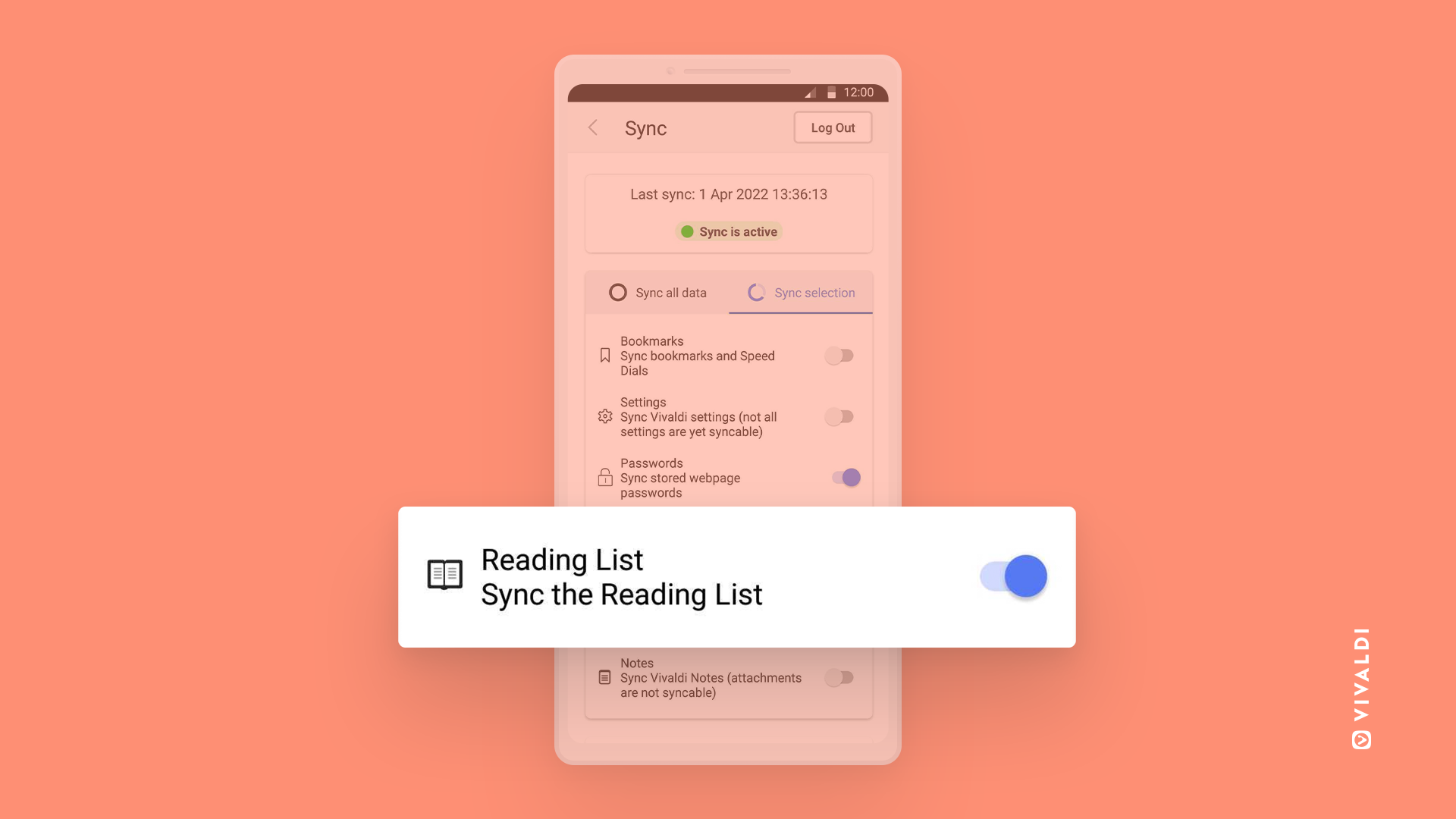 Now that the Reading List is available on your Android devices, you can easily sync your Reading List across multiple devices using Vivaldi Sync. This means you can now read stories you saved on your phone on your desktop and vice versa.
To use Sync, all you need to do is sign in with a Vivaldi Account to securely sync your data, with end-to-end encryption across devices including cars. For the uninitiated, Vivaldi is the first and only browser for Android Automotive OS currently available in Polestar cars.
Switch up your translation skills with the new Translate Panel. Now easier with auto-translate.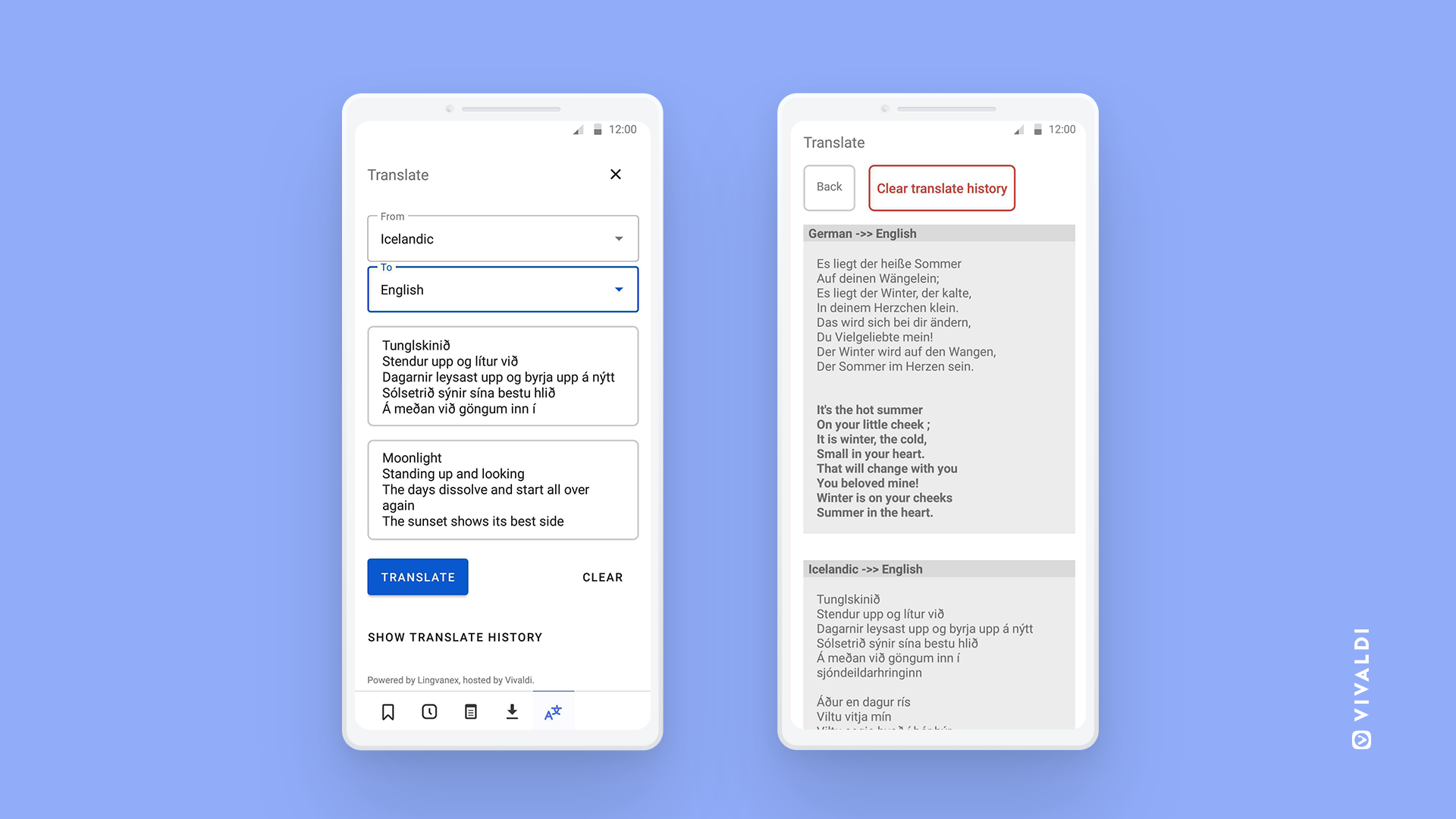 Why should the desktop have all the fun? That is why we are working towards giving you more productivity options even on your mobile phone.
What you browse shouldn't be limited by language, no matter which device you use. That's why we launched Vivaldi Translate, powered by Lingvanex. And with today's update, we're introducing some big improvements.
We've added functionality to this feature that is rare in mobile browsers. Now you can select any text for translation on a web page that you visit, have the ability to see both the original and translated text at the same time, as well as change the source and target languages.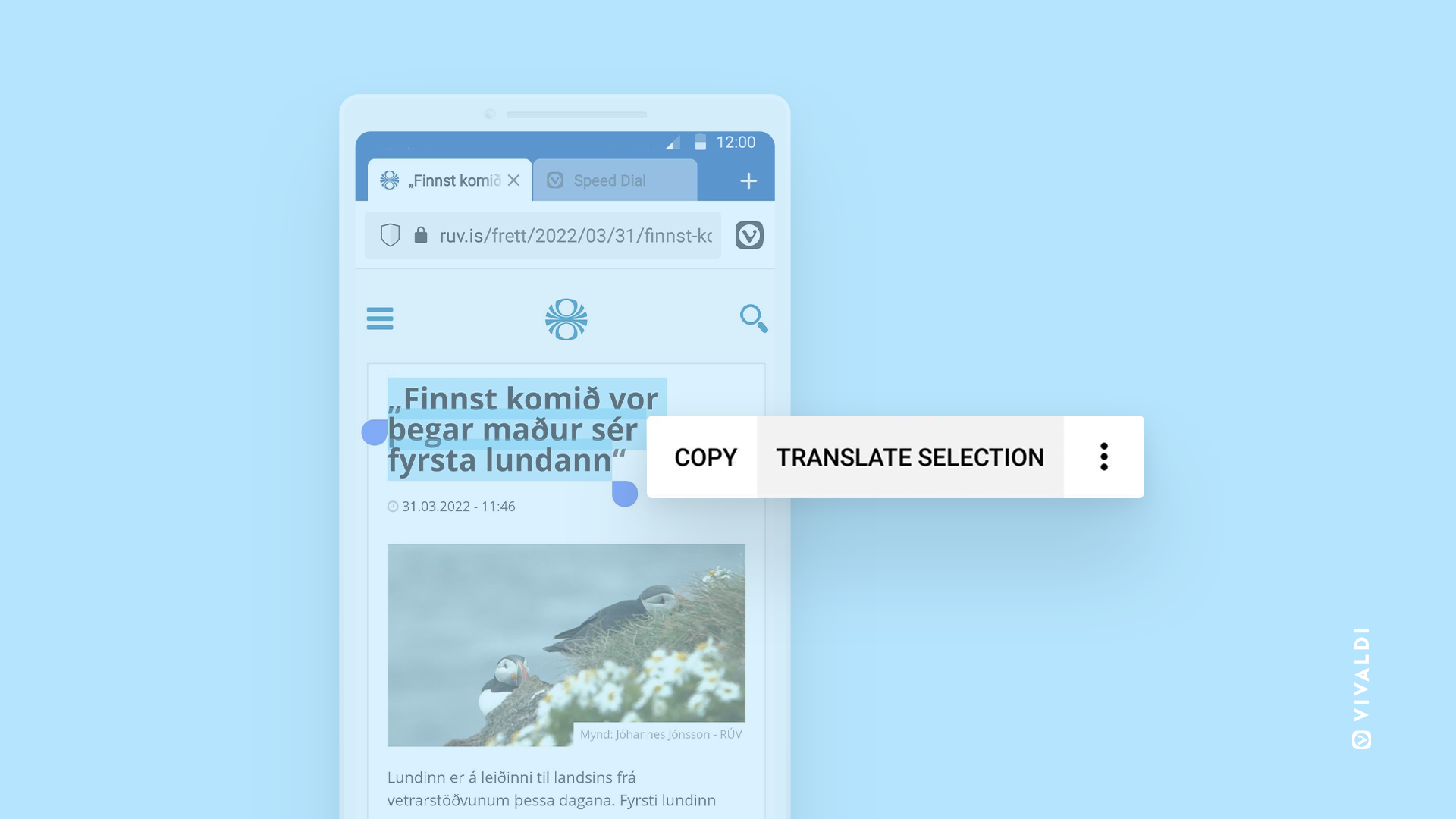 Sometimes you need to translate a few bits of content on the page. Or perhaps you're learning a new language, so prefer to translate a snippet at a time, rather than translating full pages. Here's where the new Translate Panel adds to the built-in translation powers, giving you a unique way to translate snippets of text.
This new addition is your perfect sidekick for learning and clear communication. It provides a brand-new way to translate text or web pages instantly. And its one-step auto-translate option, transforms web translations, allowing you to translate text snippets instantly, without any additional clicks.
Simply select the text you want to translate and choose 'Translate selection' from the context menu. And voilà – easy as that!
All your recent translations will also be saved in your history, which you can access quickly via Panels.
And, by the way, the only servers involved here are Vivaldi's, so you can translate with the confidence that Big Tech isn't watching.
There's more in store, with Vivaldi 5.2.
Qwant, the privacy search is back: As a company that has always championed your right to privacy, we like to provide people with more choices when it comes to search – including a way to opt-out of search engines that from your private data, without sacrificing search-result quality.
By popular demand, we've brought back the leading, privacy-focused search Qwant as another integrated option in our list of default search engines.
Just head to Settings > Search to choose your favorite search engine.