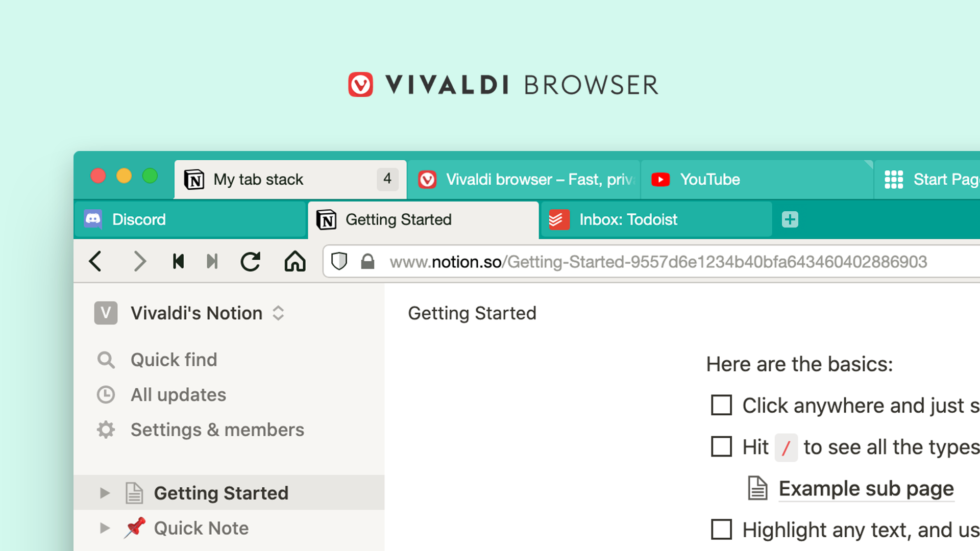 OSLO, Norway – January 28th, 2021: The solution to too many tabs in a tab bar is here – a second tab bar in Vivaldi 3.6.
Six years ago, in its first public appearance, Vivaldi unveiled Tab Stacks – the ability to group and manage tabs together. Now, Vivaldi introduces Two-Level Tab Stacks, taking its tab functionality to the next level, literally.
With Two-Level Tab Stacks, stacked tabs are displayed in a second tab bar. This first-of-its-kind feature opens up a new way of viewing and managing tabs on desktops and notebooks.
Tabs are an essential part of browsing but many people struggle when it comes to organizing and managing them.
Over the years, Vivaldi has strengthened its comprehensive tab functionality with modern, built-in features that adapt to how people work today (even more so in times of remote-working).
Tab Stacks, Tab Tiling, Vertical Tabs, Auto Stacking, and a plethora of other tab features make viewing, managing, and navigating between tabs in the Vivaldi browser easy.
With Vivaldi's tab management you can handle an extraordinary amount of information while staying organized, says Vivaldi CEO Jon von Tetzchner.

Two-Level Tab Stacks is an example of how we innovate for the people who have put their trust in us. They deserve it.
Too many tabs is not a thing anymore! Two-Level Tab Stacks explained.
Ever had 400 tabs open at the same time? Vivaldi has a better way to handle them. Tab Stacks help organize a group of tabs by dragging one tab over another.
In Vivaldi's original implementation, stacks take up no more space than a single tab. This keeps the browser window tidy and is an efficient way to quickly access a large number of tabs. Clearly, the focus is on staying compact.
While Compact Stack is still a great view for those who wish to maximize screen space, Vivaldi's new feature – Two-Level Tab Stacks – goes a notch higher.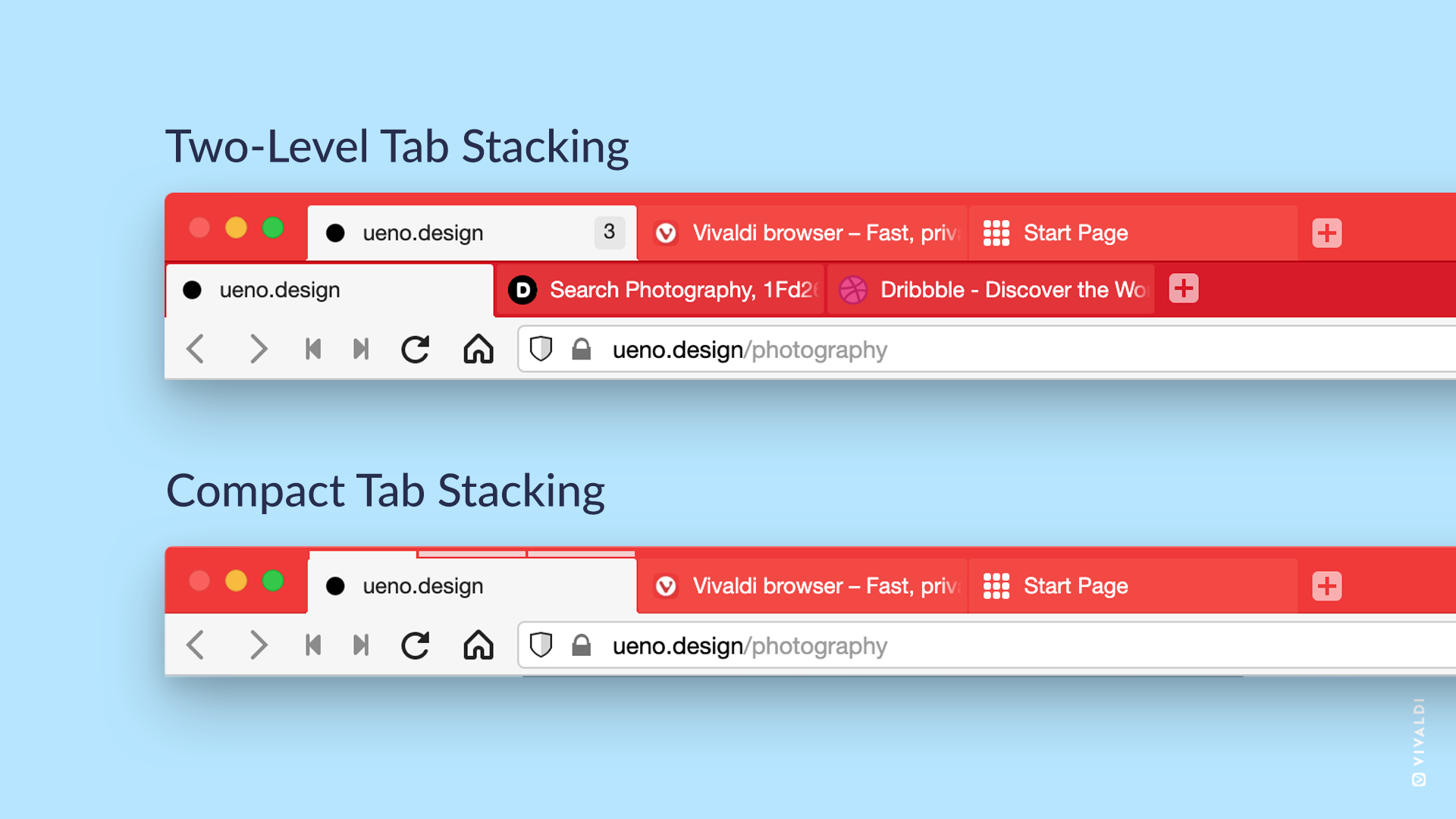 By simply clicking on a stack, one can expand and show the content of the stack, with full-size tabs on a new line. Having full-size tabs means that people can manipulate them like any other tab, using the same methods to open, close, activate, move or select tabs within a stack.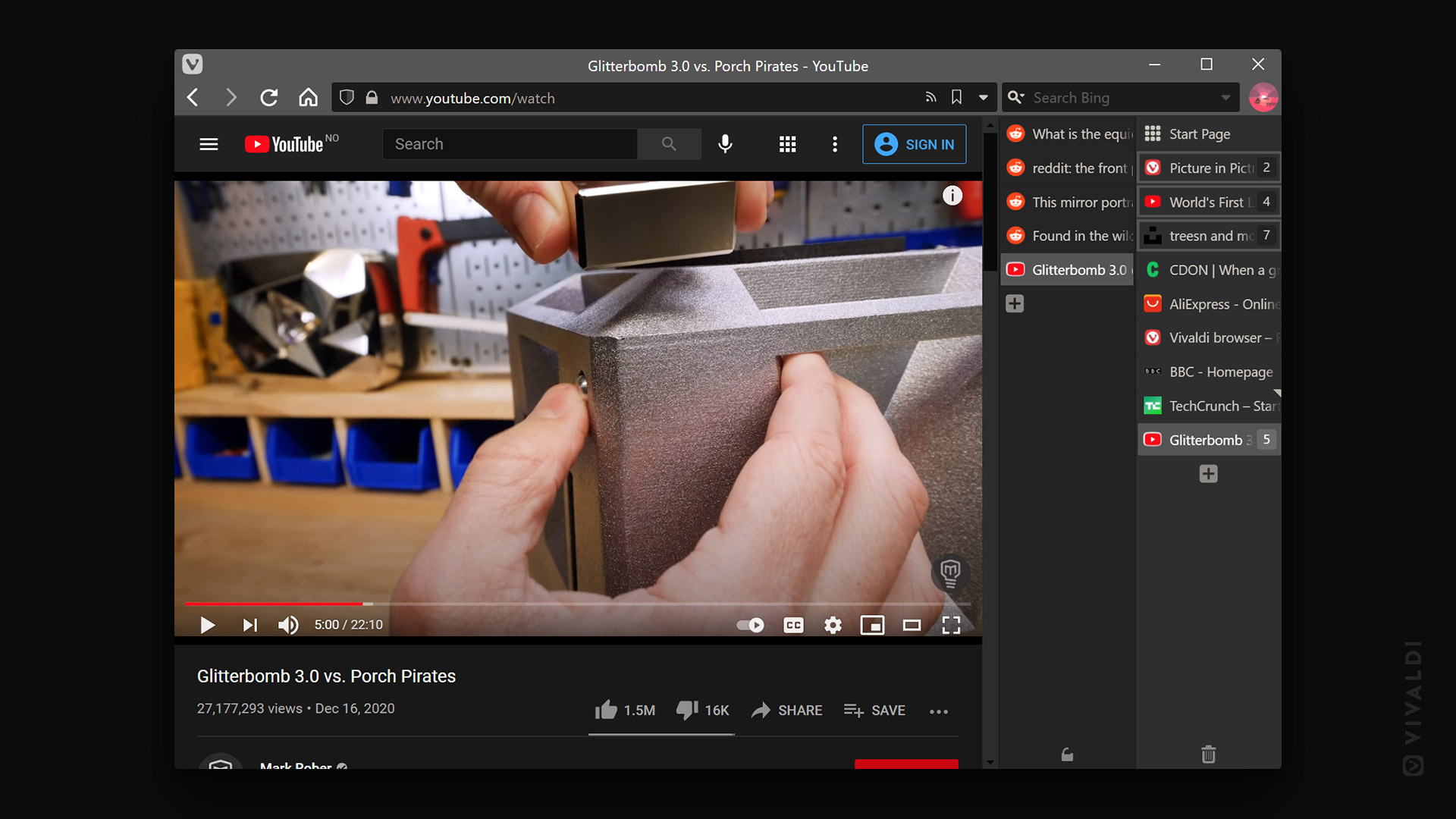 People can organize Tab Stacks any way they like while keeping a full overview – drag, hibernate, mute, and even rename as needed. All the tabs are instantly accessible, without the need to constantly switch windows, profiles, or workspaces.
The feature is enabled by default and switching between Compact and Two-Level Tab Stacks is easy under Tabs in Vivaldi Settings.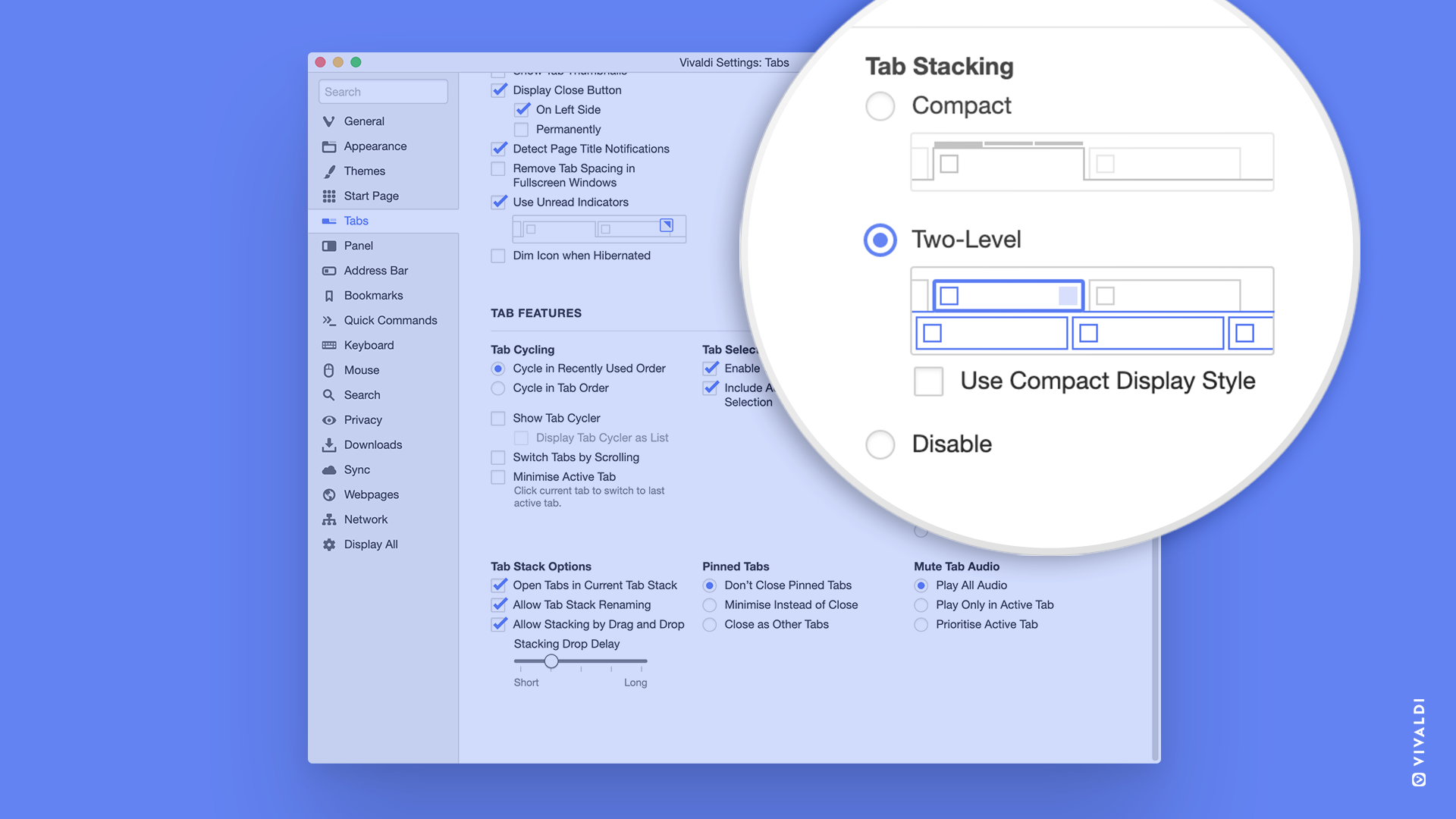 I use @vivaldibrowser which has tab search already built in. It also lets you put the tab well vertically with a scrollbar, which means you can always read tab titles and icons. This, in addition to automatic tab hibernation, makes the number of open tabs a non-issue. pic.twitter.com/PCbT0WsWDR

— Arild Fines (@rogue_code) January 9, 2021
Sort out your tabs with Two-Level Tab Stacks
The new feature is useful for those who would like to display their stacked tabs in full size. It works whether the tabs are placed on the top, bottom, or to the side.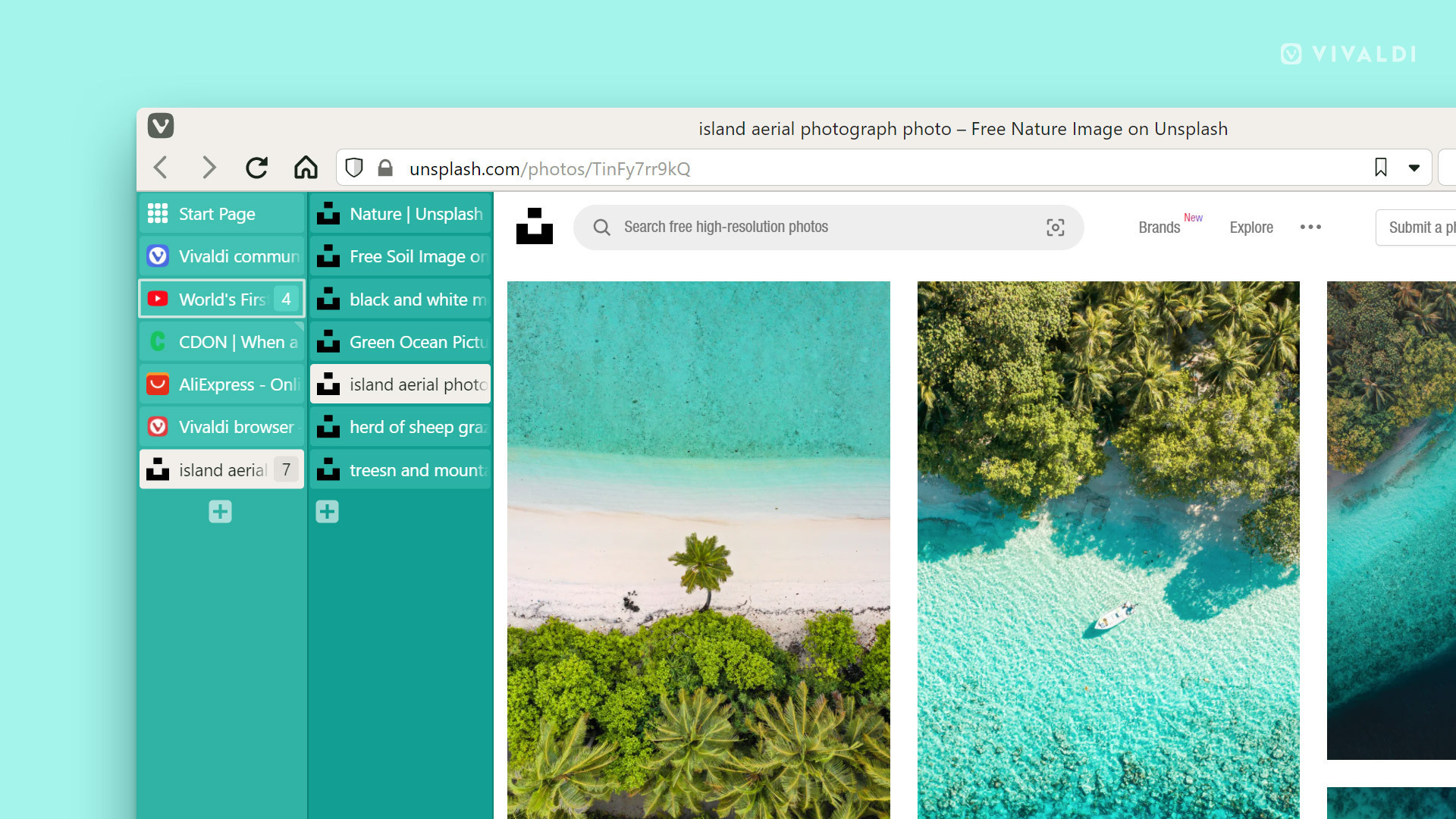 The new, second level makes reorganizing stacks or creating new tabs within a stack a breeze. For example, the "+" button on the new line helps easily create tabs within the stack. The feature offers all the other benefits of normal-sized tabs, like easier to read page titles, tab notifications, and (if enabled) tab thumbnails.
In addition, Two-Level Tab Stacks can be locked, which avoids changing the page view height when switching between tabs, and makes it simpler to create new stacks from any single tab.
Vivaldi's Tab Management: The solution for an organized life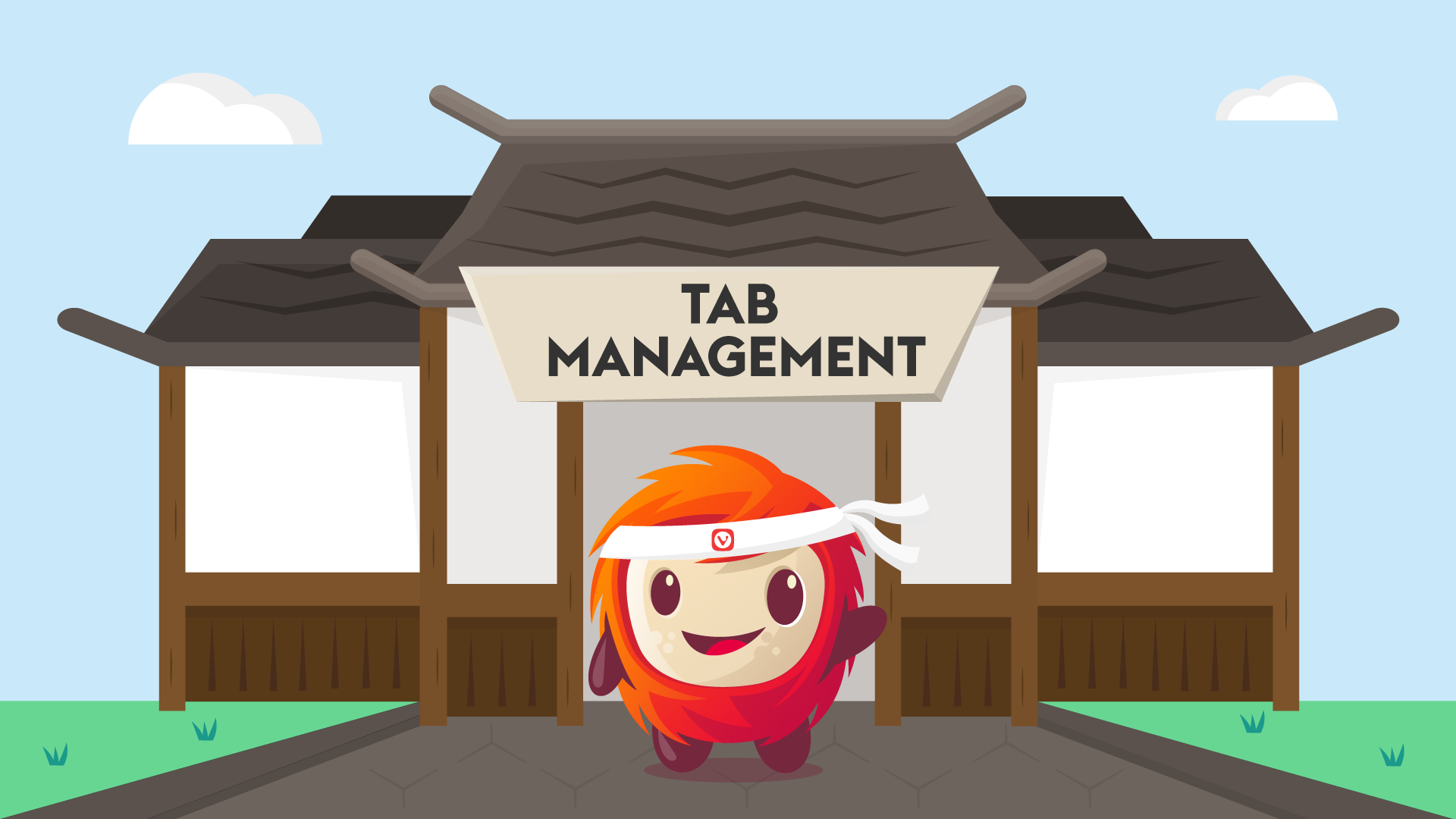 Vivaldi's extensive tab management tools are fun, efficient, and rewarding for tab hoarders – putting them in control of tabs but also giving them independence from third-party add-ons.
There's a variety of options: from placing tabs at the top, bottom, or to the side to rounding the corners of your tabs. The thoughtful structure and design benefit everyone from first-time Vivaldi users to the most demanding pros, Jon von Tetzchner says.
There is so much that can be done in Vivaldi when it comes to managing tabs. Split-screen viewing of multiple sites is easy with Vivaldi's resizable Tab Tiling. Tabs can be viewed in tree-style through the Window Panel.
Switching between tabs is seamless with Tab Cycling – the keyboard shortcut Ctrl + Tab lets users cycle through open tabs and display them as thumbnails (the horizontal cycler), or as a list of titles (the vertical cycler).
For speedy navigation, users can use the pre-set keyboard shortcuts or assign different keyboard shortcuts based on personal preference. Similarly, editable mouse gestures help perform tab related commands. Instead of clicking on a tab, switching tabs is faster through Quick Commands.
There are multiple ways to open and close tabs. Jumping to the previously opened tab with one click is a time-saving trick while an accidentally closed tab can be easily retrieved from the Trash. Looking out for tabs is much easier with the option to display Tab Thumbnails.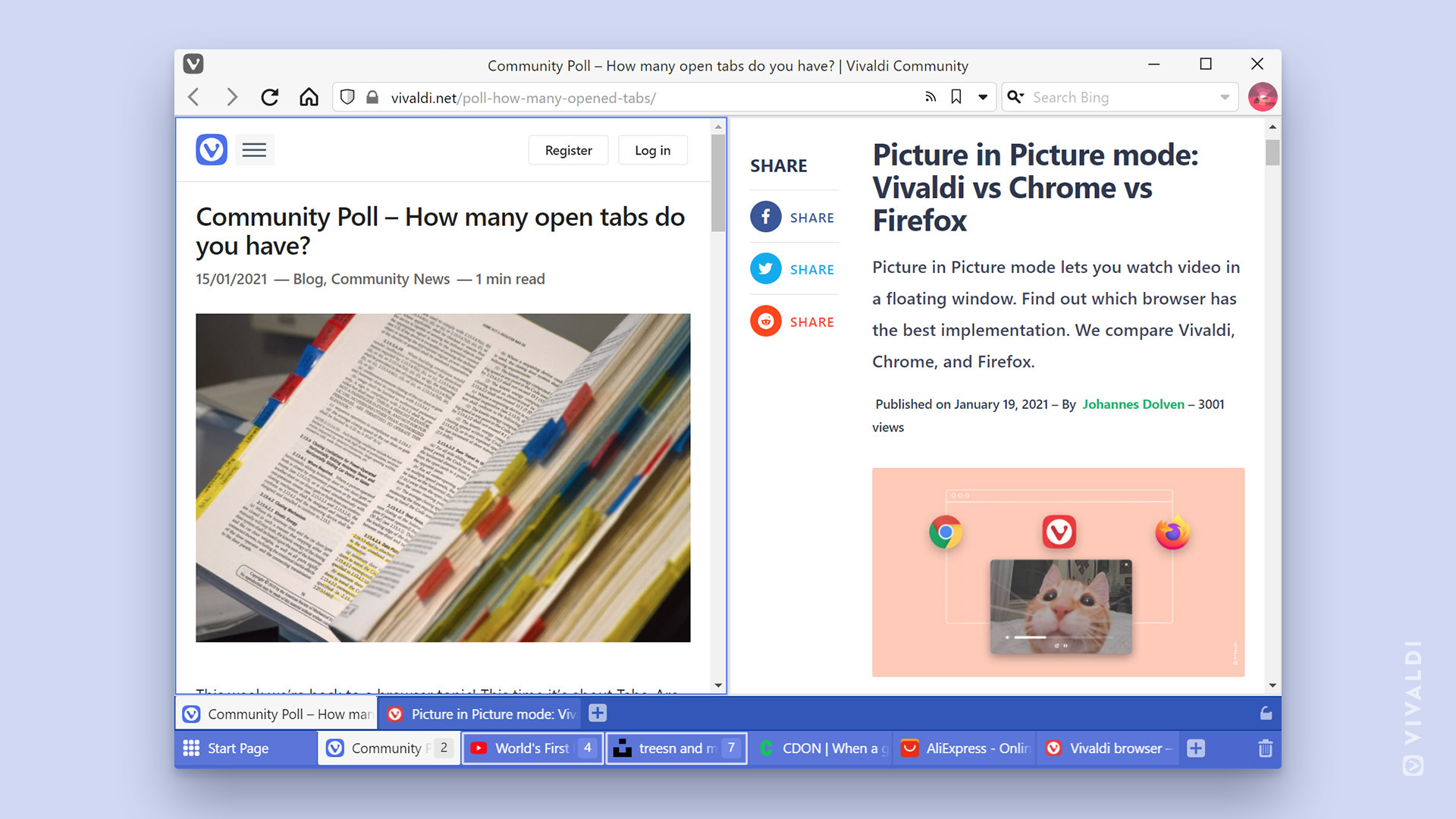 Tab Notifications, displayed on both pinned and regular tabs, act as reminders for new content waiting to be read – useful on social media sites. Naming and saving a session works as a charm when a zillion tabs are open especially while researching a topic. Placing tabs in a Web Panel avoids clutter and comes in handy when using a translation tool or a messenger app on a daily basis.
Fun customization options enable users to add personality to their tabs such as round them or make them angular, or add custom window background to the Tab Bar. Simply increasing the width of the active tab is useful and improves workflows when several tabs are open.
There's a lot to explore here.
Yep, @vivaldibrowser has been my main browser for about six years now!

Loooooove it

The two features I love:
– tabs stacked vertically on the far left (maximizes up-down reading space)
– hotkey search for instantly locating open tabs (I have like 60+ open most often)

— Clive Thompson (@pomeranian99) December 30, 2020