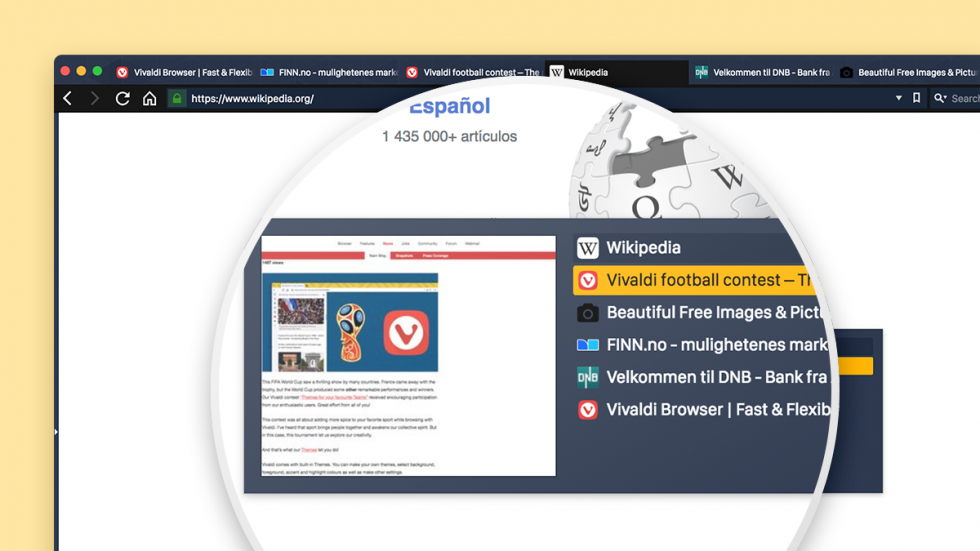 Mouse clicks on the Tab bar, searching with Quick Commands or in the Window panel, mapping a mouse gesture. You could be using these or a number of other ways to switch tabs in Vivaldi. Each method has its own advantages and disadvantages, and different methods suit different users' workflows.
Providing options and letting you decide what works best for you is what Vivaldi is all about. It's what sets us apart from many of our competitors.
Switch quickly and easily with Tab Cycling
If you keep a lot of tabs open, navigating between them can become a little hard and you might be looking for ways to reduce your scrolling time. Enter Vivaldi's Tab Cycling.
With Tab Cycling, you use the keyboard shortcut Ctrl + Tab to cycle through your open tabs.
Enable Tab Cycling in Settings → Tabs → Tab Features → Tab Cycling. Here, you should also decide the order in which tabs are cycled. Currently, you can choose between "Cycle in recently used order" and "Cycle in tab order". You can experiment to see which order works best for you.
But that's not all.
You can also choose how to display your tabs in the tab cycler. They can appear as thumbnails (the horizontal cycler), or as a list of titles (the vertical cycler).
We have two ways of displaying tabs in the cycler because we believe that some people work better choosing between images and others prefer looking through a text-based list.

The horizontal cycler is set by default.  You can choose the vertical cycler from Settings → Tabs → Show Tab Cycler → Display Tab Cycler as List.
The vertical cycler is also a great way to see a lot more entries at once and is less jumpy.
Yet more Tab Cycling options
Our tab cycler also lets you switch tabs by using mouse scroll. Go to Settings → Tabs → Tab Cycling and select "Switch Tabs by Scrolling". Once enabled, move your mouse over any tab, and use the mouse scroll to cycle between tabs.
Last but not least, if you enable the last option under Tab Cycling – "Minimize Active Tab" (soon to be renamed to "Switch to Previously Active Tab"), you will have one more way to move about quickly and efficiently. This option lets you move to the previous active tab by clicking on the currently active tab. It's pure gold! 😜
I hope you like and use our tab cycler. In the meantime, we continue to work on improving our Tab Cycling options. We've got something for you already in our upcoming Stable release! Stay tuned!