Read this article in Pусский, 日本語.
It's time to update your browser, with our new version on both desktop and Android. Vivaldi 4.2 is here.
The desktop version now allows you to translate any selected text on a web page with our built-in Vivaldi Translate tool, powered by Lingvanex and hosted on our own servers.
You can also access and share information quickly with our built-in QR Code generator through Quick Commands, Mouse Gestures, and Keyboard Shortcuts.
We've tweaked and tuned the browser overall, with improvements across the board including Web Panels. We've also added Neeva for our friends in the United States, a new privacy-friendly and ad-free search engine on both desktop and Android, giving you more options that do not track and collect data.
Vivaldi 4.2 is ready to be downloaded on Windows, macOS, Linux, and Android.

Translate text on a web page privately, free from "prying eyes"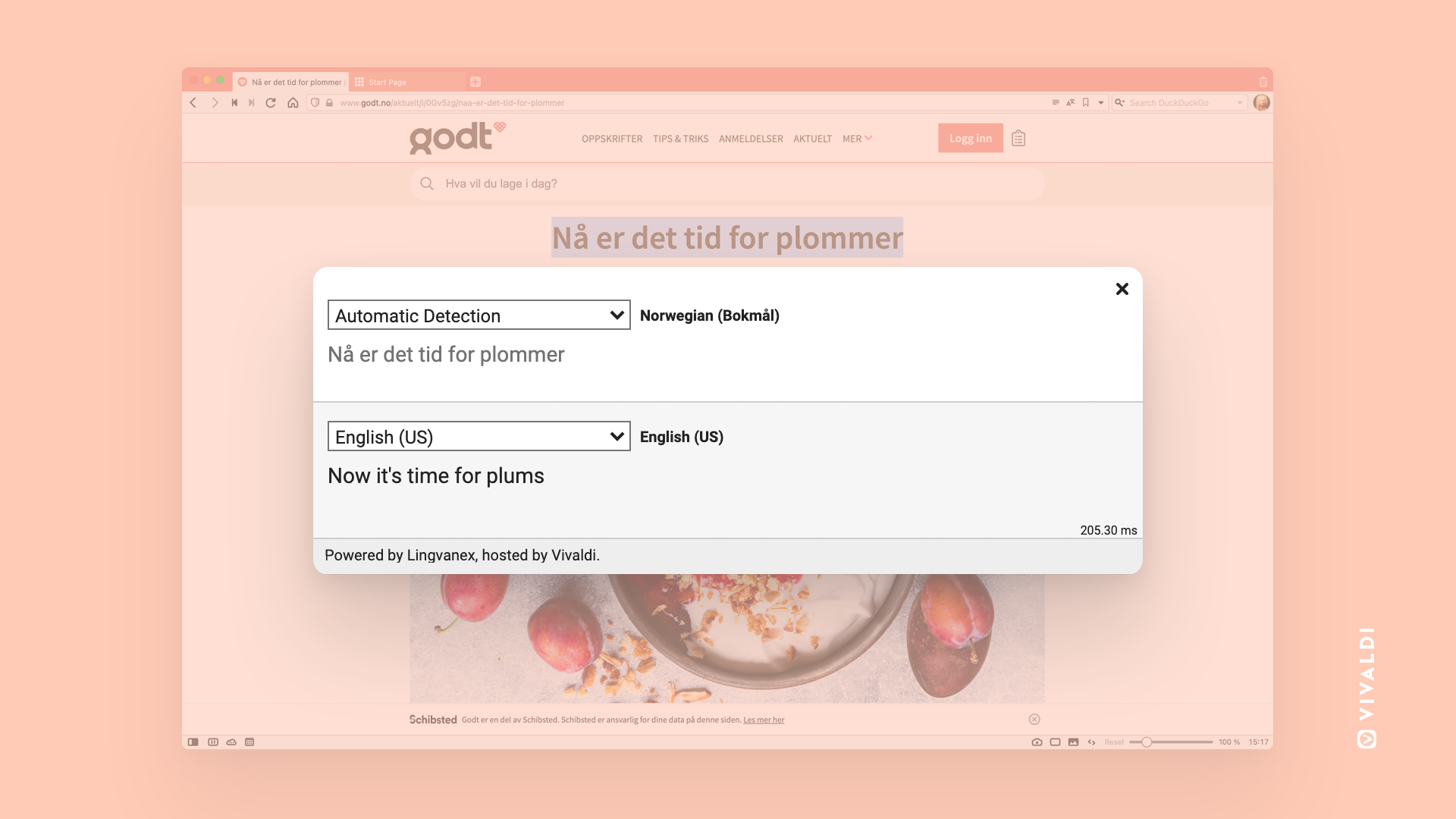 You know that you can count on us to protect your privacy.
That is why we introduced our very own private translation feature right in the browser – a reliable and trustworthy solution. The only servers involved here are Vivaldi's, which means you can translate with the confidence that Big Tech isn't watching.
Vivaldi Translate, powered by our friends at Lingvanex, is designed to let you bridge language barriers. Our aim is to continue developing and improving this feature significantly so that you can be less dependent on tools offered by Big Tech. Vivaldi Translate already lets you translate pages in your preferred languages – safely and securely.
In this update, we've added more functionality to this feature that is unique to Vivaldi. It goes beyond inline select translation and does not require the use of any extension.
Now you can select any text on a web page that you visit and also have the ability to see both the texts and also select the target language – all at the same time.
Simply select text on a webpage, right-click on the selection and pick Translate Selection from the menu.
You will find an overlay on the page that displays the selection in the detected language that can be translated to the system language. And in response to user feedback, you can also translate to other languages – and even from other languages if the auto-detection hits a snag.
Vivaldi is all about browsing the way you want. If you love to work with keyboard shortcuts, then you can even map this function. Keyboard Shortcuts in Vivaldi can be customized and used to control nearly every aspect of your browser.
To create a Keyboard Shortcut for translating selected text, go to Vivaldi Menu > Tools > Settings, switch to the Keyboard Settings menu when the Preferences open, open the Page section and scroll down to the "Translate Selected Text" field. Activate the field and add your desired keyboard combination to the field.
That QR love – are you feeling it? Now, share information even faster with QR Codes in Vivaldi.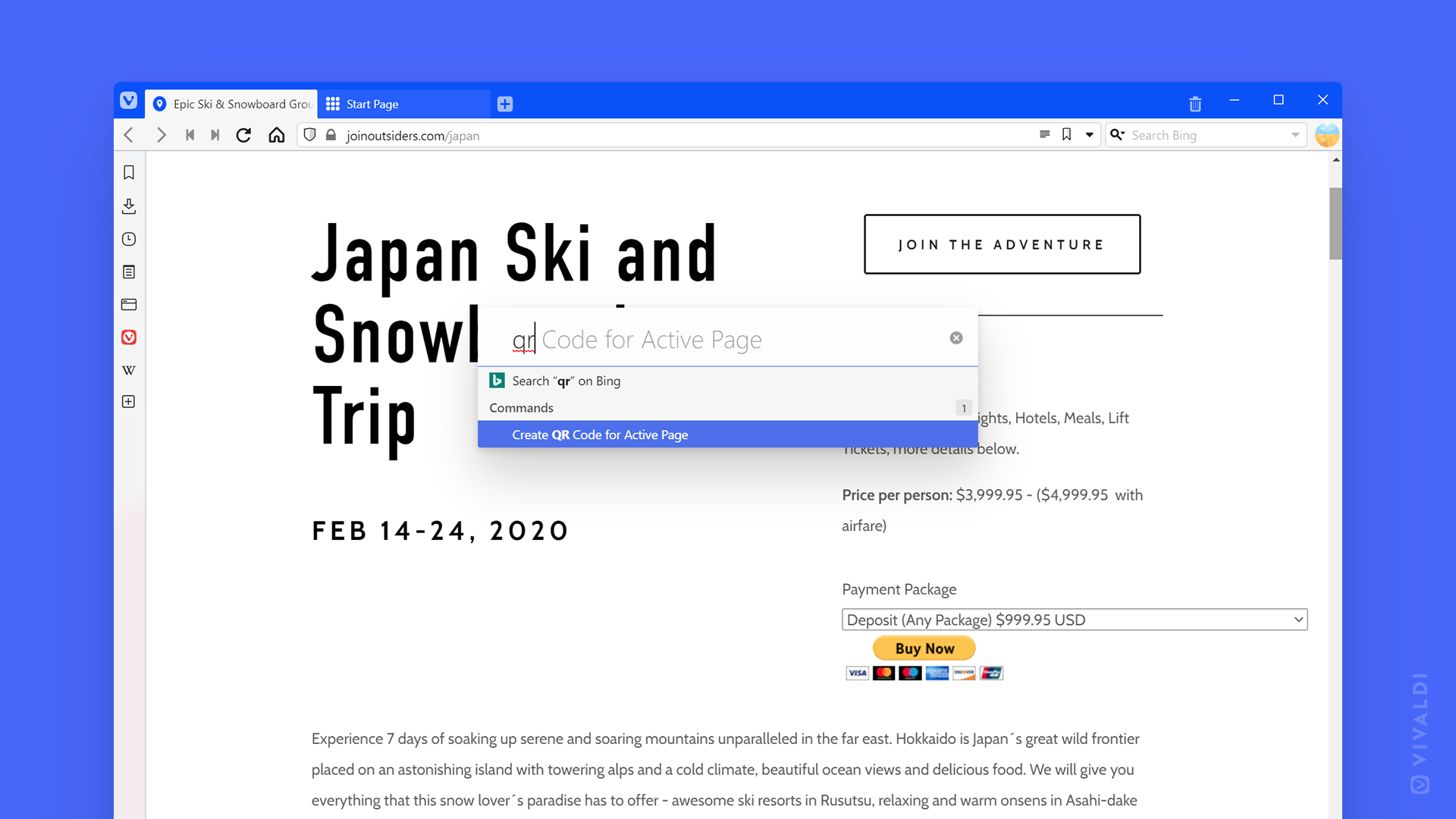 The popularity of QR (quick response) codes have skyrocketed, due to the pandemic ushering in a touch-free world. Because QR codes are a great way to share information, we have a built-in QR generator on our Vivaldi desktop version that lets you easily share URLs to other devices.
Browsing is about navigating from one place to another as quickly as possible. To help speed up your browsing experience, QR codes now work for you even faster on Vivaldi on a desktop.
And we've improved this functionality further. You can now display a QR code that allows you to quickly share the page to another device, using Quick Commands, Keyboard Shortcuts or Mouse Gestures.
If you want a handy QR button in the address field, you can enable this feature from the Address Field Options in the Settings.
Vivaldi also offers a QR code scanner on our Android browser.
Enhance your browsing with a lot more in Vivaldi
There is always room for more features and options in Vivaldi. And we've got more!
The buttons for Vivaldi's signature Web Panels are now scrollable. You can also now expand the number of Web Panels.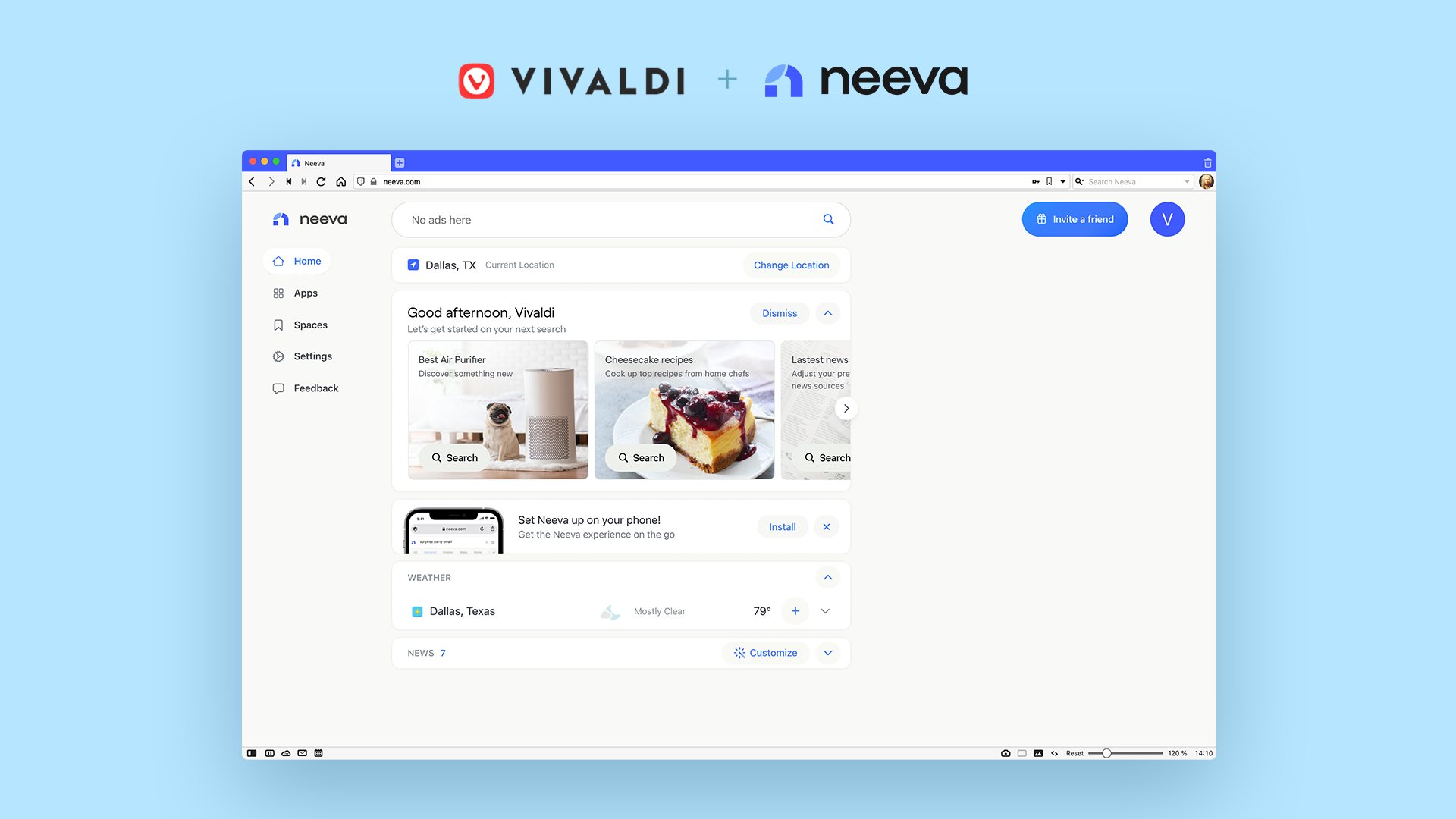 As the demand for privacy-friendly search engines has grown, so have the options available. We've added a brand-new search option – Neeva – to our list of privacy-friendly search engines on desktop and Android. With the initial limited roll-out, from this version onwards, users in the US can experience Neeva's ad-free search. Read more.
Updating has its benefits. Get Vivaldi 4.2!
As always, every update has something to offer. For Vivaldi 4.2, we have focused on providing fixes and polishing some rough edges.
With each release, Vivaldi should work for you better than before. So let us know how this update works for you by sharing your feedback, as always. Ready to take Vivaldi 4.2 for a spin? Download now on Windows, Mac, Linux, and Android.
Vivaldi on Desktop Changelog from 4.1 to 4.2
[New][Translate] Selected text on web pages (VB-80726)
[New][QR][Commands][Keyboard][Gestures] Add an option to create QR codes more easily (VB-82045)
[New][Panels] Offer a scrollbar so that more web panels are possible (VB-35633)
[New][Search] Add Neeva search engine for American English users (VB-82474)
[New][Bookmarks] Create a special favicon for bookmarklets with protocol javascript: (VB-20247)
[New][Commands][Keyboard][Gestures] Add command for "Go to Parent Directory" (VB-82462)
[New][Commands][Keyboard][Gestures] Add command for "Minimize All" (VB-82478)
[New][Menus] Add menu option to open link in a specific browser window (VB-78071)
[Address Bar] Collapses when opening nested popup (VB-80030)
[Address bar][QR] Scanning icon is blurry (VB-82442)
[Bookmarks] Make all bookmarklet icons look the same (VB-82589)
[Bookmarks] Open a bookmark folder opens tabs with separator's URLs (VB-82038)
[Bookmarks] Wrong sort order on the bookmark bar (VB-82084)
[Calendar Beta] Add calendar button in the status bar (VB-57571)
[Calendar Beta] CalDAV invalid sync token or out of sync (VB-82591)
[Calendar Beta] Changing colors and names for Web Calendars doesn't work (VB-81872)
[Calendar Beta] Comma in the title is escaped with backslash (VB-76073)
[Calendar Beta] Import iCal file into CalDAV calendar does not upload events to the server (VB-80968)
[Calendar Beta] Incorrect jumping of days when moving down in month view (VB-65345)
[Calendar Beta] Keyboard navigation breaks for the long events (VB-79067)
[Calendar Beta] Notification dismisses a currently shown one (VB-82176)
[Calendar Beta] Open during onboarding opens a duplicate tab (VB-82248)
[Calendar Beta] Recurring task created with incorrect duration (VB-82032)
[Calendar Beta] Setting up CalDAV iCloud account hangs (VB-82615)
[Calendar Beta] Wrong color for – and + buttons in Popup editor (VB-82223)
[Chains] Periodic Reload only works at 60 seconds (VB-81363)
[Chains][Settings] Does not appear in Quick Actions, unless "Bookmarks" is checked in 'Quick Commands > Search Types and Priority' (VB-81869)
[Chains][Settings] Use Label as Tooltip (VB-81559)
[Chromium] Upgraded to 93.0.4577.83
[Contacts Beta] Quickly deleting many recipients from composer freezes browser (VB-82385)
[Crash] On inserting a note in a form on a Guest Window (VB-82621)
[Crash] When opening links from private window popup (VB-82142)
[Crash] When wheel-clicking quoted tweets (VB-77203)
[Developer Tools] Can not inspect iframe (VB-82239)
[Extensions] Clicking extension action buttons in popup fails (VB-82560)
[Extensions] browser action popup window confirm does not work (VB-28498)
[Extensions] chrome.extension.getViews({ type: 'popup' }) is suppose to return an empty array if the popup window is not open (VB-81714)
[Fullscreen] F11 does not work on second screen (VB-64437)
[Fullscreen] Statusbar not hidden in fullscreen although disabled in settings (VB-70712)
[Fullscreen] Still in Video fullscreen on second screen if focused away (VB-64433)
[Fullscreen] Tab bar, the address bar, and status bar not visible if Vivaldi is restarted full screen (VB-76024)
[Fullscreen][Panels] Reopening in fullscreen hides / shows the panel (VB-50996)
[macOS] Can't paste URL into the new tab address bar with the mouse (VB-61371)
[macOS] Ignore temporary connectivity issues for upgrade notification (VB-82264)
[macOS] No menu or settings entry to disable spell checking (VB-22298)
[macOS] "Quit Vivaldi" appears twice in Command Chains (VB-80314)
[macOS][Menus] Paste & Match Style command is missing (VB-81223)
[Mail Beta] Add option for Mail search using enter key rather than onKeyDown (VB-82160)
[Mail Beta] Allow importing from another source without closing the dialog (VB-82426)
[Mail Beta] Compose buttons should not be placed beside the history buttons (VB-82341)
[Mail Beta] Enabling accounts after import fails (VB-80613)
[Mail Beta] Import from M2 with no username makes invalid accounts (VB-82399)
[Mail Beta] Needs to be smarter at handling brackets in URLs (VB-48850)
[Mail Beta] No mail selected when clicking the folder in mail panel (VB-36349)
[Mail Beta] Not reconnecting to IMAP server after hibernation (VB-82395)
[Mail Beta] Render colored icons in mail flag menus (VB-82226)
[Mail Beta] Reset search when filter text is cleared (VB-82267)
[Mail Beta] Saved filters fail to filter from: and to: correctly (VB-82676)
[Mail Beta] Saved searches return all messages when there is no match (VB-82678)
[Mail Beta] Scheduled theme causes open mail item to reload, losing scroll position (VB-69313)
[Mail Beta] Search for to, cc, bcc does not work when prefetch is turned on (VB-82420)
[Mail Beta] Searching for emails fails when no space between from: to: or cc: and email (VB-82677)
[Mail Beta] Status bar mail popup list emails are not being marked as read (VB-78551)
[Mail Beta] The count of new unread messages shows unread +1 (VB-80782)
[Menus] %s in the context menu with certain languages applied (VB-81553)
[Menus] Capitalization wrong in the main menu (VB-81712)
[Menus] Incorrect shortcut rendering in Menu Settings (VB-81492)
[Menus] Menu is visible in fullscreen mode (VB-81692)
[Menus] Wrong underlining of numbered menu items (VB-82257)
[Notes][Panels] Edit area remembers where expansion ended even when the expansion was over the limit (VB-64703)
[Reader] View icon visible on Start Page (VB-71136)
[Search] Update DuckDuckGo search favicon (VB-82131)
[Settings] Rename 'home' to 'homepage' under 'Keyboard > Page' (VB-81710)
[Settings] "Minimize All" does not work on all windows (VB-82486)
[Settings][Bookmarks] Default Bookmark Bar cannot be changed (VB-81911)
[Speed Dial] Horizontal Speed Dial page transition is broken (VB-82149)
[Tabs] Can't close the tab when "Align Next Close Button" disabled (VB-82222)
[Tabs] Incorrect inactive tab background with Accordion Tab Stacking on and Transparent Tab Bar on (VB-81579)
[Tabs] Opening and closing tabs slow with many tabs: work in progress (VB-80215)
[Tabs] Popup is reloaded when a tab is reloaded (VB-81908)
[Tabs] Popup title is set on all windows (VB-82553)
[Tabs] Show popup thumbnail doesn't update anymore (VB-82036)
[Tabs] Tab Stack thumbnail preview doesn't scroll in vertical Tab Bar (VB-76769)
[Tabs] Vertical tabs have a selection width limit (VB-81938)
[Tabs] With changing the title is hard to Drag'n'Drop (VB-81437)
[Tabs] "Remove from Tab Stack" unstacks the entire stack instead of just removing an active tab from the stack (VB-82079)
[Tabs][Panels][Keyboard] New tab (Ctrl+T) creates two tabs when Windows Panel is visible and Tab Bar is hidden (VB-81887)
[Themes] Add Issuna theme for Manjaro (VB-82738)
[Themes] Context menu icons should be rendered white in dark OS theme (VB-82253)
[Translate] Batch up more strings before sending for translation by throttling scroll events (VB-82489)
[Updates] Profile selection window on startup interferes with auto-update (VB-82027)
[User Profiles][Panels] Don't add default Web Panels to Guest Window (VB-78253)
[Windows][Linux] Vertical Tab Bar scrollbar width should follow the setting (VB-82266)
[Zoom] Session restored tab fails to update page zoom correctly (VB-82512)
Vivaldi on Android Changelog 4.1 to 4.2
[Full screen] Always hide navigation bar in full screen

VAB-4431

[Search Engine] Add Neeva search engine to us-en setting

VAB-4544

[Settings] Show current state of setting in summary

VAB-3761

[Status bar] Handle status bar visibility changes

VAB-4476

[Tab stack] Can't create 2nd tab stack

VAB-4379

[Tab stack] Reopened tabs not immediately visible in a stack

VAB-4395

[Translate][Crash] When translating certain websites

VB-81187

[UI] Tab switcher context menu overlaps tab switcher button

VAB-3823

Upgraded Chromium to 93.0.4577.83