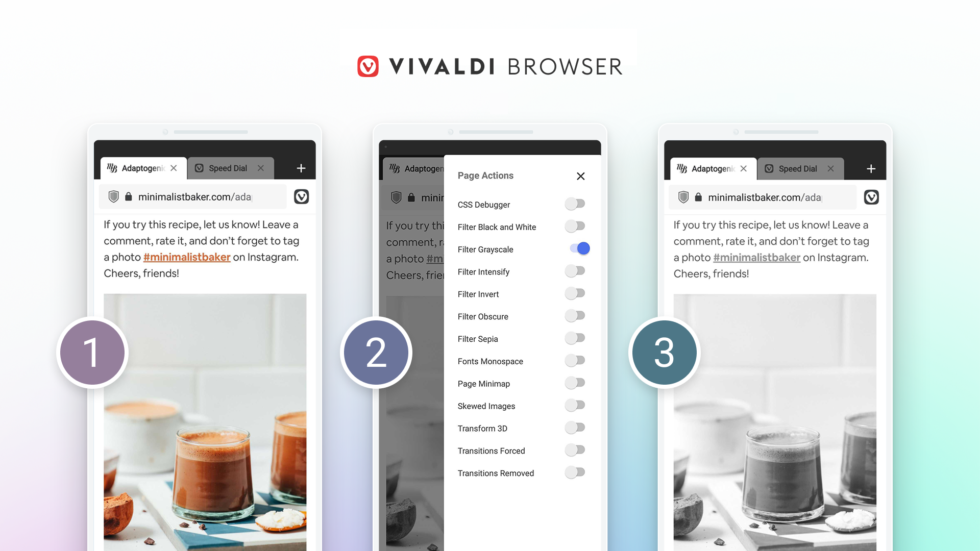 Read this article in Русский, Français, Deutsch, polski, 日本語.
Some people can't stop tweaking stuff. With the latest release of Vivaldi on Android, tinkerers and tweakers can change the look and feel of any web page they visit. For some, it can improve accessibility, readability, or how they interact with web pages. For others, it would be just for the heck of it.
The first update of 2021 introduces Page Actions, a feature that allows you to set up predefined filters and actions to modify the appearance of any web page. Page Actions improve accessibility, make websites easier to read, and generally display web pages the way you want.
The new version Vivaldi 3.6 also includes a built-in QR Code Scanner and an external Download Manager. It adds medium-sized Speed Dials to the host of Speed Dial layouts and makes possible the sorting of Speed Dials according to different criteria.
We invite you to have a field day with our huge library of settings which you can play with and tweak. With every update, Vivaldi on Android aims to get more customizable and easy-to-use.
Vivaldi can be downloaded for free on mobiles and tablets running Android 5 or higher, and on up-to-date Chromebooks.
Not happy with how a web page looks? Just go ahead and fix it
Vivaldi's flexible user interface includes a movable Address Bar, Tab Bar, real (desktop-style) tabs, and much more allowing you to optimize your browsing on Android.
This is clearly not enough. Now Vivaldi opens up a new range of options, actions, color grades, and effects for web pages that can be chosen from a pop-up list of Page Actions – all without leaving the browser.
Similar to its desktop browser, Page Actions has a number of options – readability, CSS debugger, sepia color effect, grayscale filter, and others – that can be combined to customize the appearance of the web page being viewed.
More than one action can be applied to a single tab, with combinations that perfectly suit users' needs.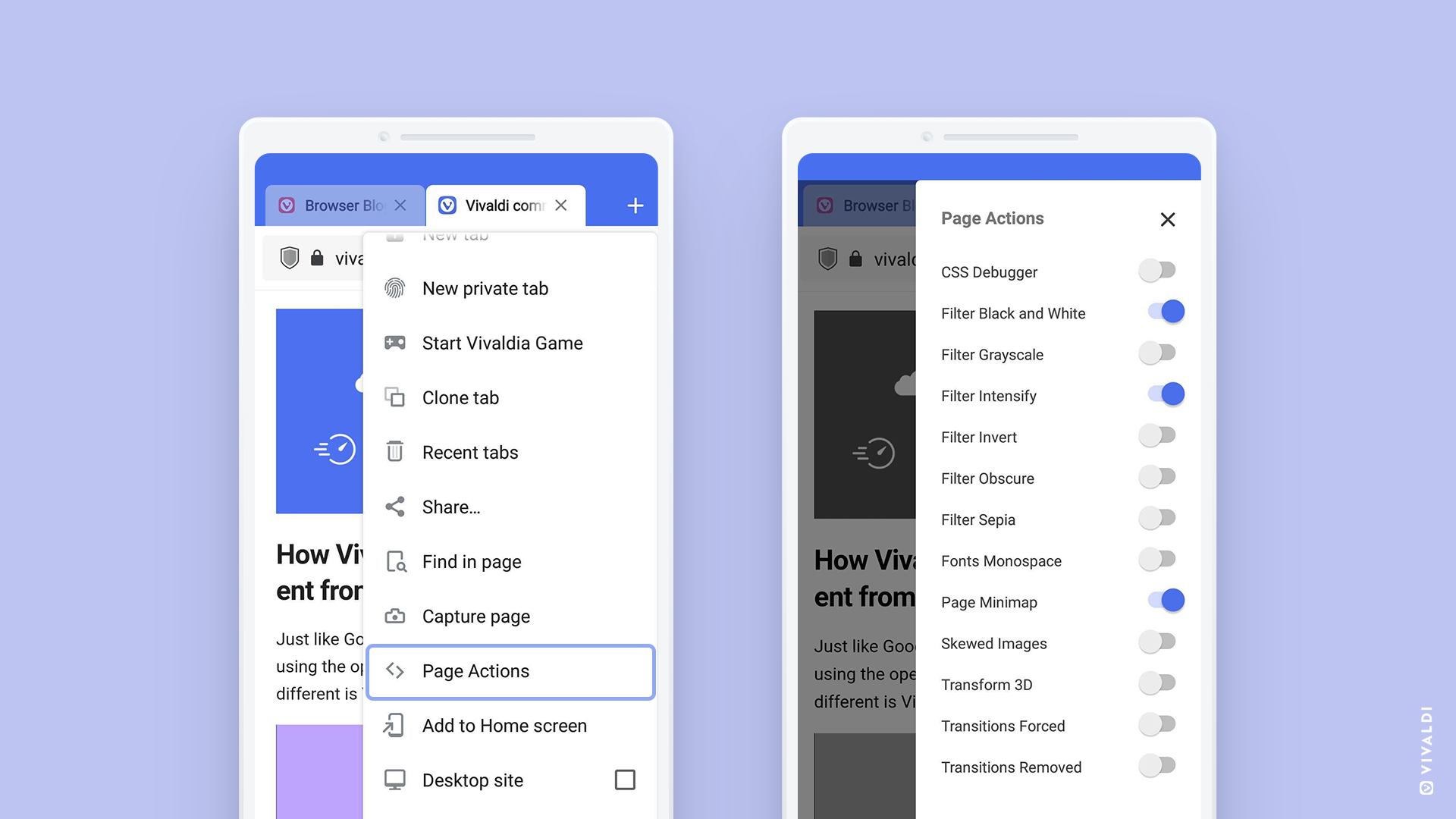 Improving accessibility and readability, Page Actions don't just dictate how a web page looks, but how you interact with it. For instance, you can view every image on a page at an angle, or change all the fonts to monotype or even replace the colors with Instagram-like filters.
There are options to change the background color (sepia or a dark theme), photographically unfocus elements of the screen that you are not interacting with, and the ability to even turn the browser into a faux 3D object.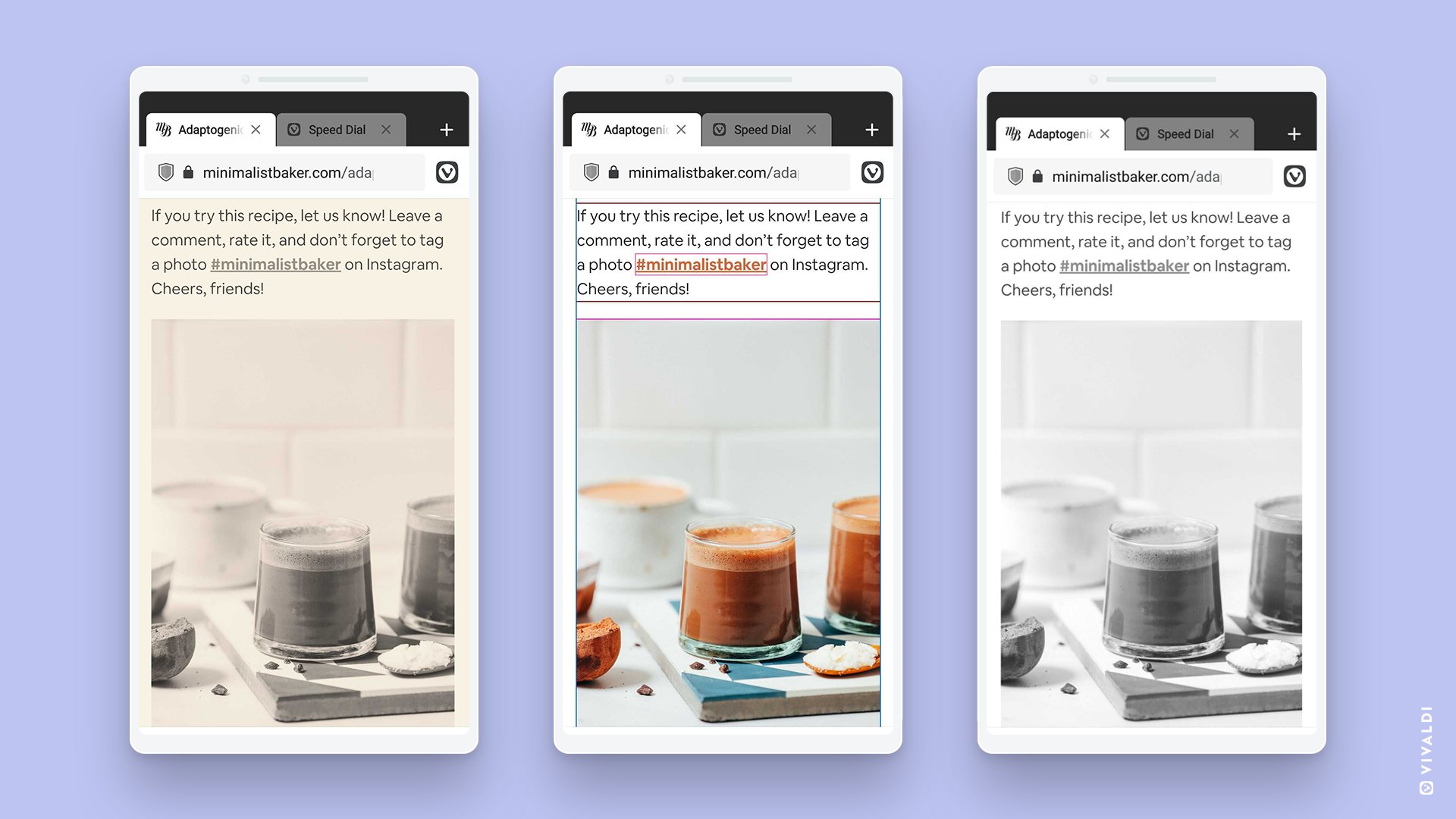 Furthermore, the CSS Debugger action can help web page designers. Images can be skewed and transformed on an open page.
Apply these effects and transformations to a page by selecting the group "Page Actions" in the Vivaldi main menu.
A QR Code Scanner, now on Vivaldi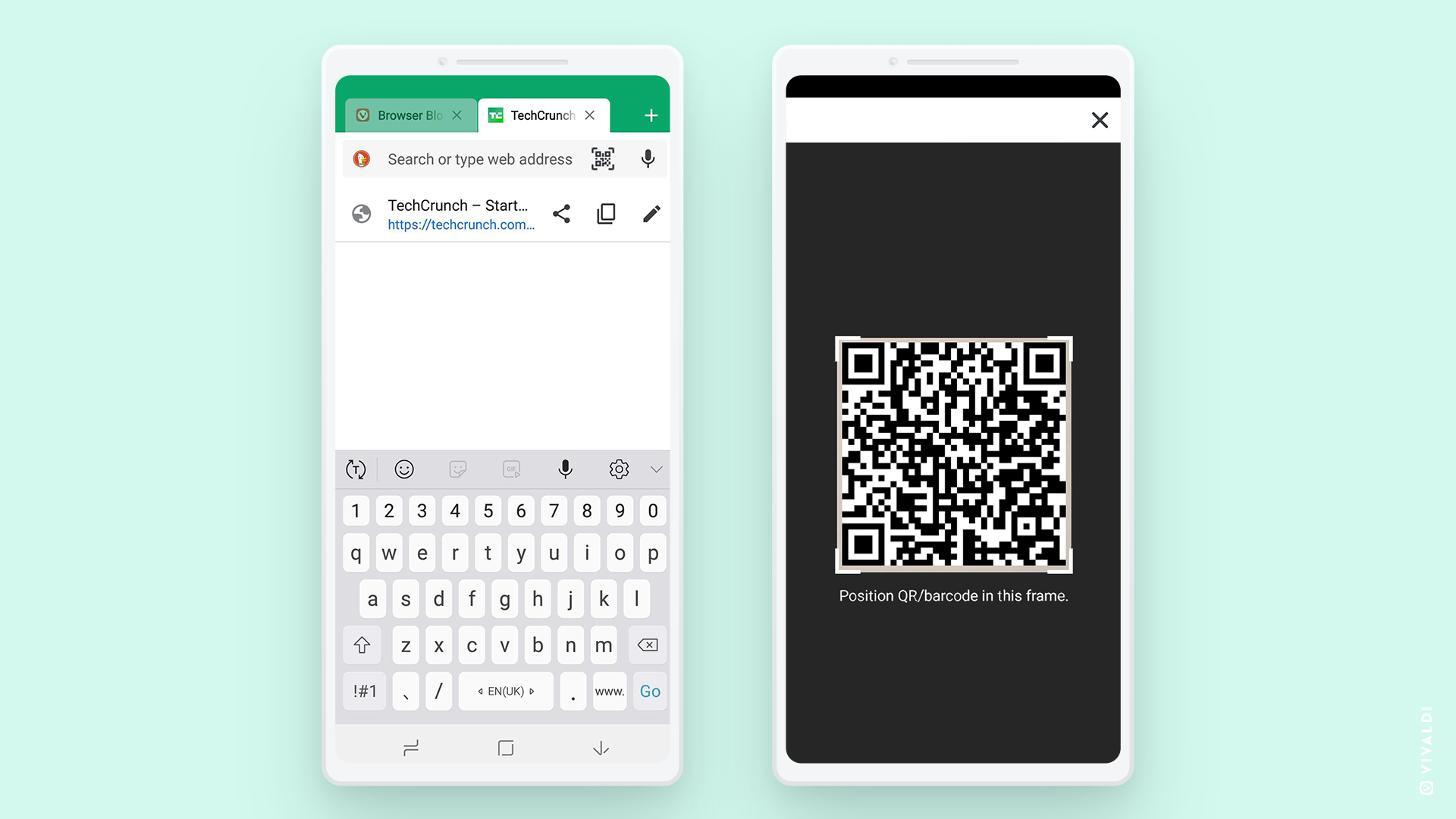 We've all seen it – the pandemic has ushered in a touch-free world. As a result, QR (quick response) Codes have sprung into the limelight. Recently, to make your browsing easy, we introduced a built-in QR code generator on our desktop version.
Now, we've got the QR Code Scanner on Android.
When you scan a QR Code with your phone, you will go directly to a webpage, menu, payment screen, app, or offer specific information unique to the code. QR Code provides the information instantly without typing the URL on your device.
We also handle non-URL QR and barcodes that make the scanner more useful when copying the scanned code to the clipboard and also while searching.
There are three ways you can launch the feature – from the URL field, through the search widget, or the app shortcut (long press on the app icon).
Do you always pick the "medium" option? Get your Speed Dials in medium-size and sort them out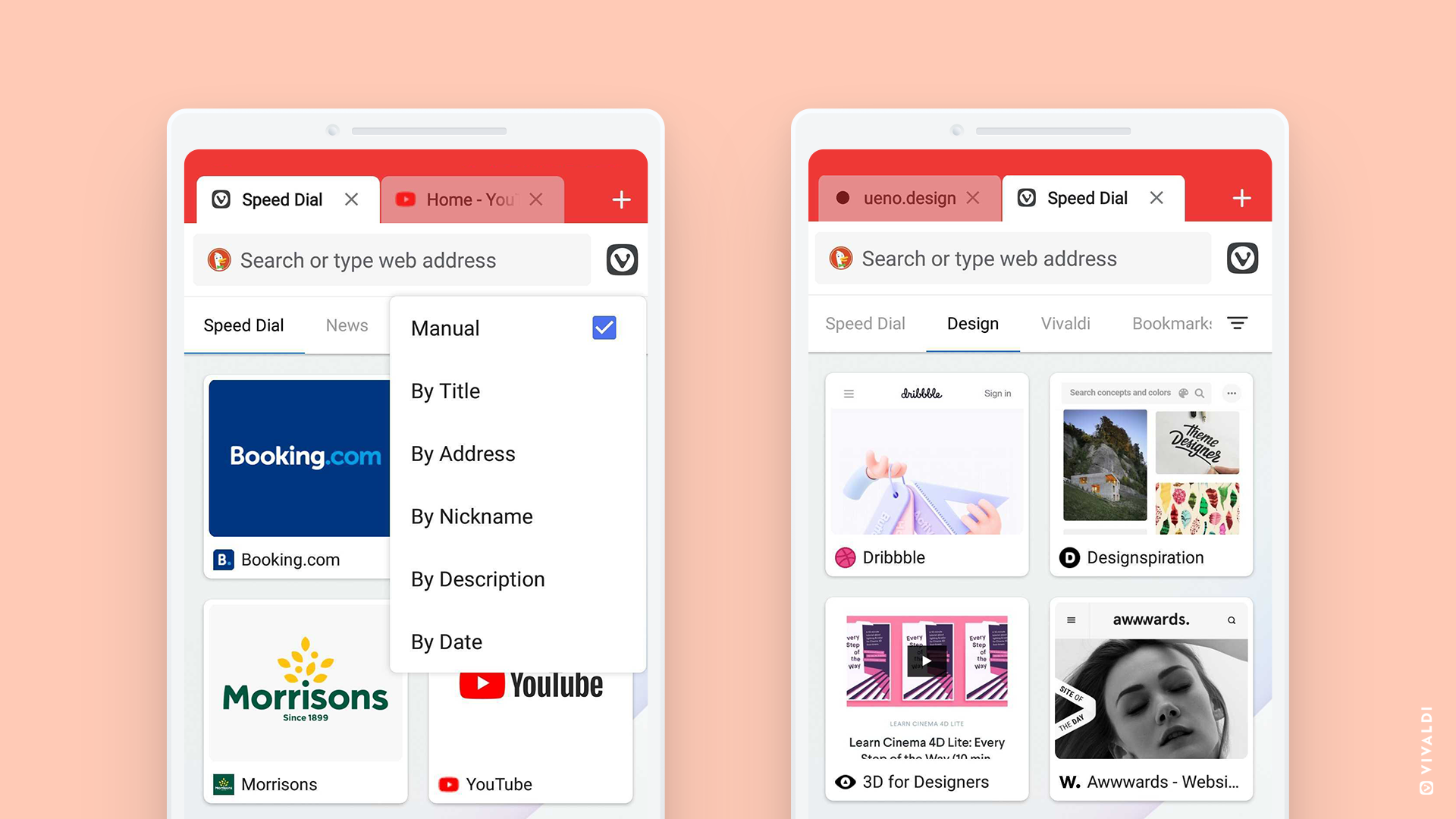 Speed Dials in the Start Page let you access your favorite sites and organize bookmarks more quickly. Recently, we added a variety of layouts to the Start Page with Large Speed Dials, Small Speed Dials, and Speed Dial Lists.
We realized that there are some who prefer medium-sized Speed Dials. Hence we've added this new option to the existing layout for you to view and choose from.
Go to "Settings – Start Page – Medium Speed Dials" and select your preferred Start Page view.
We've been working on improving the experience of using Speed Dials for you. You'll notice that the Large Speed Dials look visually way better than before due to the refreshed thumbnails.
Just the way Vivaldi's signature features Notes and Bookmarks can be sorted, Speed Dials can now be sorted by title, address, nicknames, description, and date per individual preferences – helping you navigate and access your favorite sites quickly.
Easier download with external download managers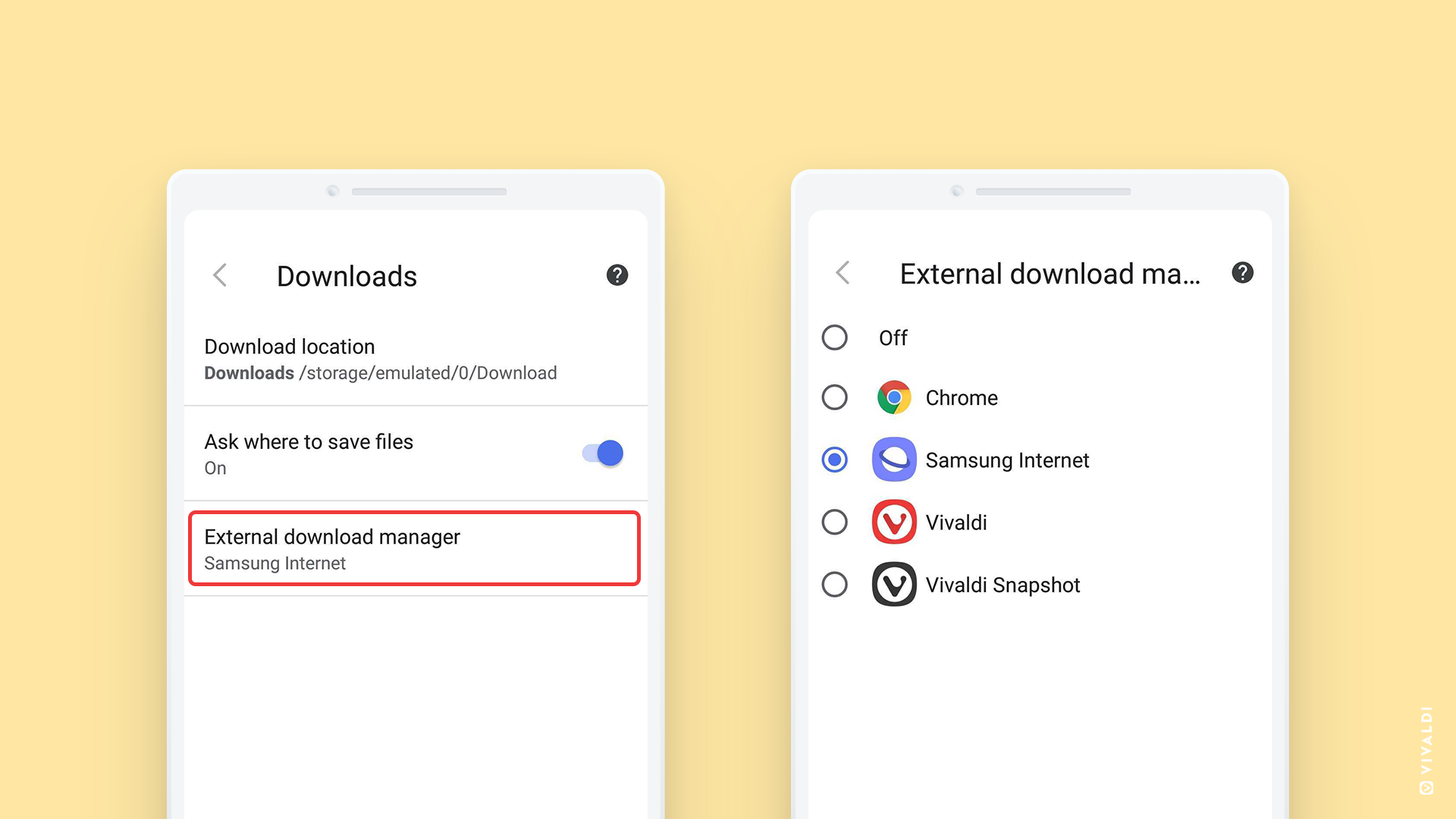 You rely on your browser to access many resources available online. Sometimes for that, you may need an external download manager. In this version, we've added support for it – one of the features requested by users.
Now you can download resources in Vivaldi with more options such as multithreaded downloading, queuing, and more.
Vivaldi on Android – more improvements
Squashing pesky bugs and ironing out issues are part of every update. Please do take a look at the changelog for the details.
Give our new features a try. We hope they'll make browsing on Android even more exciting.
Download now and please continue to give your feedback along with ⭐ ⭐ ⭐ ⭐ ⭐ on the Google Play Store and UptoDown, the Android app store. Every positive rating encourages us to do more.


Changelog from Vivaldi 3.5 to Vivaldi 3.6
New
[New] Add Speed Dial Thumbnails VAB-1695
[New] Medium Size Speed Dials VAB-2976
[New] Page Actions VAB-2671
[New] QR Code Scanner VAB-1004
[New] Sort options for Speed Dials VAB-2873
[New] Support external download manager VAB-2830
Settings
[Settings] Add warning message on WebRTC setting VAB-2763
[Settings] Invalid operation of secure DNS server switch VAB-2953
[Settings] Wrong order of start page preferences VAB-3216
UI
[UI] Move menu choice for Vivaldia game down in the main menu VAB-3245
[UI] Native navigation buttons hidden VAB-2556
[UI] Updated Vivaldi logo for search widget
Others
[Blocker] UI lags after adding large lists to adblocker VAB-2624
[Bookmarks] Add bookmark defaults to Trash after opening trash folder VAB-3006
[Exit] Double tap back button to exit VAB-2448
[Exit] History is not cleared on exit on Android 6 VAB-2844
[Notes][Bookmarks] Save choice of sort order for notes and bookmarks VAB-2846
Upgraded Chromium to 88.0.4324.147