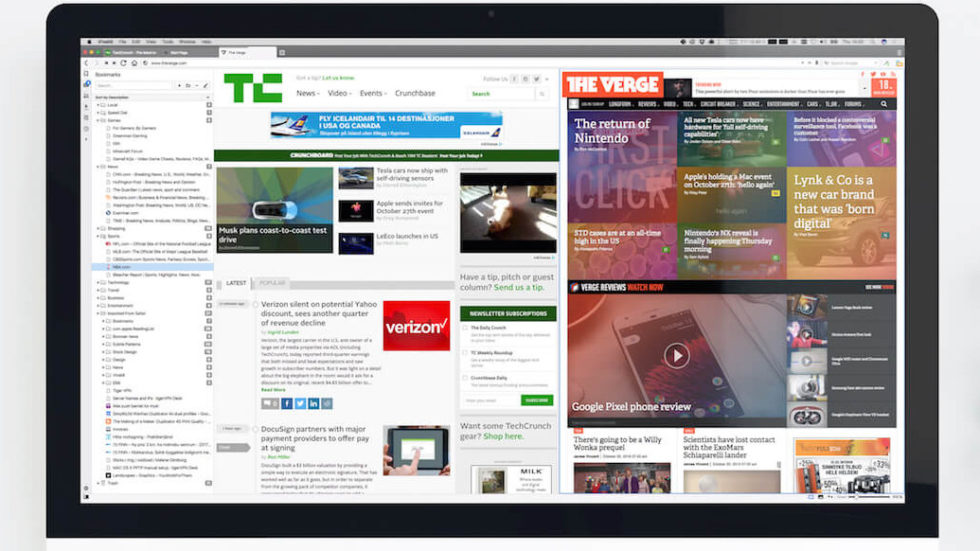 Top best lifehacks from Vivaldi team
In creating the Vivaldi browser we are trying to follow our traditional philosophy: provide users with maximum flexibility in web browser design. That's why we always add new cool features and expand on the options already available in Settings. It happens in nearly every build.
And according to your feedback, you like the way we are doing things at Vivaldi. Of course it makes browser more complex and will sometimes generate a bug or two. However, you will get access to new features you didn't know you needed until you used Vivaldi. Today we want to show you a small list of Vivaldi «lifehacks» that can make your web browser experience even more smooth and efficient.
1. Boss Mode
It's not a secret that many of us sometimes like to visit a few non-work-related websites during work hours. Especially when a major sports event is taking over the web. But not all bosses approve of this so users are trying to find ways to hide the screen content quickly from prying eyes of others.
Well, we've got you covered in Vivaldi. Actually, this feature is more elegant in Vivaldi than it appears: there's no button! To activate this mode just enable Filter Obscure in the Page Actions menu (which you can find in the browser's Status Bar). Now just move the mouse cursor out of the browser window and the page content disappears! Your job is saved!
2. Bookmarks Sorting
We like bookmarks! Most of our users have a large collection of links gathered on the web over the years. The problem: from time-to-time we need to sort all those links to keep our bookmarks manageable and useful. Even today's large displays may not be big enough to view a full list of bookmarks. Vivaldi to the rescue! Just open the Bookmark Panel in the sidebar and manage them from there or between tabs and the Bookmark Panel.
3. Creating Bookmarks
Yes, this feature is a simple one; widely known and available in web browsers. But Vivaldi offers you yet another way to create bookmarks. Sound familiar? Just open the Bookmarks Panel in the sidebar and drag-n-drop the page icon on the appropriate bookmark folder.
4. Changing the Start Page
Vivaldi allows you to add custom Speed Dials to your Start Page. They can include bookmarks from a certain category if that is how you like it. Right now there's no simple way to sort your Speed Dials in the browser interface or to set one of them as a default. But there is a solution! Again, open the Bookmarks Panel and rearrange the Speed Dial folders shown, ordering them as you want. You can set a default folder to display while you're at it. Easy!
5. Viewing Saved Passwords
Most of us have tons of accounts spread around on world wide web. Sometimes you need to recall a password you created many months ago. We forget those things at times and we should not store or write them down. So how can you see them in the Vivaldi browser? It's very simple.
Type this address in an Address Field: vivaldi://settings/passwords
Now you can find and read the password for any of your accounts. Remember to close this view!
6. YouTube Channels in the Sidebar
If you want to be updated on new videos in a subscribed YouTube channel, just create a web-panel for the channel in the Vivaldi side panel — now new videos are only a click away!
7. Fast Cloning of Tabs
Do you often clone tabs? Just create a shortcut for this action and forget about the context menu unless that is how you want to do it. This is Vivaldi, remember? Everyone can do everything their own way and now you can clone tabs with a hotkey!
8. Settings as Homepage
If you want to have access to the Vivaldi settings in one click, just set the internal page vivaldi://settings as your homepage! Now you can open settings at any time by clicking the Home button. How cool is that?
9. Fast Searching of Tabs
Sometimes it's not easy to find a certain tab if you have a lot open, especially if they are from the same website. But in Vivaldi, you can just push the F2 key – opening the Quick Commands menu – and start typing the page title or URL. Your page will be in the filtered list. Highlight the one you want and hit Enter — you've got it!
10. Create a Custom Mouse Gesture
Mouse Gestures are a great way to browse efficiently. And, of course, they are available in Vivaldi. They're even better in Vivaldi, actually! In your Settings page, you'll see a Mouse Gesture editor that allows you to create as many gestures as you can think up. But it's possible that all good combinations of mouse movements are in use. In that case, just try the new Zig-Zag gesture! It works!
That's all for now. You can download the latest version of Vivaldi on our main website and test builds ("Snapshots") are available on the developement blog. And don't forget to send your bug reports and suggestions to us. We need them to be able to make the best browser ever for each and every user, our friends!