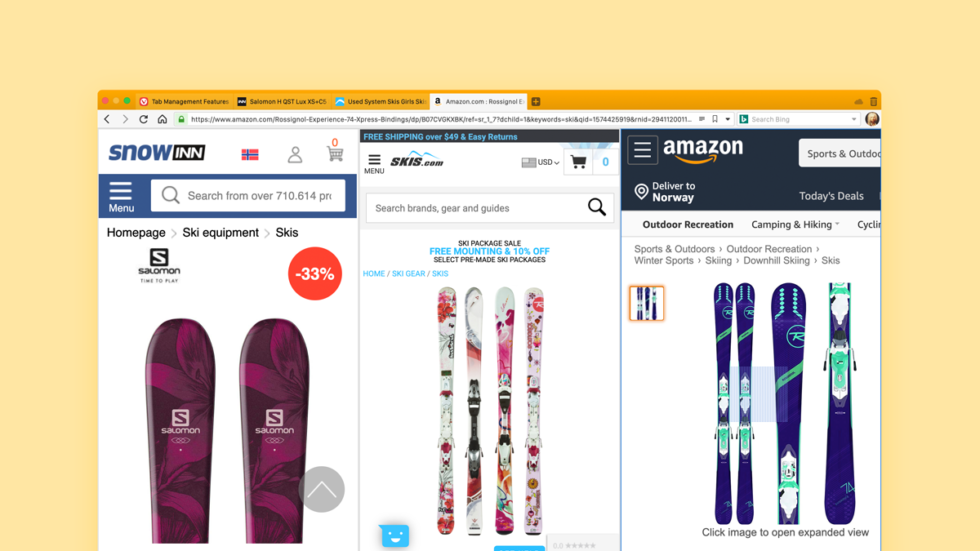 Are you taking advantage of Black Friday this year? If so, you'll need a strategy to find and compare the best Black Friday deals. Here are some things to consider ahead of Black Friday and on the day itself. 
Prepare for Black Friday ahead of time
To find and compare Black Friday deals, you'll need to do some research ahead of time. 
Spend a few hours on the internet reading product descriptions and comparing reviews of the things you'd like to purchase. 
In Vivaldi, you won't need to switch through numerous tabs or memorize information. Just display two or more pages side by side and compare. This feature is called Tab Tiling and, trust us, it's a lifesaver! 
Next, check which retailers are offering the products you're interested in, and compare prices. Make a note of the prices ahead of time. Often, on the day, a brand will tell you that a product is discounted but will give an inflated discount percentage. Or they will promote a "discounted" price which will be the same as the non-discounted price elsewhere. 
Take full-page screenshots of the reviews and price comparisons, and bookmark the items you want to purchase.
Some retailers will offer Black Friday discounts and exclusive offers ahead of time to members or registered users. Sign up for the newsletters of the ones you are most likely to purchase from. This way you'll get access to Black Friday deals ahead of others.
Compare deals on Black Friday
On Black Friday itself, you may not have time to check for different prices in different shops or websites, so go to a price comparison site such as PriceSpy and get an overview. 
Different retailers will offer different discounts. Compare Black Friday deals for the things you want to purchase. With the work you've done ahead of time, you should be able to tell the genuine deals right away! 
If you are shopping online, remember that around Black Friday, malicious websites tend to get more active. These sites will pretend to be a different site and trick you into divulging your username, password, or other sensitive stuff. 
However, your browser should protect you against such websites. The list of malicious websites changes very frequently as websites are added or removed. Vivaldi and other browsers check the malicious sites list and will block them. 
Experts also advise that Black Friday can be a big target for thieves, so use your credit instead of debit card. Most credit cards are protected should the payment get compromised.
And beware of scam emails asking you for your credit card details to verify delivery or some such thing. 
* * *
Happy shopping and don't forget to check out Vivaldi's online store on Black Friday!