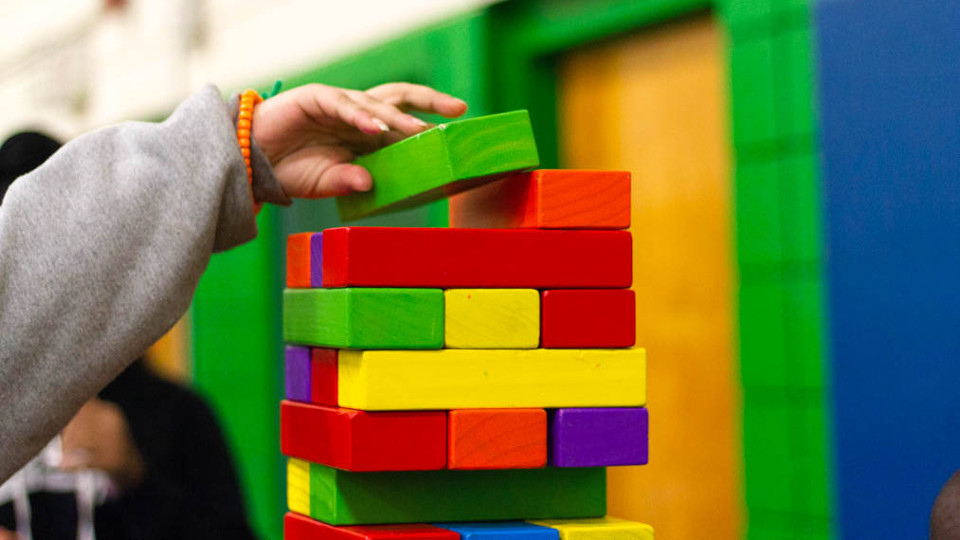 In a world where robots are delivering pizzas and drones are transporting goods, we're also going the automation way. In our own little way. Yes, in Vivaldi 2.3, you can automatically stack your tabs.
But believe it or not, this quirky ease of browsing existed very briefly even in 2011.
Backstory?
Eight years ago, our QA Lead Ruari Ødegaard was working at Opera Software. His team had invented the (very clever) auto-stacking feature, but they were not quite ready to introduce it.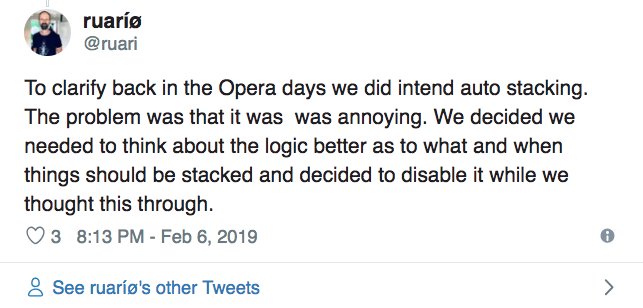 After removing auto-stacking, however, a bug was discovered where you could still auto-stack. And then, eureka! Ruari had an idea – "EXPLOIT THAT BUG".
In his ancient blog from March 2011 Unofficial automatic tab stacking he wrote:
Automatic tab stacking will not be in the 11.10 Beta but you can simulate the behaviour via making use of another small bug (at least until we fix that bug).
So old Opera had Auto-Stacking, but that was basically thanks to a bug.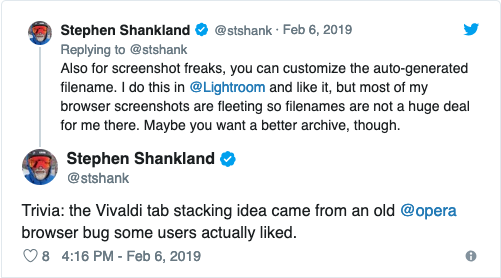 Ruari's workaround was pretty rough but, hold on, users simply loved the feature!



The bug had a short life with barely 10 weeks of fame. 🙁 It did leave its mark though and some users were hoping it would be reincarnated one day. What good karma that bug must have had!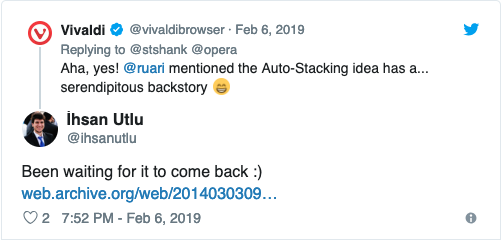 In May 2011, the bug breathed its last.
Ruari wrote:
Sorry to break it to you guys but it looks like in the latest internal builds, we fixed the bug that caused this to happen. That fix will probably work its way down to you soon.
Good karma strikes
Fast-forward to 2019. Auto-Stacking germinated thanks to this bug and found its way into Vivaldi 2.3.
The original fans of that blessed bug also found their way to Vivaldi. Just look at our Sopranos (Vivaldi's volunteer testers) – Lamarca, Mağruf, Tiago – all of them proud Vivaldi users. They must be dancing just looking at our new version complete with auto-stacking. So much sparkle in their eyes!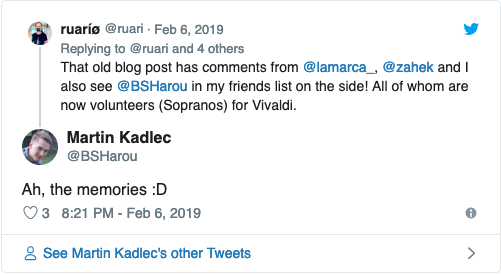 Auto-stacking in Vivaldi
So what is this about?
Vivaldi 2.3 introduced an intriguing way to 'auto-stack' related tabs into a Tab Stack. So this basically means that when you open a link from your active tab, it will be automatically added to a Tab Stack. Try it and believe in good karma!