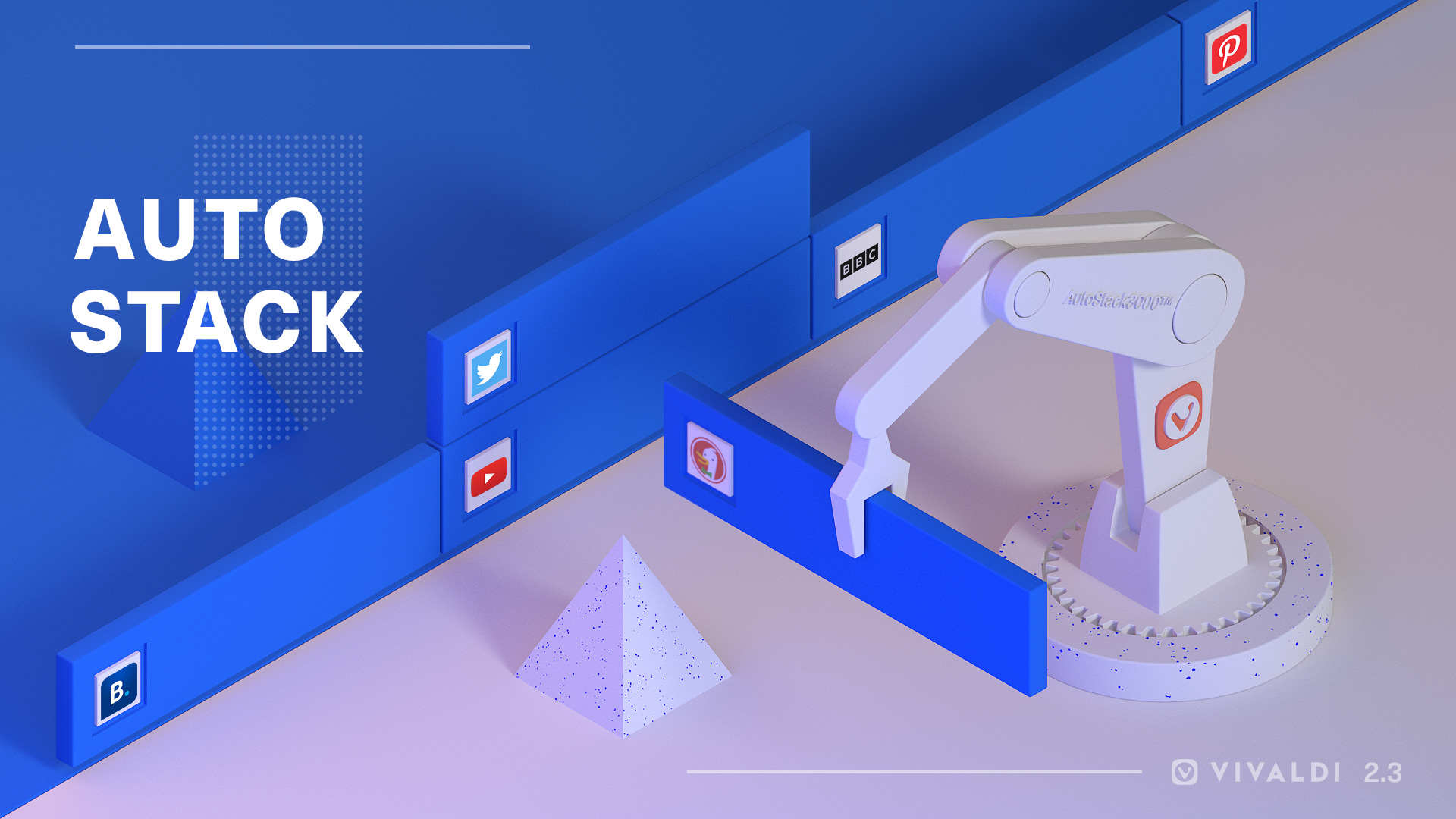 Today, we release our first update of the year – Vivaldi 2.3 – with a strong focus on making every part of the browser more useful for you. The update introduces a unique way to "auto-stack" tabs that streamline your workflow even more. We've also added new ways to access websites in the Address Field and made overall improvements to navigate and interact with the Web quicker. Read on for a rundown of what's new!
Auto-Stack Related Tabs into a Tab Stack
When it comes to managing your tabs, Vivaldi's Tab Stacking stands out. It enables you to collect a group of tabs by dragging one tab over another. It's a great way to keep your browser window tidy and helps you avoid the need to hunt through dozens of tiny tab titles to find the one you want.
Depending on your workflow, you can create several Tabs Stacks and give each of them a name to help you identify them more easily, rather than relying on a small thumbnail image. Of course, you can also pin, drag, hibernate and mute tabs as needed.
Vivaldi 2.3 introduces an intriguing way to 'auto-stack' related tabs into a Tab Stack.
You can enable this feature in Settings → Tabs→ New Tab Position→ Select "As Tab Stack With Related Tabs".
With this setting enabled, when you open a link from the active tab, it is added to a Tab Stack. This automated way to keep your tabs organized is a fine example of how you can streamline an extraordinary amount of information while browsing.
Do you want to know more about how auto-stacking came into existence? Read Exploit that bug: The untold story of Auto-Stacking.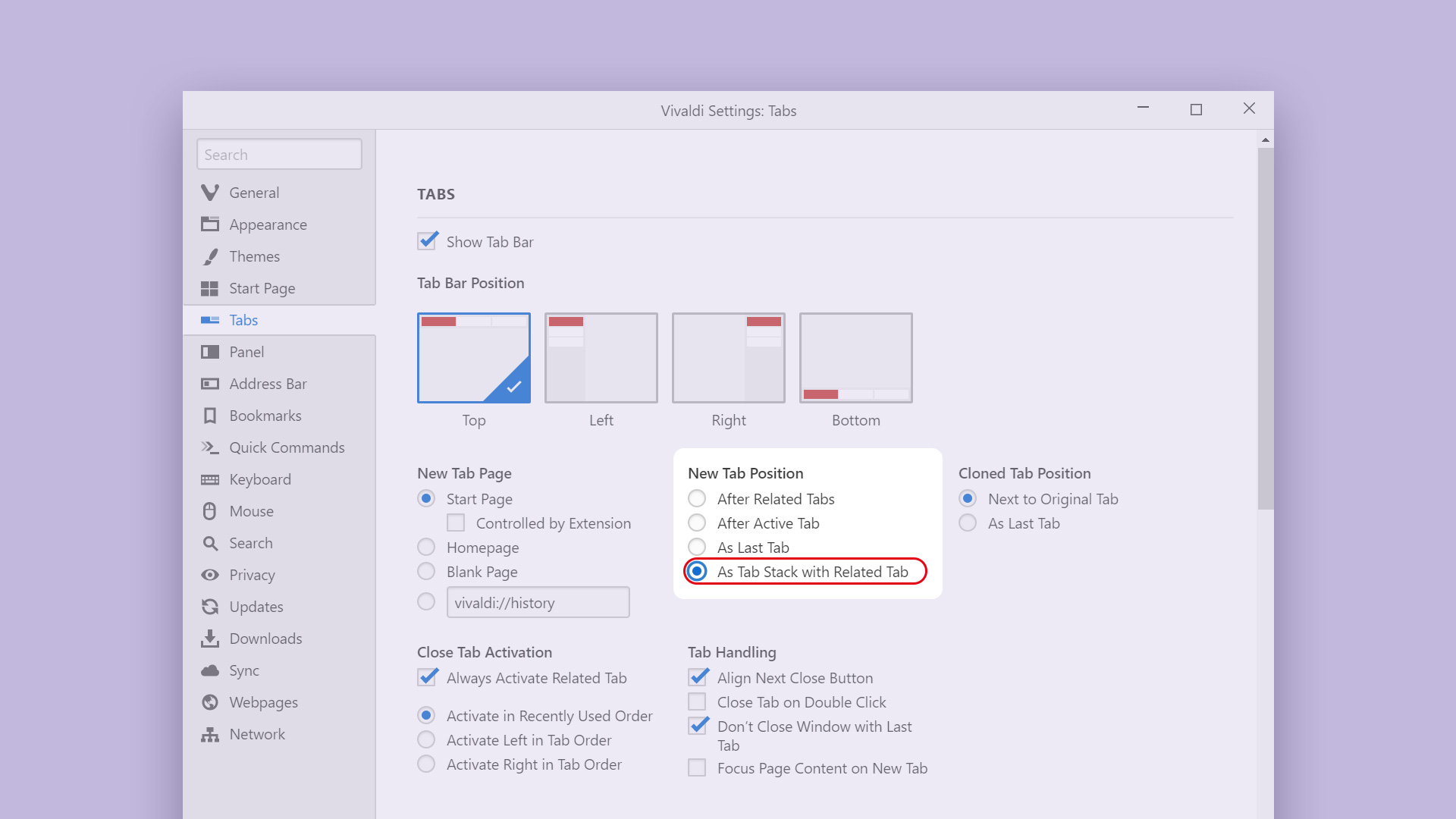 Addressing the Address Field
Vivaldi approaches the Address Field differently from other browsers where the list of sites and searches shown in the drop-down are often obscured with no context.
In Vivaldi, you can decide what you want to see in this drop-down – you can mix and match what types of results are shown to fit your workflow and unique setup.
Vivaldi's Address Field gives you fine-grained control on how to get around the Web quicker with the help of the following categories in the drop-down such as Bookmarks, Typed History and Browsing History.
In this update, you can now find Frequently Visited Pages – the pages you have visited most – in the drop-down. These site suggestions are based on your browsing habits and are also shown in other Vivaldi features as well, like Web Panels and Speed Dials.
Off by default, this option can be enabled in the Settings. Simply go to Settings → Address bar → Address Field Drop-Down Menu → tick box for Frequently Visited Pages.
Read a guide to the Address Field drop-down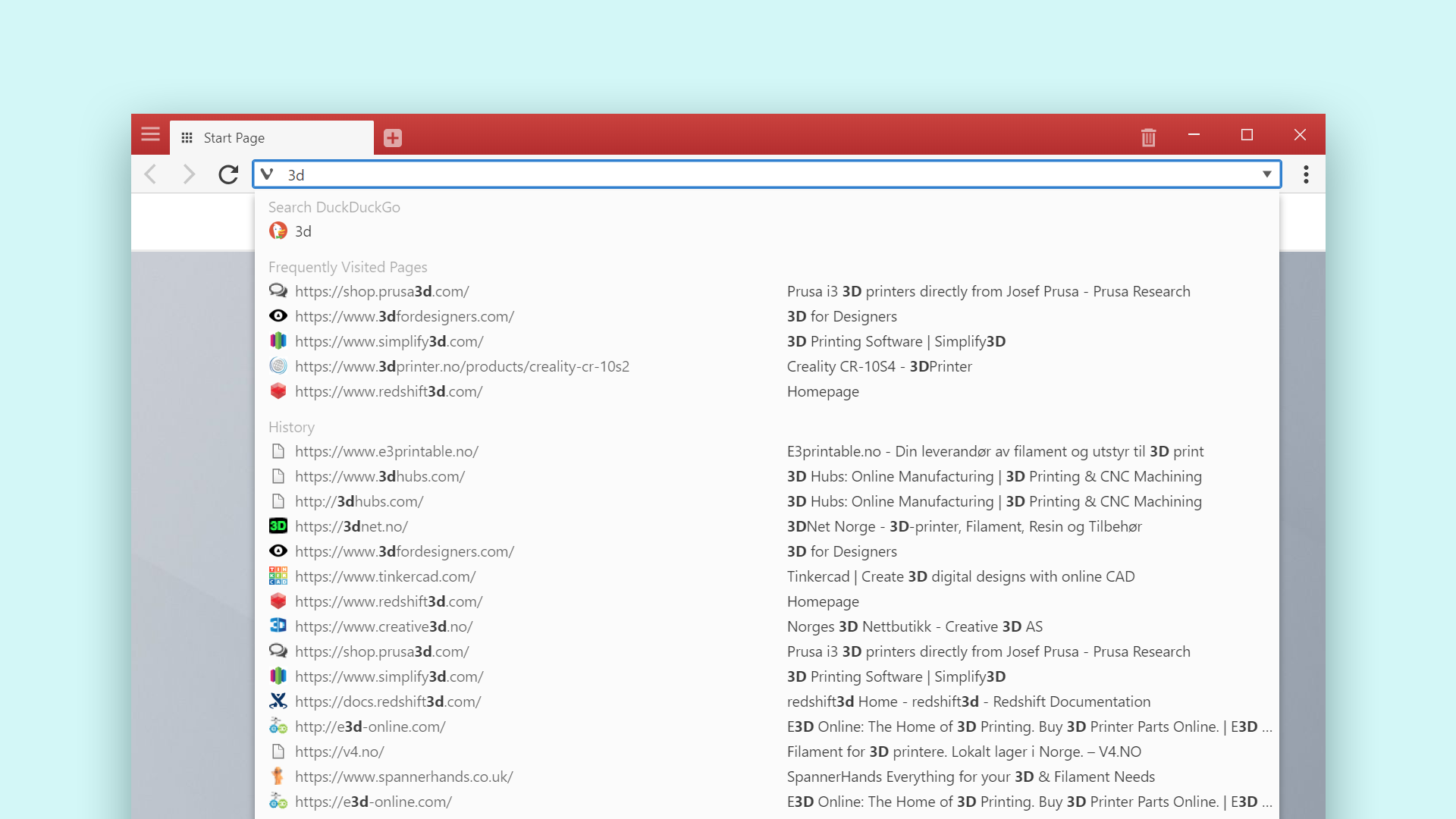 Search Suggestions also let you find sites, but in this case, what you type is sent to your preferred engine. Often overlooked as a privacy issue, Vivaldi handles this uniquely – search suggestions are turned off by default and can be enabled per search engine.
Keep your screenshots organised
Vivaldi's built-in Capture tool lets you capture any part of the Web in a screenshot. Images can either be copied to your clipboard or saved to your computer.
Now, finding and sharing a specific screenshot is even quicker and more organised with the new default naming. Plus, you can pick and choose your preferred pattern/ format in the Settings → Webpages → Image Capture → Capture File Name Template.
We'll say, give it a (screen)shot!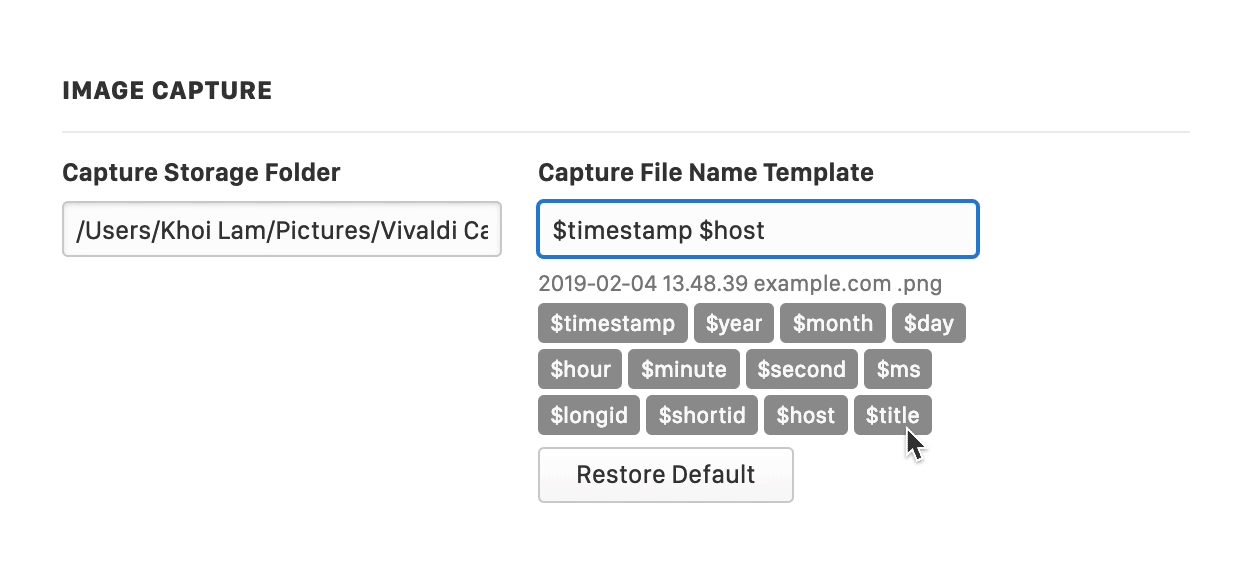 ---
Very recently, we blew out candles for our 4th birthday while working to "kill all bugs". So, here's to another year – and continuing to build Vivaldi as a truly personal browser.
Download Vivaldi 2.3 and let us know what you think! 🙂
In this update, we've tackled several bugs and regressions.To know more in detail, take a look at the Changelog below.
Changelog from 2.2 to 2.3
New Features
[New] Option to automatically create a tab stack: 'Settings → New Tab
Position → As Tab Stack with Related Tab' (VB-15514)
[New] Add an option to show frequently visited pages in the URL Drop-Down:
"Settings → Address bar → Address Field Drop-Down Menu → Include Frequently Visited Pages" (VB-3533)
[New] Custom screenshot file name (VB-31991)
[New] Save webpage as MHTML is enabled (VB-2101)
Community Requests  
[New] Spinner favicon when a tab is loading (VB-46130)
[New] Passwords should be viewable in Settings (VB-14045)
[New][Windows][Linux] Add confirmation dialog on exit (VB-6951)
Linux
[Linux] Middle-click on tab Trash pastes buffered text into History search field (VB-46281)
Mac
[Mac] Clicking certain extension icons makes Vivaldi crash (VB-44298)
[Mac] Impossible to do live video on Facebook (VB-45131)
[Mac] Show the context menu on mouse down if mouse gestures are disabled (VB-48159)
[Mac] Swipe between pages with three fingers not working when using native window (VB-44729)
Windows
[Windows] All-users install does not use installed language/locale (VB-47569)
[Windows] Twitch.tv process crashes after a little while with HWA disabled (VB-30760)
Developer Tools
[Developer Tools] Opening links from inspector opens them twice (VB-11330
[Developer Tools] Saving an image doesn't work (VB-47836)
Extensions
[Extensions] Evernote extension will not accept keystrokes (VB-42683)
[Extensions] Official Chrome API chrome extension get Views popup doesn't work (VB-46910)
Mouse Gestures
[Gestures] Allow right-button and Alt-key mouse gestures to be independent (VB-46727)
Page Interactions
[Page Interaction] Focus page upon pressing Homepage button (VB-36693)
[Page Interaction] Reader settings visible on all tiled pages (VB-47161)
Panels
[Panels] Web panels cannot be reloaded via the context menu (VB-47118)
[Panels] Download Panel does not respect ordering on initialization (VB-47985)
Quick Commands
[Quick Commands] Highlight search instead of note after paste (VB-47641)
Search
[Search] 'Always Search in New Tab' affects Speed Dial (VB-46484)
Settings
[Settings] Add ability to search for search engines (VB-35583)
[Settings] Add option to keep last selected search engine (VB-45455)
[Settings] Delete only focused shortcut with Remove Shortcut button (VB-46950)
[Settings] Homepage input scheme resets to HTTP (VB-35520)
Speed Dial
[Speed Dial] Cannot add file:// URL to Speed Dial (VB-19722)
[Speed Dial] Paste does not work in the search field (VB-48416)
Tabs
[Tabs] Custom internal page favicons (VB-26354)
[Tabs] Tabs dragged out of the stack to another re-joins first stack (VB-45713)
User Interface
[UI] Aspect Ratio of Bookmark Thumbnails (VB-44261)
[UI] Key icon and address field icons not visible in Incognito mode and Dark themes (VB-47256)
[UI] No close window warning if the browser is closed by other means (VB-47549)
[UI] Scrollbar gap on Windows and Linux (VB-47350)
[UI] Reader view button moves the address field dropdown button (VB-47968)
Others
PageUp/PageDown and arrow up/down does not work after opening in a new  tab (VB-48133)
Re-ordering a tiled tab with internal PDF reader reloads example PDF (VB-48266)
Tab in background window closed with mouse gesture over a visible tab in another window (VB-47721)
Unable to scroll PDF up/down with keyboard after clicking "Fit to page" (VB-44083)
Upgraded Chromium to 72.0.3626.82