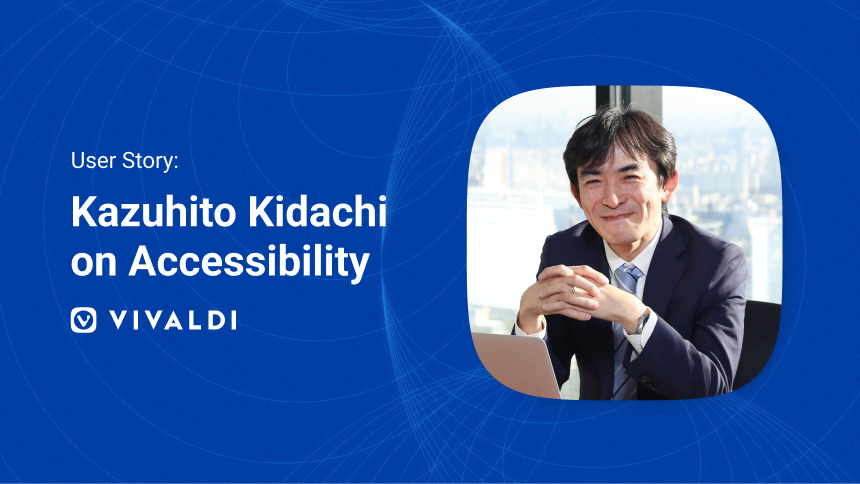 From time to time, we ask heavy users of Vivaldi to share their experience using Vivaldi.
The latest is Kazuhito Kidachi, the CTO of Mitsue-Links Co., Ltd. in Japan. At work, his primary focus is on front-end design and implementation, as well as developing related guidelines. Due to his extensive knowledge of browser specifications and accessibility considerations, he is a contributor to various media outlets.
Given his background, we wanted to know how he perceives Vivaldi's approach to accessibility. However, we were also interested in his views on browser accessibility in general, and he was happy to share his thoughts with us.
Let's go!
Recognizing the importance of web specifications
As a university student, Kazuhito had a part-time job for a year writing HTML and creating corporate sites.
After graduation, he entered the space industry, working as a webmaster for the National Space Development Agency of Japan (NASDA), an agency that became the Japan Aerospace Exploration Agency (JAXA).
At the time, the National Space Development Agency of Japan had a mission to raise general awareness of space development. And Kazuhito was part of the team that broadcasted a rocket launch over the internet for the first time in Japan.
At that time, he didn't really care about specifications. When coding, he felt that as long as it displayed as expected, it was fine. However, after getting to know a colleague with a deeper understanding  of HTML, he began to realize the importance of web standards. This also inspired a shift in his perspective toward the user – and how to enable more people to use what he created in various environments.
While web standards permeate, accessibility is a work in progress
When Kazuhito first joined Mitsue-Links on a temporary basis in 2004, the browser wars were in full swing, with multiple browsers vying for supremacy. So, it was an interesting time for him to play a leading role in web standards both inside and outside the company.
He explains, "I wanted to create a world where all browsers display the code as intended, without the hassle of having to write different code for each browser type and version." And accessibility remained front of mind for him.
After all, accessibility simply means "ease of use". The easier, or more accessible, content is, the more people, regardless of disability, age, language, device, or browser, will be able to enjoy it in more ways. Everyone benefits, both the content provider and the user.
As Chromium has gained dominance, web creators are finally in a situation where they can develop based on a single web standard. As Kazuhito remarks, "However, this situation has led to the dark age when the competition of browsers has stopped."
And, as competition has died down, he feels some browser developers aren't putting enough thought into accessibility. He raises a flag, "Accessibility is still a work in progress. The current situation is that the entire industry is not working on it with the same enthusiasm as web standards."
He continues, "It has become difficult to expect innovation in browsers. I believe that conforming to web standards is the minimum requirement for a browser to function. Browsers focus a lot on gaining market share. It would be great if they could be just as competitive when it comes to ease of use and customizability of the browser itself. In the digital age, not just the web, it is easy to customize things. However, most browsers aren't delivering on these functions."
He concedes that it is possible to write user stylesheets to customize web content to make it easier for users to view and use. However, this requires knowledge and understanding of CSS, which can be too high a hurdle for some.  And some browsers don't open up that feature to users in the first place.
Vivaldi's accessibility features outperform those from other browsers
Kazuhito believes that providing customizability is key for browsers to be genuinely competitive. And he points out that Vivaldi is ahead of other browsers in this regard.
"Vivaldi is standard and highly customizable, unlike other browsers. You can see the hand of Vivaldi CEO, Jon von Tetzner, in this, as accessibility has always been an important factor for him," he says. Vivaldi's users themselves are more proactive and can change the display of content to make it easier for them to see and use.
His favorite element in the UI is the Zoom gauge at the bottom-right of the browser. It is there by default and is in the user's line of sight so that they can quickly adjust it to display larger text. Even people without a high degree of digital literacy can zoom in or out quickly by moving the slider.
"In addition, the page actions near the gauge are excellent. It is very convenient to call up various customization functions centered on filters immediately, and it is a design concept that sets it apart from other browsers," adds Kazuhito.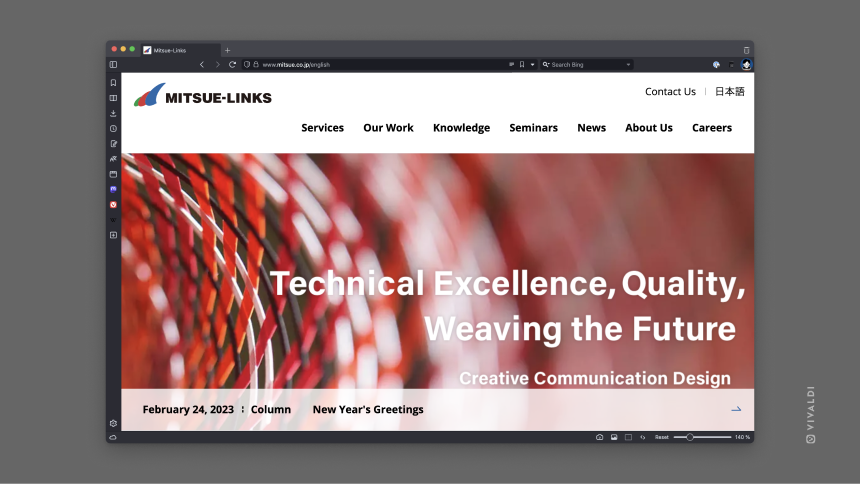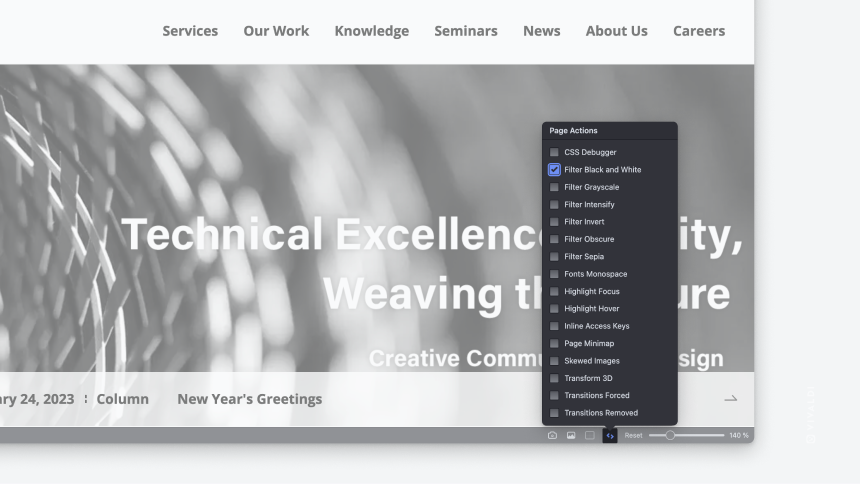 Kazuhito notes that general users are not always aware that they can customize how webpages display. This has a particular impact on mobile, where users could get stressed constantly having to pinch out to display large characters.
Since he feels accessing web content should be stress-free, he thinks browsers should evolve to actively support customization by users. And, since users can actively customize the display in Vivaldi, they can get the most out of their time on the web.
Accessibility overlays have become a hot topic in recent years. It's about making web pages more accessible with third-party tools. However, Kazuhito doesn't think the add-on approach is best. He wants the browser to act as an intermediary between the user and the content. So, in his view, customization features such as those provided by accessibility overlays should come standard on browsers. Kazuhito would like Vivaldi to set itself apart from other browsers in that area.
And he believes that the existence of such a user-friendly browser will ultimately further the development of the web:
"Unlike recent Chrome and Firefox UIs that pursue clean minimalism, Vivaldi's UI reflects the idea of ​​being close to the user, so I respect it. We live in an era where the evolution of browsers will greatly influence the evolution of the web. We will think of better and better ways to improve browsers together. As for me, I believe that Vivaldi is the best, and, for that reason, I will continue to use Vivaldi." 

This article was adapted from the original Japanese blog article written by Tomonori Yanagiya.