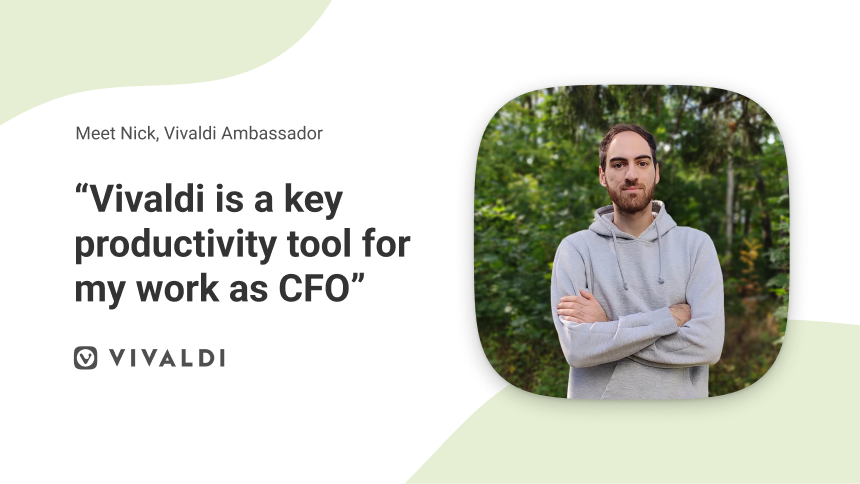 How can we manage our work and personal life on the web easily? One way is to learn from each other's experiences. And that is why we bring Nick Tsakiris's story for you. A Vivaldi Ambassador, Nick is the Chief Financial Officer at SUBTECH SPORTS, a company in Sweden that designs and manufactures waterproof bags.
Why does Nick consider Vivadi a productivity tool, and not just a browser?
Nick has chosen Vivaldi as his default browser over Chrome, Firefox, Edge, Opera, and others — because it lets Nick organize both his personal and professional life. Because of this, he goes as far as to call it "a productivity tool, and not just a browser".
Nick's company works together with different partners involved in manufacturing, logistics, etc. Each of these has its own platform accessible via browser. Nick deals with all of them in the most efficient way: by combining Tab Stacks with Workspaces.
This combination is not only reliable but also gets work done faster.
Workspaces are a valuable addition to Vivaldi's tab management. You can create different spaces containing tabs and organize them into various categories, projects, etc. These, together with Tab Stacks, bring a two-level grouping of tabs that is unique and helps you to get more done in an organized manner.

According to Nick, "Workspaces are a game changer for professional use. Vivaldi is a key productivity tool for my work […] I've never had a solution like this […] making my work as a CFO easier every day."

Nick continues, "I cannot see myself using another browser at the moment, as Vivaldi is the one that offers the most productivity tools and is also reliable and fast, no matter how many tabs are open. The organization regarding tabs is on the highest level in the browser market, with the many options they offer. The option to Show closed Tabs is an example of how easy it is to open a tab that was closed accidentally".
Vivaldi is one of the very few companies that do not track user behavior. The fact that privacy tools are built into the browser helps Nick not rely on third-party extensions.
"In many cases, I have found myself in situations where I have to share my screen to show something in the browser, and with Vivaldi's ad blocker, I am not worried that annoying ads will show up for everyone to see. This helps with keeping my screen share more professional. I know that Chrome also has ad blocking extensions but they are made by third-party companies and this can compromise privacy, so Vivaldi's ad blocker is better, as it is built in", Nick says.
He also uses the built-in tracker and ad blocker for mobile browsing and values the ability to synchronize tabs and notes between devices.
What does Nick's browser look like?
Despite having used several themes in the past, Nick likes to keep it simple with the default theme and two workspaces: one for work and one for personal use.
And look at those privacy statistics: 276,256 trackers and 44,041 ads blocked!
"I can see that Vivaldi can really be a personal browser with the amount of customization available. I have the option to continue where I left off when closing the browser so everything is exactly as I left it when I reopen it," Nick says.
Why has Nick dropped the YouTube app on his mobile?
One thing that really works for Nick is the ability to listen to audio in the background from any website on his Android phone, replacing the YouTube app.
Vivaldi is capable of playing video and audio from any website including YouTube, bypassing the requirement of a Premium subscription for those wanting to catch up on their favorite content. YouTube background playback was a 'highly requested feature' and can be enabled using a toggle within the browser app settings.
During the past couple of years Vivaldi has added many features and done many improvements so I am certain that the browser will continue improving. I highly recommend it for professional use, and I can guarantee that it can make the life of anyone who is using a browser for their work easier and it has a lot to offer. I have tried many browsers but this is the best one on the market right now", Nick adds.
The answer is yes! Because we emphasized learning from each other at the start of the blog, here are a couple of tips that can help you and Nick share information faster in a more organized way when working with Tab Stacks and Workspaces.
If you are looking for ways to share your research on a presentation that you're planning, or even send a bunch of memes to a friend, or something else, you can copy all links you have open in a Workspace and Tab Stack with just a couple of clicks.
You can also manually select specific tabs and copy the links of those.
Let's show you how you can copy multiple links at once:
Right-click on a Workspace in the Workspaces menu, on a Tab Stack, or on a selection of tabs.
Select "Copy all links" from the context menu.
Paste the list of links in a message you're sending to someone, or in a note/document where you want to save them.
And if your workflow does not match Nick's and you want to go big on customizing your Workspaces, check out some excellent tips in this video by our Community Manager Pawel:
Got any more tips on how to use Workspaces? Help Nick and others, and post them in the comments.