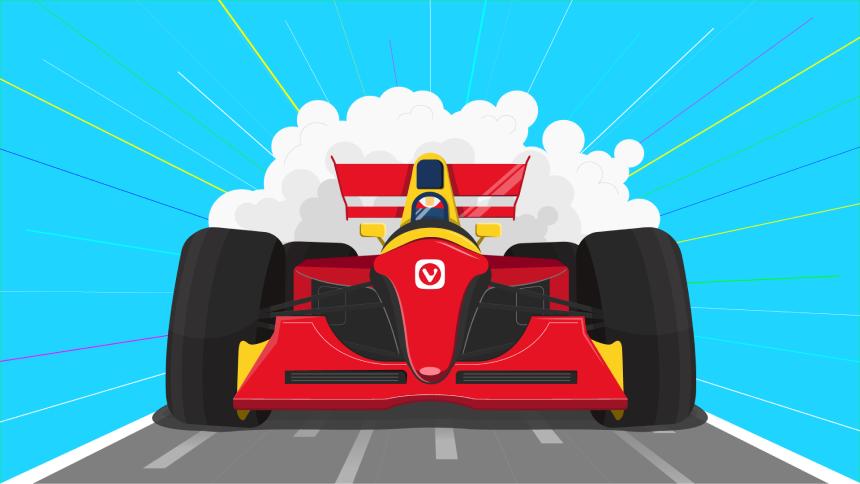 Read this article in Deutsch, Español, Français, 日本語, Polski, Русский.
Work or play, people today live in their browsers. That is why we've made sure that you will enjoy a smooth media experience by adding new options for audio/video. Now, you can keep playing audio when Vivaldi runs in the background and also keep videos from auto-playing.
With Vivaldi on Android 5.7, we offer a faster version that will help save seconds or even minutes. Now, even with thousands of open tabs, the browser starts faster than before.
We also remind you through a new dialog to use our encrypted Sync functionality to protect your data and start browsing from where you left off on any of the devices that have Vivaldi installed.
And, last but not least, we've improved our user interface. Now you are able to zoom the user interface which is unique to Vivaldi.
Get Vivaldi 5.7 on phones, tablets, and Chromebooks.
Keep playing audio when Vivaldi runs in the background.
A highly requested feature comes true! Now, you can use Vivaldi to keep any site with audio playing in the background. This is attractive if you are hooked on YouTube. You can continue playing videos/audio even when YouTube is minimized. Even if you're not subscribed to YouTube Premium.
But Vivaldi doesn't just let you stream YouTube videos/audio in the background. It lets you play audio from any site in the background.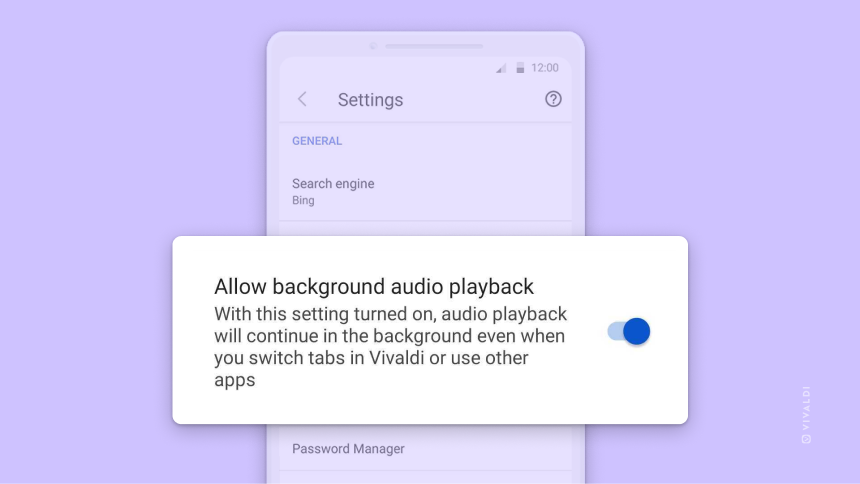 To enable the feature, go to the General section in Vivaldi Settings and enable the "Allow background audio playback" option. With this disabled, switching to another app will pause the video. With it enabled, you'll be able to continue hearing audio even as you interact with other apps.
Disable autoplay for video
If you've been reading an article while browsing and found yourself startled by an unexpected video, you've encountered a site that has what's called autoplay videos. Often there's an ad associated with the video.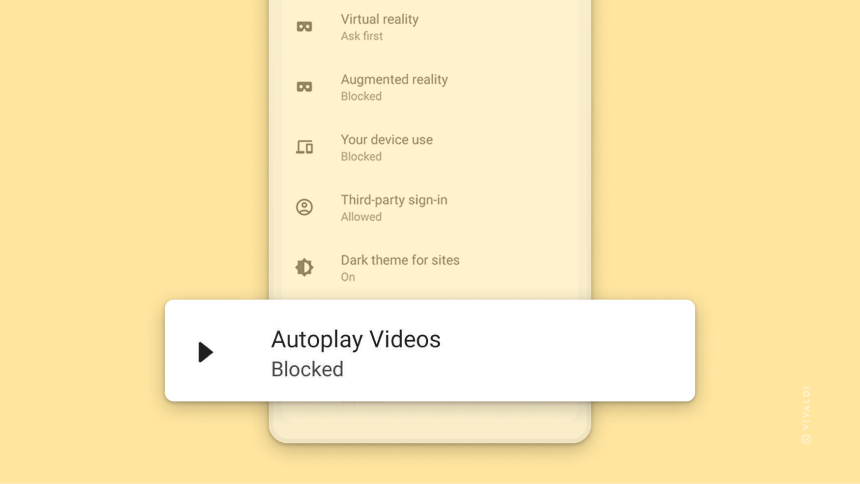 This option is enabled by default. You can find this option "Autoplay videos" under Settings and scroll down to Site settings in case you want to turn it on.
Vivaldi starts up faster. Even with hundreds of tabs!
It's way too easy to rack up a series of open tabs. One minute you're researching flights, hotels, and attractions for an upcoming trip. The next thing you know, you might find yourself 100+ tabs deep.
Whether this backlog of open tabs impacts performance will depend on your device and how you've set up your browser. But we want to make sure that, no matter how you choose to browse, your experience should be smooth. So we've made Vivaldi faster – thanks to a lot of under-the-hood browser improvements.
Using multiple tabs is something many of us do. And for some, the speed of opening a Vivaldi session with many tabs may be perfectly fine. But not for us. We knew that there was room for more speed here.
As a result, you will find that starting Vivaldi with multiple tabs is much faster now. It's all part of giving you a better user experience.
Vivaldi's unique user interface (UI) is more scalable.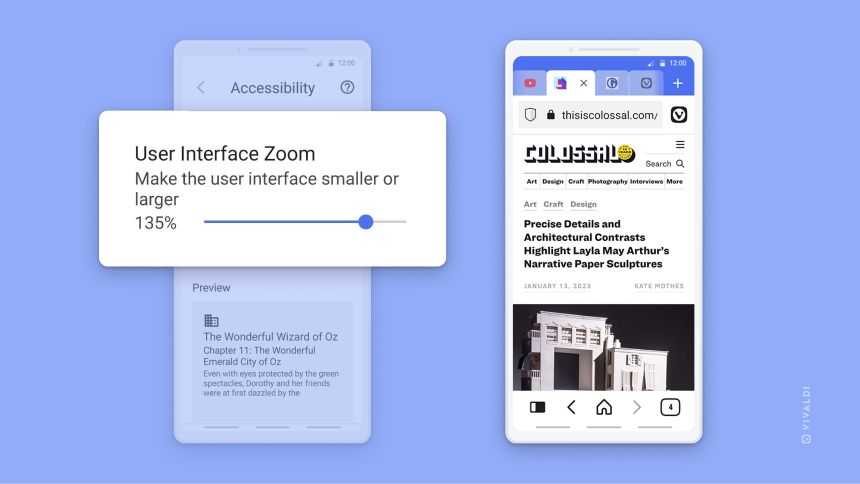 Usually, mobile browsers are optimized for smartphones but not for tablets. Vivaldi's UI is designed to work just as well on tablets, Chromebooks, and screens in cars.
We have put a lot of care and attention into making Vivaldi on tablets just right for you. Vivaldi's unique UI offers a flexible design with a distinctive side Panel that helps you make the most of available screen space.
Sometimes the scale ratio on a device is too small or too big for easy touchscreen operation, depending on the resolution and other details. We wanted to make improvements in this area for those of you who want the ability to scale the UI on your device.
In this version, you'll find UI scaling that better fits the context, along with an improved UI zoom. It works well on phones and tablets, but is particularly useful for cars – something we have experienced as the only browser available on Android Automotive in Polestar 2 and 3, Renault's Megane E-Tech Electric, All-New Austral, and ​​all future cars with the OpenR Link system.
Remember to sync your data.
Sometimes while browsing, you can forget all the benefits of Vivaldi's various features.
A key example of an overlooked feature in Vivaldi is its encrypted Sync functionality. We want you to get the most from it. So, we have made it easier by adding reminders to enable Sync if you haven't already done so. These reminder dialogs will appear after browsing with Vivaldi for a certain amount of time – after 10 hours of combined usage of Vivaldi or the third time a user opens Vivaldi.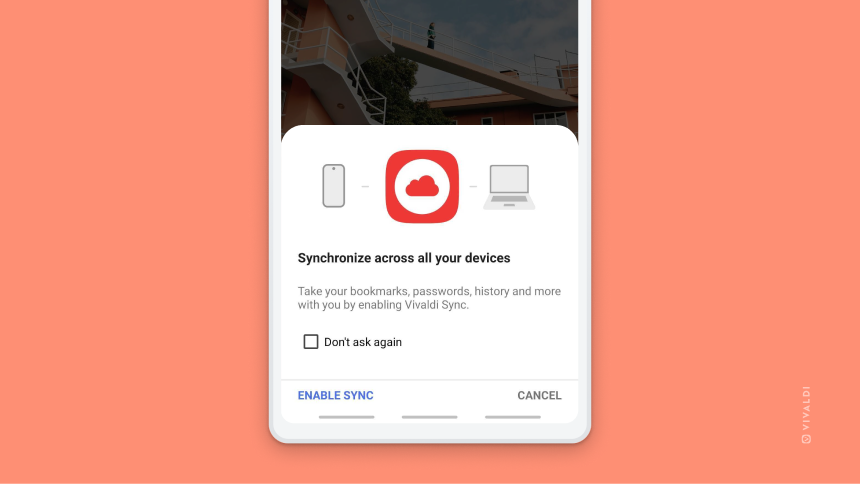 Clicking the "Enable Sync" button will open Sync Settings. This will help you sync your data across all your devices that have Vivaldi installed, whether on your desktop or other Android devices, including cars.

And speaking of cars, we are very pleased to announce that Vivaldi browser will be onboard the new 2024 Mercedes E-Class sedan! Mercedes released the teaser this week, and we will be sharing more information with you soon!
Give Vivaldi 5.7 a ride and five stars!
This new version brings a lot of interesting, useful features that we are confident you'll love. As always, do let us know what you think, and don't forget to rate us with maximum stars on the Google Play Store.
Grab the latest version of Vivaldi on your Android 5 or higher for free, now. For more details, head to the changelog.
Changelog 5.6 to 5.7
[New][Performance] Improved performance on start up with a lot of tabs (VAB-5085)
[New][Settings] Add option for setting Vivaldi as default browser (VAB-1026)
[New][Settings] Allow Browser to scale UI and web contents (VAB-6532)
[New][Settings] Option to disable autoplay for video (VAB-5853)
[New][Settings] Option to keep playing the audio when Vivaldi runs in the background (VAB-1027)
[New][Sync] Add reminder to Sync your data (VAB-6541)
[Address bar] When selecting a search suggestion in the bar, the whole text becomes selected (VAB-6803)
[Bookmarks] Manually sorting bookmarks not working with accessibility on (VAB-2088)
[Capture page] Asks for storage permission (VAB-6989)
[Links] mailto: URI links doesn't open (VAB-6939)
[Menus] Blank menu bar when switching app language (VAB-6947)
[Reading list] Wrong feedback message when adding reading list from context menu (VAB-7084)
[Speed Dials][Tablet] Fix speed dial alignment for medium speed dials (VAB-6968)
[Settings] Unable to change the App Language in Android 13(VAB-6818)
[Settings] Swipe to Close Tab setting doesn't work for tab stacks (VAB-6955)
[Strings] Change labels for "Always show controls" setting to "Show toolbars while scrolling"(VAB-7037)
[Tablet][AAOS] Make Medium Speed Dials default for tablets and cars (VAB-6875)
[UI][Phones] New empty states symbols for panel (VAB-7040)
[UI][Reading list] Change Reading list fragment to Bottom Sheet dialog(VAB-6958)
[UI] Disable width constrain in settings activity (VAB-6969)
[UI] Offset the Vivaldi menu to keep the address bar visible (VAB-6720)
[Chromium] Upgraded to 110.0.5481.111