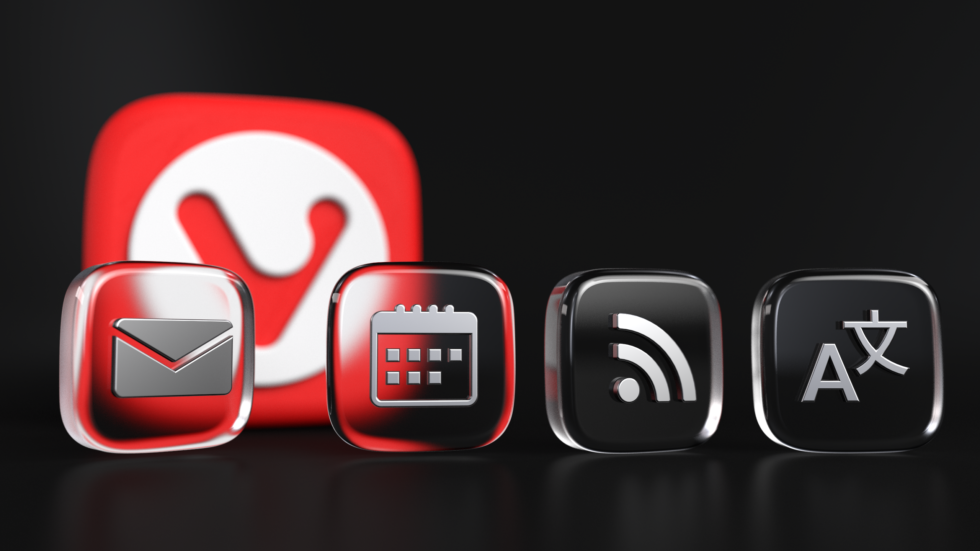 Before we launched Vivaldi 4.0 on June 9th, we thought we'd set the stage with some teasers, asking our community what they thought might be coming. It really got you buzzing with anticipation. And some of your answers were so entertaining, we just had to share – and to compare how close the fantasy was to reality.
We've got something awesome coming up.😍But wait! What are these red blocks about?🤔

Fill in the blanks ….hmmm, blocks. How crazy can you get with your replies?😂#browserlove pic.twitter.com/o7lJopahiF

— Vivaldi (@vivaldibrowser) June 4, 2021
Some, like Klinger Neves @Kli_Nev and Aye Bark@vorsprungteknut thought it might be a new game involving Vivaldi blocks.
Some jewel game with Viv colored logos as the jewels? 🤔😋

— Klinger Neves (@Kli_Nev) June 4, 2021
a built in version of tetris with V for Vivaldi blocks?

— Aye Bark (@vorsprungteknut) June 4, 2021
While Kevin@Antares268 thought we might be releasing our Vivaldia game as a board game.
With a dice on the picture you are obviously releasing Vivaldia as a classic board game, right? 🙂

— Kevin (@Antares268) June 5, 2021
No new games this time, though there is always the online version of Vivaldia, for people in the mood for a Vivaldi-themed retro gaming experience.
On a practical note, @OperaCanary was hoping for a Pin tab stack option.
Pin tab stack.

— OperaCanary (@OperaCanary) June 5, 2021
While this isn't one of our many supported features, the good news is that you can do this by using Quick Commands or a keyboard shortcut to pin the tabs in a stack
User darius (dw5)@f81337 took a different approach. Instead of adding his wish to the list, he offered some friendly advice that we avoid making poor design decisions.
just dont do a bad redesign like firefox

— darius (dw5) (@f81337) June 4, 2021
Point taken! (Though, we couldn't possibly comment … 😉 )
On Facebook, Doug Mehus shared his detailed and imaginative vision:

Now, we have heard people say Vivaldi has everything but the kitchen sink. But this is the first time someone has suggested Vivaldi has everything including the kitchen drawer!
And speaking of kitchenware, our French translator, moderator and Soprano Pierre @vivaldi_fr saw the teaser grid as an ice-cube tray, predicting a fridge feature might be coming, prompting this reply from Boar Sec @boar_sec.
While that wasn't in the cards this time, we appreciate the creative merch idea. And if we ever do roll out Vivaldi ice trays, you'll be the first to know!
Several hoped this teaser was signaling the arrival of Vivaldi on iOS. But alas, it wasn't in the cards. So those waiting for Vivaldi on their iPhones and iPads (including yours truly) will have to keep that candle burning in the window a while longer.
Meanwhile, our users on Android got a treat, with the Vivaldi on Android 4.0 release, which not only sports the new Vivaldi Translate feature, but also added support for external password managers and one-tap search engine switching.
And while we're talking Android, this brings up a celebratory guess from Gurmeet Singh @Gurmeetim, who noted that we might be marking the 2nd anniversary of Vivaldi on Android.
Vivaldi 2nd Anniversary on android

— Gurmeet Singh (@Gurmeetim) June 7, 2021
He wasn't too far off the mark, since we launched Vivaldi on Android in September 2019. Gurmeet's tweet also came in during the Great Date Debate™, a running meta commentary on the teaser posts. Did we mean June 9th or September 6th? Opinions shared represented varying degrees of certainty from confident to intense. As ever, we applaud the passion of our users and welcome your opinions. 😉
A few tweets and posts came in guessing that the blocks could be a clue that Vivaldi might be getting into blockchain, either using Vivaldi to mine or even launching our own cryptocurrency. Frankly, the fantasy Hasbro/IKEA-Vivaldi partnership would be more likely to happen. Our Co-Founder Jon von Tetzchner has very clear views on cryptocurrency, which we will be sharing with you in a separate blog post soon.
Hats off to those, including Antoine Roche @_aGa_ and Lars-VanCiental @LarsVanCiental who in a one-two punch correctly guessed that Mail and a Feed Reader might be on their way.
Along with beta versions of Vivaldi Mail, Vivaldi Feed Reader, we also launched Vivaldi Calendar in beta, all on desktop.
Bur no one guessed that we might be bringing a new privacy-friendly page-translation tool, Vivaldi Translate, powered by Lingvanex. While web browser translation tools aren't new, this is the first that offers users a more secure experience, since the translations are handled by our servers in Iceland, and we do not harvest your data like Google Translate does.
Another surprise was our layout picker that is designed to help new Vivaldi users get a head start on configuring their browser. Users can choose from Essentials, Classics and Fully Loaded, to get the layout that is right for you. But you can always add more functionality, whenever you want, by going to Settings.
We packed so much into Vivaldi 4.0, you might want to check out the launch blogpost, to make sure you haven't missed anything.
Or if you want a more light-hearted overview, check out the video Prebz dropped, introducing Vivaldi 4.0.
Finally, one of our favorite responses came in from Sheng @sheng63 who boosted the positive energy on the thread.
Mmmmm I can see this pattern before, let me see… Looks like 'Delicious! and' sweet'

— sheng (@sheng63) June 4, 2021
We think we've managed to hit that mark with Vivaldi 4.0. 😀 Tell us what you think in the comments, below.
And if you haven't tried Vivaldi 4.0, download it today for desktop and Android and see what the buzz is about.