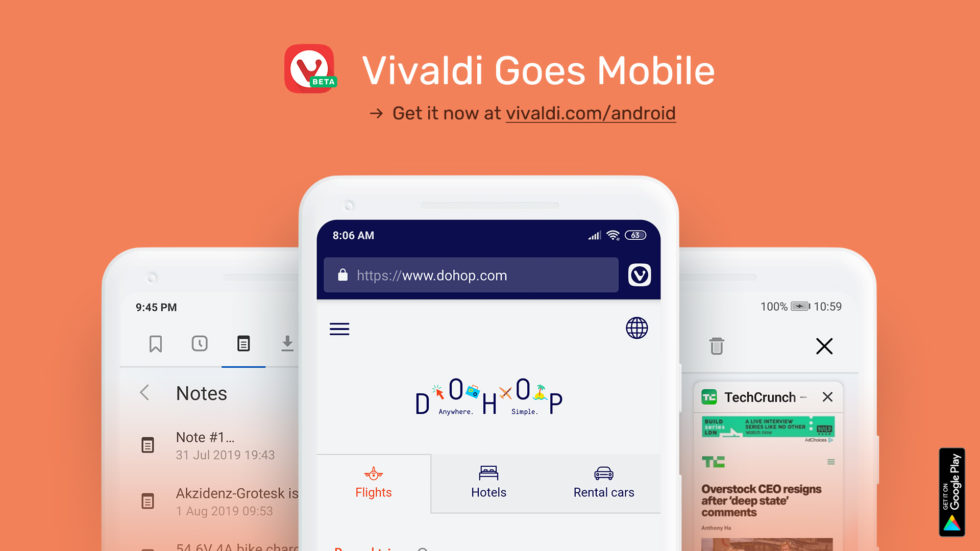 Our mission has always been to give you a browser that lets you do things your way and addresses real user needs. While we put you in control of your browsing, we do not track the way you choose to browse. And our vision for mobile browsing is no different.
The browser you choose on your mobile device requires more and more agility – and robust security – to be effective in your day-to-day. It was important for us to create something that brings the desktop experience of Vivaldi to your phone seamlessly.
Today, we're really excited to release the beta version of a new, fully-featured browser for Android that we think rises to the challenge.
This beta marks our first major step into the mobile space, and we want you to help us test it as much as possible. Your feedback is vital. This will help us build the best mobile browser for you.
It's available now on Google Play. Bring Vivaldi with you everywhere – and browse the web with power, security, and style on your Android devices.
Taking Vivaldi mobile
The new browser is a continuation of the desktop experience of Vivaldi. We've retained design concepts across platforms, putting a focus on ease of use.
Vivaldi on Android should feel like home.
It has our distinctive look and feel and a familiar set of built-in tools (including Panels, Speed Dials, Notes and Capture). And, of course, it gives you a secure way to take Vivaldi – and your browsing data – with you.
As in our desktop version, when you launch Vivaldi on Android you start with Speed Dials – your favorite sites, organized the way you like it.
Here's how the interface will look when you open a new tab: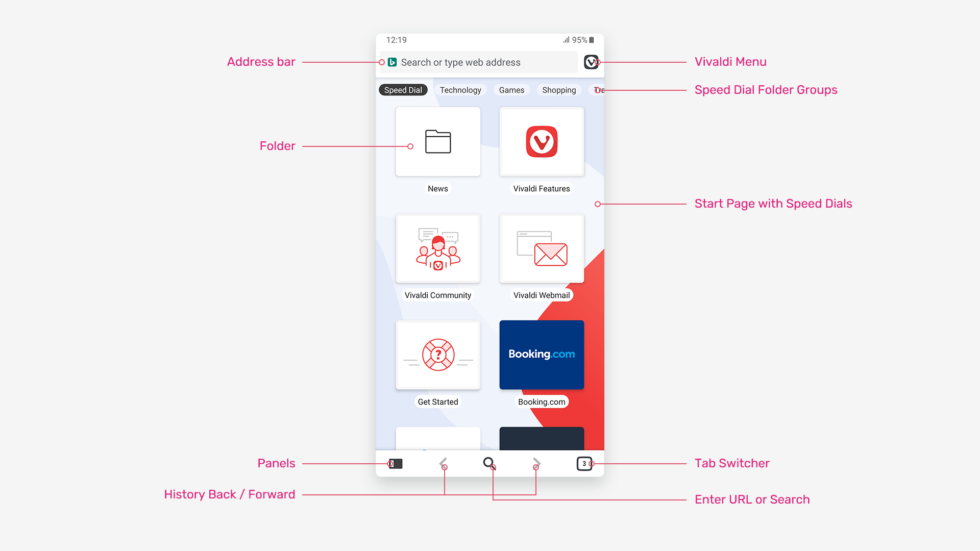 In the bottom-left corner of the browser, you'll find Panels, a quick way to access useful tools like Bookmarks, History, Notes, and Downloads. And to the right, the tab switcher lets you access regular, private, and synced tabs in addition to the trash can to retrieve recently closed tabs.
As you'd expect, the Address Bar packs a punch – letting you search using any installed search engine using nicknames or find a bookmark in an instant.
Key functionality is all just one tap away. And easy-to-use vertical and horizontal swipe navigation is shared across Speed Dials, Panels and the tab switcher to keep things flowing.
A New Caliber of Browsing
You can now browse both in dark and light themes more creatively while complementing your busy, on-the-go lifestyles. Vivaldi boosts your creativity, efficiency, and productivity with unique features that separate it from the pack:
Take Notes like never before
Vivaldi transforms your everyday interactions on the web with great ease. And with Vivaldi's unique and robust tool – Notes – you can stay ahead, even on your phone. This is something that no other browser offers built-in.
Use Notes to quickly add checklists, agenda items or facilitate a research project without the disruption of switching apps.
What's more, you can sync Notes securely between all devices – a productive way to help you do more, faster.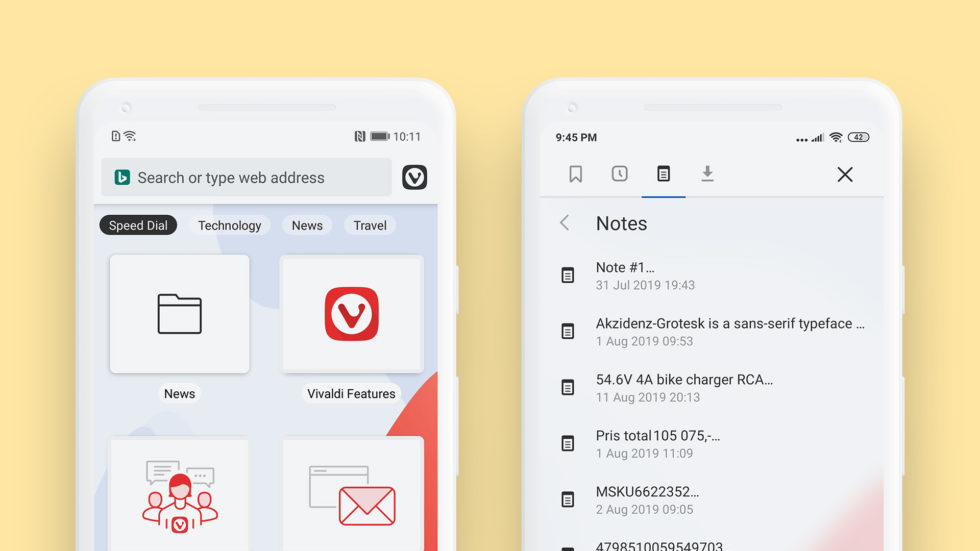 Browse faster with Speed Dials and smarter Bookmarks
Vivaldi's Speed Dials are much more than just your top sites. They're a way to get quick access to your favorite sites and organize which bookmarks should show on your new tab page.
You can create multiple Speed Dials for different scenarios or categories, and even organize bookmarks into nested folders that display on the new tab screen – all with the touch of your fingertips.
The Bookmark Manager also allows you to add and edit descriptions and nicknames for websites. Both of these fields are searchable from the Address Bar – giving you another unique way to stay organized and find your favorites quicker.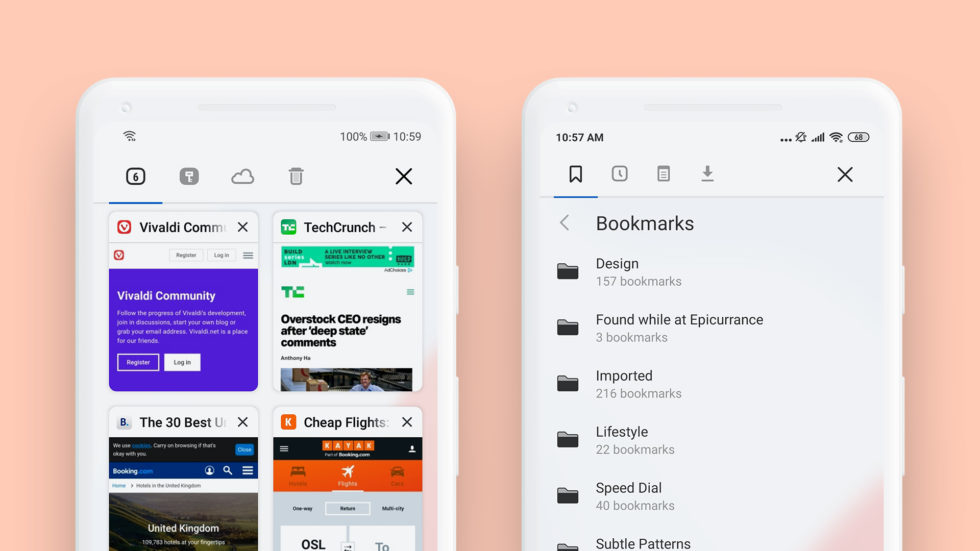 Manage your Tabs in a tap
It's hard to imagine Vivaldi without its elegant tabbed browsing. We love tabs, and so do you! And we want to keep them organized on your mobile too – just as we do on your desktop.
Duplicating a tab has never been easier. Rather than copy/pasting a URL, you can create a copy of your current tab by selecting Clone Tab from the main menu. A nifty option in Vivaldi to save you time.
Vivaldi's tab switcher makes finding and managing tabs a breeze as well. With a quick swipe, you can find an open tab, private tab, recently closed tab or even a tab that's open on another device logged-in to the same Vivaldi Account.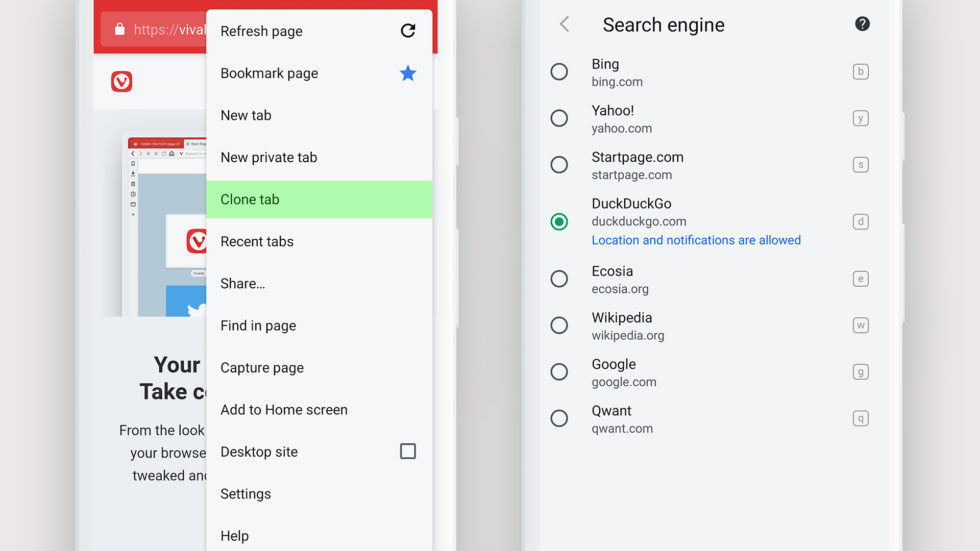 Search and Switch Engines instantly
Another unique feature in Vivaldi is the ability to switch search engines on the fly using nicknames.
Each of the pre-installed search engines uses the first letter of its name as a nickname. Simply type this nickname in the Address Bar (d for DuckDuckGo or e for Ecosia, for example) followed by a space to select that specific engine.
Keep your Tabs private
Browse privately while you're on the go. Vivaldi's private tabs don't save information once the open tab is closed.
Privacy is our priority. Websites that you visit, cookies, temporary files will not be stored on your device when you browse in a private tab.
For example, if you lend your mobile to a friend to browse, you can stay logged in on your main window, while your friend checks out his or her account in a private tab.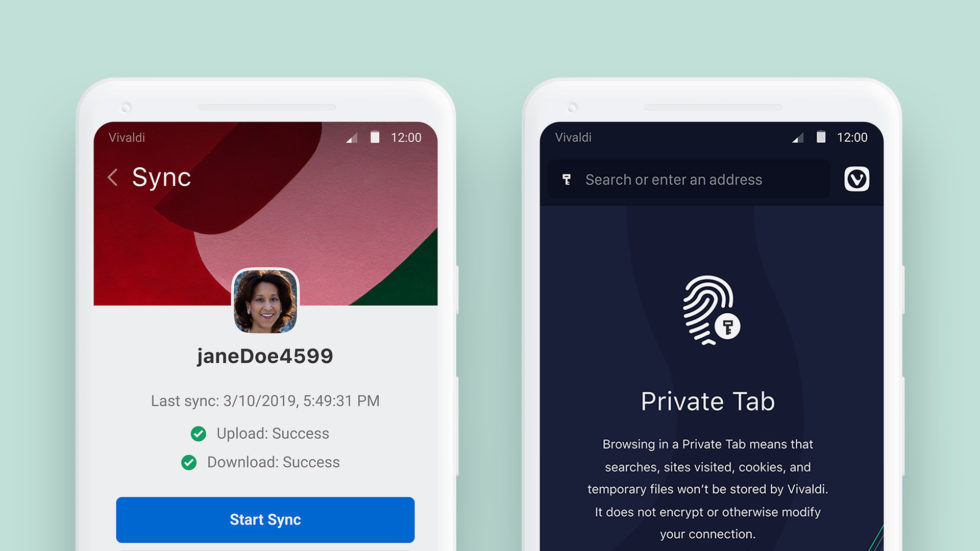 Sync on-the-go, seamlessly and safely
Vivaldi Sync offers end-to-end encryption and is built from the ground-up. Now you can synchronize your data between different devices and your Android while you are on the move.
You can choose which data to sync, including your Bookmarks and Speed Dials, saved passwords and autofill information, History (with only typed URLs), and, uniquely, Notes.
Data security is extremely important to us. We believe everything that you store in your browser belongs to you — which is why we'll never sell your data or willingly compromise your privacy. Data is encrypted on your device using a password that is never sent to us. We do not use any third-party servers.
Capture your Screenshots
You can snap a screenshot of any website or a selection of the screen with Vivaldi. But there is much more than just taking screenshots.
This unique built-in functionality lets you capture screenshots of the full length of a webpage, which comes in especially handy when you have to save and share detailed information.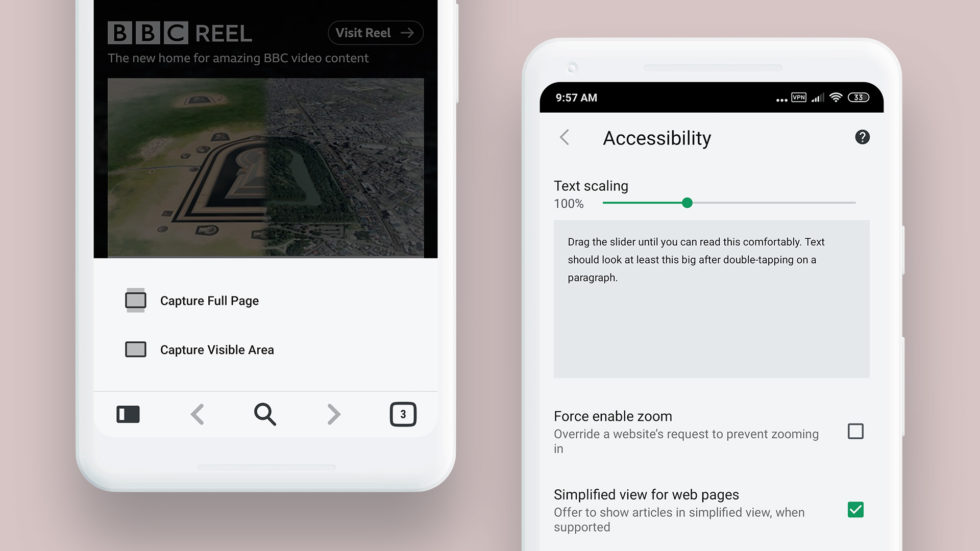 Cut the clutter while reading
Reader View can be enabled in Settings under your Accessibility options. Once enabled, you can read news and online articles on your phone without any distraction.
Tell us what you think
At Vivaldi, we've always believed that true innovation is only possible through an open, collaborative approach. This beta is our way of saying 'thanks' for your continued support and patience.
We're looking forward to more versions in the coming months! And that is possible with your feedback. Honestly, we feel this is better than a beta 🙂
We simply can't wait to hear what you think — take Vivaldi Beta for a spin, check things out and spread the word. And don't forget to rate us and leave a review on the Google Play store. Enjoy!
Vivaldi Beta supports Android devices running version 5 and up. Work on the Tablet UI is in progress. Stay tuned for further developments.