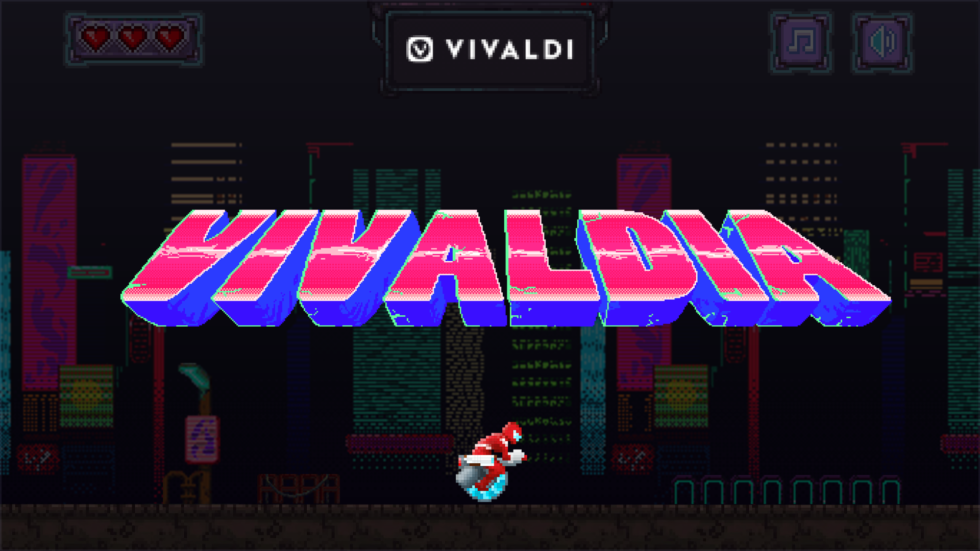 We are thrilled to announce Vivaldia, a pixel-perfect arcade-style runner game built into the Vivaldi browser. For the first time, you will be able to play a real 80s arcade-style game directly in the browser.
Set in a world where humans and technology collide, the hero of the game, Vivaldia, fights to overcome evil and claim her city back.
Inspired by the Future Noir and CyberPunk genres, Vivaldia is available both online and offline on Windows, Mac, and Linux computers as well as on Android devices, Chromebooks, and tablets. The game also includes gamepad support.
You can download Vivaldi 3.4 – the latest version of the browser, and play the game for free.
Learn more at https://vivaldi.com/game
Vivaldi is constantly pushing boundaries of what's possible in the browser space by developing innovative features while keeping ethics and you, our users at the core.
With features such as Stacked and Tiled Tabs, visual History, Web Panels, straight out-of-the-box integration with Philips Hue Light systems and Razer Chroma devices, as well as the very recent Break Mode – that literally pauses the internet – Vivaldi browser allows users to connect and control objects even outside the browser.
We are about productivity and flexibility, but we are also all about fun. By adding Vivaldia, we are adding a lot of fun! The game is easy enough to get started with, but hard enough to make it interesting. Sometimes you just want to have a short break and play a game. Now you can.
Arm up! Help Vivaldia fight evil
Partnering with Icelandic game development company Porcelain Fortress, Vivaldi brings a gaming dimension to the browser.
Watch the trailer!
We invite you to play the game whose hero, Vivaldia, wakes up to discover that her peaceful city has been taken over by the big evil machines who want to steal everyone's identity and turn people into numbers. If humans don't fight back, their future looks bleak.
In the face of adversity, Vivaldia grows strong and takes on the enemy. She fights to save the humans of the city.
Riding her cybernetic ninja one-wheeler called the CyclePunk, Vivaldia outruns and outsmarts the big evil machines. At times, it looks like an impossible battle to win but through courage and strength, Vivaldia triumphs. The evil is overcome and the humans can claim their city and future back. Vivaldia has won the hearts of the people.
Our goal with Vivaldia is not only to give you a great fun game in the browser but to tell our own story – about how Vivaldi is taking the technology behemoths head-on and continues to crusade against the concentration of power that lies in a few global corporations.
Game On with Vivaldia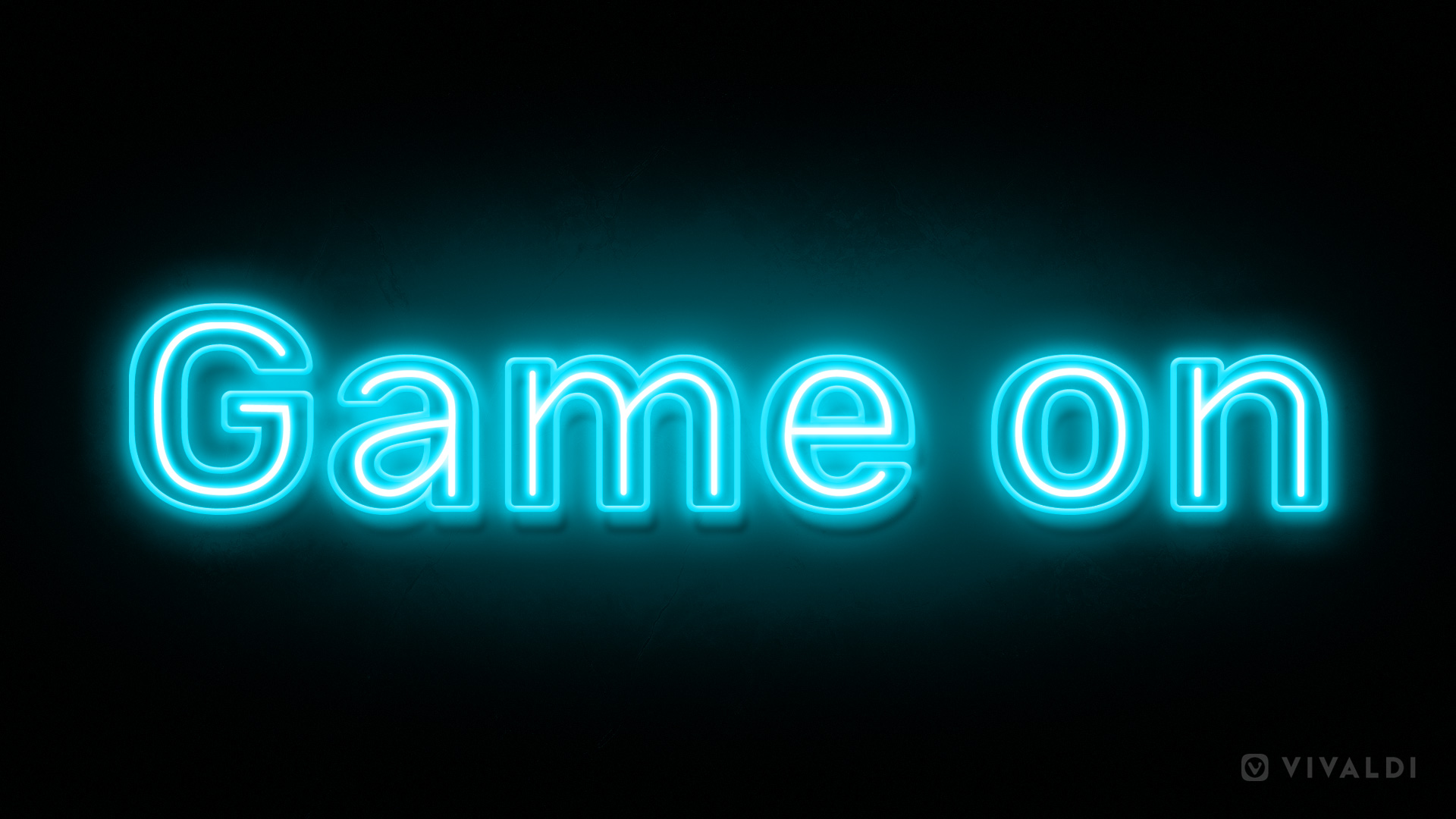 The game can be accessed on Vivaldi's desktop browser by clicking on the floating button on the Start Page of the browser.
The Vivaldia floating button can be placed in any of Vivaldi's customizable toolbars – Navigation and Status Toolbars – giving you a swift and easy access to the game.
On Android devices, the game can be accessed through the Vivaldi Menu or a dedicated gaming Speed Dial in Vivaldi's Start Page.
Alternatively, you can simply type vivaldi://game in the browser's address field.
Designed to win. Vivaldia will never, ever, give up!
Vivaldia offers a user-friendly design for intuitive gameplay on both desktop and Android. You will feel comfortable playing Vivaldia in both long and short gaming sessions allowing you to try harder to achieve higher scores.
How to play?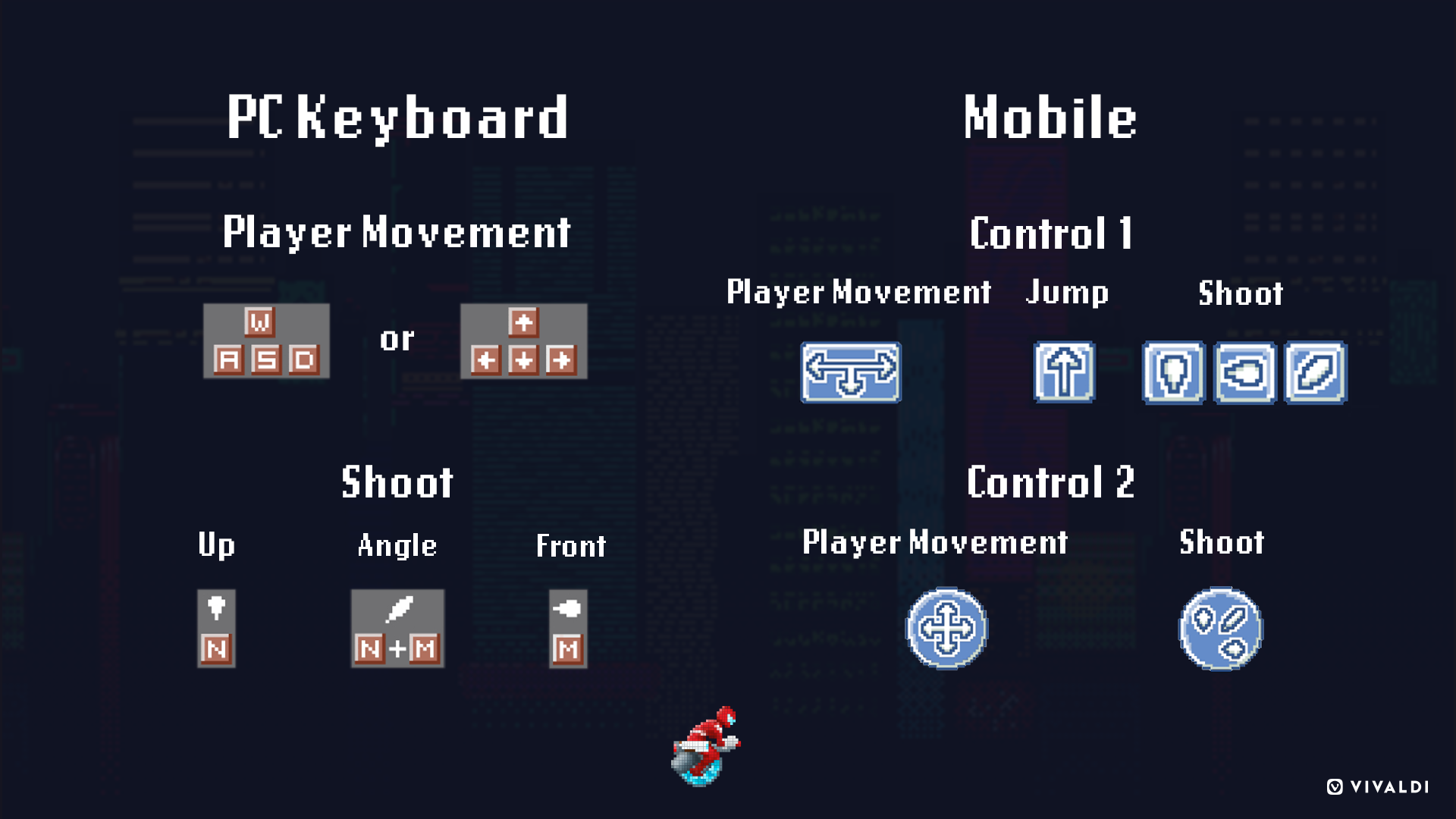 Desktop: Press space to start. Use keyboard controls W, A, S, D, or the arrows up, down, right, and left to move. To shoot use N to aim up, N and M to aim top-right then M to shoot straight. Take a look at the help page on this.
Android devices: Use the arrow controls to move, the arrow up button to jump, then the three-shot buttons to aim up, up-right, and straight to shoot. Change the controls to get a different control with the button in the center bottom. Take a look at the help page on this.
Gamers alert! Vivaldi browser is a great fit for gamers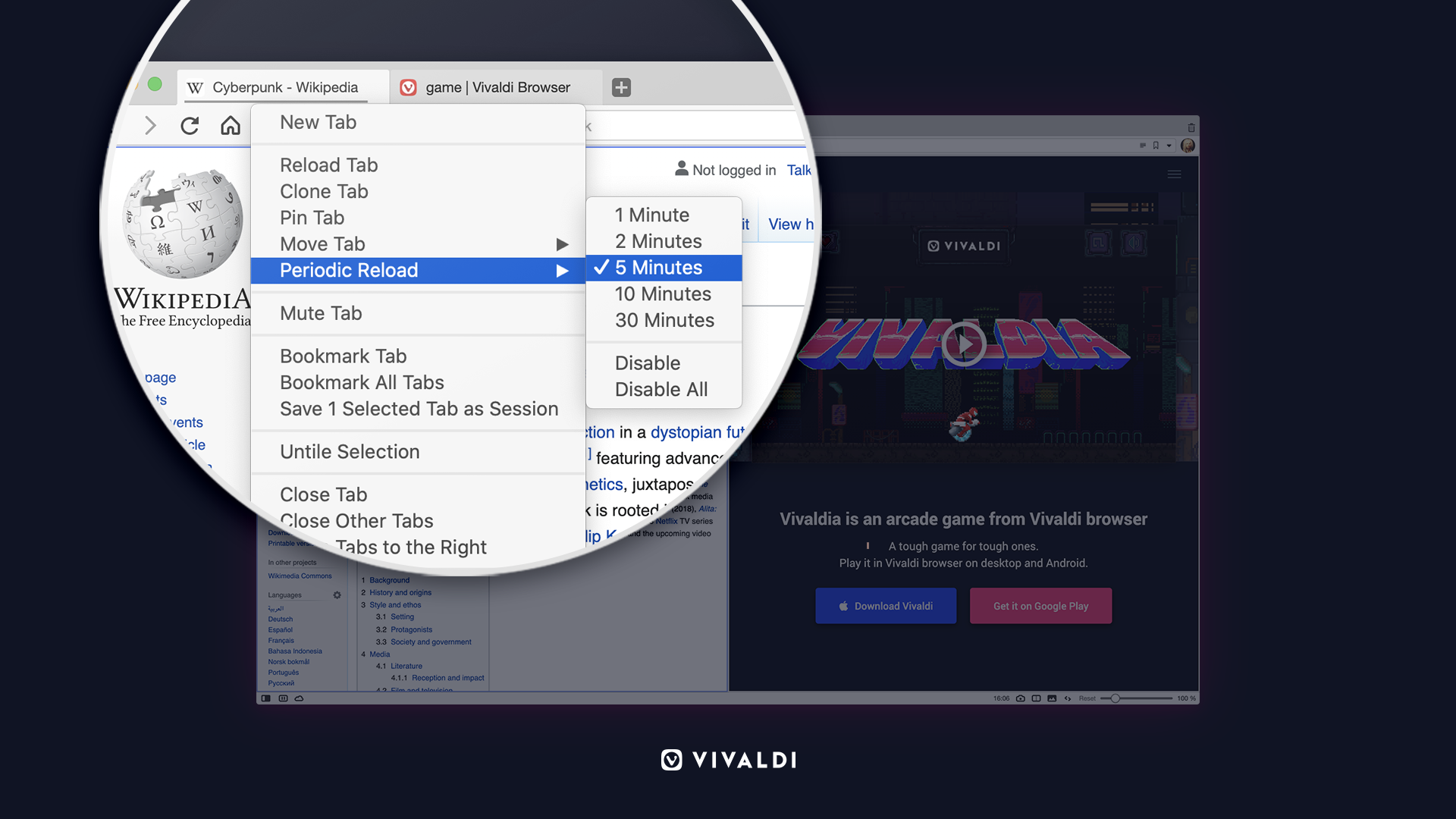 Vivaldi browser is a great fit for gamers and creators alike. Gaming enthusiasts can find an unmatched level of fine-grained control and flexible ways to browse such as:
🔥  Hibernate tabs to save memory: Vivaldi has powerful tab management including the ability to hibernate tabs (or groups of tabs) to save memory during gaming.
🔥  View tabs side by side: In addition, gamers can view multiple sites side by side (split-screen view), group tabs into stacks, search, pin, drag, and mute tabs.
🔥  Effortless navigation: Navigate faster with support for Mouse Gestures, keyboard shortcuts, Quick Commands, and a powerful History overview. Switch search engines on the fly using search engine nicknames, browse search results quicker with Fast Forward and Rewind.
🔥  Easy access to Discord, Reddit, and more: Add any site in the sidebar using Web Panels, giving quick access to sites such as Discord, Reddit, and more. Also easy access to bookmarks, downloads, tree-style tab navigation, and built-in Notes.
🔥  Watch videos in a floating window: Gamers won't need extensions to watch HTML5 videos in a floating window. Vivaldi has built-in Pop-out video functionality.
🔥  Grab full-page screenshots: Additional built-in tools in Vivaldi include capturing full-page screenshots, Notes, Calculator, Clock, and Break Mode (when you want to pause the Internet).
🔥  Gain speed by blocking trackers and unwanted ads: Block ads and trackers with the built-in Tracker and Ad Blocker.
Now, go try out Vivaldia!
P.S. Take a look at how you can enter the Vivaldia giveaway.