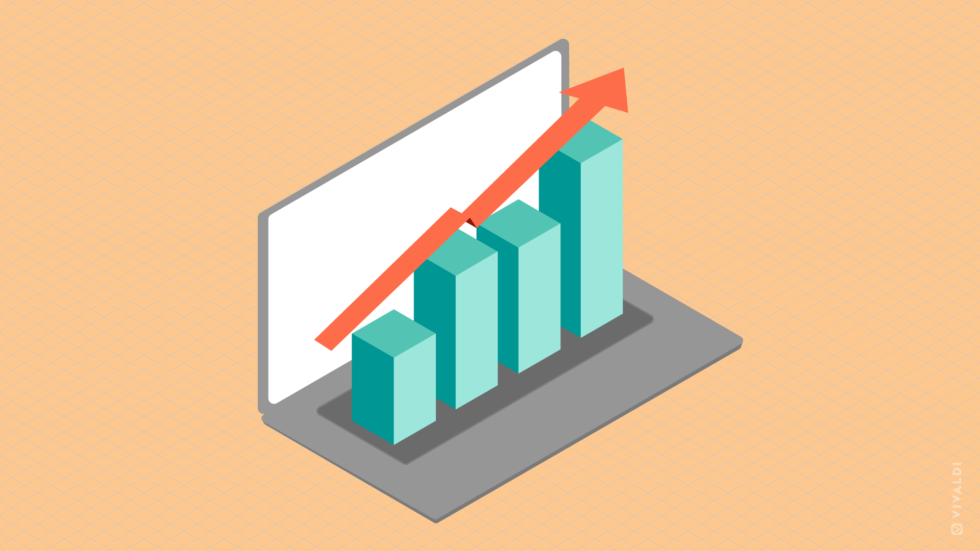 Productivity can be hard work at first. It can take a while to stumble upon the productivity tools and techniques that help you complete your main tasks in an efficient way.
There are so many areas you can probably improve on. You can improve your workflows, manage projects and resources better, collaborate more optimally, or get more efficient at doing meetings.
But even thinking about productivity is a great start. Once you commit to it, you will get more efficient every day.
To help you along the way, we thought we'd ask for advice our very knowledgeable Vivaldi community. There are so many productivity tools that can make a difference on your journey. What productivity tools do they use?
The Vivaldi community is special. These are people who go above and beyond when it comes to picking their favorite tools and software. You can see from a recent survey that they aren't the kind of folk who go with the defaults.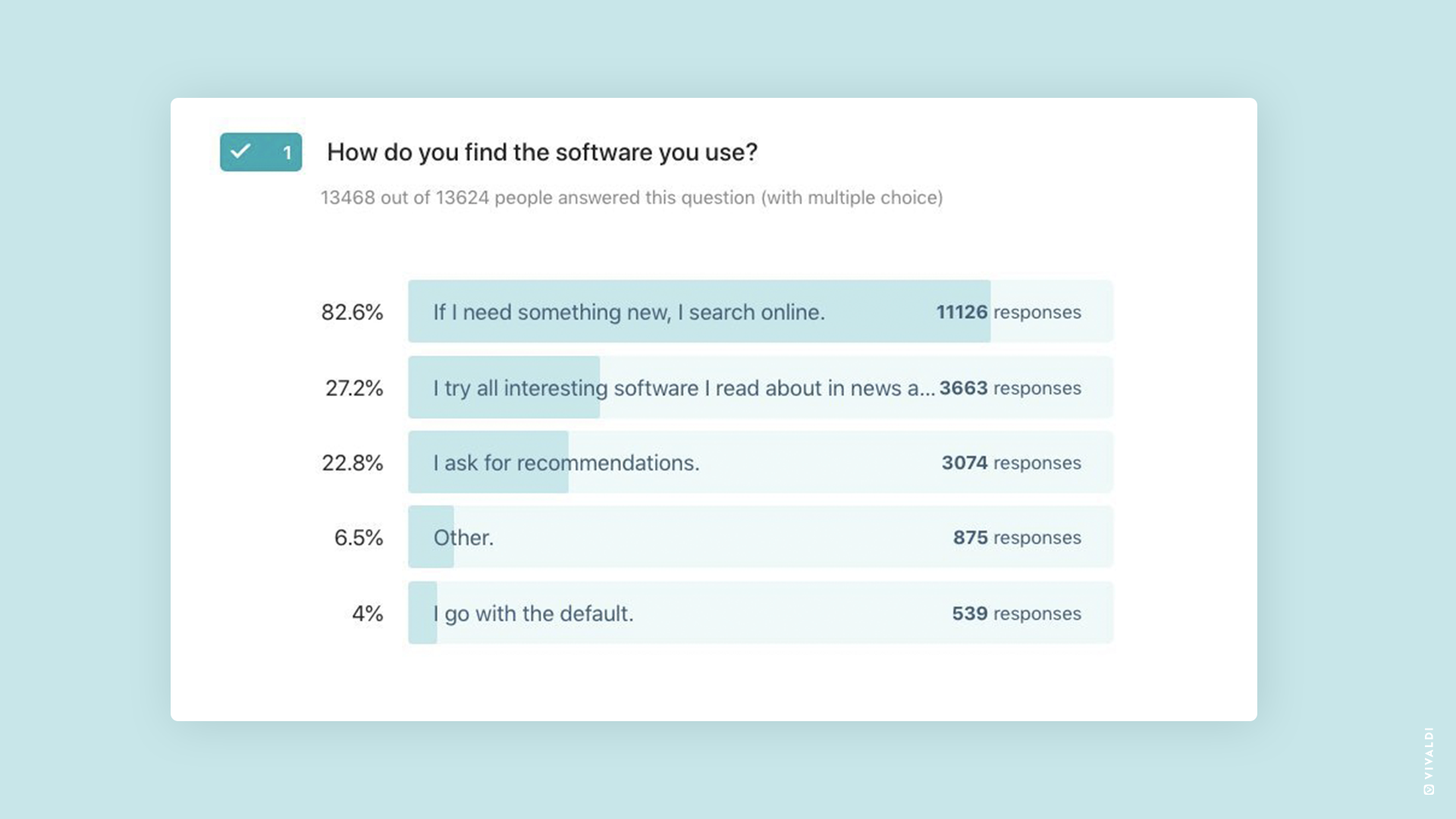 We also know that the Vivaldi community is big on productivity. In the same survey, 40% told us that their browser is part of a suit of favorite productivity tools, while 43% told us that their browser is key to their productivity. Either way, you can see from the graph below that productivity is important to them.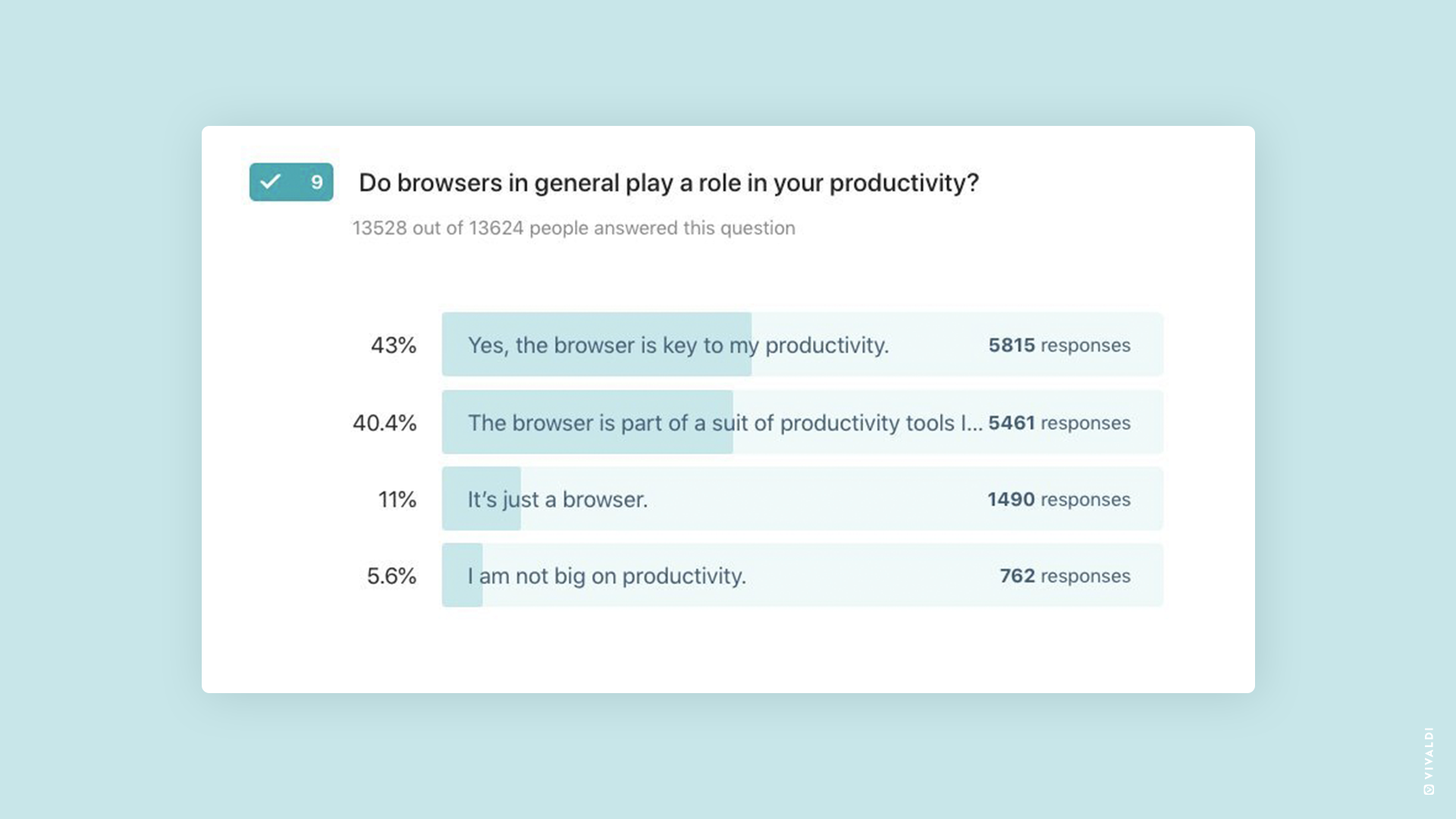 To help you on your quest for productivity, we came up with a list of favorite productivity tools endorsed by our community.
The list doesn't go into browsers, though for many people the browser is central to productivity (as seen in the graph above).
We hope that the list will help you make sense of what tools are on the market.
Let's look at the Vivaldi community's favorite productivity tools split into several categories.
Productivity tools: Collaboration
With parts of the world heading into a second lockdown, many of us are going back to working remotely, replacing face-to-face meetings with online meetings.
For the Vivaldi community, Microsoft Teams is the clear favorite productivity tool for collaboration. With so many of our users on Windows, this is not a big surprise. Slack and Whereby came in second and third.
While Microsoft Teams and Slack need no introduction, we reckon the privacy-conscious should take a look at Whereby.
Built in Norway (in downtown Oslo last time we checked), Whereby is committed to privacy. You don't need to download or login to use it. Their meeting rooms are permanent links that you can go to at any time. Instead of creating a one time link, you can schedule a video meeting and invite people into your room just like you do in the office.
Whereby is the tool we use for video conferencing at Vivaldi.
Task and project management productivity tools
There are many task and project management tools out there but Trello and Todoist are the clear favorites of the Vivaldi community.
Trello is a favorite way to stay organized when you work on projects. It's great for time management as well as for building a project framework. You can share Trello boards with colleagues, clients and friends.
Todoist, on the other hand, is the ultimate digital to-do list. Schedule tasks, activities, meetings, and block time for focused work. Flag priorities, assign due dates, and even add notes to your tasks.
Use it directly in your browser or via an app. It fits perfectly in a Vivaldi browser Web Panel.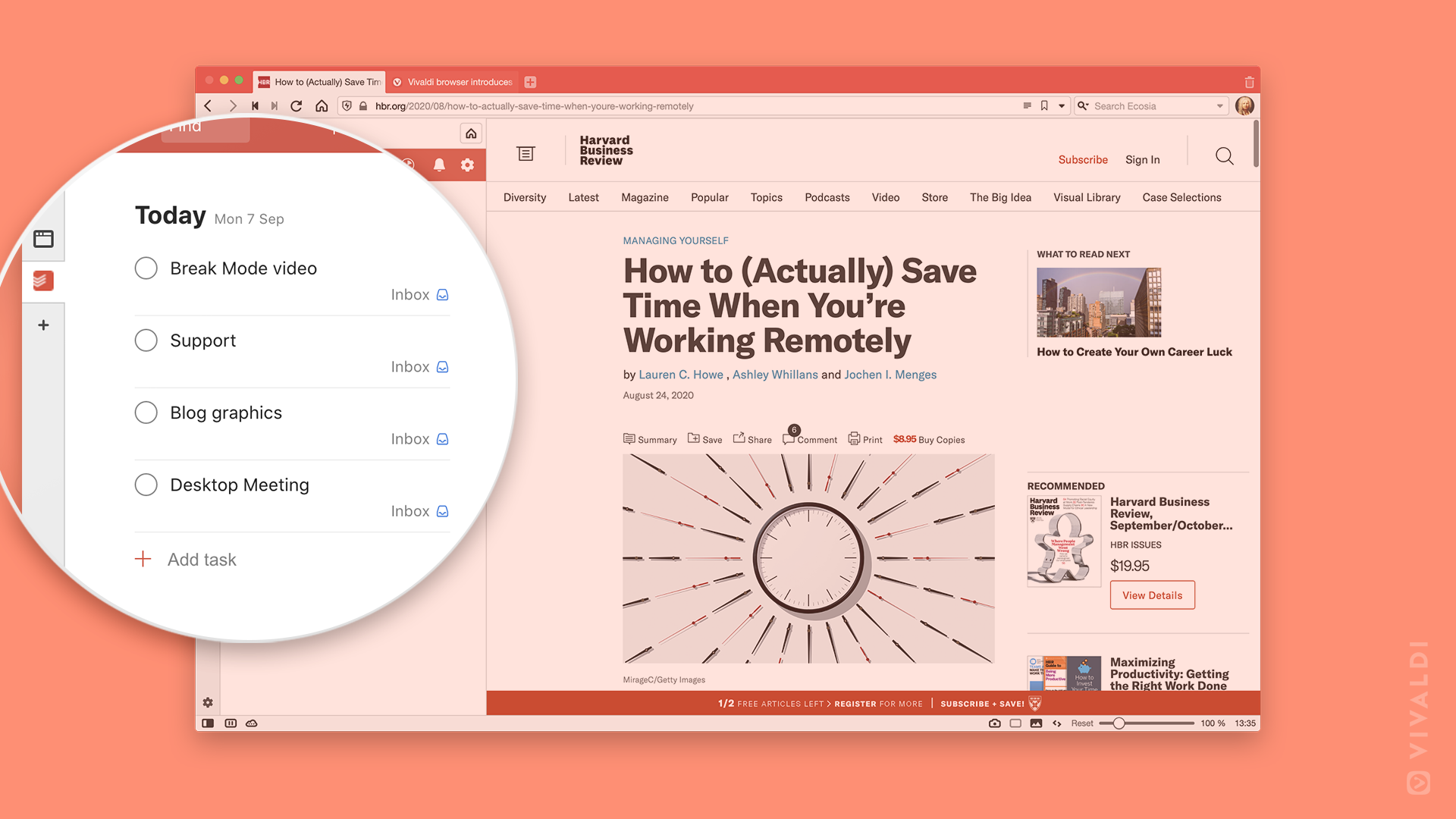 E-Mail as a productivity tool
Email continues to be a primary method of communication between businesses. As such it can make or break your workflow. With the right approach, you could use email to organize your tasks as well as to keep on top of your calendar.
In the Vivaldi community, Gmail still has an edge but it's closely followed by Vivaldi Webmail and Protonmail, the latter two clearly better options for privacy.
File manager tools
If you need to create archives on a regular basis, you've probably looked into file archiving tools. There are a few popular options out there but none more popular with our community than 7-Zip, the high compression file archiver.
It's not only powerful and fast, it's free and open source (most of the code is under the GNU LGPL license).
You can use 7-Zip on any computer, you don't need to register to use it, and it's free.
Note-taking tools
Using note-taking apps, especially in a work from home context, can change the way you get things done for the better.
Your notes can be anything from simple to-do-lists to an advanced organization tool that includes various media.
We did wonder if asking the Vivaldi community about their favorite note-taking tool would skew the stats. 😜  Well, it did and Vivaldi browser's Notes is by far the most used note-taking tool in our community.
When we first built Vivaldi's Notes, and later Notes Manager, we did a lot of research into the challenges people face with note-taking apps.
The constant switching back and forth between apps was a common complaint. People just don't like switching back and forth between the browser and the note taking app, for example.
Providing a note-taking tool in the browser seemed like a good way to eliminate the need for constant switching.
Another thing that stood out was the requirement for note taking across multiple devices.
The need for privacy was another priority as notes can contain personal information that may be sensitive. As a company that doesn't track or profile its users, this was an easy requirement for us to fulfil.
More favorite productivity tools
In the survey, we asked our community for recommendations on even more tools: text editors, translation tools, content blockers, file sync tools, image managers, password managers, software development tools, and more. Take a look at the full survey.
For the privacy-conscious, we also suggest that you take a look at these trusted apps for remote work, also recommended by our community.