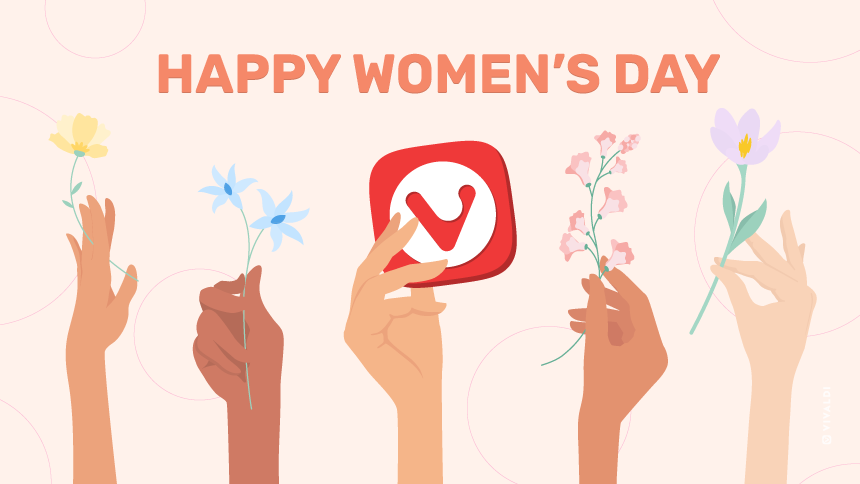 Read this article in Deutsch, Español.
The last few years have thrown some curveballs. A pandemic, a war, and widespread tech industry layoffs – to name a few.
Despite all this, there is hope and opportunity on the horizon for women in tech in the future. Think of new jobs, exciting career paths, and opportunities to explore where areas of passion intersect with technology.
And a lot depends on your work environment. The Vivaldi work environment strives to be inclusive, where people and ideas are respected and heard, regardless of gender, sex, ethnicity, religion, or other considerations.
At Vivaldi, we have a brilliant team that includes women in every department: HR, sys-admin, marketing communication, and of course the developer team!
Representation matters
From trailblazers like Ada Lovelace, whom many consider the first female computer programmer, Grace Hopper, who found the first bug (literally a moth in a computer), and the other brilliant women who've created a path for women in tech, today we're lucky to have three amazing women building Vivaldi on Android, a fun, productive and powerful browser.
Representation matters, so we think it is important to talk about women working in technology roles, hoping they will inspire others. Yes, women belong everywhere!
Hear what inspires them – and how their passion is helping them to learn and thrive.
Maria Popova, QA Engineer
"Never stop learning and developing. The IT industry is rapidly growing and developing all the time. There are always new things to read, get familiar with, and apply in my job, in addition to the interests I have in my personal life. At Vivaldi, we learn from each other and many new creative ideas come from discussing topics around the coffee machine. " says Maria.
"It might sound cliché but I've been inspired by Marie Curie and Ada Lovelace all the time. What they achieved in the old days when there was no space at all for women in the scientific world is something that still helps us, modern women. Not only by making our positions easier but also by reminding us that there are no limits to what a woman can achieve if she defends her ideas and follows her dreams," continues Maria.
Karianne Ekern, Developer
"Learning should never stop. And one of the great advantages of working at Vivaldi is that I am always learning something new," says Karianne.
"Now, when I think of someone who has inspired me, I feel I owe a lot to the people around me because I learn from them. There have been very interesting people who I have studied and worked with. One of them is Patricia Aas who I studied with at the University. These days, I learn a lot from my colleagues like Maria and Nagamani.
I'm grateful to be working with such welcoming and supportive colleagues," Karianne concludes.
Nagamani Sardar Nanjundeshwara, Developer
"Adapting to new situations leads to learning new skills. When I joined Vivaldi during the pandemic, I had to work with my new colleagues remotely. Initially, I found it very challenging, but I quickly realized that everything is possible with the right set of people and a spirit of good collaboration," Nagamani says.
"When it comes to people who I admire, I must admit that I've always been inspired by Sudha Murthy. She became the first female engineer hired at India's largest auto manufacturer TATA Engineering and Locomotive Company (TELCO) which only hired male engineers at the time. She co-founded Infosys and is a great philanthropist and an amazing author. Her simplicity is a major inspiration to me," she adds.
International Women's Day 2023 at the UN
Every day we come across brilliant women who inspire people to reimagine how technology can transform lives.
And, each year for International Women's Day, the United Nations selects a theme. This year is "DigitALL: Innovation and technology for gender equality." It highlights how crucial technology is to advancing rights and calls attention to a growing digital gender gap that is impacting everything from women's job opportunities to safety online.
Read more about it here.
We have seen that women can be innovators and contribute to transforming the daily lives of people. And building a browser is a great way to connect with millions of people — after all, a browser is part of your everyday life.
Globally, the increasing number and use of mobile phones and internet connectivity have facilitated access to information. And we want you to access information in better ways by building Vivaldi.
Tell us your story
The smallest of efforts can work wonders for an inclusive environment. For example, if you ever come across an opportunity that you feel can be a breakthrough for your female friends and colleagues, make sure to share it!
And also tell us if there have been any power tech women in your life, who have inspired you. Perhaps you're the woman inspiring future generations or contemporaries to dive into the tech world. Let us know in the comments below.