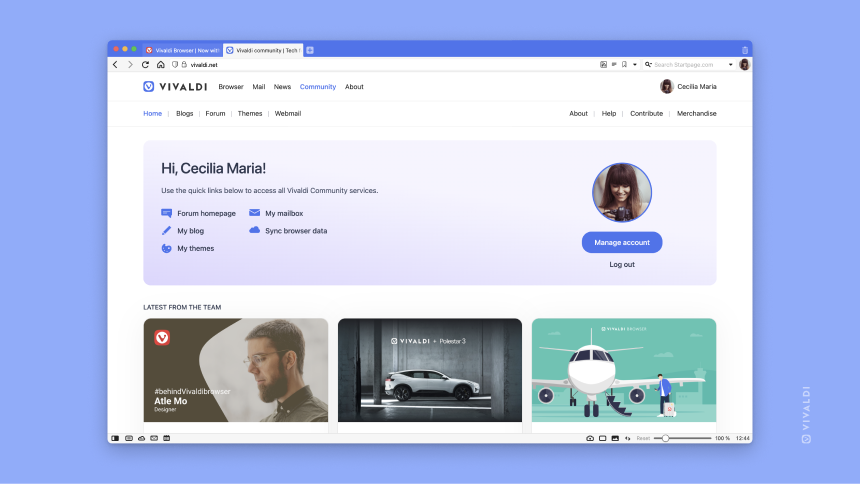 Read this article in Deutsch, 日本語, Español.
Before there was the Vivaldi browser, there was Vivaldi.net. It launched in January 2014, as a community of browser aficionados who held high expectations for what makes a great browser. People gathered on the Vivaldi Forum to reminisce about the heydays of their previously loved browser and to look forward to a day when another browser might come along. One that could support the browsing habits they were used to instead of being one-size-fits-all. From a dedicated core community, it has passed the 1 million member milestone.
Out of the discussion and passion of the community, the Vivaldi browser was born. Stepping into that empty space our members felt. And it continues to reach and surpass the dreams of original community members and everyone who has joined since then.
But the heart and soul of Vivaldi was, is, and will be our community – for whom and with the help of whom the browser is built.
Vivaldi has a lot more to offer to the community than the browser, of course. There are also our web services, to enhance the browsing experience and give you alternatives to Big Tech's services.
Sync helps you to smoothly transition from using the browser on one device to another by keeping your browsing data, such as bookmarks and open tabs, synchronized on all your devices.
With Vivaldi Mail, Calendar, and Feed Reader now available in the browser, Vivaldi users can make the most of these productivity features with our very own webmail service that covers all your basic emailing needs.
There's also the aforementioned Vivaldi Forum. A gathering place, where people can influence the development of Vivaldi, ask questions, troubleshoot issues and discuss any topic they choose, from the latest security news to what song is currently top of their playlists.
Our blogging platform is an excellent way to broadcast your thoughts and make a record of your experiences. The set-up should be familiar to everyone who has ever used WordPress or similar platforms – but without any ads disrupting your quality content. And it now has its very own hub on blogs.vivaldi.net.
Last but not least, there's our newest addition, Themes. This is a marketplace of sorts, where community members can showcase their customization and creativity skills by sharing the Themes they've made in the browser. And where others can go and add any theme that has caught their eye to their own browser.
All these services come together on the freshly updated Vivaldi Community homepage, with highlights from both the community and our team. You'll find many fascinating blog posts, featured themes, popular forum discussions, videos, and lots more.
And when you're logged in to your Vivaldi account, you'll now have faster access to edit your account details and to your pages on the various services.
We've also given a makeover to the About page, where you can find a welcome video from the man behind it all, Jon von Tetzchner.
We hope you like it and that, with frequently changing content, you'll find yourself visiting the homepage more than ever.
Thank you for being part of this amazing Community!