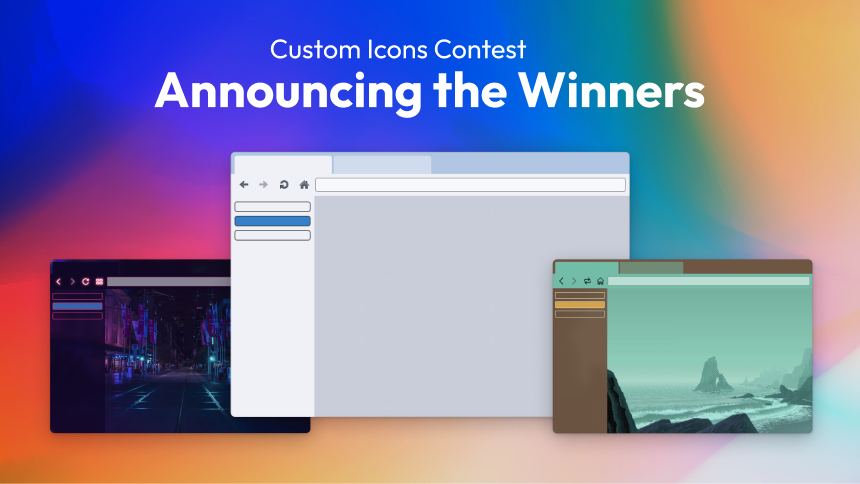 Read this article in 日本語.
We have been blown away by the response to our Custom Icons contest. And we want to give a big thank you to everyone who participated in the Theme Sharing contest, whether you submitted themes, voted, or both.
A quick recap: From April 18 – May 9, you could upload browser themes with Custom Icon sets to Vivaldi Themes. We received a total of 112 themes, of which 40 met the criteria to enter the contest.
On May 15, Vivaldi's internal jury of designers compiled a shortlist of the best 15 themes – a tough task with so many good themes in the mix.

We then shared the top 15 and asked you to pick the winner. Voting was open until midnight yesterday for you to support your favorite. The contest entry themes received a total of votes from 576 people. Right up until the end, the race at the top was tight, with only a few votes separating the winners.
Here's how many votes each theme got. The top-three creators have each won a portable Bluetooth speaker and some Vivaldi goodies.
Opresto by jugami – 116 Votes

Retro Pixels by n4ndee – 113 Votes

Neon Dreams by nomadic – 109 Votes

Mood Yellow by denkuz – 104 Votes
NUVI by danielgardnerwork – 86 Votes
Mood of Business by denkuz – 63 Votes
Twemoji Blue by HKayn – 53 Votes
Vivaldi 2077 by randriantsitohaina – 47 Votes
Amiga Workbench 1.3 by MCSLOW – 46 Votes
Phosphor Duotone by kshitij – 44 Votes
Nihongo by L – 38 Votes
Pure White by kushigro – 33 Votes
Lavender Sunshine by queni – 26 Votes
Soil Map of Kenya by alex – 24 Votes
God of War 2.0 by codder – 19 Votes

A huge congratulations to all the winners! (We will reach out to you about your prize packages.) And, once again, we want to sincerely thank everyone who participated and shared so many amazing, creative themes.
So what do you think of this lineup? How did your favorite do? Please use the comments below👇 to share your congratulations with the winners – and to highlight other themes that caught your eye during the contest.