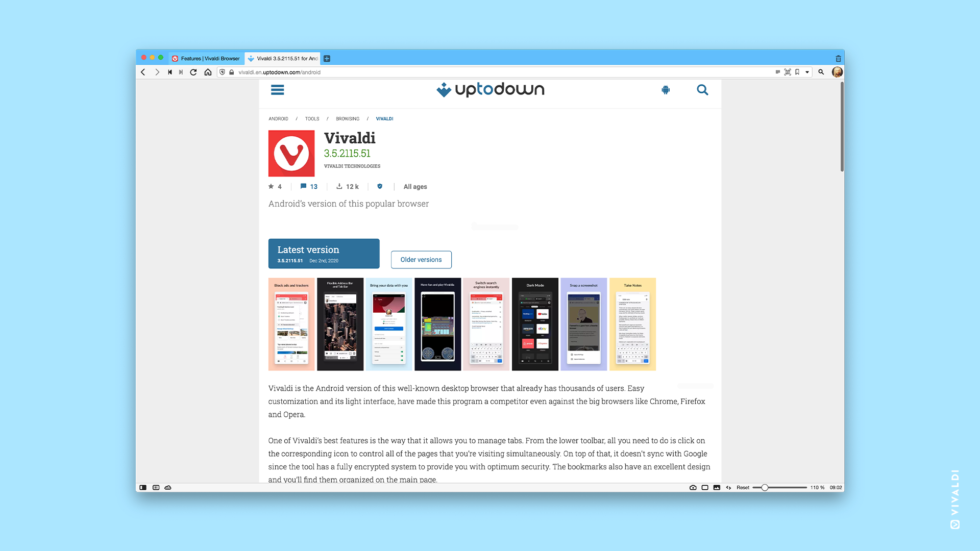 Read this article in Español.
The Google Play Store is by far the biggest app store for Android apps, but you – just like many people out there – may have good reasons for wanting to avoid it.
When we first released Vivaldi on Android, it was obvious that our users would be looking for alternatives.
We knew that some of you had got rid of Google Play on your phones and were not prepared to go back.
With this in mind, we thought we'd show you the alternatives to Google Play for downloading Vivaldi on Android. Let's take a look.
App store alternatives to Google Play
There are several Google Play alternatives out there but none larger than Uptodown, the Android app store which has a huge catalog of free apps to choose from.
We've made Vivaldi available on Uptodown and you can always download the latest version from there.

If you are wondering about security – the number one concern of those looking to switch from Google Play – Uptodown seems on top of things with a robust security framework in place.
The store works in close partnership with VirusTotal, the antivirus platform. They scan and analyze the APKs (the files used to install Android apps) of all the apps hosted by Uptodown.
Unlike Google Play, you won't need to register to download from Uptodown.
In addition, the apps are hosted on Uptodown's own servers, and downloading is fast and smooth.
The installation packages for Uptodown are available on their website. To keep up to date with their updates, you may want to install the Uptodown app first.
Apart from Uptodown, there are more Google Play alternatives such as F-Droid and Aptoid but Vivaldi on Android isn't yet available in these app stores.
Google Play alternatives: download directly from vivaldi.com
Downloading software from an app store – whether it's Google Play or Uptodown – has its advantages.
The app store will offer you the latest app version, detect your device type, and offer you the right file format.
But we know that some of you would rather skip the man in the middle and download Vivaldi straight from us.
That's the reason why when we first launched Vivaldi on Android we made the APK available on our website. And we've maintained this page ever since. You can always download the latest version from there.
However, that does mean that you won't get notifications when we have a new version and that you'll likely fall behind, using older versions. It will be up to you to remember to check for new versions.
In addition, you'll need to be familiar with your device's architecture and know which file format to download and install.
For security reasons – and as a rule of thumb – we recommend that you only download APK files from trusted companies such as Vivaldi. 😜
The simple reason for this is that to install apps outside of Google Play (including from Uptodown), you'll have to open your device to files from unknown sources, and that requires a level of trust.
You'll have to go to the Security settings of your device and check the Unknown sources box. This option will let you install APK files from outside of Google Play store.
* * *
Most of all, we are happy that you are using Vivaldi on Android. Download and enjoy!