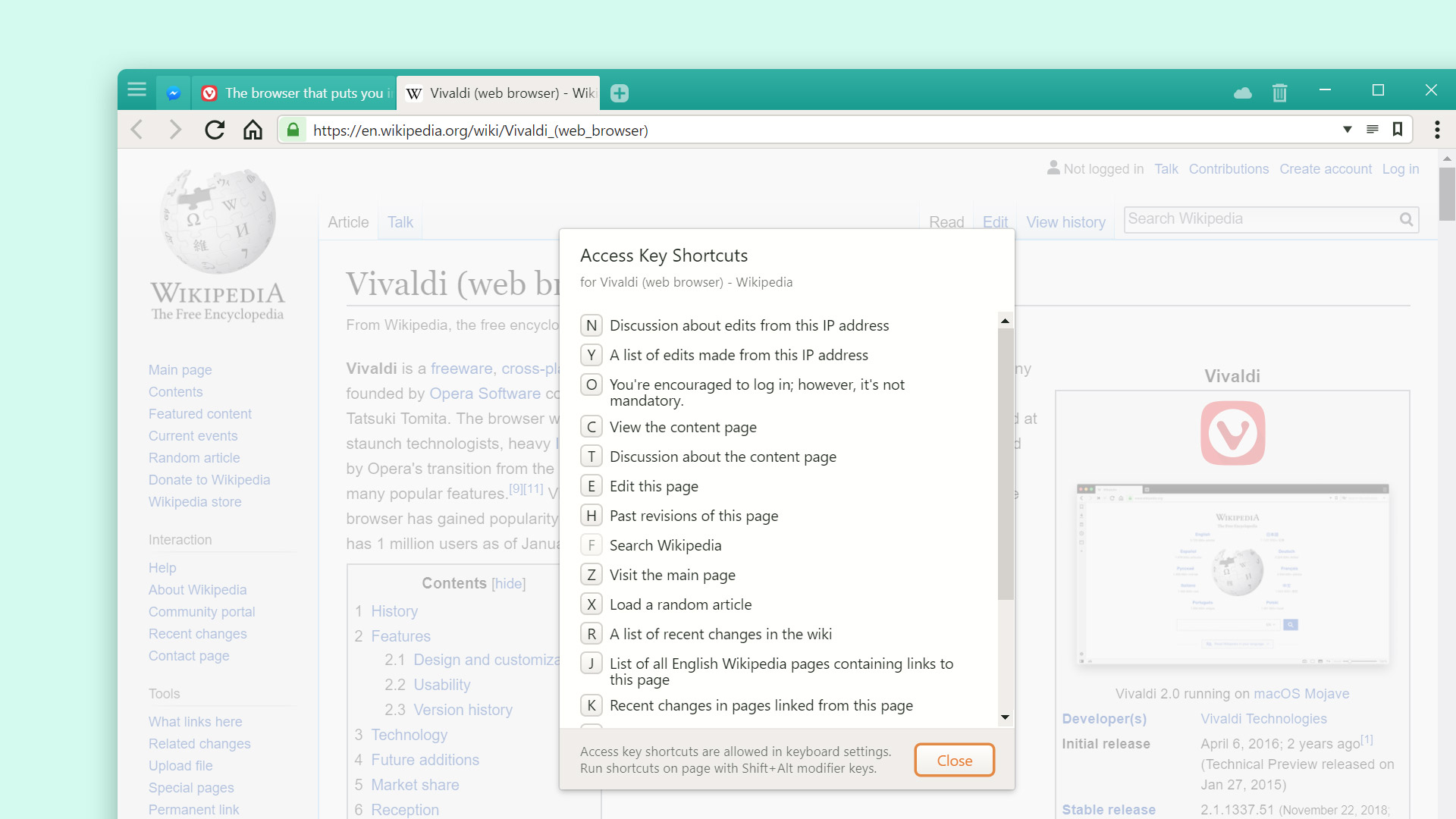 Yesterday we released Vivaldi 2.2, our last big update of the year. Among other great features, the update makes Access Keys easier to use. But just what are Access Keys?  
Access Keys are a way to access key functionality of a web page through site-specific keyboard shortcuts. According to Wikipedia "In a web browser, an access key or Accesskey allows a computer user to immediately jump to a specific part of a web page via keyboard".
Access Keys are important for keyboard users and people with disabilities alike.
Each website can define Access Keys shortcuts so that the website is easily accessible from a browser.
The task at hand for browsers is to make the list of all the Access Keys available on a particular web page easily accessible so that users know right away what shortcuts to use. And there's really just one way to do this – make the list of available Access Keys easy to discover and view in the browser.
Display Access Keys cheatsheet
That's just what we've done in Vivaldi 2.2. With yesterday's update, you can open an Access Keys dialog to get a quick reminder of the shortcuts available on a specific site.
"With the Access Key Shortcuts dialog, Access Keys become even more useful," says Vivaldi developer Daniel Sigurðsson. "Unless you have the list, you don't know what access key shortcuts are available on the website you are visiting."  
"That was the starting point for us," adds Miky Vacík who is focusing on the User Interface (UI) side of things. "The dialog displays all access key shortcuts defined by a webpage. It also shows their descriptions and is fully actionable. For example, if it points to a link, you can click the shortcut to follow it."
To view the list of access key shortcuts, open Quick Commands and start typing "Show Webpage Access Key Shortcuts." Alternatively, you can set a Keyboard Shortcut or a Mouse Gesture for this action in Settings.
Use the shortcut Alt + Shift and the key listed on the site to run the shortcut on a webpage. For Mac, you'll need Ctrl + Alt (⌃⌥) and the key listed on the site.
Display Access Keys inline
But wait, there's more! In Vivaldi 2.2 you can also display access key shortcuts inline, right next to the related elements. You can do this by simply selecting Inline Access Keys under "Page Actions" (the right-most icon on the Status bar at the bottom of the browser window).
When selected, you can see page access key shortcuts right on the page.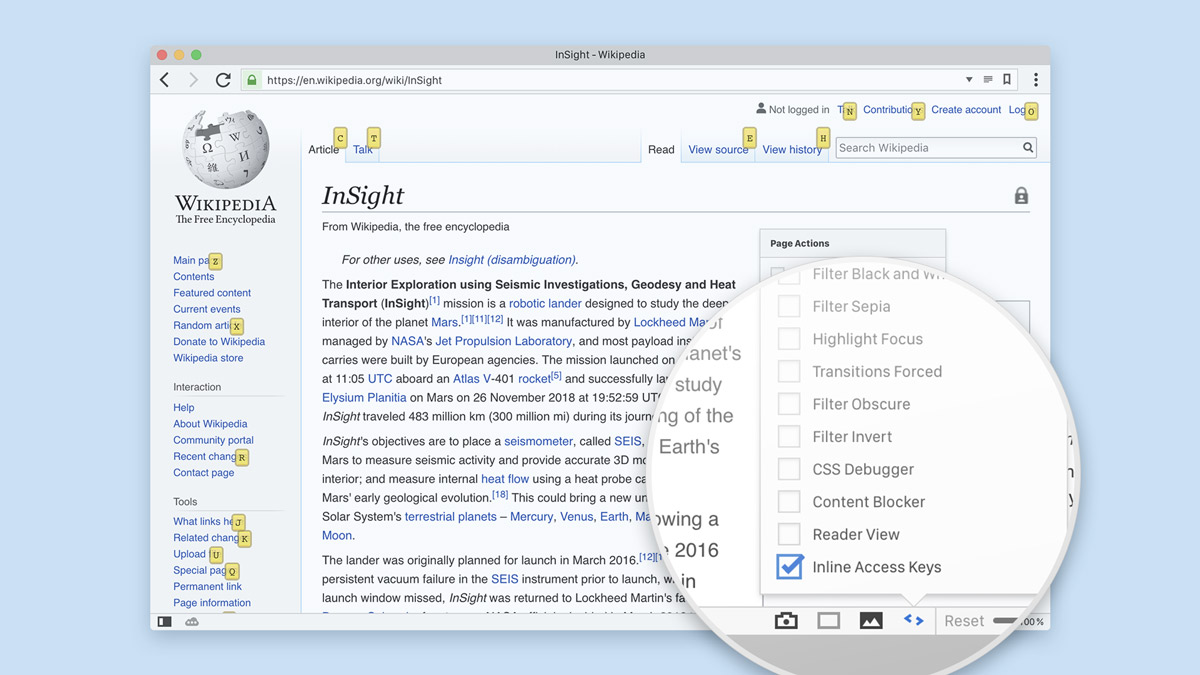 Access Keys are not available on all websites, but when they are, they are a great accessibility feature and are a fast and convenient way to navigate around websites hands on the keyboard.
Please note that Access Keys are work in progress for us. Keyboard shortcuts are not fully implemented in Vivaldi 2.2 and the team continues to work on this. For example, elements that aren't pointing to a link are not actionable yet and you'll find them greyed out.
Do you use Access Keys? What websites can you recommend that have Access Keys defined?