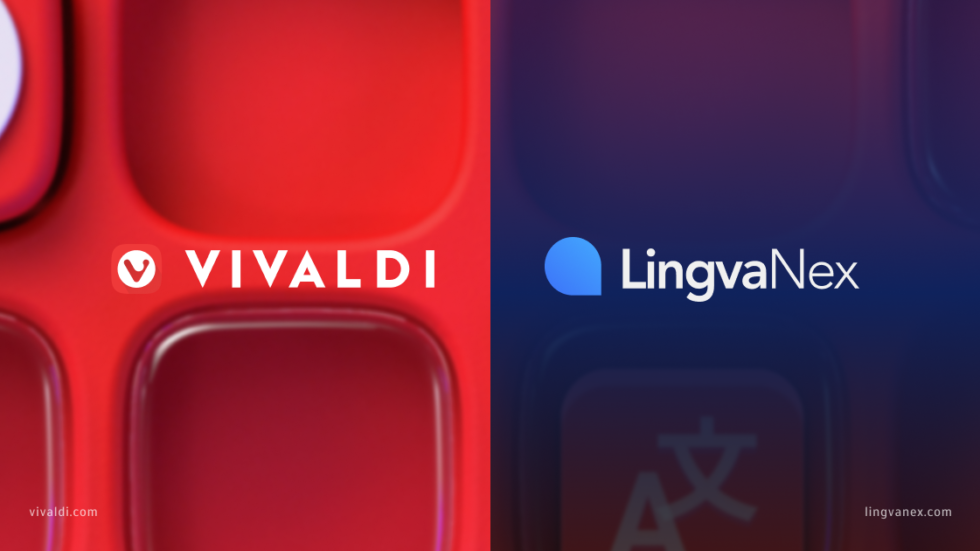 OSLO, Norway – June 9th, 2021: Vivaldi Technologies and Lingvanex come together to offer users Vivaldi Translate – a built-in, privacy-friendly translation feature in the latest version of the Vivaldi browser. With this partnership, the two companies hope to further encourage users to protect their privacy online.
A growing movement of people worldwide is looking for reliable, functional alternatives to the tools offered by the tech giants. Vivaldi Translate, powered by Lingvanex and hosted by Vivaldi will bridge language barriers while keeping translations out of the reach of companies like Google or Microsoft.
To use Vivaldi Translate, download Vivaldi 4.0 for free on Windows, Mac, and Linux computers, mobile phones and tablets running Android 5 or higher, and on up-to-date Chromebooks.


Vivaldi Translate: functional and trustworthy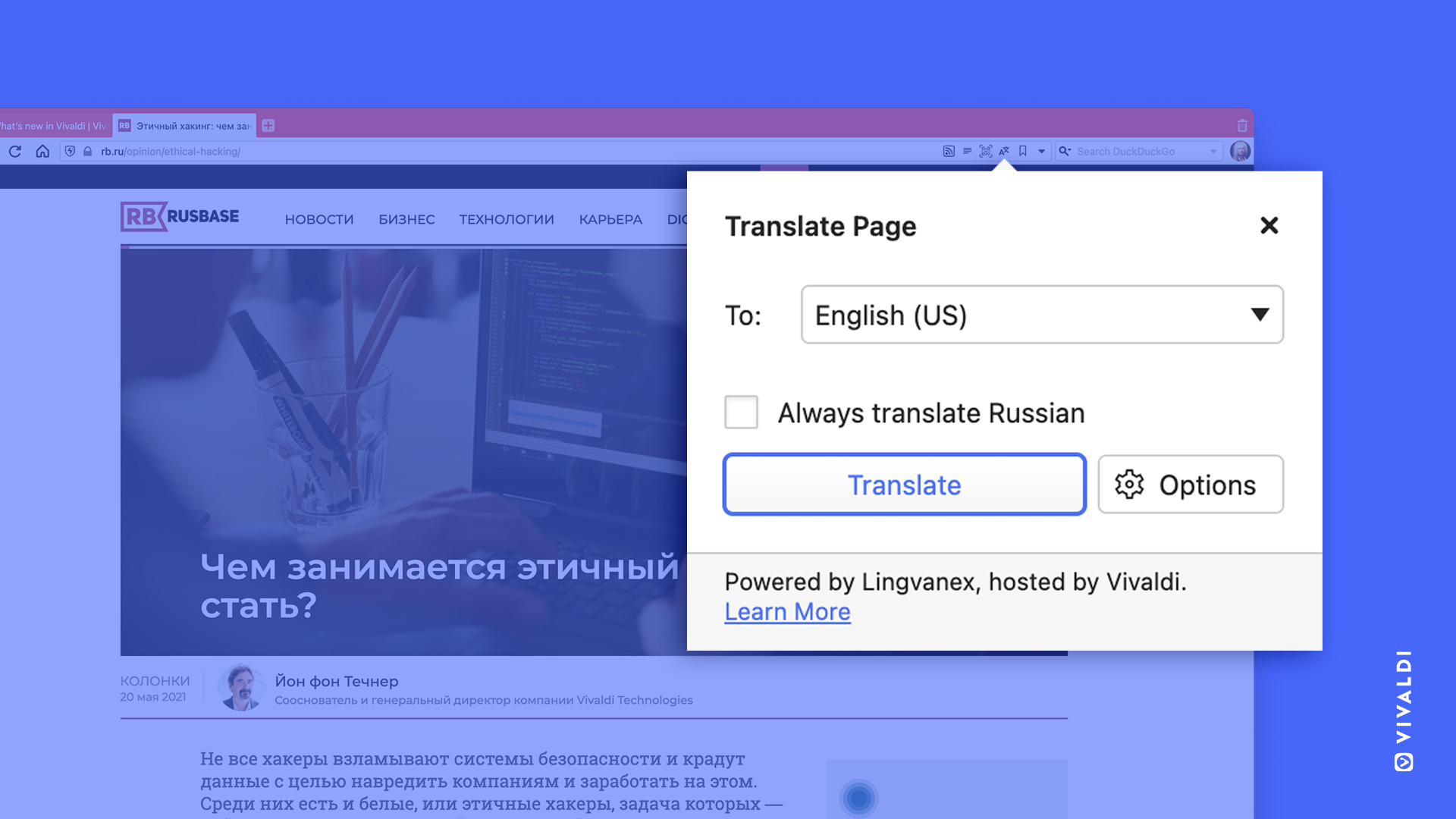 Vivaldi believes that everything that a user does in the browser is no one else's business — which is why Vivaldi never tracks its users, collects their data, or willingly compromises on privacy.
Vivaldi blocks privacy-invasive technology, such as Google's FLoC, keeps browsing data safe with its end-to-end encrypted Sync, and helps to limit unnecessary tracking and block annoying ads with its built-in Ad and Tracker Blocker, available on both Android and desktop versions.
But there are still less obvious ways where data can be — and is being — collected!
Ever wondered what happens to the texts that are translated when using a translation service like Google Translate? Are they "confidential"? No, because the translations don't just vanish after closing that tab. Google has access to every piece of text that is translated. And they have been able to get away with it due to the lack of reliable options.
Until now, that is. Presenting Vivaldi Translate, powered by Lingvanex.
We are glad to work with Vivaldi because we share the same business values. User privacy is a key point in the modern world. The approaches to software development should be changed. No doubt.

It was a real challenge to integrate the translation feature in a browser and make them work fast under a high load. A lot of work has been put to reach this ambitious goal. With the help of our collaboration, we will make millions of users free from language barriers, and a world more open and friendly", Aliaksei Rudak, CEO of Lingvanex says.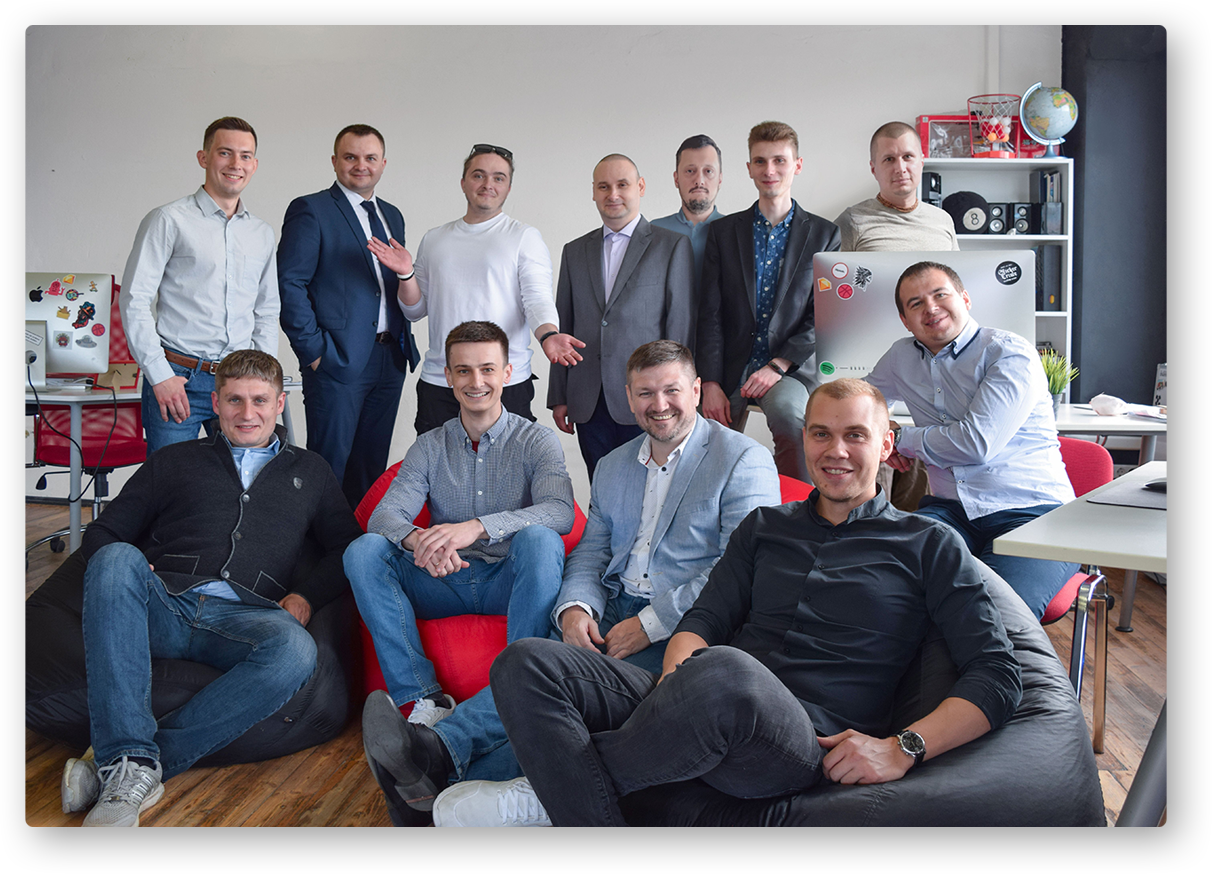 We believe that the Internet can do better. 'Internet for All' – a mantra that's true to Vivaldi's core – inspires us to join hands with Lingvanex. We do not believe in tracking our users or in data profiling," Jon von Tetzchner, CEO of Vivaldi Technologies says.

We are extremely thrilled to give our users Vivaldi Translate, which makes it easy for them to translate websites without the need for third-party extensions that spy on them'', adds Jon von Tetzchner.
The translation feature built into the browser will help millions of users globally read translated pages in their preferred languages — safely and securely.
The translation engine provided by Lingvanex is hosted on Vivaldi servers in Iceland. This means there are no third-party servers involved. And it means users don't have to share what they are reading with 'prying eyes'.
Customization options in Vivaldi Translate on desktop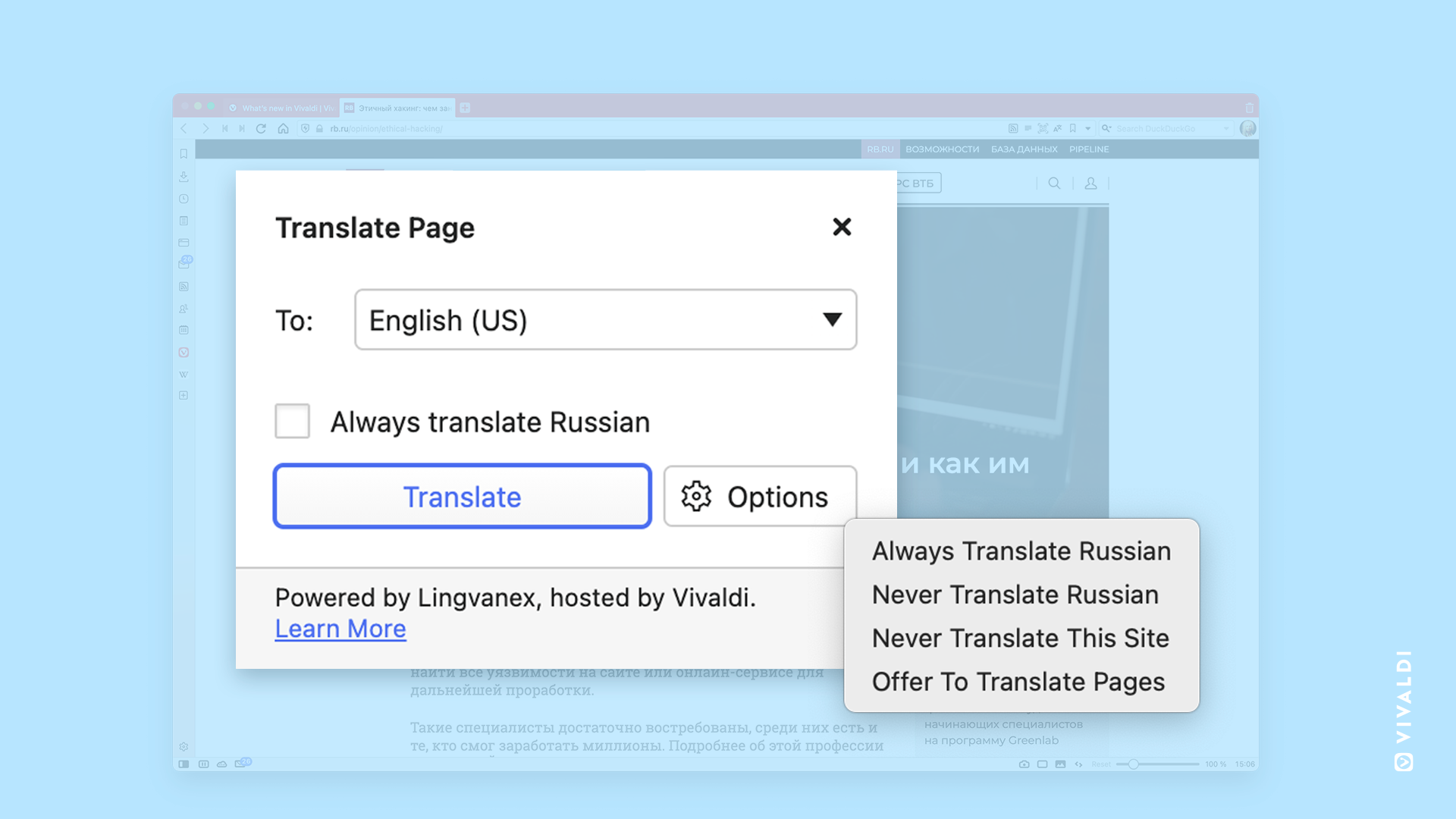 A full web page can be translated with a single click to either your OS language (by default) or choose from the languages in the drop-down. Translations can be further customized by using these Options:
Always translate – always translate the current language
Never translate – never translate the current language on the web page
Never translate this site – never be asked about translation on that particular site again
Offer to translate pages – disable the automatic translation of pages and pop-ups that show automatically. The button remains in the address field to reverse the action.
Vivaldi Translate on Android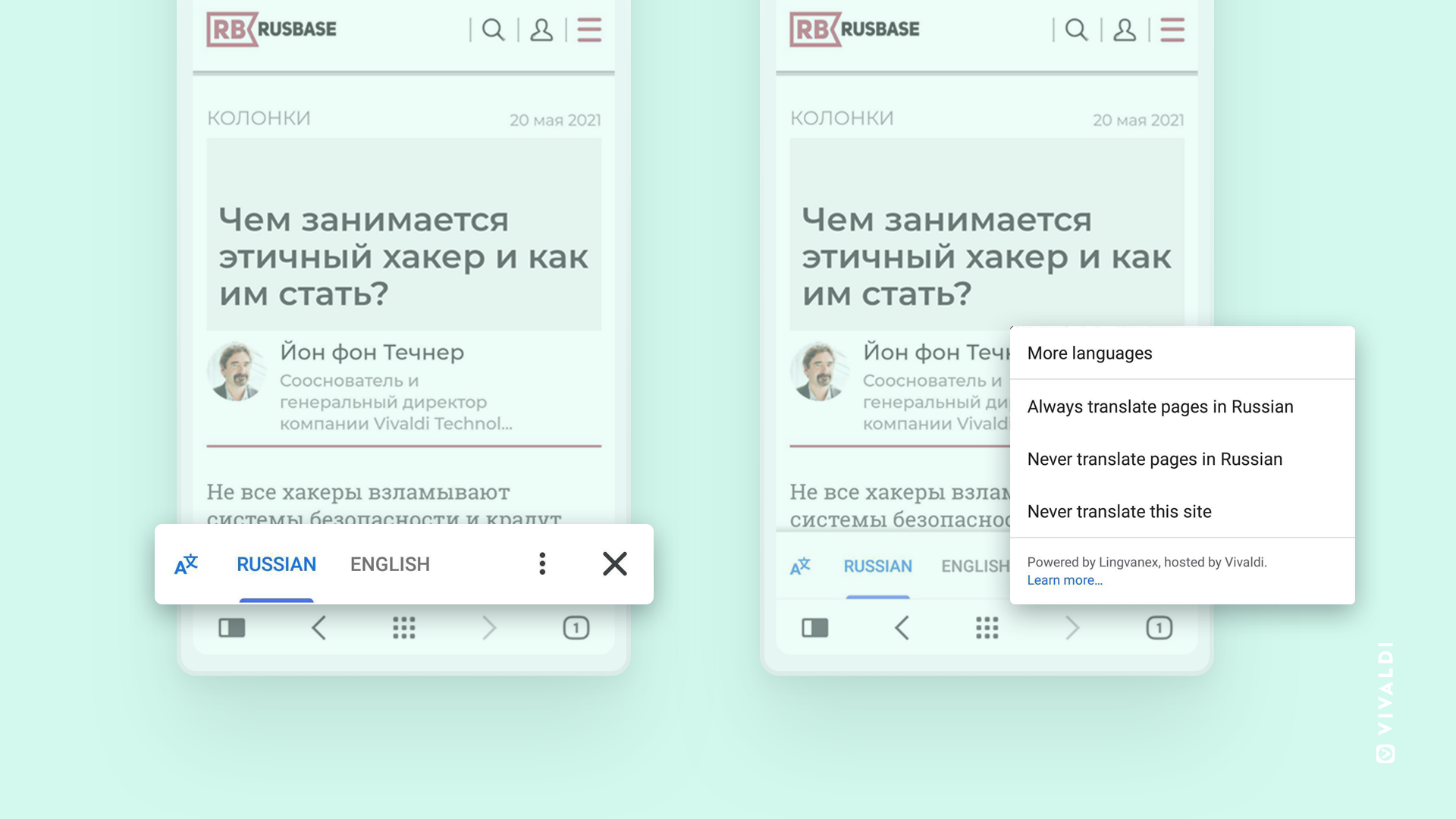 The translate feature on Vivaldi on Android offers the same functionality as on desktop. Vivaldi Translate is a rare feature in mobile browsers as most do not offer a translation feature and if they do, your translation activities aren't private.
To translate a page, open the Vivaldi Menu and select Translate. (Additional options appear at the bottom of the screen, right above the bottom toolbar.) Find translation settings in the Vivaldi menu > Settings > General > Language settings.


About Lingvanex

Vivaldi has partnered with Lingvanex to help millions of users break the language barrier without compromising security and privacy. Lingvanex offers high-quality and secure machine translation for text, voice, documents, and websites in 200+ languages for companies and individuals in the form of Cloud API, local server, or applications.
Find out more about enterprise-level machine translation solutions on the Lingvanex website.