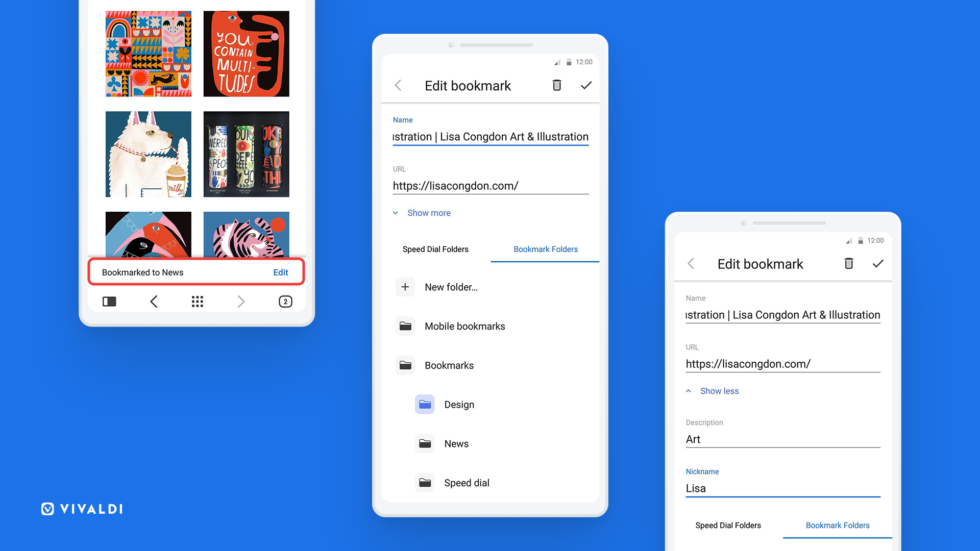 OSLO, Norway – March 17th, 2021: The new update of Vivaldi on Android is a reminder that it has a lot to offer. Vivaldi 3.7 makes it easier to add bookmarks – the improved Bookmark Manager helps users access their favorite websites with as little hassle as possible.
It also lets first-time users of Vivaldi explore its flexible features through a friendly Welcome Page.
If already using Vivaldi, users can find out more about its browsing options on a What's New page which is now updated with every release.
Vivaldi 3.7 also offers overall improvements across the board, in particular in the user interface. 
Download it for free on mobiles and tablets running Android 5 or higher, and on up-to-date Chromebooks. Vivaldi also releases its new version on desktop computers that fires up performance.
Bookmark the easy way
Vivaldi's comprehensive Bookmark Manager lets users stay on top of and helps them manage what can easily become a disorganized mess while browsing.
In this update, Vivaldi has made it easier to add bookmarks into a Speed Dial folder or Bookmark folder, with both categories easily available — no need to go looking for that particular Speed Dial folder deep in the Bookmarks tree anymore!
Users can choose an existing Speed Dial or Bookmark Folder or create a new one. This way users can bookmark pages directly onto the Speed Dial in order to access their favorite site quickly from the Start Page.
Furthermore, users can add and edit descriptions and nicknames to websites that are searchable from the Address Bar — a rather unique way to stay organized.
Bookmarks and Speed Dials can also be sorted by title, address, nicknames, description, and date per individual preferences — helping with quick access and navigation.
Many of you think that surfing sites on your mobile phones is often anything but efficient. We believe the opposite", Vivaldi CEO Jon von Tetzchner.

Vivaldi has different ways to browse that make browsing flexible, efficient, and more pleasant. They're all sitting there waiting to be found, — so, why not take advantage of what we have to offer?
Welcome to Vivaldi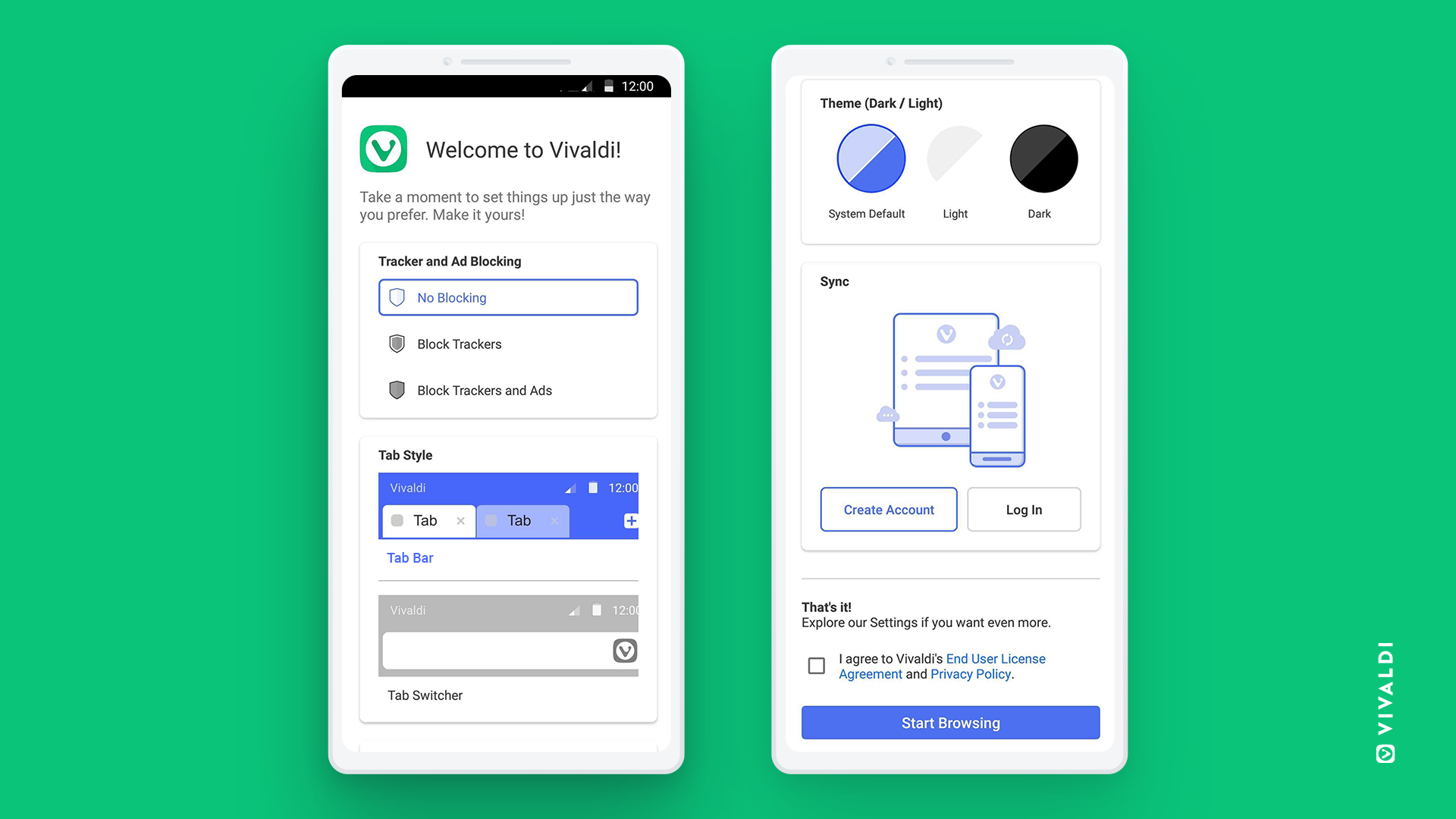 Discoverability and a better user experience is something Vivaldi likes to give people from the word go.
For users already using Vivaldi, this is not for them. But if one is about to download the browser, Vivaldi's made it easier for people to feel at home right away.
When launching Vivaldi for the first time, users will find these key features that will help them get started:
Vivaldi's Tracker and Ad Blocker helps users stay away from annoying ads and unnecessary tracking. Off by default, it takes just a tap to get activated.
Vivaldi's flexible Tab Bar offers unconventional, real desktop-style tabs, a favorite feature among Vivaldi fans, that gives the same look and feel as Vivaldi on the desktop. When users start browsing, they can also configure the Tab Bar per browsing style by moving the Tab Bar either to the top or bottom.
Vivaldi Themes gives users a choice to browse with their preferred modes — dark or light.
Vivaldi's Sync functionality keeps browsing data safe and only within the reach of the user. With a simple process, browsing data can be synchronized between installations of Vivaldi on other computers and more Android devices with a Vivaldi installation.
What's New and a little bit more, every time
Vivaldi is being built for people to stay organized and efficient but also have fun. It only gets better when its various features are explored.
After every update, users will find a What's New page when the browser is opened. This new page will greet
users every time with useful things to try out, even if they are late to the party.
It will help them wiggle their way around easily with every new version.