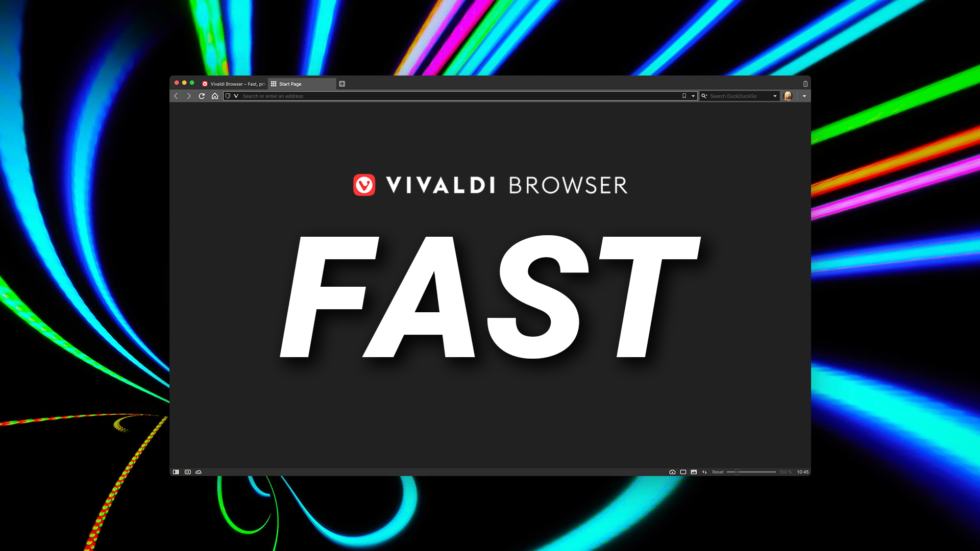 Work or play, most of us are living in a browser today. We rely on the browser to create connections and get our work done. But it can get frustrating if the browser, its tabs, or windows take a wee bit longer to open.
The latest update of Vivaldi addresses this concern. It offers a faster version that will help you shave off seconds, even minutes of your day and potentially hours in a year. Now the browser tabs open twice as fast. Even a new window now opens 26% faster than before.
Vivaldi 3.7 also includes native support for Apple computers using the new ARM-based M1 processors.
It is hard to shed our habit of adding more flexible functionality to boost productivity and performance in every update. Even in this version, you'll find some new options to our built-in features such as configurable Menus, Web Panels, and Quick Commands.
We just don't want you to slow down. So go ahead and download the new faster Vivaldi on Windows, Mac, and Linux computers.

Vivaldi also released its new version on Android today.
Do things quickly and well with a faster Vivaldi.
Performance can be influenced by your computer and the way you have set up your browser, but we want to make sure that no matter how you choose to browse, your experience is faster than before.
How did we make Vivaldi faster? We simply prioritized performance in our to-do list. Just the way you take care of your car in the garage, so that it takes care of you on the road, we did a lot of under-the-hood improvements to the browser.
We knew the improvements were significant, so we tested the new version against the previous version Vivaldi 3.6. Here are the areas you'll find a noteworthy difference.
Double up the power. Tabs in Vivaldi will open twice as fast.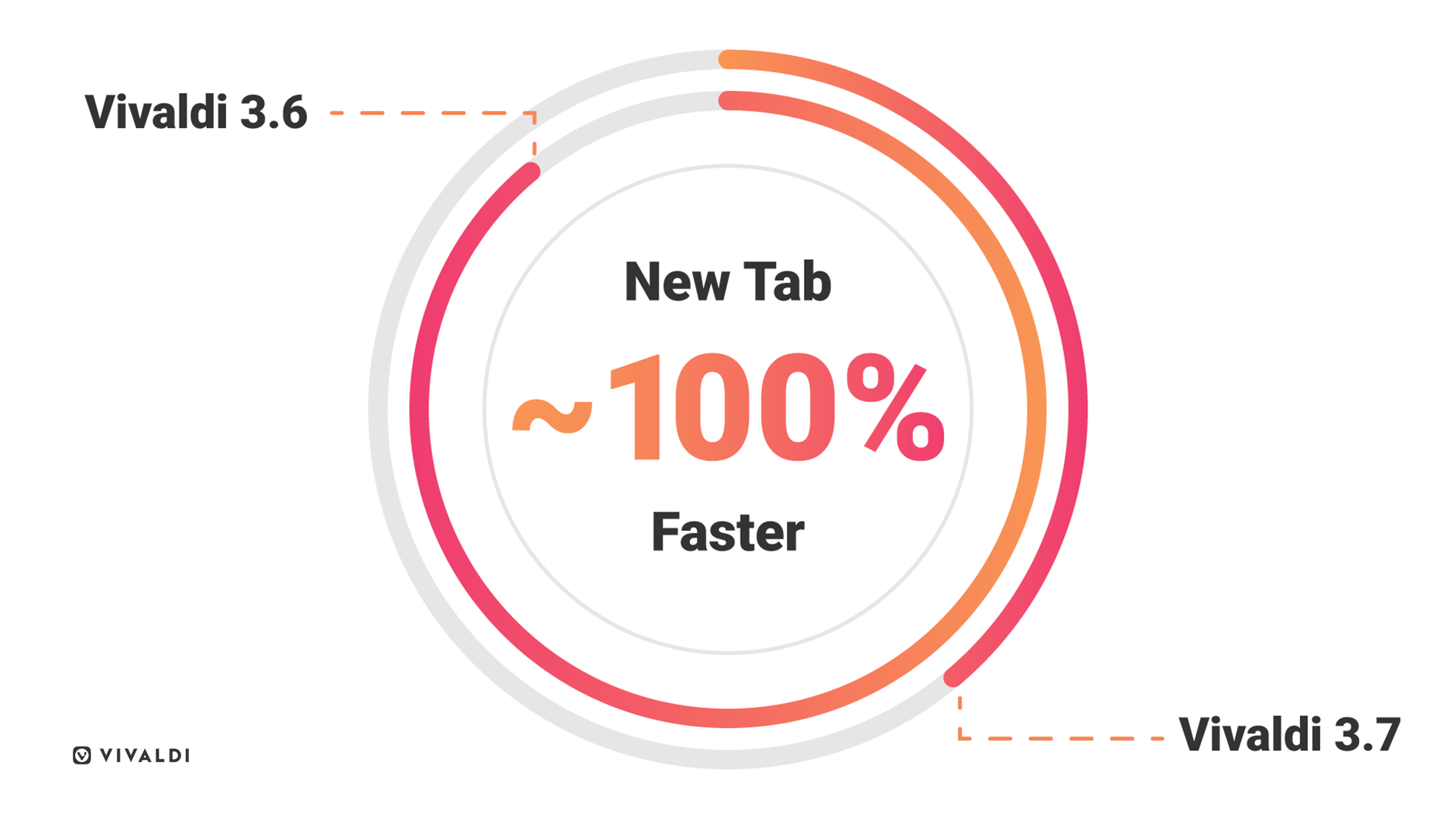 Using multiple tabs is something you probably do all the time. And for some of the focused work you do daily, the speed of opening a new tab may be perfectly fine. But not for us. We realize that there is room for more speed here.
While we let you handle your tab chaos with the recently introduced Two-Level Tab Stacks (confession: we are still gushing over the response to this innovation), we also want the opening and closing of tabs to be more swift, helping you save time.
Opening of tabs is faster now — facilitating a better user experience and increasing speed up to 2x as fast as the previous version (based on our internal benchmarks*).
Look out for the Vivaldi window. It opens 26% faster than before.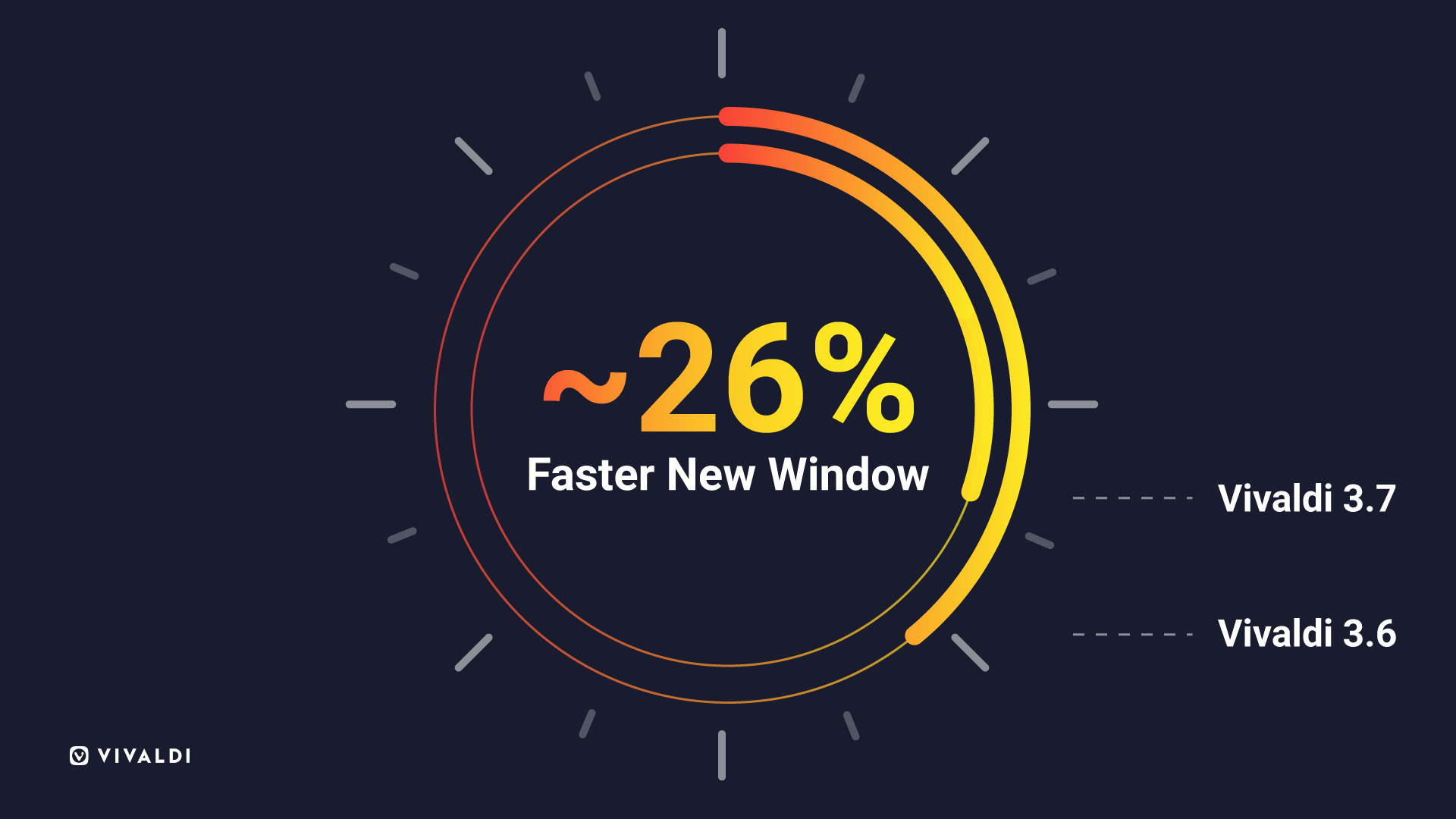 Many of you may use several browser windows to get your work done. For example, you have a window open for work and another one for your personal stuff.
Vivaldi now opens a new window more quickly, making navigation super-fast. In Vivaldi 3.7, new windows open 26% faster compared to the previous version of Vivaldi.
* All tests were conducted on Ubuntu 18.04 PC with 2 GHz Intel Core i3 CPU and 4 GB RAM
Oh, Vivaldi arrives on M1! Here's to our new friendship.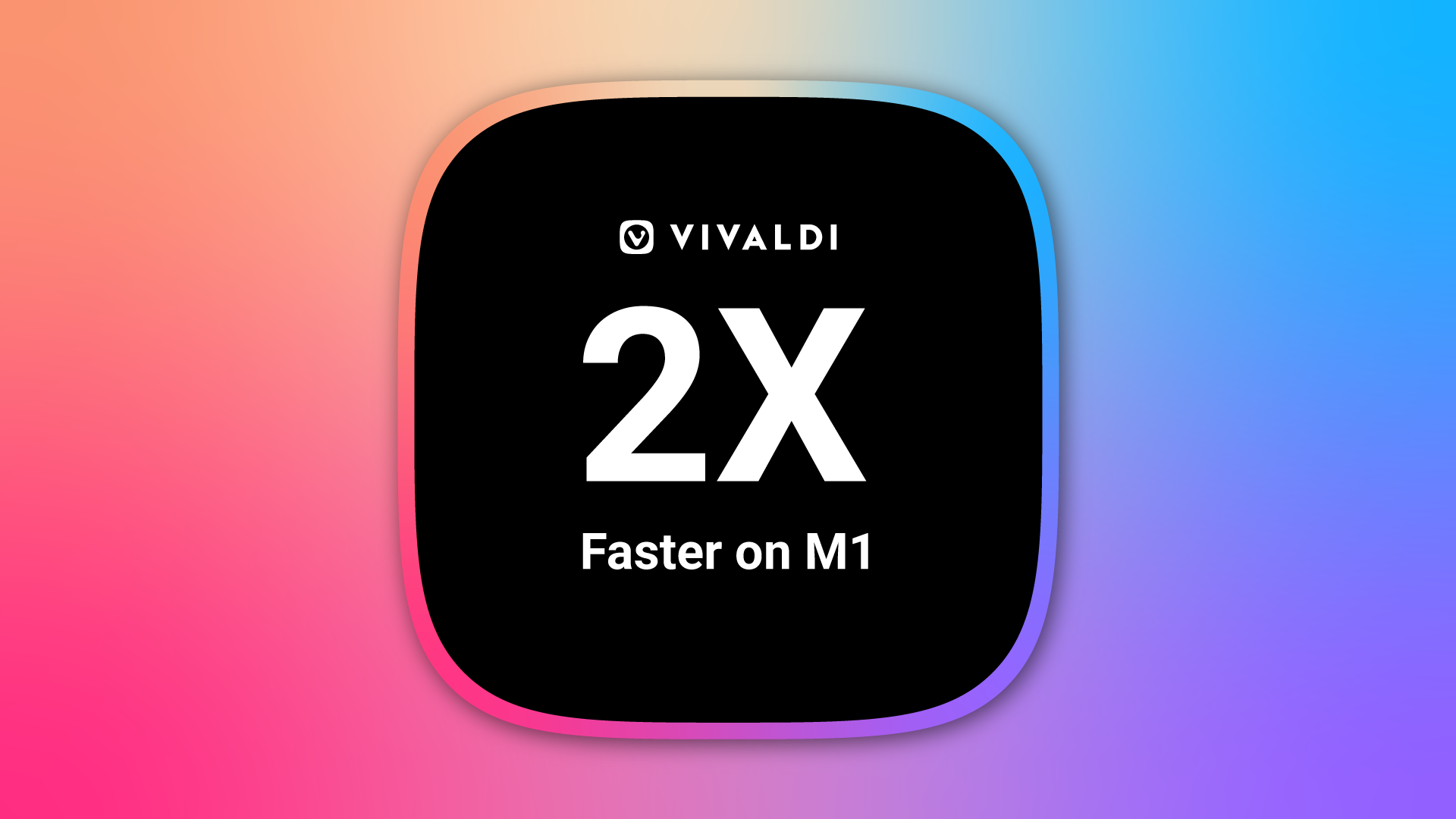 Vivaldi is now available for Apple's new Macs with ARM-based M1 processors — a development much-awaited by Mac lovers who browse with Vivaldi or were holding themselves back until we got this in.
Apple's M1 chip powers its line-up of MacBooks. It's substantially faster than the Intel-based processors that previously powered Apple products.
Those of you lucky enough to have M1 Mac Mini, Macbook Air, or Macbook Pro systems will enjoy browsing with Vivaldi's flexible features even more now. Browsing with Vivaldi is 2x faster when we tested internally on a Mac machine using M1 processors upping the overall performance.
Just a tiny bit more on speed and customization in Vivaldi.
We just cannot help adding more ways for you to save time and stay organized. Here are a few new options to get your work done faster:
Periodic Reload in Web Panels: Taking a cue from one of our most loved features, Periodic Tab Reload, the websites added as Web Panels will reload at regular intervals too. This works especially well if a news site has been added as a Web Panel, displaying up-to-date information that is worth keeping an eye on.
Declutter a crowded Tab Bar in two clicks: Tab hoarders can easily create multiple tab stacks at once via 'Tab Stack by Hosts'. The new Stack Tab by Hosts will go through all tabs and stack the ones from the same domain.
Configurable Web Page Menu: Menus — unconventionally customizable — add a new option that allows you to edit the context menus that you open when right-clicking anywhere on a web page. Now you can fine-tune your big menus and move items that are not used frequently.
Quick Commands, more dynamic: The keyword that you search for in Quick Commands is now bolded, similar to how search words are highlighted in the Address Bar — suggesting search strings that help you find what you're looking for faster.
Also, you can periodically reload websites through Quick Commands. Just type "Periodic reload 2", press enter and the tab will reload every 2 mins.
Shh! Silent updates for Windows: The process to add support for silent updates to Vivaldi on Windows has been started. Not really trivial, a part of the process will be activated in regular updates in the future.
Nothing beats a live performance. Test it out 🙂
While we add more features, simplify navigation and help you manage your tasks, we shall continue to work on improving performance. This is an ongoing process and we hope you will enjoy these gains in Vivaldi as much as we do.
As always, please share your feedback with us so that we can build Vivaldi together, even better. Head to our changelog for more details.
Changelog from 3.6 to 3.7 
New 
[New][Languages] Add support for Kabyle (VB-77579)
[New][Menus] Add support for configurable document menus (VB-76801)
[New][Panel][Reload] Support Periodic Reload in web panels (VB-72220)
[New][Quick Commands] Parse the periodic reload values: single quote for minutes and double for seconds (VB-72281)
[New][Quick Commands][Settings] Search highlight priority options (VB-54530)
[New][Windows] Silent update support, stage 1, silent download of updates: this cannot be tested until the first update after this build
[New][macOS][Performance] Universal Binaries for native support on Apple M1 machine
Address Bar 
[Address bar] Cannot edit URL on foxnews.com (VB-77016)
[Address bar] Focus isn't in the address field when creating a new window (VB-77049)
[Address bar] Nickname searching shows incorrect search string (VB-60002)
[Address bar] Not clear on Alt + Enter (VB-77490)
[Address bar] Unexpected auto-complete (VB-76610)
[Address bar][Tabs] Full address field shown when switching between tabs (VB-77053)
[Bookmarks] Import for Chromium Edge (VB-71694)
Linux
[Linux] Dragging a toolbar button creates a huge white rectangle (VB-76129)
[Linux] Setting the Window controls to the left, causes the Vivaldi menu to overlap the trash (VB-76438)
Menu
[Menus] Add a context menu entry to Hide/Show Start Page Navigation (VB-77309)
[Menus] "Add as search engine" is visible on all page input fields (VB-76982)
[Menus][Tabs] Add item to stack similar tabs, "Stack tabs by Hosts" via the context menu (VB-73465)
[Menus][Zoom] Context menu is offset when interface zoom is greater/less than 100% (VB-77095)
Quick Commands 
[Quick Commands] Highlight matched keywords (VB-7449)
[Quick Commands] Internal favicons look rather slim (VB-74475)
[Quick Commands] Opening bookmark folder with a nickname (VB-75834)
[Quick Commands] Search with the nickname and default search engine includes nickname in the search string (VB-74655)
[Quick Commands] Various minor issues (VB-76009)
[Quick Commands][Calculator] Simple float point calculations are displayed wrongly (VB-75553)
Tabs 
[Tabs] Auto-Created tab stacks ungroup in incorrect order (VB-54403)
[Tabs] Can't display tab bar in full screen (VB-76386)
[Tabs] Double-clicking to resize tab stack doesn't resize tab when tabs are on the sides (VB-76224)
[Tabs] Improve drag and drop between tab bars (VB-74588)
[Tabs] Let the keyboard shortcut for opening a new tab open inside a stack is open (VB-76433)
[Tabs] Lock button in the two-level bar does not change color (VB-75157)
[Tabs] Middle clicking in tab previews can close the wrong tab (VB-77270)
[Tabs] New tab button is not centered in the second level with tabs on the sides (VB-76440)[
Tabs] New tab from full-screen video leaves Vivaldi in a full-screen state (VB-76651)
[Tabs] New tab isn't created as active when inside tab stack (VB-77071)
[Tabs] New tab page is slow to select/focus within the second row of tabs (VB-75748)
[Tabs] Not all cloned tabs from a tab-stack join it (VB-75048)
[Tabs] Popup thumbnails often disappear when the second level is open (VB-76828)
[Tabs] Tab muting can be overridden by site-settings (VB-76083)
[Tabs] "Remove tab spacing in maximized windows" no longer works for the bottom tab bar position (VB-76231)
[Tabs][Crash] When clicking the new tab icon repeatedly on the second level of a stack (VB-76552)
[Tabs][Extensions] Tab close doesn't work after doing chrome.tabs.remove() by extension (VB-77135)
[Tabs][Menus] Don't show the close tab context menu for Pinned tab (VB-76217)
[Tabs][Notes] Manager misbehaves with tiled tabs (VB-76326)
[Tabs][Performance] Various Performance issues (VB-76185)
[Tabs][Sounds] Mute/unmute on a tab without sound does not change (VB-77062)
macOS
[macOS] Exiting fullscreen video exit the fullscreen (VB-76734)
[macOS] Music does not play on slam.nl (VB-73896)
[macOS] Windows not resized/repositioned when disconnecting an external monitor (VB-49692)
Others
[Extensions] Toolbar partly transparent (VB-76605)
[Keyboard][Settings] Setting Alt+F4 or Shift+Alt+F4 as a hotkey works but it still acts as exit (VB-60364)
[Passwords][Windows][macOS] Import from Chrome is not possible: further work needed for Linux (VB-62410)
[Periodic reload] Rewrite to avoid various issues (VB-77142)
[Themes] Inconsistency with rounded corners (VB-76670)
[Trash] Restoring closed window with several tabs restores last closed tab instead (VB-74091)
[UI] Status info overlay is appearing on top of fullscreen videos (VB-12219)
[Windows] Desktop shortcut gets the wrong name after dragging from address field (VB-47827)
[Settings][Search] Add some context and info to the POST option (VB-77267)
[Settings][Search] Make it easier to set/understand the Default Search engine (VB-77105)
[Chromium] Upgraded to 89.0.4389.91