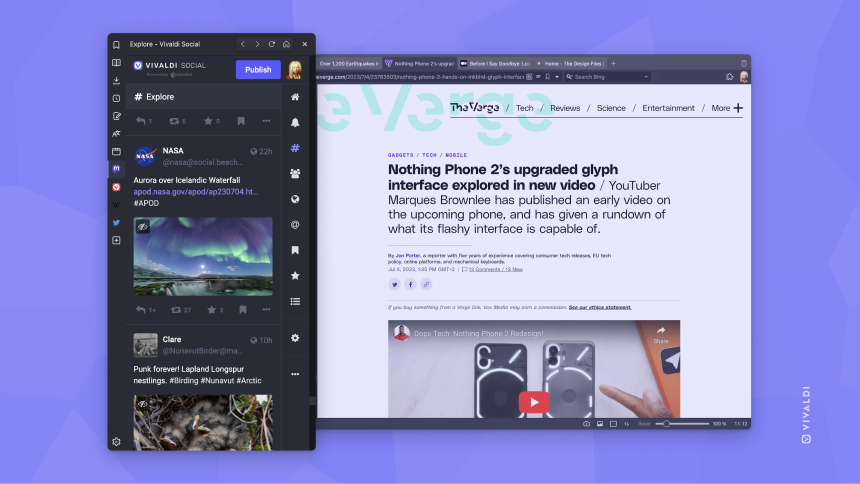 If you are on the web most of the time, you probably heard about Threads, Mark Zuckerberg's Twitter clone but with less Musk-iness.
But let's keep this Twitter dressed in a shiny Instagram attire aside and talk about alternatives that give you the freedom to share ideas and interests with a community of friends or strangers, and how we can help you connect to these different communities in easy ways while browsing.
The concept of an online platform — an all-in-one, public-facing site where people spend most of their time interacting with each other over similar issues and hobbies — is disappearing. Large platforms like Facebook, TikTok, Instagram, and Twitter are now loaded with ads and sponsored posts, and are increasingly connecting people with brands and influencers. In order to bring back the simplicity and a sense of community to an online platform, many are turning to different social networks such as Mastodon, Discord, Reddit, Hacker News, and more.
Turning to an ad-free social network, Vivaldi Social on Mastodon
We launched our own Mastodon (server) in November 2022 – Vivaldi Social. With this move, we became the first browser company to step into the decentralized world of the fediverse. Decentralized social networks, like Mastodon, rely on individual servers which use a uniform protocol, avoiding centralized control of content and possible censorship.
We built Vivaldi Social very quickly which made Forbes headline our rollercoaster effort as "How Musk Made Vivaldi Build A Mastodon Server… In A Fortnight". We realized that it is not just about giving a new micro-blogging platform to people but also helping them access that platform easily through our browser. Hence, we integrated Vivaldi Social into the browser's sidebar.
The reason to get started with Vivaldi Social on Mastodon was to offer better alternatives for people to communicate in an algorithm-free environment with no surveillance capitalism, devoid of tracking or data profiling.
In a way, we do owe a bit to Musk for the birth of Vivaldi Social. Twitter's community was getting intensely negative, the algorithm game was turning obnoxious, and to drive engagement the only route to be taken was advertising. That said we continue to be active with our vibrant community on Twitter that we have built over the years.
The greatest benefit of exploring Vivaldi Social is that it has no threads or strings attached! With no ads and algorithms that follow you and profile your usage patterns on the network, this decentralized platform is nothing less than an innovative idea that gives us the freedom to move our online communities from one spot to the other and not stick with one tech company's ideas about how to have a good time on the internet.
As we love the idea of distributed social networks based on open standards, we are thrilled that more prominent tech companies like Mozilla, Medium, and Flipboard, are now hosting part of the Fediverse. This strengthens the legitimacy of Mastodon, ActivityPub, and the wider Fediverse, in the eyes of the average person. The more people join, the more seriously ActivityPub will be taken, as a true ubiquitous W3C-endorsed standard, besides email and HTTP.

The growing support for using privacy-compliant social media is evident as organizations like the European Commission have their own server on Mastodon and now the latest entrant is the Dutch government.
Exploring Vivaldi Social in the browser

Stepping out of your comfort zone is not always easy but signing up for Vivaldi Social is. Head to vivaldi.net to sign up for a free account. Already have a Vivaldi Account, you can use your credentials to log in. Or if you prefer, you can access the content without an account, but you will need an account to join in and make the most of it.
Any new platform or task may get overwhelming in the beginning but in no time everything falls into place. That is why we have this mini crash course that will get you up to speed on Vivaldi Social and Mastodon.
Once signed in, here are some ways in which you can access Vivaldi Social from the browser.
Access Vivaldi Social from the browser Panel: While you'll find Vivaldi Social in the Panel of the browser, you can also add any Mastodon instance of your choice as a Web Panel to this sidebar. By doing so, the website or any Mastodon instance is displayed within the side panel of your browser, creating a split-screen view.

You can create your own Mastodon Web Panel, but the built-in support makes it more visible to you if you use Vivaldi. The Mastodon logo appears on the left side of the browser window, alongside other panels for the browser's mail client, calendar, RSS reader, and other features.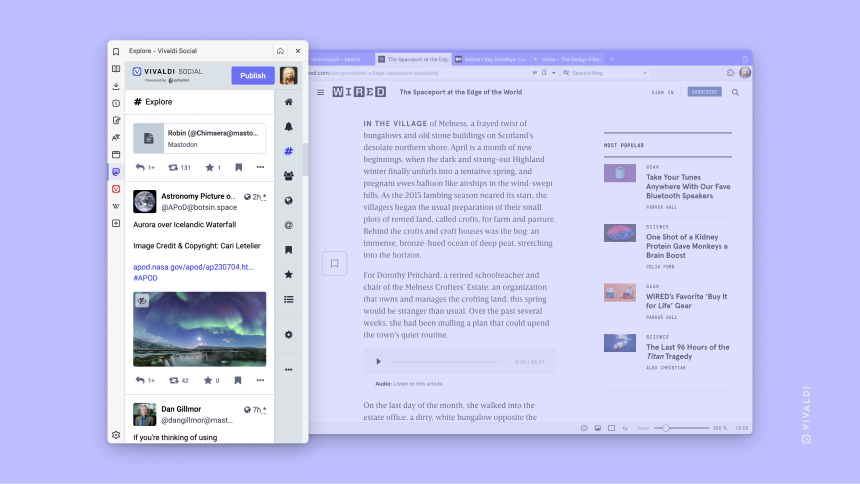 Access Vivaldi Social in a tab: The Web Panel displays the mobile view of the site, which is convenient to glance at while working on other things in the browser. If you prefer a larger desktop view, opt for using Vivaldi Social in a tab and pin it to always have easy access to it.
Install Vivaldi Social as a PWA: In addition to accessing Vivaldi Social (and other Mastodon instances) through a web page in a Tab or Web Panel and connecting to the Fediverse from Mastodon's desktop and mobile apps, you can install Vivaldi Social as a Progressive Web App, which allows you to use it with the Vivaldi Browser, but in its own dedicated window.

To install Vivaldi Social as a PWA on a desktop, simply open the social.vivaldi.net in a tab and Right-click on the tab to open the context menu. Select "Install Vivaldi Social" and click Install to add an icon to your desktop.

You can also create a shortcut for Vivaldi Social in Vivaldi on Android. Open social.vivaldi.net in a tab. Open the browser's main menu. Select "Install App". Tap on "Install". Tap on "Add" or drag the icon to the Home screen.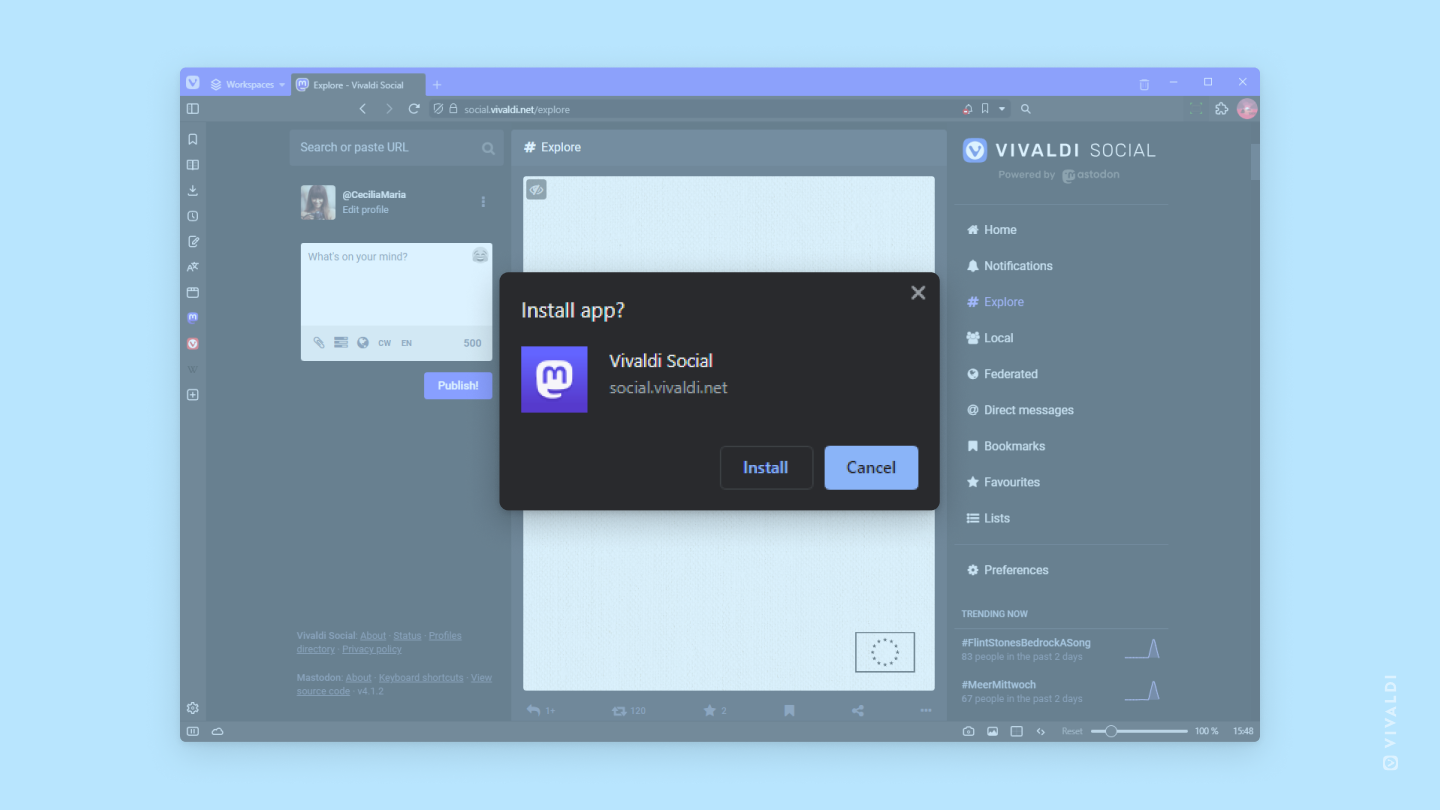 Adding your preferred social networks as Web Panels is easy
The world is your oyster when it comes to what sites or social networks you decide to add. Here's a quick how-to for you.

Let's quickly touch upon a few social platforms that work well as a Web Panel:
Hacker News for technology news and discussions: Clearly the best bet for a quick dose of technology news, Hacker News has a huge audience of programmers, tech enthusiasts, and entrepreneurs. You can submit anything from around the web and the most popular submissions and discussions rise to the top of the homepage. The website itself is incredibly light and minimalistic, making it a great fit for the Web Panel.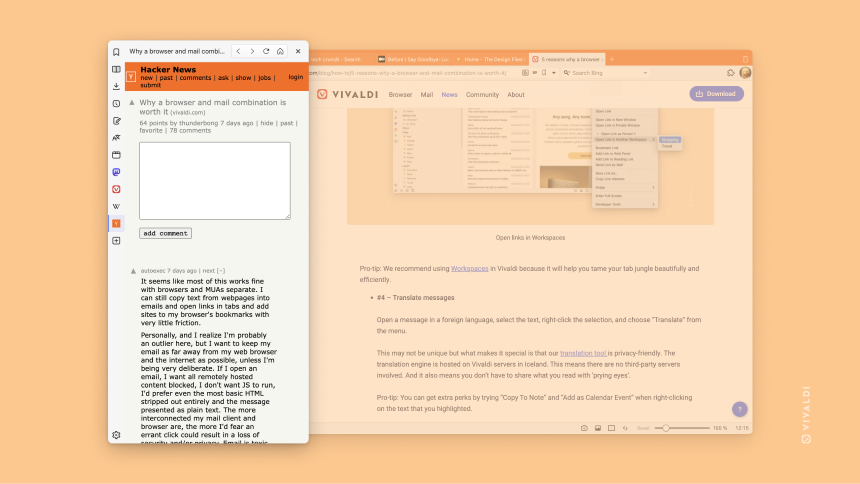 Stack Overflow for questions and answers: If you are a seasoned dev or a web design enthusiast – or a dev who's just starting out for that matter – you will want to nail an efficient workflow. That includes easy access to your chosen tools.

If you're stuck when working on something, you'll most likely find the answer on StackOverflow. Having it readily available in the sidebar can save a lot of time.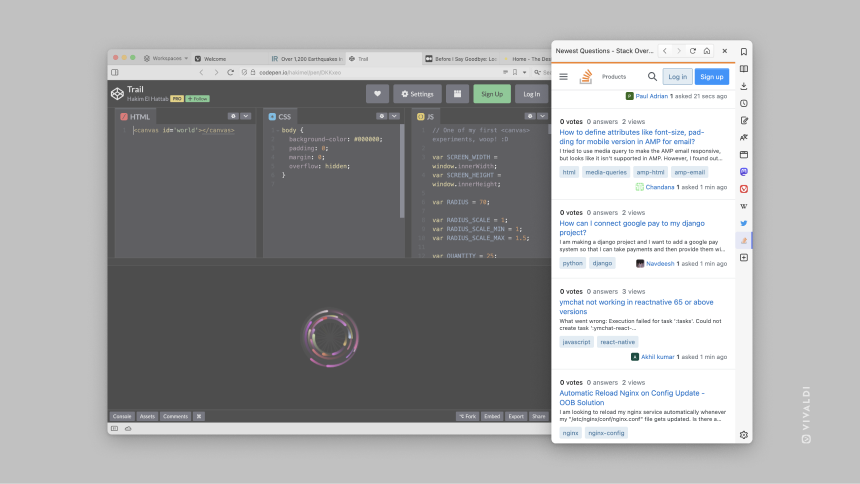 Reddit for conversations about your varied interests: This bulletin board has been having its own issues recently but is home to one of the most vibrant, clever, nutty, and hilarious communities online. Reddit works excellently in a Web Panel.

To Redditors, Reddit is so essential that it often sits pinned in a tab in the browser window. Imagine though that you could keep it always at hand to one side of the browser window – at hand and somewhat hidden from onlookers at the same time!

Being a member of different communities is about being human, and that's how we are.

So tell us what social networks you use, have quit, or are trying to explore. We'd also like to know if you are using Vivaldi Social actively or rarely and if there are any improvements that we can incorporate to make it better. As we are relatively new to this space, it's always great to get feedback from our own community.