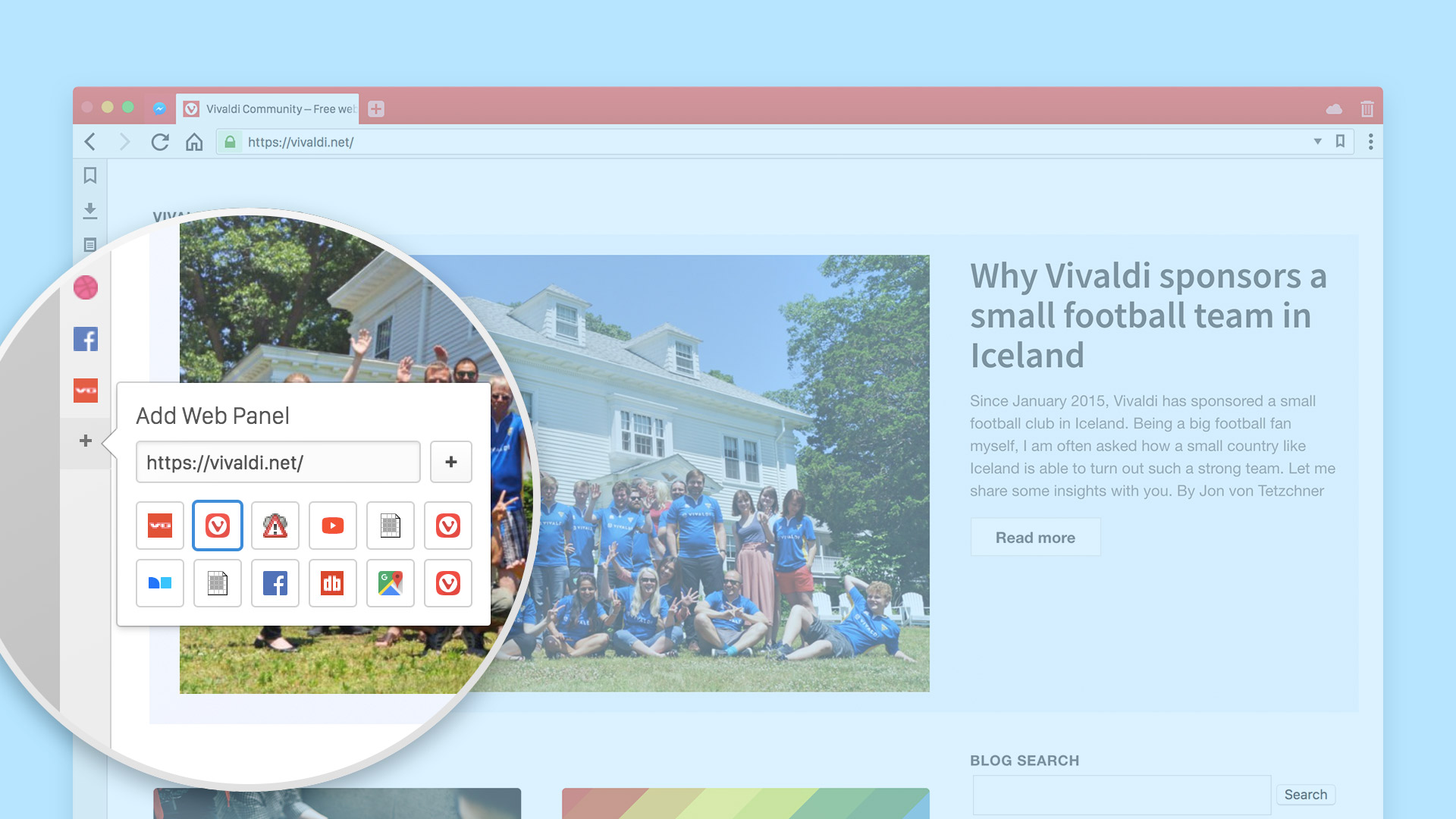 If you haven't yet, check out the blog post by our summer intern Håvard Nordlie Mathisen. In it he mentions that he got to work on three updates to features within the browser. Well today is the day, you get to see the fruits of his labour.
Web panel suggestions
It is even easier to add web panels, with just a few clicks. When you click on the web panel "+" icon, in addition to being able to add the currently open page, you will now also be shown a list of favicons from your most frequently visited websites (hovering them will even show you the page title and URL). Click on the one you want and it is instantly added, rather than having to type it in.
More Speed Dial suggestions
Håvard adapted the idea of using favicons, so that the Speed Dial suggestions would also do so. Since they are smaller, this gives you a bigger set of options to choose between, within the same available space.
Tab creation options for the forward and backward buttons
This feature was suggested by another summer intern, Knut Stautland Ivarsøy and then implemented by Håvard, which is exactly the kind of collaboration we hoped for from this year's interns and it was nice to see that they didn't disappoint.
The idea behind this feature is that many of us "Ctrl/⌘+Click" links to open them in a new tab. This gives you the advantage of having a web page and its predecessor open simultaneously. Of course all of us occasionally navigate straight to the next page and only then realise that we would have liked to have kept the predecessor as well. So what do we currently do? Go back and then re-open the tab by a Shift or Ctrl/⌘ click? Clone the tab and move backwards in one of them? The guys decided to make it easier. Now when you "Ctrl/⌘+Click" the back button, the previous URL opens in a new tab. A fantastic idea, made even better by the fact that you can also do the same with the forward button!
Chromium updated to 68
In addition to the improved features, and a bunch of fixes for a wide range of bugs, we also upgraded the Chromium backend to version 68. As seasoned snapshot users will know, major Chromium bumps tend to come with issues, so we are holding off on enabling autoupdate for now and leaving this snapshot for the most dare devil of you. Just download it and install it over the previous snapshot manually.
Known issues
Autoupdate is disabled for this snapshot: download and install manually to try it
Developer tools cannot be docked
Mouse gestures drawbacks
Download (1279.3)
Changelog
[New] Web panel suggestions VB-42007
[New] Holding Command/Control opens new tab on history buttons VB-42075
[Regression][Mac][Linux] Wrong language shown in the list VB-42343
[Regression][Linux] Esc doesn't close the search bar VB-40536
[Regression][Windows][Linux] Pinch zoom does not work VB-40760
[Regression][Windows] No permission dialogs with touch input VB-41237
[Regression][IME] First letter gets confirmed when switching from a different tab VB-41153
[Regression] Cannot enable or disable Speed Dial attribute on bookmark folders VB-42360
[Regression] Cannot exit selection screen capture in notes VB-41916
[Regression] Correct background color for dropdown arrows VB-42294
[Regression] Crashes when downloading files from mega.nz VB-42350
[Regression] Crash when password dialog appears on a background tab VB-42428
[Regression] Crash logger logs in %localappdata% instead stand alone crashpad VB-40739
[Regression] Drop event is not triggered in tiled tabs VB-41421
[Regression] External links added to stack VB-42138
[Regression] Keyboard shortcuts can clash with website shortcuts VB-41212
[Regression] LastPass won't autofill VB-41275
[Regression] More tiles than tabs VB-42263
[Regression] New tab page is not focused VB-42421
[Regression] Notes panel auto-closed when clicking in Trash view VB-42642
[Regression] Panel resizing gets stuck while resizing VB-42435
[Regression] Pinned tabs get closed VB-42537
[Regression] Tab opened from cast dialog opens blank VB-25631
[Regression] Tabs in session are not lazy-loaded VB-41901
[Regression] Tiled tabs crash VB-41656
[Address bar] Localize file size units in address bar VB-26818
[Panels] Floating panel overflow VB-42734
[Shortcuts] Possible to assign same shortcut to two commands VB-40916
[Speed Dial] Suggestions list VB-42244
[Sync] Store the case-sensitive actual Sync username separately VB-42632
[Tabs] Inactive tiled start page does not render VB-42322
[Themes] Remove rounding of Vivaldi menu button hit area VB-24422
[Themes] Select colors button improvements VB-42349
[UI] Add " – Vivaldi" to the window title VB-5401
[UI] Capture button icon not vertically centered VB-40407
Upgraded to Chromium 68