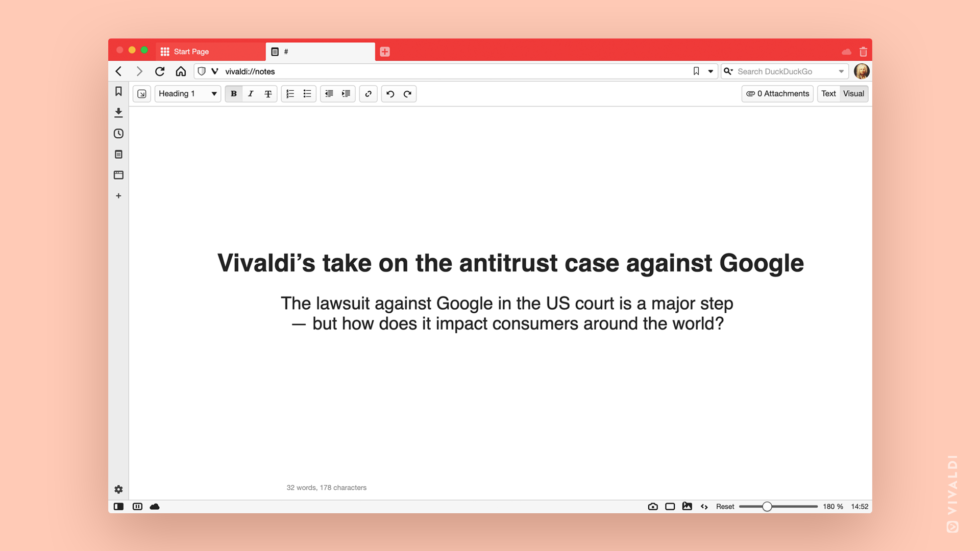 Read this article in Español.
As you all probably know by now, The US Department of Justice (DOJ) filed a lawsuit against Google last week. It accused the technology giant of abusing its position to maintain a monopoly over the search and search advertising market.
The long-awaited case filed in the federal court in Washington DC alleges that Google unfairly acts as a gatekeeper to the web through a series of business agreements that effectively lock out competition.
Even though it has a narrow focus on the search distribution aspect of Google's practice, due to the lack of existing regulations governing tech companies like Google, we support the DOJ taking the first important step. At the same time, we really need new sets of regulations that address the modern internet industry and the digital economy.
In fact, they might be some of the most powerful forces in the history of mankind. So, rewinding this accelerating trend of concentration of power to fewer and fewer companies is a daunting task, to say the least.
However, we cannot stop and accept our defeat. We must fight by creating more awareness around how Google and other big tech firms' monopoly hurts us and government intervention is necessary to restore fair competition and consumer protections.
Although this lawsuit was brought to the US court, the result of this case will have almost equal significance for users and businesses around the world.
How does Google hurt competition and consumers?
So far, we've seen numerous news stories focused on Google controlling the distribution of their search product through a partnership with companies like Apple, Mozilla, Opera, and smartphone manufacturers such as Samsung, LG, and others.
Google pays these companies to make Google the default search engine on their products and services. Knowing that most consumers don't know how to change the default search engines, they essentially lock other options out of the market.
While it's not illegal to be a monopoly under U.S. law, it's a violation for a dominant company to engage in exclusionary conduct to protect or strengthen its market power.
And Google has been doing just that for years.
But you may wonder, how could Google harm consumers when they provide their search product for free? This is something that needs explaining.
In simple words, Google abuses its monopoly by buying the distribution of its search in order to be the default search engine in many browsers and phones. Clearly, this hurts competition because other fair players lose out on the opportunity to reach out to many consumers who deserve a choice.
Necessity is the mother of all inventions. We know from history that if there's more competition, it leads to more innovations. In order to survive in a competitive environment, businesses will have to provide better services to their customers. At the same time, if there is only one company servicing the entire market, there is no strong incentive for the company to do better.
Success at the cost of the consumer
Why does Google's herculean dominance on the search and digital advertising market have a negative impact on the everyday life of consumers?
Let's try to dig into it.
As the DOJ case states, Google dominates 90% of the US search market. This means that most consumers find products and services through Google.
Consider a situation where you run a small business in your home town, maybe dentistry. There are many dentists in your hometown, so in order to increase the odds of being discovered by potential patients, you run ads on Google search.
Because 90% of consumers use Google to find what they are looking for, almost every other dentistry runs their ads on Google. If there are many advertisers bidding for the top placement on Google's 1st page, Google and its auction algorithm will increase the price.
So, all dentistries end up paying more for the same number of clicks. Again, 9 out of 10 people use Google to search for dentistry. This is a bit like a tax that the dentistry has to pay to operate. The only difference is that this tax paid by business will not be used to pay for public services such as firefighters and education but will benefit shareholders of Google and its employees.
Google's business model has been so successful that it has made more than $160 billion last year, and the company is valued at more than $1 trillion. Putting this into perspective, $160 billion is bigger than the GDP of Ukraine. $1 trillion market capitalization is twice as large as Toyota, Audi, VW, Daimler, GM, BMW, Honda, and Ferrari all combined.
All of those Google "taxes" businesses pay will increase the cost of business, which eventually is passed on to the consumer in the form of increased prices.
What is problematic and adding to the misery is that almost everyone uses Google. So, there are no incentives for dentistry to buy ads on search engines such as Bing or DuckDuckGo because it doesn't really help, putting both Bing and DuckDuckGo at a serious disadvantage.
Google's gain, small businesses' pain
By restricting competition in search, Google has left consumers with fewer choices and stifled innovation in the market.
This is a big blow for rivals and small businesses out there trying to appear high in search results so that they get noticed. It's a "make or break" for them.
But reports show that Google tweaks its algorithms to favor large businesses over small even though they may not be more relevant to a user's search. Google argues that it does so because it believes larger companies are more likely to provide a better product fit.
These small companies offering competing products or services often suffer the most when Google adjusts its algorithm, losing traffic to their sites overnight.
There's more to lucrative search, a threat to our privacy
Google has been pushing the envelope on user privacy for years, another form of abuse of power. Over time, Google has tied together with our dependency on its search engine with the Google ad network which helps harvest user data on a tremendous scale.
Google's dominance in digital advertising is just not restricted to search advertising but goes much beyond. Google serves ads on a very large number of websites. This means that they have information about us not only when we visit Google.com and other Google-owned properties such as Youtube.com, Google Maps, etc but also everywhere on the web.
This leads to immense data concentration to a single investor-owned company, which makes Google not only monopolize the service categories they operate in but also our data. The monopoly on data ownership puts its competitors in an even more disadvantageous position.
We all know that Facebook's algorithms and to some extent even Twitter's optimize user engagement, and lead to ongoing large-scale misinformation campaigns of extreme ideas, motivated by political agendas and threaten the foundation of democracy.
If there are other competing services and data portability guaranteed much like how telecommunication companies are regulated, we could have avoided many of those issues we are facing right now only because users could have a choice and switch easily.
Obviously, we need more regulations governing these companies – what they can and cannot do – in order to ensure a healthy thriving ecosystem and protect the rights and privacy of consumers.
By the way, Vivaldi does not work with Google. Therefore, we do not receive any monetary benefits or payments from Google.
We will be watching closely how this case progresses and other cases that are likely to be brought to the court, while we continue to do our best to provide a better browser than Google, driven by consumer choice and respect for people's privacy.