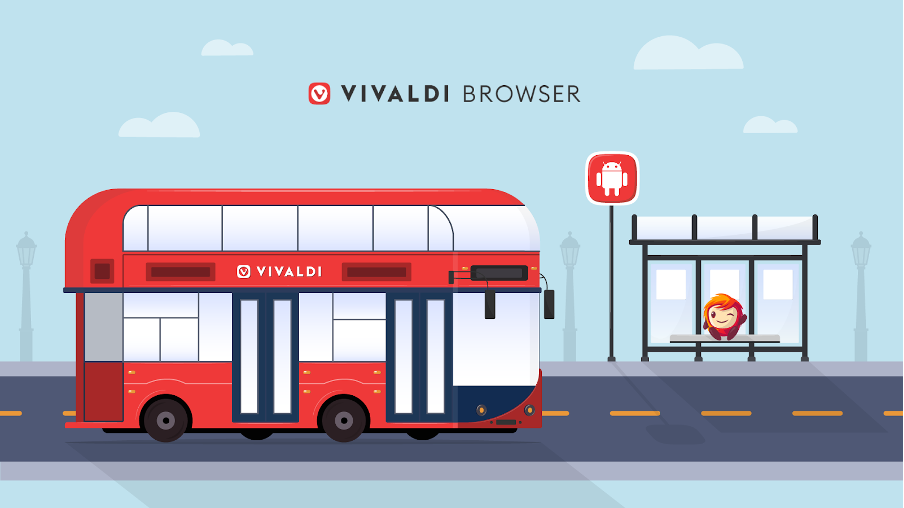 Read this article in Deutsch, Español, Pусский, 日本語.
Vivaldi on Android 5.0 is here. And it's fun.
For example, if you hold your phone upside down, and say "Hello Vivaldi", it will start playing your favorite track. 🙂
Well, not really. But we certainly are pushing boundaries on your Android phones and tablets.
How? By introducing Vivaldi's Two-Level Tab Stacks, a solution that no other mobile browser offers.
When we launched this feature on our desktop browser earlier this year, it was heralded as a genius way to manage lots of web pages. And we don't disagree! So now we're bringing our unique, double-decker tab solution to our Android browser to help you manage your tab woes on the go!
We have an improved tab interface and new ways to tweak the Tab Bar to your liking. This includes having tabs appear smaller to give you faster access. By removing the close button on all but the active tab, each tab can now become as small as a favicon, creating more room… for more tabs.
The built-in Notes tool has stepped up a notch too. Now you can quickly tack on chunks of text from a webpage to an existing note with an "Append to Note" option when highlighting text. And if you're into Themes, then you can enjoy enabling/disabling dark themes for any webpage.
And there's more!
We're going big on tablets, working to optimize the browser specifically for those bigger screens. Most browsers just don't do this. So, if you're a "bigger is better" person when it comes to screen size, make most of your tablet with Vivaldi. Our latest update has a brand-new, super flexible design – including a side Panel – to optimize your screen space better on tablets and Chromebooks.
While we aim to offer the most functional browser on your Android phones, tablets, and Chromebooks, our desktop version, also launched today, is all about expressing yourself fearlessly with shareable Themes and a Translate Panel that transforms web translations. Read more.
Double but no trouble: Double up your Tab Bar with Two-Level Tab Stacks.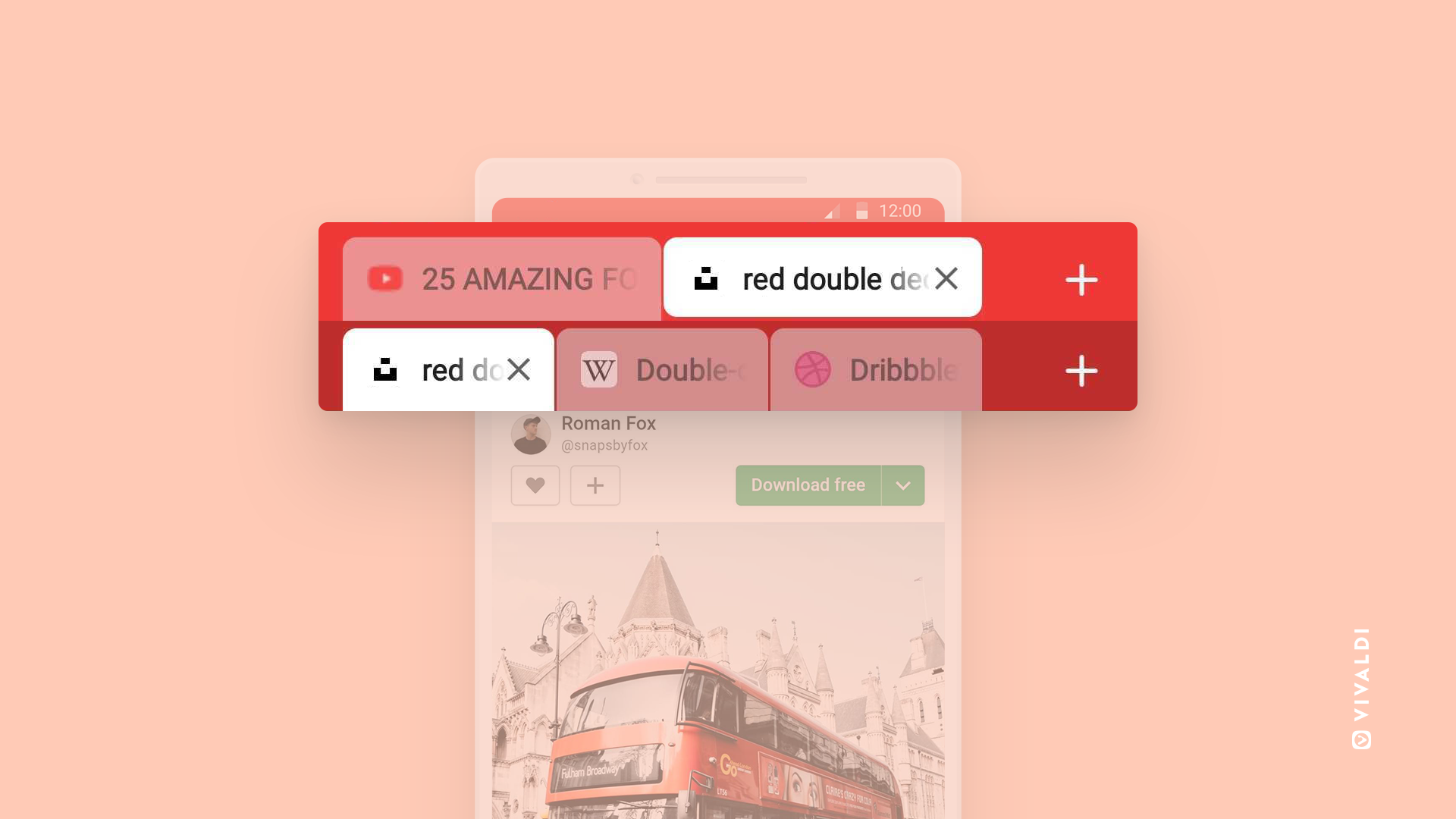 What's better than one tab bar? Two, obviously.
Breaking conventions, we once again give you a novel solution that no other browser offers. We let you take your tabs to the next level, literally.
All features in Vivaldi are built-in, based on your needs and feedback. So if you're already hoarding tabs on your Android, Two-Level Tab Stacks will likely make your life a whole lot easier. You can stay organized and keep your screen tidy. Tabs inside a group will show in a second row, but they'll stay hidden when you don't need them.
To get going with Two-Level Tab Stack, simply long-press the New Tab button and select "New Tab Stack". Boom – a new stack/group is created for you, with the current tab and one new additional tab. That's all there is to it!
Of course, at Vivaldi, we're all about options. Another way to make a group of tabs is from the Tab Switcher. While looking at the tab thumbnails, simply drag one tab on top of another to create a new stack.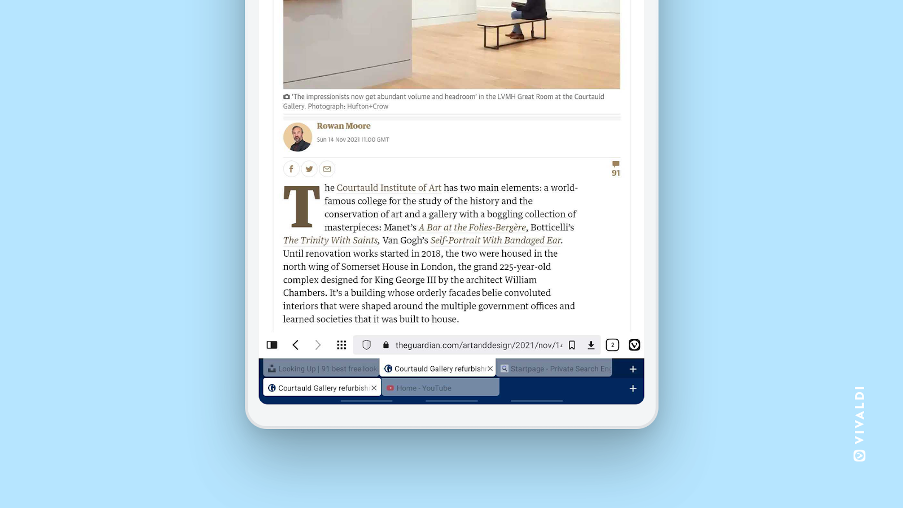 The Two-Level Tab Stack joins an array of Vivaldi's built-in features packed with flexibility that includes an Ad Blocker (disabled by default), tracking protection, Vivaldi Translate, Notes, Page Capture, and more.
Think working with tabs has to be boring?
Not in Vivaldi.
We've got a new improved tab interface – visually striking and more fun.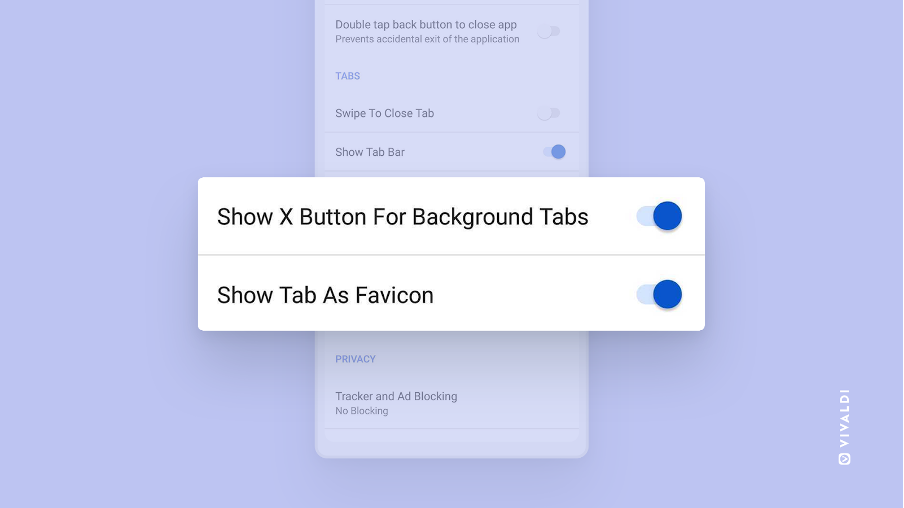 The configurable Tab Bar is more flexible and gives you two new options in how you can view your tabs. These new options in the Tab Settings give you more room to browse on both small and big screens and include smaller tabs for faster access to tabs. By removing the close button on all but the active tab, each tab can become as small as the favicon.
Head to Settings and discover:
Show X button for background tabs: By removing "X" to close for the background tabs, you can have more room for the title of the tab.
Show tab as favicon: Enabled to only show the favicon helping serious tab hoarders. No title and X.
The width of a tab is now calculated dynamically. Depending on the display density and the available tab bar space, tabs will either be expanded or shrunk. When there are a lot of tabs, a tab can shrink to the minimum that only the favicon is displayed. giving you a better overview of the current open tabs. On the other hand, when there are only a few tabs open you get a nice width adjusted tab that includes the title. Especially while changing from portrait to landscape mode or the other way around this tab-width adjustment is a handy thing.
Fine-tuned for full fidelity
There's always room for more in Vivaldi. Here's even more functionality to elevate your browsing experience:
Toggle Dark Mode for specific pages: Dark mode fans can now enable/disable dark themes for any webpage from the Settings that will show a 'Dark theme' menu. Go to Settings-Theme-Dark mode for Web Pages.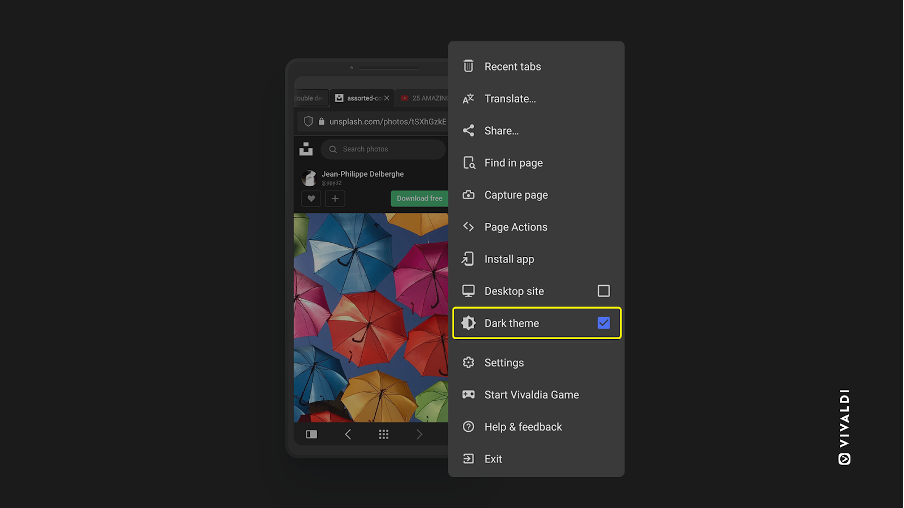 Append to Note: Now you can add additional text to the notes you've created with the built-in Notes feature. Unique to Vivaldi, Notes help you do more – faster.
The Big Bang on a tablet: Vivaldi 5.0 designed for big screens.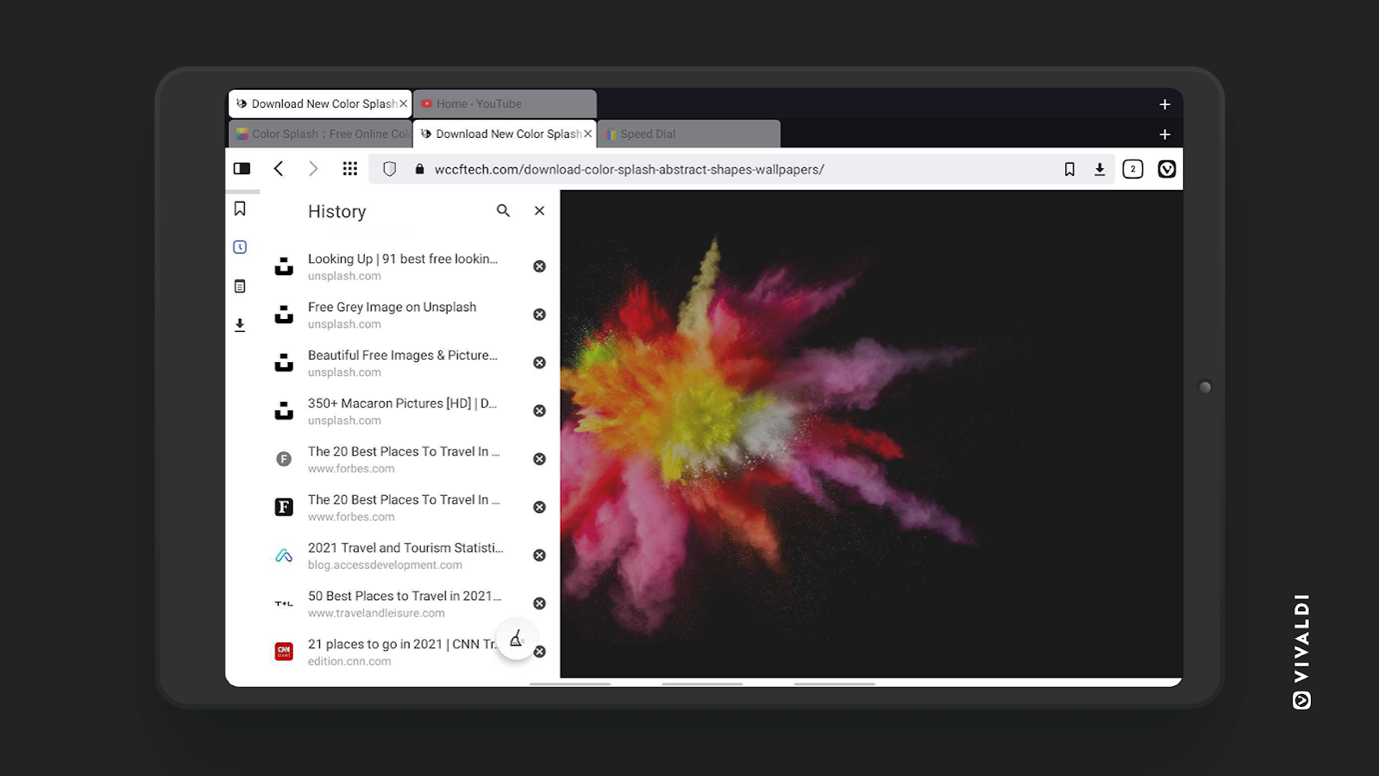 Usually, mobile browsers are optimized for smartphones but not for tablets.
At Vivaldi, we take tablet browsing seriously. We have put in a lot of love, care, and attention to make Vivaldi on tablets and Chromebooks just right for you!
One thing that puts Vivaldi ahead of other Android browsers is its first-of-its-kind unique UI. And now we elevate it with a brand-new, super flexible design for you.
Introducing Panels on a tablet.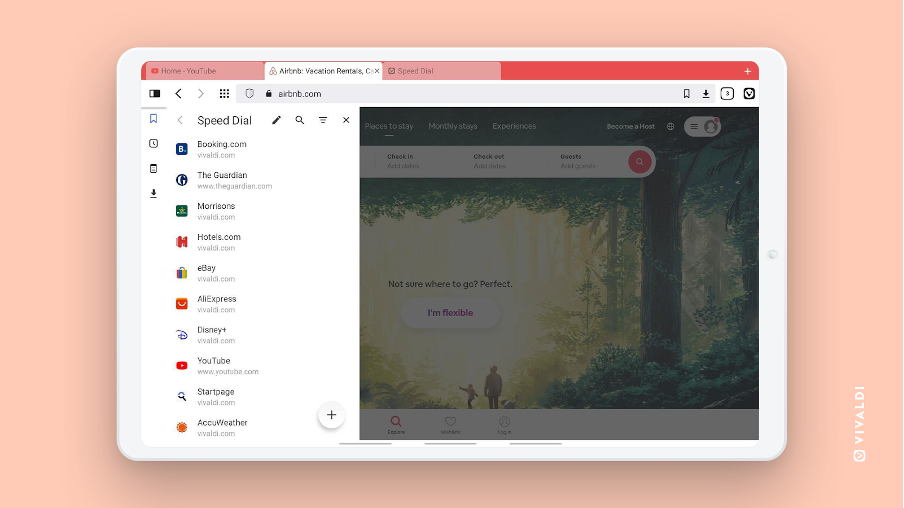 In mobile or tablet browsing where every pixel matters, screen space is at a premium. We also strive to deliver ease of use, flexibility, convenience, and a distinctive visual appeal.
That is why we've added Panels, to help you optimize the available screen space on tablets and Chromebooks. Key functionality is all just a tap away.
Panels now pop up on the left of the screen, just like the default desktop configuration, to give you that familiar feel.
Now, you can keep your go-to tools within easy reach in the browser's sidebar. Work with your History, Downloads, Bookmarks, and Notes in split-screen with your main window.
Toggling the Panel on and off is as easy as tapping the panel button in the top-left corner of the location bar. This makes better use of the screen space and facilitates more efficient workflows.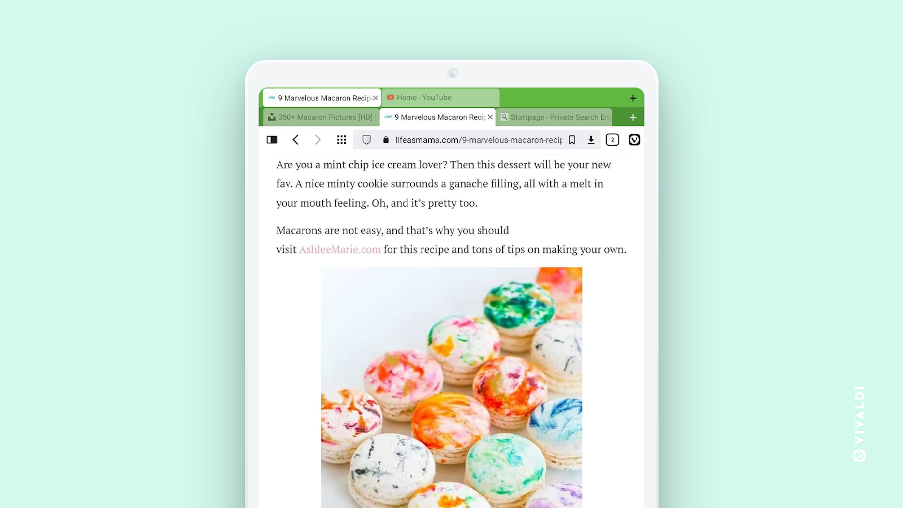 The Panel means possibilities. Open dialogs to add, edit and move notes and bookmarks around inside the panel. Open and edit notes in full screen! Change download settings and clear history. Easily select bookmarks from the side panels and open them in a new window, so you can organize your workflow from the panel directly.
Combining brains with beauty: Your tablet browser deserves an upgrade.
Truly, Vivaldi's functionality has been designed to suit tablets – and tablet users:
Real, desktop-style tabs are an easy way to keep track of open tabs, improving usability. Plus, new Two-Level Tab Stacks help you stay much more organized.
Configurable Address and Tab Bar help you keep the browser functionality within easy reach.
For more screen space, the Status Bar for your Android system from the Settings can be easily hidden. The System Status Bar is part of the Android UI but Vivaldi can display the browser window over it (a bit like "full screen" mode).
The carefully designed, intuitive user interface works for both portrait and landscape mode and is fully optimized. Because landscape mode comes with greater width, the toolbar at the bottom is removed and buttons moved to the top. Hence the desktop version of a site is recommended to use in a landscape mode.
Step up your Android browsing! And download Vivaldi 5.0.
Vivaldi 5.0 is designed to stand out on Android, whether you use portrait, landscape, or tablet mode. But we boost the beauty beyond skin deep by packing in ground-breaking features and flexibility. So you can do more, have fun doing it, and make Vivaldi on Android truly your own personal browser.
Attention to detail is key when addressing needs of our users, and with the new improved tab interface, Two-Level Tab stacks, and the Panel UI on a tablet, our developers have taken usability and customizability on Android to the next level," says Jon von Tetzchner, Vivaldi CEO.
Grab the latest version of Vivaldi on your Android 5 or higher for free, now. For more details, head to the changelog.