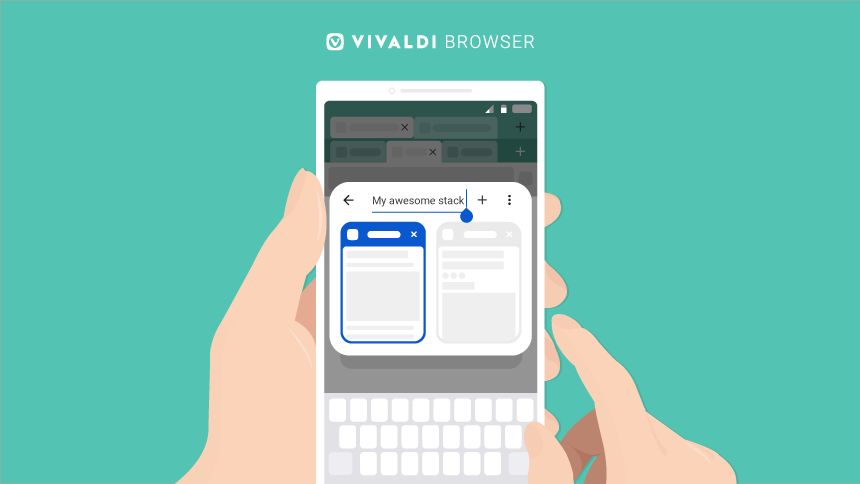 Read this article in Deutsch, Español, Français, 日本語.
Too often, we spend too much time figuring out how to do work instead of just getting it done.
But not with Vivaldi. Because we are steadily adding new ways for you to browse more efficiently and, of course, faster on your Android.
In Vivaldi 5.3, you can rename and edit Two-level Tab Stacks, a solution that no other browser offers. You can also open the Tab Switcher with a gesture from the URL field to view all your tabs.
The Translate Panel, another unique Vivaldi feature, now lets you search for languages in the dropdown, making it even easier to find the language to be translated. This update also brings in the much-requested syncable search engines, allowing you to sync your browsing data across all Vivaldi installs including phones, tablets, Chromebooks, desktops, notebooks, and cars.
Today, Vivaldi on desktop also launched with Editable Toolbars. This opens up massive possibilities to tweak and tune the browser's user interface. More about it here.
Vivaldi 5.3 on Android is ready for download on your Android phones, tablets, Chromebooks, and cars.
What's in a name? It's up to you. Rename and edit tab groups.
Have a load of tabs open? Now you can give your Two-level Tab Stacks(groups) a custom name so that you can access them faster at a glance. The option works particularly well when browsing websites with similar content, be it travel, shopping, or social media.
For the uninitiated, the Two-level Tab Stack is a refreshing solution for managing a number of tabs on your mobile device. When you easily group your tabs in stacks, the top row shows your stacks and the bottom row shows the tabs associated with those stacks.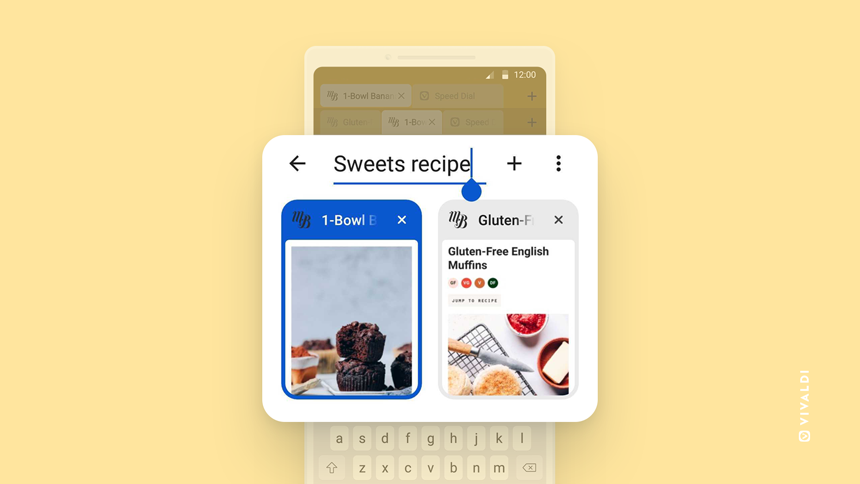 Rename and edit your tab stacks as follows:
Simply tap on a tab stack and choose ''Edit Tab Stack'' from the menu. Rename, remove, and add tabs into the tab stack.
Use the tab switcher: long press on the tab stack to be edited and you will be forwarded to the edit screen. Make any changes you wish.
View all tabs with a swipe gesture in the Address Field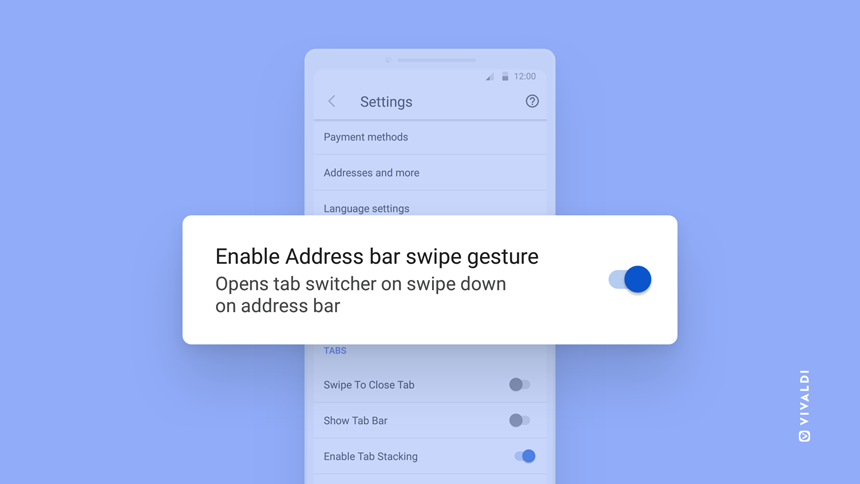 Mobile web browsing is all about finding what you need quickly, with as little hassle as possible. But when keeping a lot of tabs open, navigating between them can be a bit hard.
So, we've added an option to open the Tab Switcher with a gesture from the URL field. Now, you can reduce your scrolling time and view all open, private, synced, and recently closed tabs faster.
Go to Settings > General and enable the Address Bar swipe gesture.
Find your language in the Translate Panel
Recently, we powered up Vivaldi's built-in private Translate tool with the new Translate Panel — a unique way to translate snippets of texts quickly.
Now, in Vivaldi 5.3, you have the ability to search for languages in the dropdown menu. Tap into the dropdown list and start typing the language name you prefer. Easy as that.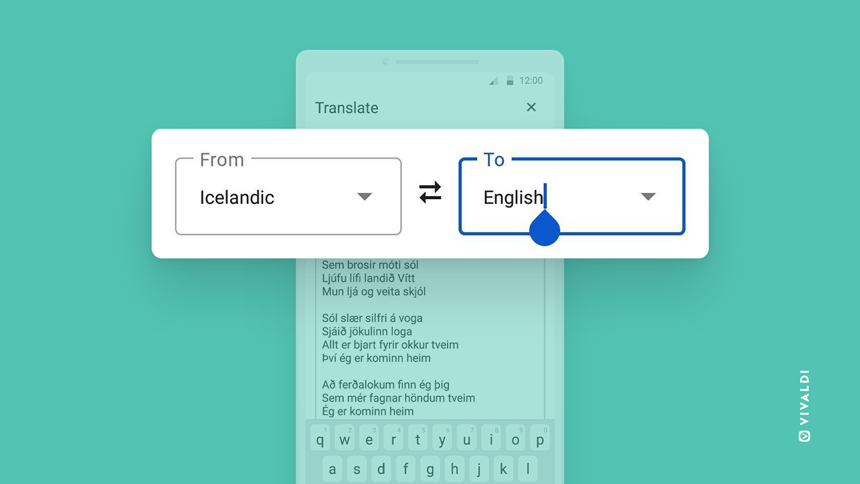 Supporting a total of 108 languages, Vivaldi Translate helps millions of people worldwide to access the web in their languages, read translated webpages and selected texts.
Note: All recent translations are saved in your History which is accessible via Panels. And, because the only servers involved here are Vivaldi's, you can translate with confidence that Big Tech isn't watching.
Syncable search engines are here.
From this update onwards, sync search engines across all your Vivaldi installations including desktops, Android phones, tablets, Chromebooks, and cars. Recently, we arrived in cars from Polestar and Renault, which makes Vivaldi the first and only browser available on Android Automotive OS.
To use Sync, you just need to sign in with a Vivaldi Account to securely synchronize your data, with end-to-end encryption across devices.
Vivaldi 5.3 is totally worth the download. Get it now.
Your feedback helps us give you the browser you want and need! So, please let us know what you think about Vivaldi 5.3 in the comments below. For more details, head to the changelog.
And do share some love for Vivaldi through your ratings (5 stars) on Google Play and Uptodown.
Changelog from Vivaldi 5.2 to 5.3
[New][Tab stack] Rename tab stack and edit stack while on web page VAB-5628
[New][Translate] Add search in language dropdowns VAB-5613
[New][Settings] Option to toggle address swipe gesture VAB-5568
[New][Settings] Syncable search engines VB-46482
[Tabs] Tab stack bar does not scroll to the selected tab VAB-5759
[Tab switcher] Showing private and regular tabs does not work properly VAB-5807
[Translate panel] No Chinese when translate selection VAB-5788
[Start Page] Default speed dials should retain their original thumbnail VAB-5888
[UI] Remove the 'Sync' section of the first-run screen VAB-5732
[Chromium] Upgraded to 102.0.5005.72
Updated translations