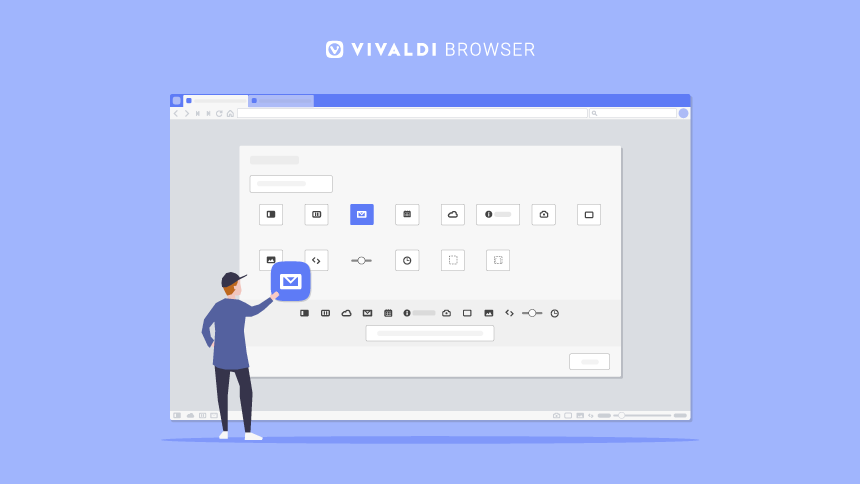 Read this article in Deutsch, Español, Français, 日本語, Русский.
One of our core beliefs at Vivaldi is that users want to customize. And to give you a fully customizable user interface, we've opened up even more possibilities for you to create a browser that's uniquely yours.
Editable toolbars are here – giving you full control over your toolbar layouts.
Our new version, Vivaldi 5.3, is further proof of how we put our philosophy into practice to create new features for you.
As almost everything in Vivaldi is an option, we've added a reset to default button in every section of Vivaldi Settings. This lets you go back to your original browser settings quickly and easily.
Along with improvements across the board, we've also got syncable search engines across desktops, Android phones and tablets, and cars.
Vivaldi 5.3 is ready for download on Windows, Linux, and macOS.
In addition, our new version on Android, also launched today, includes a host of features, including the ability to rename our unique Two-level Tab Stacks, syncable search engines, and much more.
Previously, we introduced a partial toolbar customization mode, which lets you configure toolbars to meet your browsing needs. But that was just the tip of the iceberg, as it did not include all the toolbar components and was limited to repositioning buttons in the UI.
Now, you have full control of your toolbar layouts with Editable Toolbars.
Providing a browser with ultimate freedom and flexibility is at the heart of what we do. And our new Editable Toolbars will allow you to create a browser experience that is new and truly unique.
To get started with this fiery addition, simply right-click on the Toolbar and enter toolbar editing mode, Edit > Customize Toolbar. Or you can access via View > Customize Toolbar in the main menu.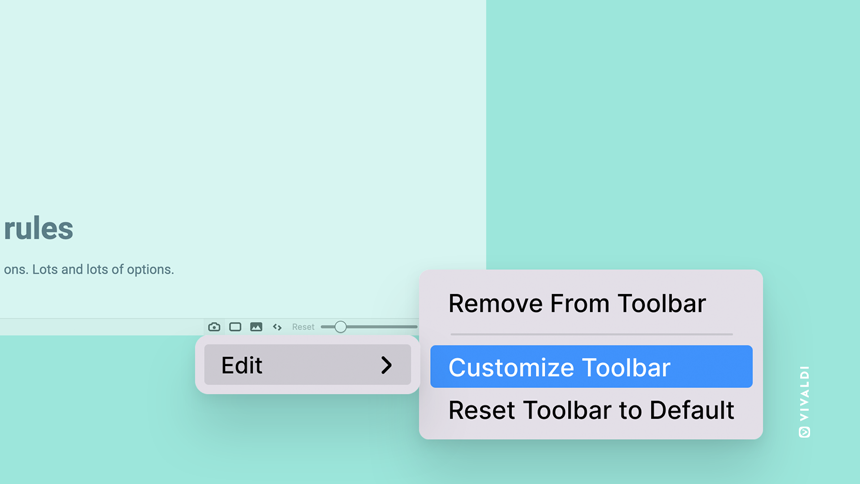 The Toolbar Editor contains all components belonging to the currently selected toolbar. You can easily swap between different toolbars from the selection menu above.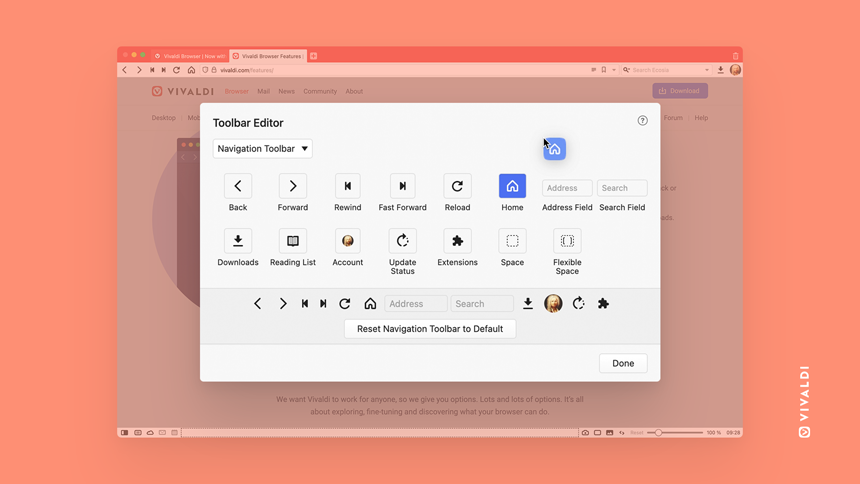 You can drag components to the toolbars, rearrange them, or remove them from the Toolbar by dropping them in the background area. Customize the Navigation Bar, Status Bar, and toolbars for the different Mail views, or reset the currently selected Toolbar to a default set.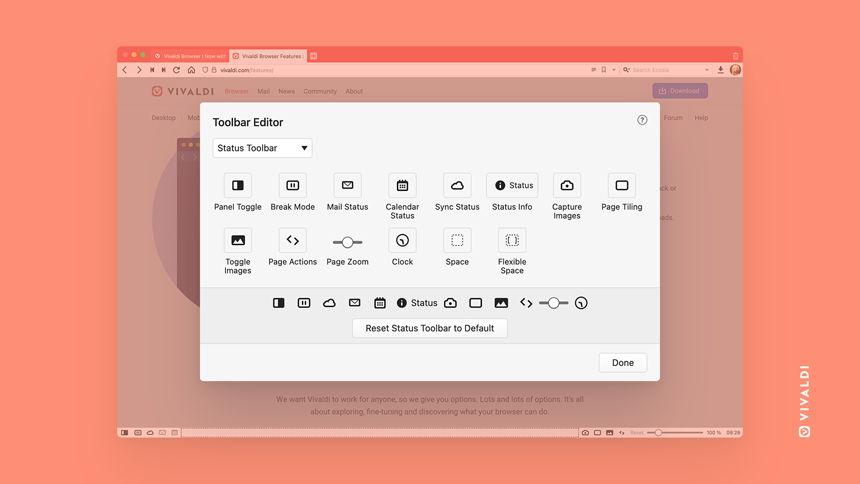 Outside the Toolbar Editor, you can always control toolbar components via the context menu, or rearrange them by dragging while pressing the Ctrl key (or ⌘ key on macOS)
Command Chains in the Toolbar Editor! The sky's the limit.
Another set of buttons that you can pick in the Toolbar Editor are your own Command Chains!
This allows you to take your custom workflows or scripts and place them as buttons on any toolbar. Since Command Chains open a door to all Vivaldi commands, the only limit is your imagination.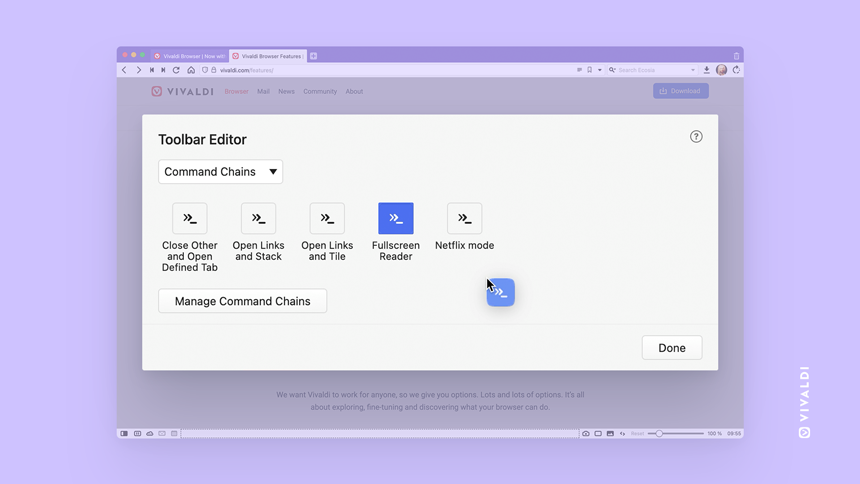 As an example, let's make a new command under Settings > Quick Commands > Command Chains. Add a new Command Chain and name it "Fullscreen Reader". As your first command, choose Toggle Reader View and add a second command, this time Fullscreen Mode. That's it. Then, enter toolbar editing mode, select Command Chains, and drag the "Fullscreen Reader" command button to a Toolbar. Now you can switch to Reader View in a fullscreen window, with a single click of your brand-new button.
Reset to default? Try it out, it's risk-free.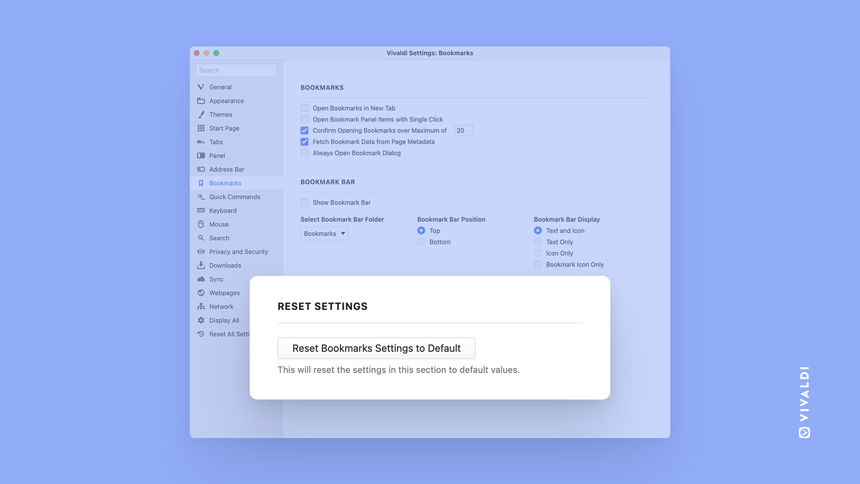 Reset to default is a new button for every settings section in Vivaldi.
For example, perhaps you've tweaked a few things around in your Vivaldi Settings. Later, you would like to go back to your older set-up but cannot recall the settings you changed. With the Reset to default button, you can easily get back to default settings.
As Vivaldi offers so many options, this little handy addition helps you to undo things in a jiffy.
Sync your search engines anywhere!
Syncable search engines, a much-requested feature, is now available from this update onwards. Now, you can sync all your search engines across all your Vivaldi installations including desktops, Android phones, tablets, Chromebooks, and even cars. Vivaldi browser is available on cars from Polestar and Renault.
Part of the fun is the joy of discovery. Download Vivaldi 5.3.
Vivaldi is a fundamentally optimistic tool — with an ethos that anything can be built, and that true meaning and inspiration come from the needs and ideas of our users. And the Editable Toolbars are a prime example of that.

We hope you will enjoy using these new additions and improvements. And keep your feedback coming in. We always love to hear what you think. For more details, head to the changelog.
Changelog from Vivaldi 5.2 to 5.3
[New][Toolbars] Create a drag-and-drop toolbar customization mode (VB-70320)
[New][Sync] Syncable search engines (VB-46482)
[New][Settings] Reset to default for every section (VB-7696)
[Address Bar][Privacy Statistics] Access Privacy Statistics from Blocker dialog (VB-88347)
[Address Bar][Search] Any time I enter or change a search item it adds it to the list of typed URLs (VB-87761)
[Address Bar][Settings] Show search queries history setting does not stick (VB-87733)
[Address Bar] Incorrect typed history with "http://" in the address field (VB-87964)
[Address Bar] Border around padlock (VB-89235)
[Address Bar] Can not open autocompleted URLs (VB-89353)
[Address Bar] Dragging icon on top of Address Bar leaves blue line (VB-89066)
[Address Bar] Esc doesn't clear text in address field after you click blocking level in privacy stats (VB-88567)
[Address Bar] In Speed Dial don't empty URL when closing tab (VB-88737)
[Address Bar] Modifier key + click on history back/forward buttons doesn't work as intended (VB-89106)
[Address Bar] Search icon changes position when entering input (VB-86920)
[Address Bar] Secure icon is behind URL (VB-89205)
[Address Bar] Text is no longer draggable (VB-89170)
[Address Bar] Typing and delete chars to trigger nick opens in background tab (VB-87637)
[Address Bar][Calendar Beta] Clicking on webcal links that open in new tab result in incorrect display URL (VB-89356)
[Address Bar][Keyboard] Ctrl key selects entire URL when it contains non-ASCII (VB-88203)
[Address Bar][Privacy Statistics] Stops showing suggestions after you click blocking level (VB-88323)
[Ad Blocker] Import New Blocking List shows "Loading…" forever (VB-83100)
[Bookmarks] Becomes unusable with too many bookmarks (VB-89052)
[Bookmarks] Folder icons are displaying as empty square icons (VB-88063)
[Bookmarks] Renaming is broken (VB-87413)
[Bookmarks] Replace Booking.com to Ostrovok.ru for RU and BY (VB-88690)
[Calendar Beta][Welcome] Add account onboarding dialog broken (VB-89375)
[Calendar Beta] Agenda view should also show the weekday (VB-87490)
[Calendar Beta] Allow creating events with invalid types (VB-88055)
[Calendar Beta] Can not add iCloud CalDAV account (VB-88914)
[Calendar Beta] Can not delete 0 in "Repeat # times" input field (VB-88724)
[Calendar Beta] Clicking "Open Calendar Settings" does nothing (VB-89084)
[Calendar Beta] Create calendar in settings shows web calendar account as option (VB-89025)
[Calendar Beta] Duplicate calendars when adding CalDAV account (VB-89144)
[Calendar Beta] Duplicate notification (VB-88248)
[Calendar Beta] Event duplication with popup editor (VB-88255)
[Calendar Beta] Existing exception not updated from server (VB-89464)
[Calendar Beta] Group calendars by account in menu (VB-87633)
[Calendar Beta] May not be able to delete improperly setup Calendar (VB-88939)
[Calendar Beta] Prevent dragging of inline editor when selecting text (VB-88154)
[Calendar Beta] Recurring exceptions not updated for web calendar (VB-89463)
[Calendar Beta] Repeat until / ending has of-by-1-error (VB-86771)
[Calendar Beta] Request for fetching favicon for Mail calendar is broken (VB-88907)
[Calendar Beta] Searching for tasks without date goes to January 1st 1970 (VB-87209)
[Calendar Beta] Support for Webcal links missing (VB-89284)
[Calendar Beta] Wrong color when dragging to resize (VB-87834)
[Calendar Beta] iCal parsing error VJOURNAL (VB-89458)
[Calendar Beta][Bookmarks] There should be a related fav icon for calendar (VB-67548)
[Chromium] Upgraded to 102.0.5005.72
[Context menu] "Add to Content" in Menu Setting doesn't work (VB-89208)
[Context menu] Can't copy and search for text on justwatch.com (VB-89245)
[Crash] "Randomly" after a short while (VB-88206)
[Crash] Browser crashes randomly, particularly on macOS (VB-88607)
[Crash] Restoring session and popup in a tab at background (VB-88471)
[Crash] Startup crash with certain URLs in session (VB-87775)
[Crash][Capture] When closing a tab after a capture (VB-89189)
[Crash][Search] Fails to start if search engine list has been edited (VB-87796)
[Drag and drop] Dragging same tab between windows breaks (VB-88738)
[Extension] Remove extension drop-down border (VB-88074)
[Feeds Beta] Disappear from Feed Panel after restart (VB-89193)
[Feeds Beta] Missing empty state for Feeds panel (VB-87891)
[Feeds Beta][Panel] Icon does not indicate new messages (VB-89065)
[Focus] Various minor fixes (VB-89147)
[Fullscreen] Improve fullscreen transition on youtube (VB-13303)
[Gestures] Settings window doesn't get closed by mouse gesture (VB-88579)
[Guest Window] Favicons do not load for webpages (VB-86534)
[Guest Window] Has web panels that do nothing (VB-88917)
[Guest Window] Fully hide welcome page (VB-53692)
[Guest Window] You can change flags (VB-54515)
[HiDPI] Find In Page hit entry appears in the wrong place (VB-88377)
[Icons] Update connection icons (VB-66023)
[Inspector] Image inspector does not show (VB-89238)
[Keyboard] '\' to collapse three views (VB-88104)
[Keyboard] Page back/forward on Lenovo Thinkpad trigger twice (VB-18941)
[Linux][Media] Change proprietary codecs to 107578
[Mail Beta] Ability to delete IMAP folders (VB-89291)
[Mail Beta] Account setup frequently fails for some users (VB-89510)
[Mail Beta] Add Account missing from All accounts context menu (VB-89263)
[Mail Beta] Add default labels (VB-88709)
[Mail Beta] Add filtering action: Mark as spam (VB-88839)
[Mail Beta] Allow moving messages between accounts (VB-88735)
[Mail Beta] Archives folder from Thunderbird client should be interpreted as being an archive folder (VB-89039)
[Mail Beta] Attachment and file size not shown in list view (VB-81162)
[Mail Beta] Can not edit name of filter action (VB-88841)
[Mail Beta] Can't tab through mail compose fields (VB-89022)
[Mail Beta] Cannot choose custom label in filter & actions (VB-88831)
[Mail Beta] Cannot create IMAP folder with non-ASCII characters (VB-88757)
[Mail Beta] Correctly formatted signature beginning with "– \n" is modified by Vivaldi to add redundant "– \n" (VB-88694)
[Mail Beta] Create an Archive folder if needed when archiving
[Mail Beta] Deleting Labels without warning can cause dataloss (VB-89363)
[Mail Beta] Do not hide "down arrow" in Read/unread mail button (VB-88999)
[Mail Beta] Don't add signature delimiter if there's no signature (VB-87217)
[Mail Beta] Duplicate label not recognized or IMAP decoded (VB-89408)
[Mail Beta] Easy to cause trouble with actions when forgetting to click "add to search" (VB-84664)
[Mail Beta] Entire mailbox marked internal and trashed on startup (VB-89505)
[Mail Beta] Fallback to HTML for rendering method (VB-86967)
[Mail Beta] Fix a couple of cases of filter not found errors
[Mail Beta] Folder names with non-Latin letters not decoded in header and status popup (VB-88880)
[Mail Beta] Ignore pending updates from a disconnected IMAP client (VB-89480)
[Mail Beta] Indicate progress on "Check All Accounts" button in Mail Panel (VB-89001)
[Mail Beta] Infinite loop of mail fetching (VB-80695)
[Mail Beta] Inline images broke with Chromium 102 upgrade (VB-89209)
[Mail Beta] Keeps prefetching non-existent message (VB-86649)
[Mail Beta] Labels (tags) made from web-mail (like Zoho) are not synced after the initial mail sync (VB-88884)
[Mail Beta] Microsoft mail authentication popup is shown too often (VB-84230)
[Mail Beta] Microsoft oAuth warning text (VB-88885)
[Mail Beta] Missing blank line between signature and quoted text when replying to plain text message with "Place signature at bottom" set (VB-87970)
[Mail Beta] More icons in vertical view (VB-87506)
[Mail Beta] Move list filter buttons to the left (VB-89370)
[Mail Beta] Name and signature popup close button does not work (VB-88639)
[Mail Beta] No error reported when starting an older version of client on a new version of DB (VB-88156)
[Mail Beta] Not reconnected when browser is online again (VB-88972)
[Mail Beta] Old labels are not decoded (VB-89257)
[Mail Beta] Possible blank label without a delete option after several upgrades(VB-87395)
[Mail Beta] Problem with synced mailing list (VB-87875)
[Mail Beta] Rebuild and vacuum Mail search DB after (VB-88649)
[Mail Beta] Removing a label does not clear the label (VB-88034)
[Mail Beta] Rich Text HTML Signatures do not update when switching accounts (VB-88705)
[Mail Beta] Rich Text Signature resets cursor to start when typing (VB-89028)
[Mail Beta] Search input is shown when composing a new message (VB-89372)
[Mail Beta] Searches can no longer be saved (VB-87675)
[Mail Beta] Sending a mail with mHTML attachment gives error message (VB-88846)
[Mail Beta] Sometimes displays gibberish instead of text (VB-87554)
[Mail Beta] Special letters for IMAP folders displayed wrong in context menus (VB-88100)
[Mail Beta] Status bar popup overflows with long words (VB-87793)
[Mail Beta] Text → HTML equivalent for "Show Message as Text" (VB-89192)
[Mail Beta] Toggle in the mail header area between HTML and plain text (VB-89048)
[Mail Beta] Toolbar drop down arrow for flags and labels not working (VB-89060)
[Mail Beta] Unable to move messages from folder types other than Inbox and Other (VB-88881)
[Mail Beta] Wrap long URLs in plain text mail body (VB-86967)
[Mail Beta][Calendar Beta] Can not close status popup by clicking on button (VB-89007)
[Mail Beta][Calendar Beta] Status bar popup doesn't close on action (VB-89373)
[Mail Beta][Calendar Beta] Status buttons open at the same time (VB-89290)
[Mail Beta][Calendar Beta] status popup doesn't close when clicking outside popup (VB-89308)
[Mail Beta][Menus] Rename 'Folders' to 'Views' in context menus (VB-89211)
[Mail Beta][Panel] Allow to show and hide folder categories with context menu (VB-88911)
[Mail Beta][Panel] Create Label is missing from context menu (VB-89256)
[Mail Beta][Panel] Settings to re-arrange the panel (VB-86001)
[Mail Beta][Performance] Faster startup by initializing threads in parallel
[Mail Beta][User Agent] Set Mailer user agent to 0.9 (VB-1767)
[Media][Windows] More robust AAC handling (VB-89287)
[Menus] Cannot immediately view/execute shortcuts, menus, open settings window, etc… after startup (VB-83468)
[Menus] Image properties context menu is visible on SVG "images" (VB-55728)
[Menus] Upgrade code allows for the possibility of items in the wrong position (VB-88624)
[Menus][Settings] Customization, can no longer edit Open Link input field (VB-86455)
[Notes] Add text to clickable area in notes manager (VB-87862)
[Notes] Blank icons (VB-88759)
[Notes] Cannot create links with file protocol in it (VB-85592)
[Notes] Manager editor placeholder lacks resize handle (VB-87975)
[Notes] Notify on Adding New Note option is not working (VB-85992)
[Notes] Renaming and then changing content immediately causes title to be reverted (VB-87684)
[Notes] UI is not updated when adding attachments (VB-89293)
[Notes][Keyboard] Ctrl+f no longer works in the manager (VB-88200)
[Notes][Capture] "Insert Markdown" doesn't work (VB-69439)
[Notes][Quick Commands] Create note icon in quick command is a square (VB-89036)
[Panel] Left floating panel is overlapping content (VB-88372)
[Panel] Closing button should respect previous panel state (VB-87998)
[Panel][Notes] Notifications don't work when Open Panel Automatically is enabled (VB-88090)
[Panel][Tabs] Pinned and Stacked Tabs Not Displayed in Window Panel (VB-84013)
[Popout Video] Save PIP window size and position (VB-64763)
[Privacy Statistics] Layout change (VB-87916)
[Privacy Statistics] More options and a link to settings (VB-87915)
[Privacy Statistics][Speed Dial] Make whole bar clickable (VB-88643)
[Private Window] Open link in Private Window does not work (VB-88736)
[Profiles] Button is displayed inside private windows (VB-89157)
[Profiles] Own profile info not shown in "Manage people" (VB-88595)
[Quick Commands] Focus address field does not work (VB-64381)
[Quick Commands] Historic entries have wrong timestamp (VB-88363)
[Quick Commands] Items that have exact match with query should be selected (VB-87829)
[Quick Commands] Panels shouldn't be accessible if they are not enabled (VB-88842)
[Quick Commands] URL gets file protocol after a brief second (VB-88653)
[Search Engine] Add Qwant for Canada (VB-88111)
[Search] Add Yelp search to the US default list (VB-89146)
[Search] Entries created by user should not be treated as auto-generated (VB-87855)
[Search] Make override of default search engines by extensions fully opt-in (VB-88169)
[Search] Migration script can import old removed pre-populated searches (VB-87854)
[Search] Migration script can set the wrong default (VB-87853)
[Search] Revert some accidentally modified URLs in legacy pre-populated searched (VB-87976)
[Search] Search engine with undefined suggest URL can crash migration (VB-88702)
[Search] Search selection with engine not working as part of a command chain (VB-87629)
[Search][Settings] Allow removal of Speed dial and search field selected engines (VB-87681)
[Search][Speed Dial] Search isn't remembered (VB-87680)
[Service worker] Don't allow users to unregister background service worker (VB-88683)
[Session] Cannot restore a saved session if it contains a tab stack (VB-89077)
[Session] Remember last state of "Open Session" (VB-89179)
[Settings][Keyboard] Chain shortcuts not displayed in Settings (VB-88905)
[Spatial Navigation] URL of selected element not shown on status bar (VB-87920)
[Speed Dial] Change default Thumbnail Size (VB-87917)
[Speed Dial] Keep search text when switching tabs (VB-54596)
[Speed Dial] Search field dropdown appears behind Speed Dials or default search engine suggestion (VB-89085)
[Speed Dial] Search privacy notification layout seems broken (VB-88883)
[Speed Dial] Search engine change affects tracker/blocker position (VB-88815)
[Tabs] Always load pinned tab setting doesn't work (VB-88753)
[Tabs] Add confirmation to closing 10+ tabs (VB-88893)
[Tabs] Bar on left don't free its space when switched to top (VB-88408)
[Tabs] Broken on the left when resizing (VB-88017)
[Tabs] Close right/left tab inconsistent behaviour (VB-85031)
[Tabs] Having two tab stacks, dragging a tab past the first stack into the second stack will scramble the order of the first stack (VB-88960)
[Tabs] Not resizable while tab bar is set to left (VB-88257)
[Tabs] Remove tab spacing in maximized windows stopped working (VB-88276)
[Tabs] Selection outline stuck in tab bar after dragging tab out and in (VB-82932)
[Tabs] Sound icon on the Speed Dial popup (VB-87511)
[Tabs] Toggling off "show tab bar" leaves blank space when vertical (VB-88139)
[Tabs] Vertical tab bar auto-scrolling is too aggressive and inconsistent (VB-88698)
[Tabs][Settings] Wrong tab cycling behavior with right mouse + scroll wheel when "Show tab cycler" is disabled (VB-37067)
[Tabs][Themes] Drag tabs over another tab might leave that tab with accent color (VB-88739)
[Translate] List of translated items in translation history is half height (VB-88498)
[Translate][Panels] Doesn't submit with language drop-down selected (VB-88006)
[UI] Grey background with V logo rendered too frequently (VB-87985)
[UI] Minimum font size of Webpages influences browser UI (VB-86547)
[Welcome] "Essentials" shows panel toggle (VB-89410)
[Window Management] New window opens black if first is private (VB-86786)
[Window Management][Menus][Tabs] Dragging tab to create a window fails, as does context menu "move to new window" (VB-89447)
[Windows][Installer] Should disable change folder UI for system installs (VB-89068)
[Windows][Media] Some videos failing for certain users (VB-89019)
[Zoom] Indicator in status bar is not editable (VB-88409)
[macOS] Opening URL not working if no window open (VB-85202)
[macOS][Fullscreen video] Partially broken when tabs are on the left (VB-88236)
[macOS][Keyboard][Developer Tools] Change default shortcut to ⌘⌥I (VB-88720)