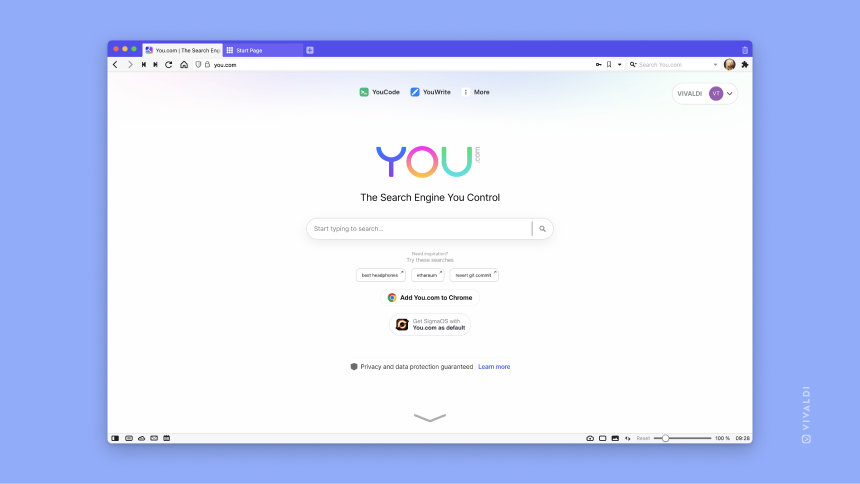 Read this article in Deutsch.
Vivaldi browser lets you search the web any way you like.
And, we believe that your choice of search engine matters. So, it should not be taken lightly. You can protect your private data such as search history by using search engines that don't track you.
Because we know you may have different reasons to choose a search engine, we have a range of search engines to choose from. And we are always on the lookout for new search partners.
Our users prefer search engines with a greater respect and reputation for privacy, so we're excited to announce our partnership with you.com, a search engine that puts you in the driver's seat when it comes to privacy.

Available in the Vivaldi 5.6 for desktop (and soon on Android), You.com offers several privacy-friendly ways to customize the way you search, instead of a one-size-fits-all model – something that is near and dear to our heart. So, we warmly welcome this new search player into the Vivaldi browser.
A search engine, or a browser, is our gateway to information. So choosing one carefully matters a lot. That is why we are thrilled to partner with You.com, a new search engine that protects you from surveillance and respects your privacy.

Jon S. von Tetzchner
What makes You.com special?
Personalized search
See what you want to see by ranking sources and customizing the order of the results in their App Store or on the search results page.
Best-in-class privacy
Keep control of your privacy with You.com's two complementary modes of operation: private mode and personal mode.
When looking for a customizable search experience, use personal mode. In this mode, they collect a minimal amount of data to improve the product and give you a personalized experience. But they don't share that data with anyone.
When you'd prefer an entirely private experience, use their zero-trace private mode, with no data collection or sharing.
Note: If you register with your email address, it will be shared with external providers so that you can receive the You.com newsletter.
AI apps
Use powerful apps like YouCode AI, Stable Diffusion, and YouWrite to code, draw and write using AI. These apps create original, unique generations based on a custom prompt.
You can also use Search Apps, custom applications built right on top of you.com. Each of the pre-existing 200+ first-party apps adds functionality to the core search engine, which allows you to find summarized information or to complete a task without having to leave the results page. Some apps, like a weather forecast app, are well known. Other apps include useful summaries across large forums such as Reddit, StackOverflow, GitHub, or recipe sites, enabling you to skim quickly and find faster answers to coding problems, discussions, or ingredients.
Custom search engines
Conduct deep searches with focused search engines. You can also create your own. These search engines contain a curated suite of apps, so you can conduct specialized searches based on your interests.
We're excited to partner with Vivaldi on a joint mission to give users control over their search and privacy. With You.com as its newest search engine, Vivaldi users will gain access to the search engine they control with unmatched speed, personalization, and privacy.

Richard Socher
Here's how to get You.com on Vivaldi.
Vivaldi's unique search functionality allows you to switch back and forth between different search engines by either using pre-set search nicknames (for example, the nickname for you.com is "u") or by creating your own. So you can take you.com for a test ride before setting it as your default.
Then, there are two ways to easily set you.com as your default search engine:
Option 1
Go to Settings > Search > Default Search Engine.
Select your preferred Search Engine from the dropdown menu.
Option 2
Go to Settings > Search > Search Engines.
Select the Search Engine you want to set as default.
Tick the box for Set as Default Search.
You.com's initial rollout is now available as default integrated search-engine option only for Vivaldi users on desktop (and soon on Android) in Canada, Germany, the United Kingdom, and the United States. Stay tuned to hear when it will be available in your area.
A recent You.com convert comments:
I like how easy it is to configure and work with You.com so that I get better search results without having to trade my privacy.
The best way to see just how you.com can improve your searching experience is to test it for yourself. We encourage those of you in the roll-out area to give it a try and let us know what you think.