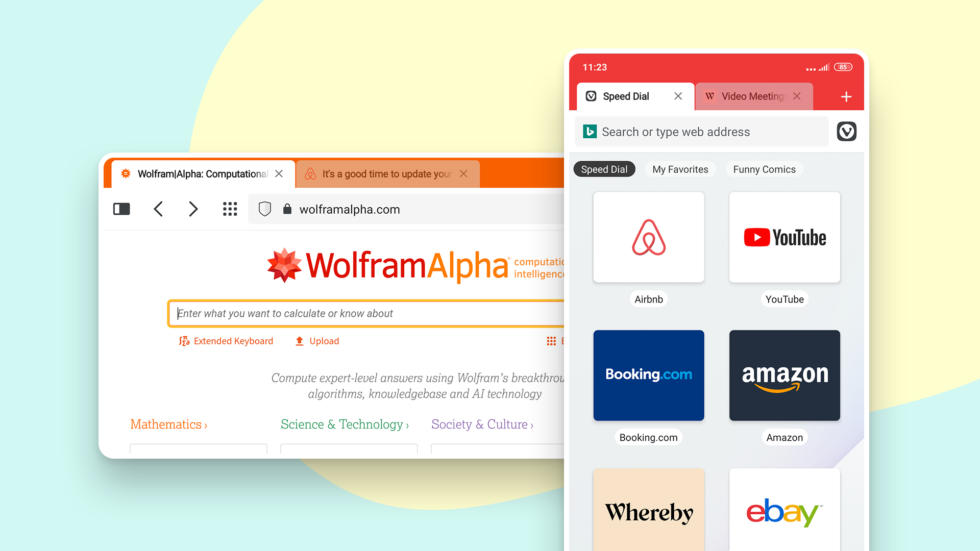 Read this article in Deutsch, Español, Français, Português Brasileiro, polski, Русский, 日本語.
We've released a new update to the Vivaldi browser on Android. Vivaldi was launched in April, and we're overwhelmed to receive warm international acclaim for Vivaldi's unique features such as real tabs, sync, note-taking functionality, optimized landscape and portrait mode browsing, built-in Ad and Tracker blocker, and more.
It is now ready to be downloaded on Android 5 or higher and is also compatible with tablets and Chromebooks.
What stands out in Vivaldi is its robust feature set and useful built-in tools that no other browser offers. And we are proud of the unique user experience we've brought on Android. The successful launch in April motivated us to fine-tune the browser into an even better version today.
Vivaldi sports a sophisticated user interface keeping key functionality – go-to tools such as Panels, Speed Dials, Tab Switcher, Notes, and Capture – within easy reach.
Syncing browsing data on-the-go is another distinguishing feature.
Vivaldi is also more private. Instead of relying on WebView, Google's Android component, Vivaldi is built with the Vivaldi-modified Chromium source code, the same as its desktop browser. This means that Vivaldi isn't sending the same information to Google as Chrome. Harvesting user data and user profiling isn't Vivaldi's business model.
Get more of Vivaldi in its new version
We've been building on our unique features delivered in the first version. We've rounded a few rough edges, squashed some bugs, and polished the browser with under the hood improvements.
And due to popular demand, we've included a dark mode for web contents. Light and dark themes were already available for the user interface. Pick whichever mode you prefer in Themes in Vivaldi Settings.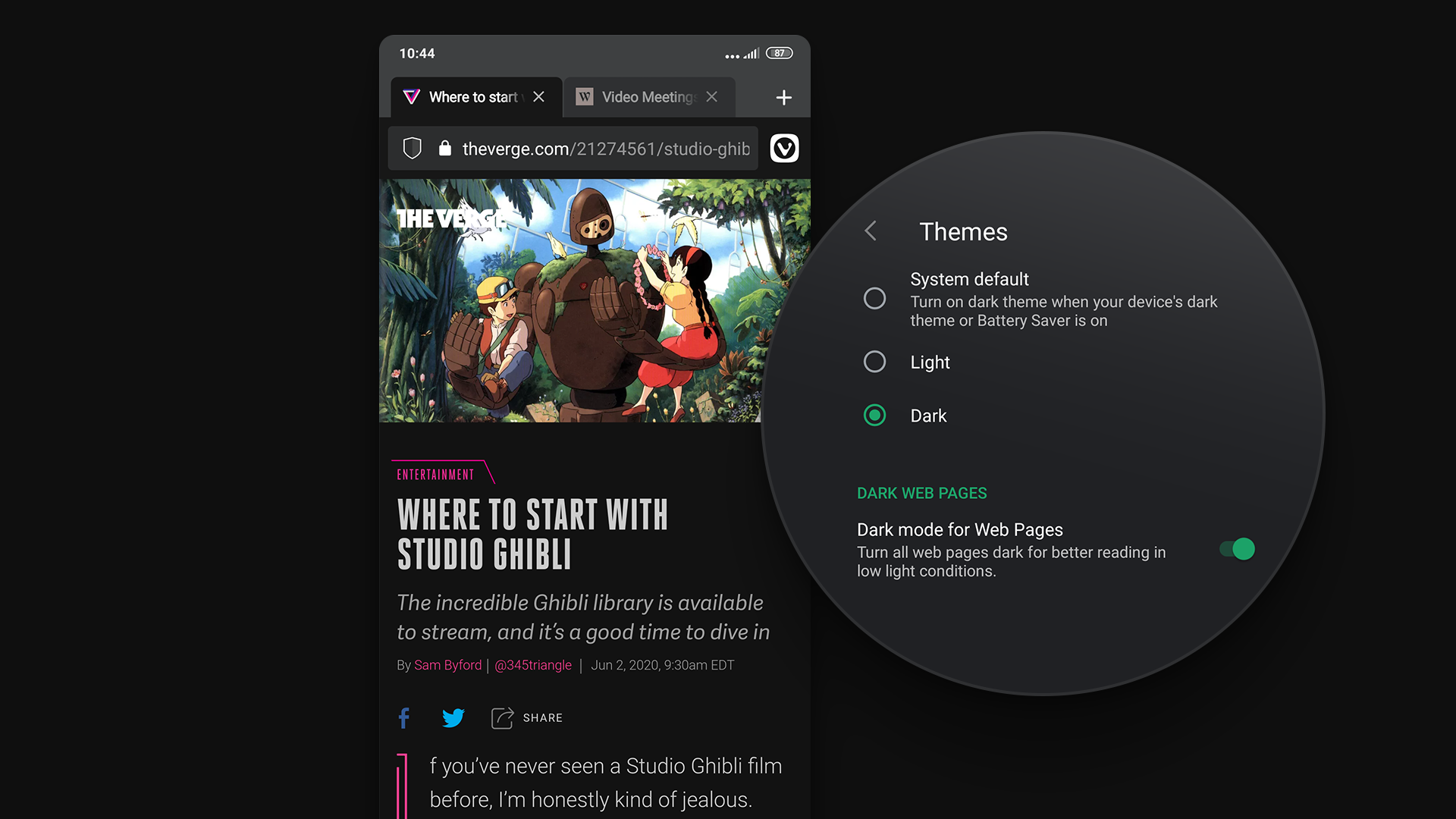 Vivaldi's features include:
Tab Strip: Real tabs (desktop-style tabs) are integrated by default in the user interface as a Tab Strip. It addresses the perennial problem of out-of-control tabs. Users can view open tabs and switch between tabs easily.
Tab Switcher: A gateway to Vivaldi's unique tab interface, this functionality gives the ability to find open, private, recently closed or even synced tabs with an easy swipe.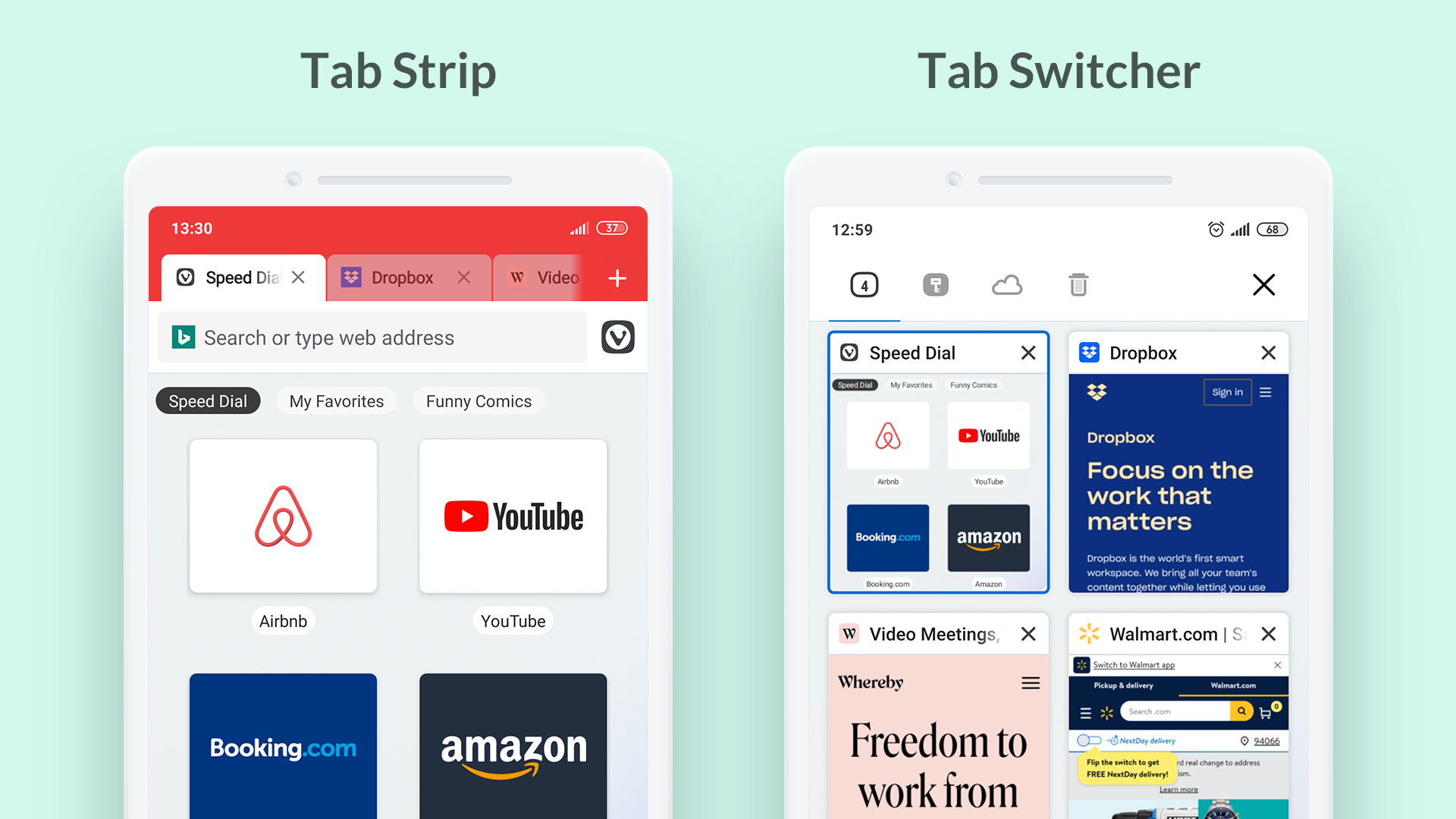 Built-in Ad and Tracker blocker: Allows browsing with speed, uninterrupted by unwanted ads. Off by default, this feature can be easily enabled for sites through the shield icon at the left end of the Address field or globally in the Settings.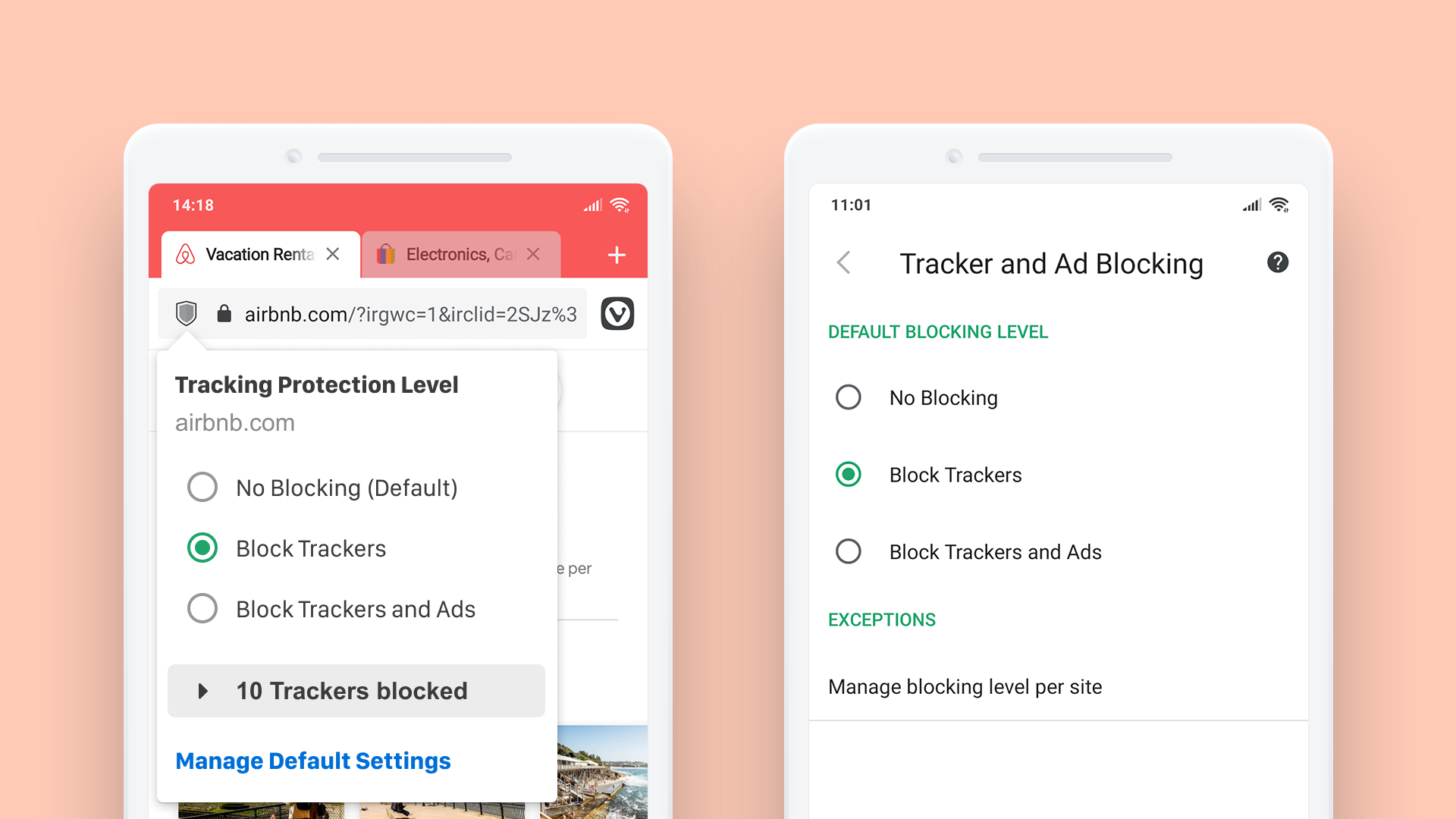 Built-in Notes: Unique functionality for jotting things down or making lists within the app. Syncable on different installations of Vivaldi, Notes is accessible with a tap on the Panels button at the bottom left of the screen and then on the Notes icon at the top.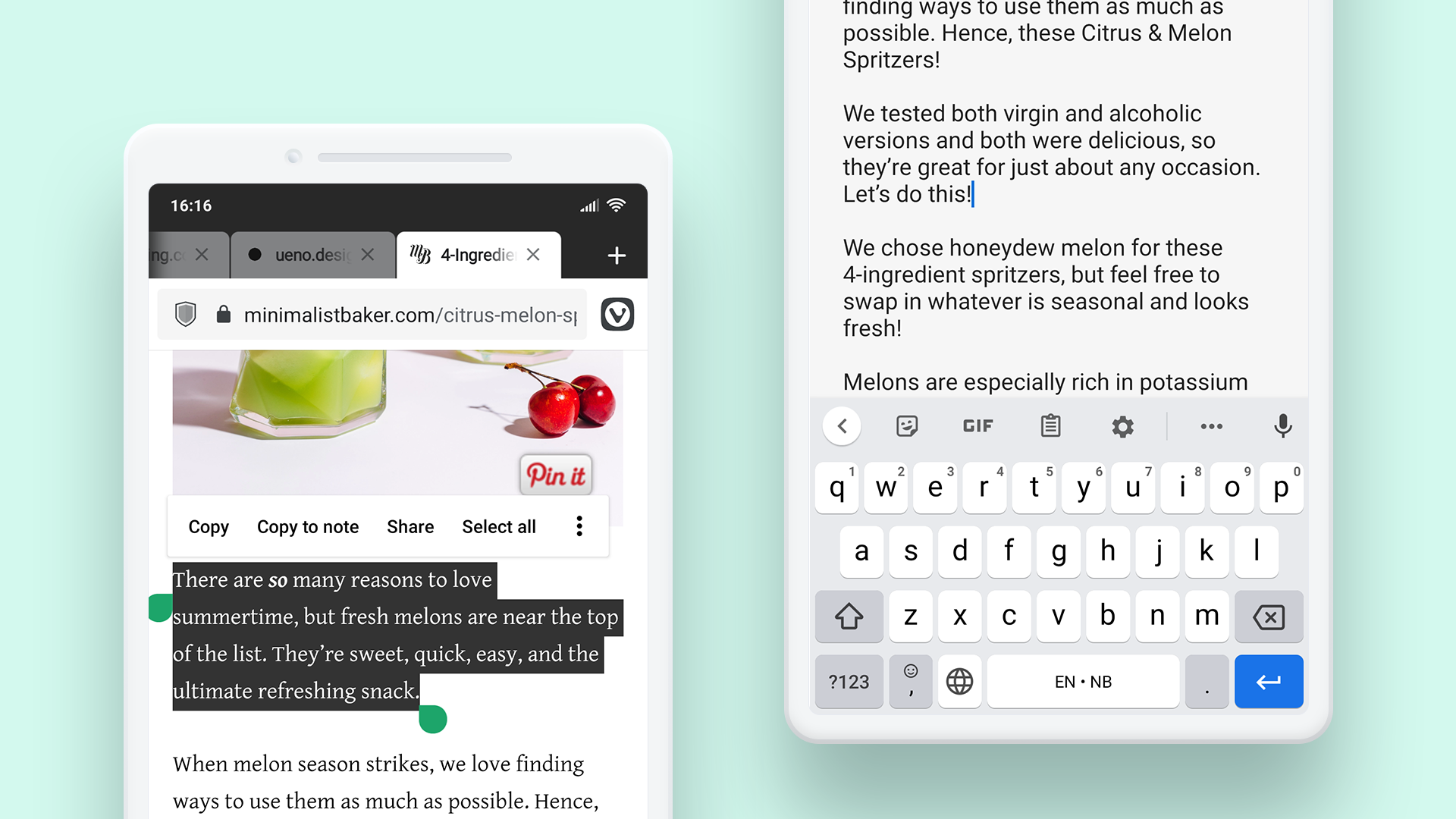 Speed Dials: A collection of favorite websites and bookmarks grouped in customizable folders that can be accessed whenever a new tab or the browser is launched.
Bookmark Manager: Allows to organize websites in a list of bookmarked sites, edit descriptions and nicknames for those sites. The nicknames can be used to quickly access bookmarked sites from the Address bar.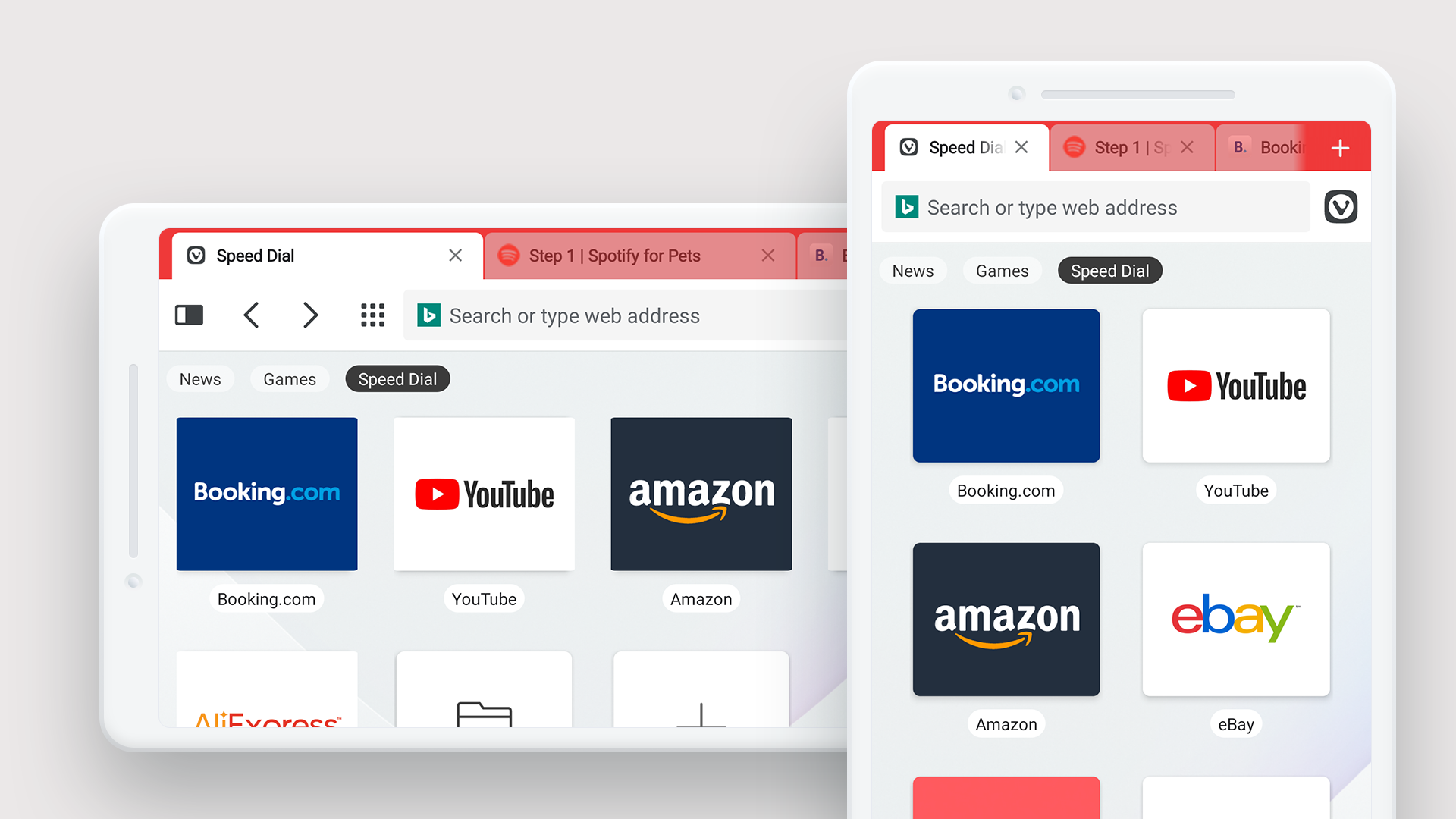 Capture: Unlike other browsers, Vivaldi has full-page screenshot capture functionality. Tapping the 'V' icon at the top of the screen and selecting 'Capture page' saves a full-page screenshot or, if preferred, a selection of the area visible on the screen.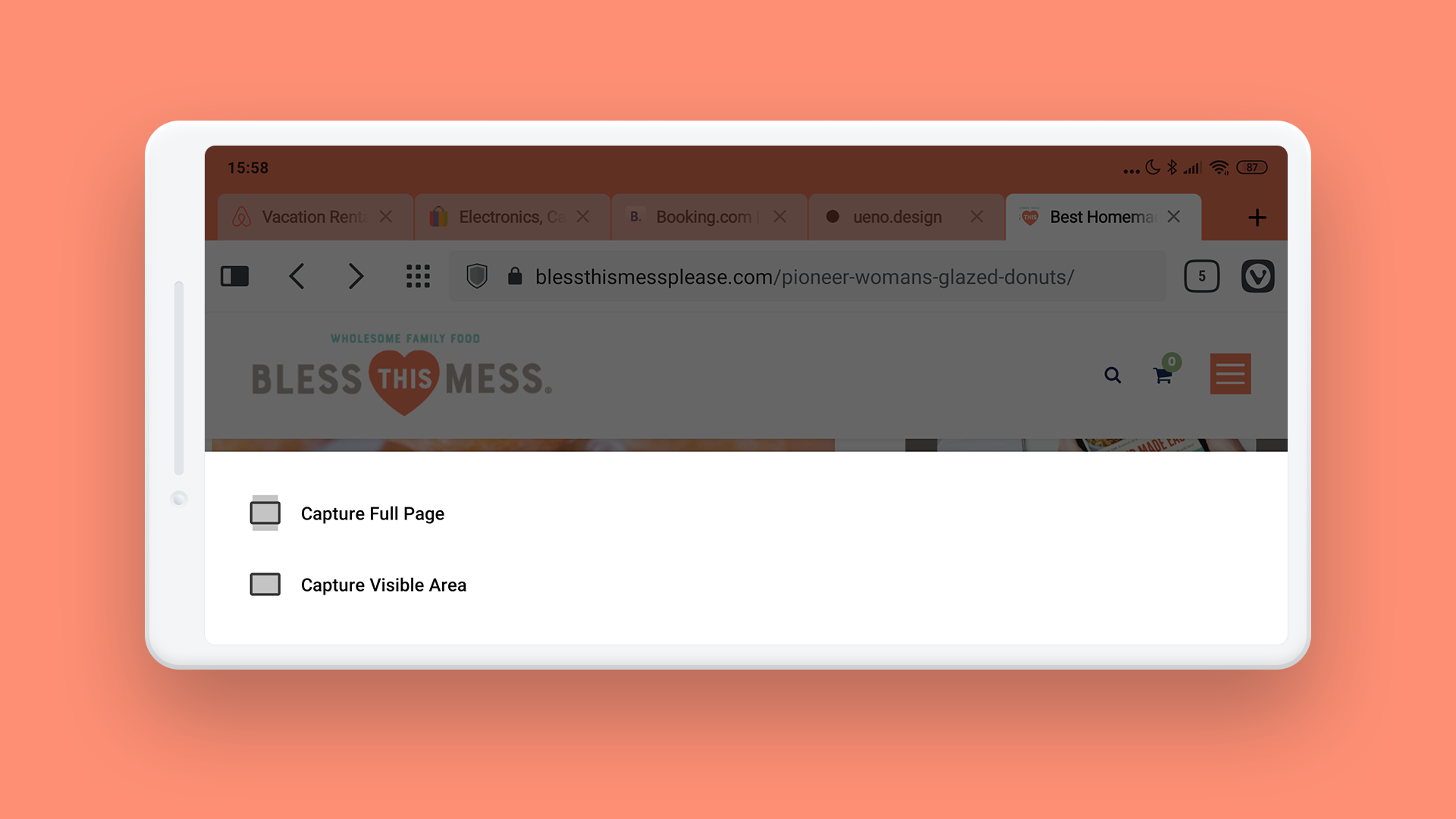 Search engine nicknames: Switching between search engines by typing the first letter of the search engine in the address bar. Regardless of the default search engine (seven popular options are supported in Vivaldi), this is a fast way to perform a search with a different search engine.
History buttons – back and forward: Useful functionality for looking through webpages. Long-pressing on the history buttons helps to go further back or forward than just one page.
Matching UI colors: The UI matches the colors of the active current website – visually pleasing and useful at the same time.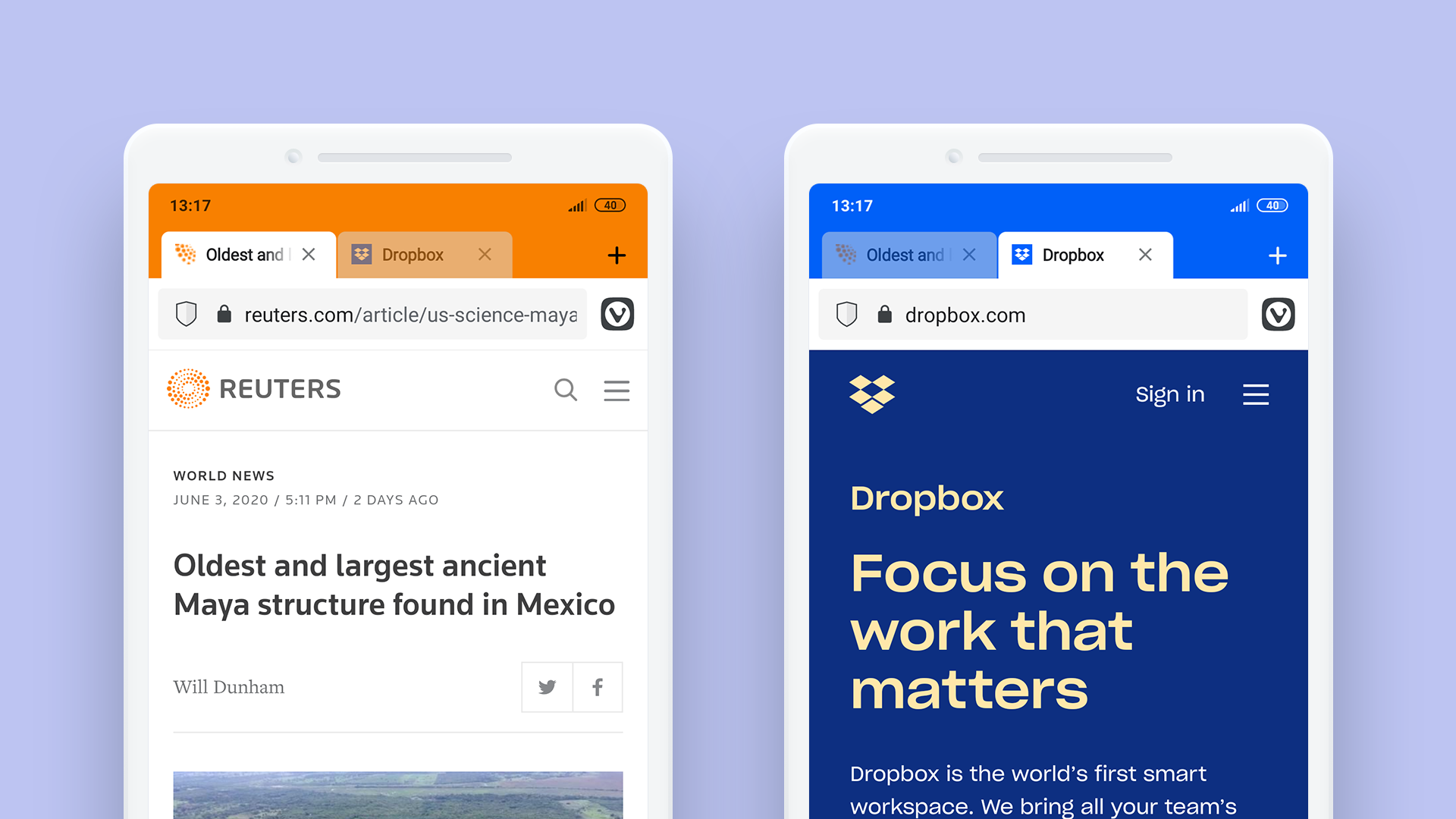 Vivaldi Sync: Sync capabilities for synchronizing data between different installations of Vivaldi on desktop and Android. Instead of using Google's servers, data is stored on Vivaldi's own secure servers hosted in Iceland. Synced data is protected with end-to-end encryption and never shared with Vivaldi.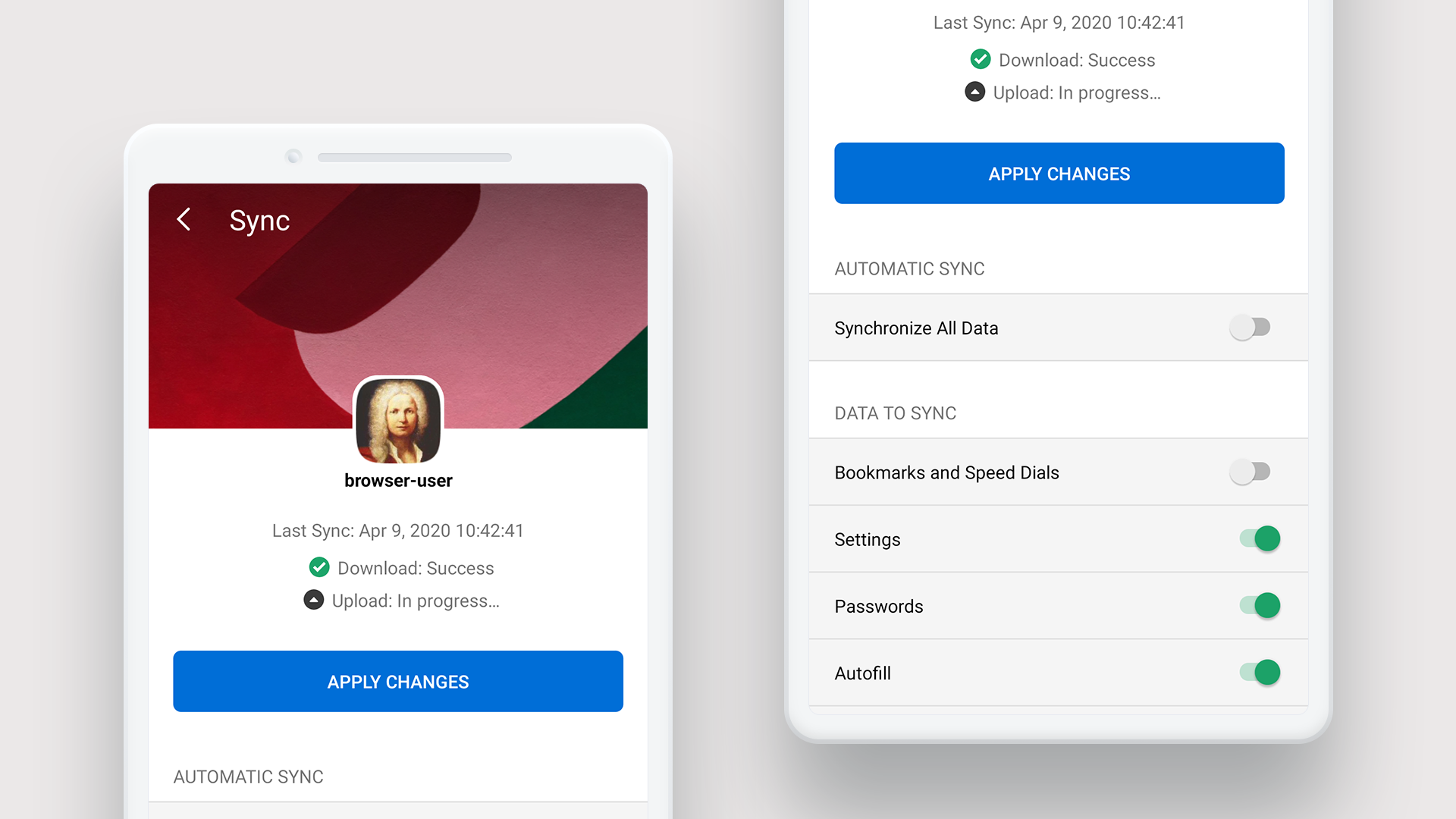 Finally, a browser that takes screen space seriously
Vivaldi's optimization of screen space is noteworthy. In landscape mode, Vivaldi looks very different from portrait mode. It comes with greater width with the toolbar removed and buttons placed at the top – enhancing usability. In landscape mode, browsing with the option "Always Show Desktop Site" works well.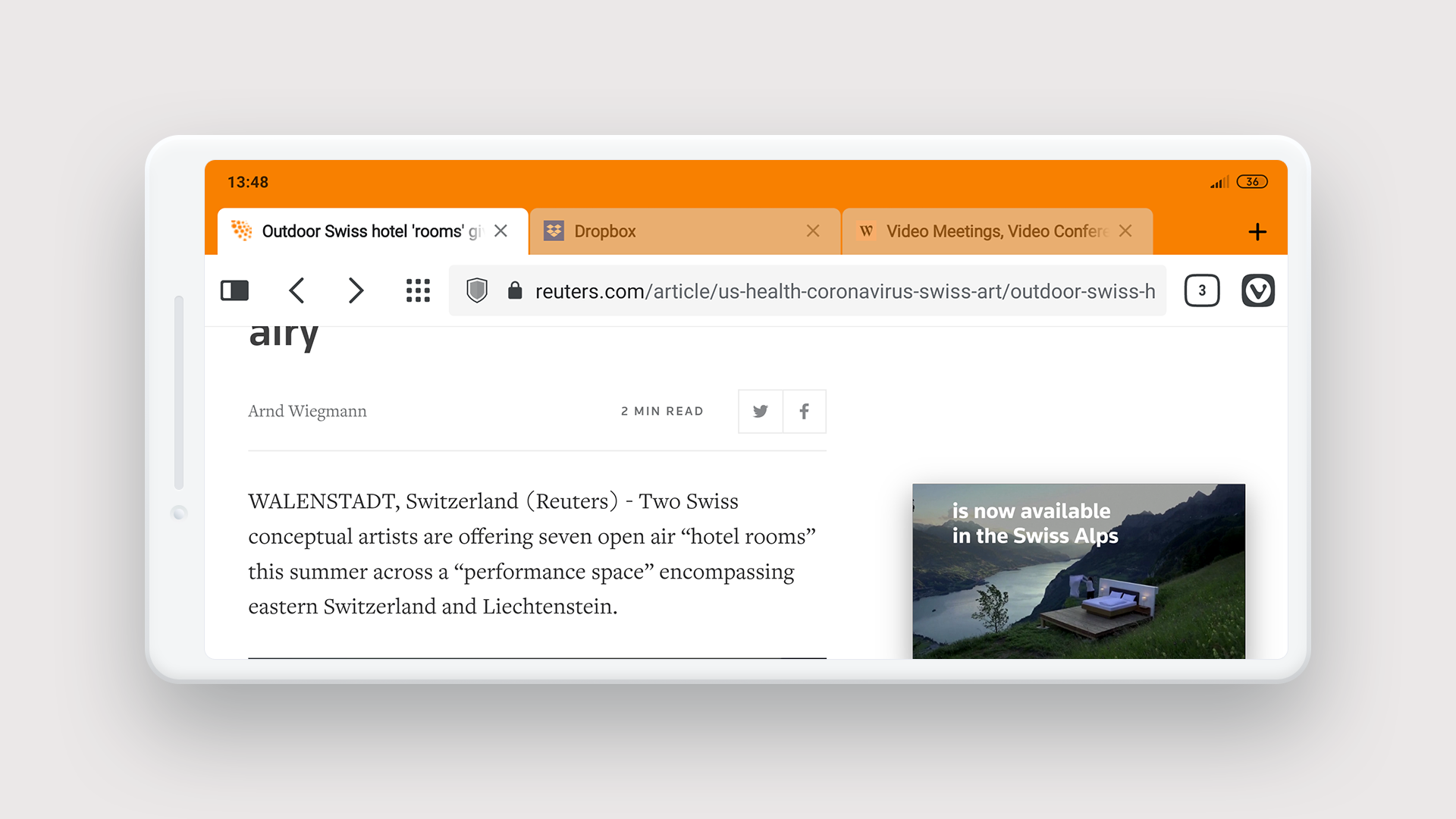 The unique Tab Strip at the top works nicely in the landscape mode once again improving usability significantly. You can disable it in Vivaldi Settings for more screen space.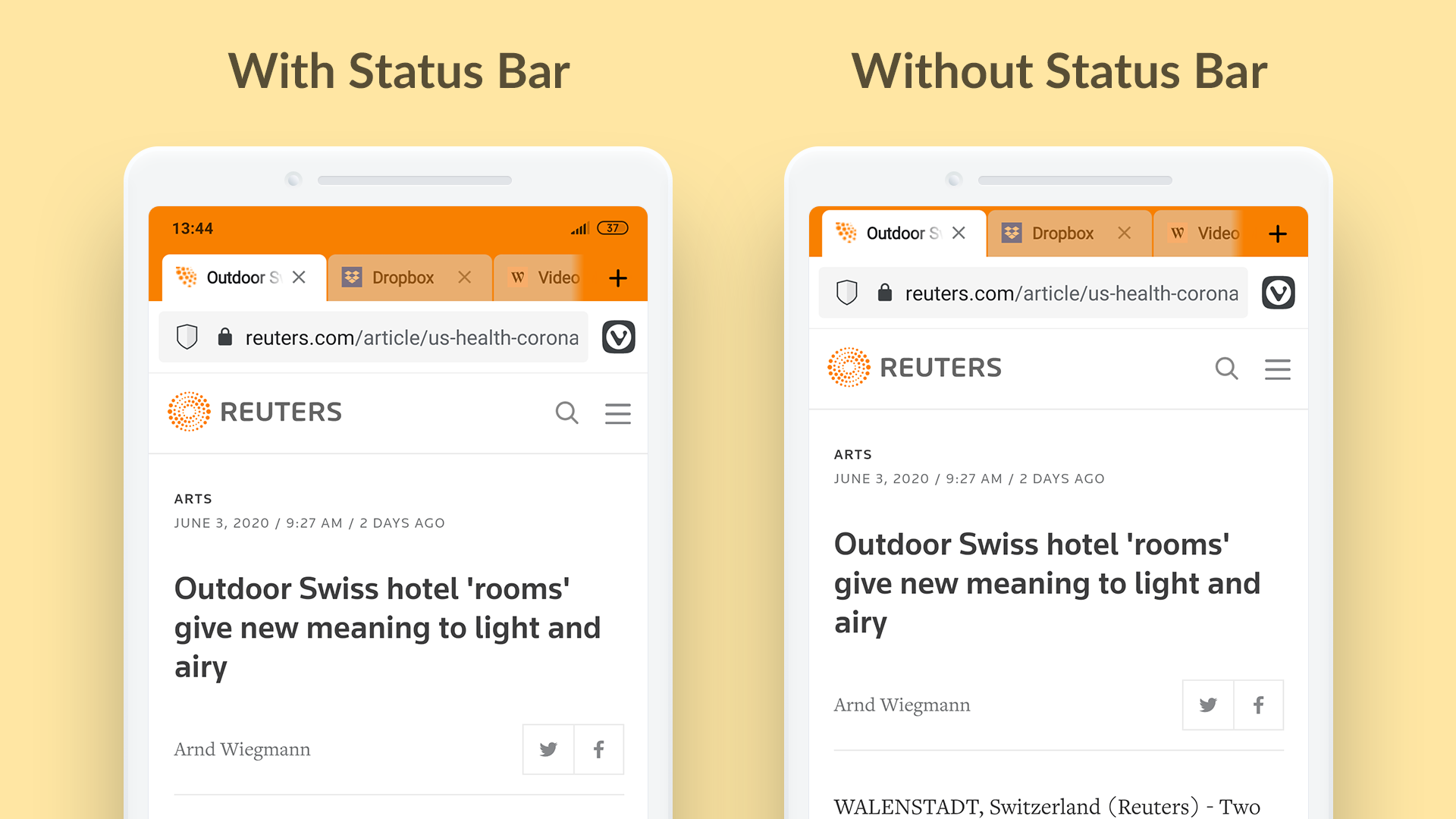 The browser doesn't want you to waste space, especially on small screens. With an option to disable the System Status Bar in Vivaldi Settings, you can view content better in a bigger browser window. And not seeing unread messages and notifications helps you focus.
Download now. And rate us on the Play Store
Enjoy browsing with Vivaldi on your mobile. And let us know what you think, just the way you do for every desktop update. We will continue to build the best browser on your mobile.
Trying out Vivaldi for the first time? We'd only say – explore its features and let it adapt to you!
And yes, don't forget to give us a 5-star rating on the Google Play Store 🙂
For more details head to the changelog.
Changelog from Version 3.0 to 3.1
New
[New][Blocker] Reload page when protection level is changed and update block counters dynamically while page loads VAB-1574
[New][Menus] Can open link in the new foreground and/or background tab VAB-1575
[New][Settings] Dark mode for web contents VAB-1705
Address Bar
[Address bar] Long press on back/forth buttons doesn't show history in landscape VAB-1549
Blocker
[Blocker] Blocking counters with no background on dark mode VB-65518
[Blocker] Element hiding sometimes fails to be applied VB-65947
[Blocker] Tapping blocking option after accessing an IP address crashes Vivaldi VAB-1501
[Blocker] Subdomain tracking cannot be lifted or blocked VAB-1608
Bookmarks
[Bookmarks] Bookmarks/Folder scrolling stucks VB-56895
[Bookmarks] Crash in setting new span count for speed dial VAB-1729
[Bookmarks] Deleting a bookmark folder from the trash in search crashes Vivaldi VAB-1726
[Bookmarks] Edit folder dialog for Bookmark folder shows incorrect parent folder VAB-1614
[Bookmarks] Speed dial page broken when moving speed dial folder to trash VAB-1612
Menus
[Menus] chrome://newtab/ in the history from a long tap on back/forth buttons VAB-1579
[Menus] Missing icon for private tabs on Vivaldi icon popup VAB-405
Notes
[Notes] Copy to note crashes Vivaldi VAB-1276
Settings
[Settings] Allow search suggestions in Address filed VB-61246
Sync
[Sync] Added error messages for sync encryption password VAB-1407
[Sync] Sign in to sync message appears in synced tabs even when sync is enabled VAB-67
[Sync] The notes model should be instantiated on startup VAB-1679
Tabs
[Tabs] Navigating to leftmost tab expands tab, navigating to rightmost does not VAB-1403
[Tab switcher] Private tabs, synced tabs and recycle bin not working VAB-1611
User Interface
[UI] Private Tab background is not scaled proportionally VAB-1445
Others